It's the new darling of foodies. Originally from Eastern Europe, the babka (translation of grandmother ) is an irresistible marbled chocolate brioche . Overview of bakeries , canteens and coffee-shops where to find the best specimens in Paris.

Babka Zana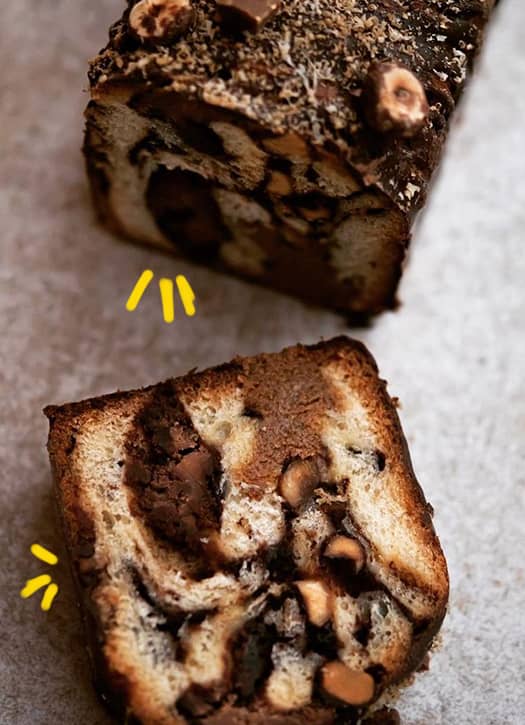 Welcome to the Parisian temple of the babka . Helped by the star pastry chef Benoît Castel to develop the perfect brioche, Sarah Amouyal and Emmanuel Murat offer Ashkenazi pastry galore (including in mega foodporn sandwiches) and appear as the kings of Parisian babka.
Most ? Its formats are too nice to pimp a brunch or a snack. Individual rolls, round or long family brioche, all available in 4 exquisite flavors: chocolate-hazelnut, pistachio-orange blossom, halva-lemon or cinnamon.
Price: individual from p. € 3.50 , cake €12, pie €24 (to be ordered 48 hours before).
Where to find the Babka Zana bakery ? 65 rue Condorcet, Paris 9th
© Babka Zana
Stohrer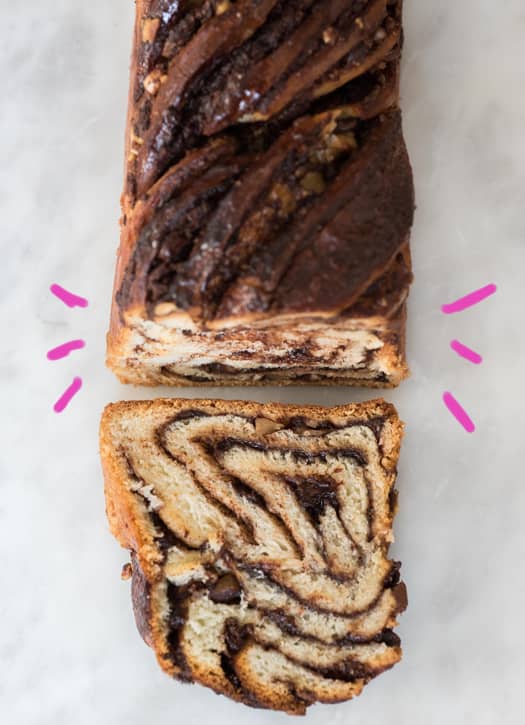 Open since 1730, the oldest pastry shop in Paris specializes in the great Parisian classics: baba, nun, opera, millefeuille. But the passage of Jeffrey Cagnes has left its mark, even after his departure, and the institution offers new cult delicacies… Including the babka, its signature braided brioche.
Most ? The classic version , twisted with a touch of fleur de sel and filled with the extraordinary chocolate spread signed À la Mère de Famille , the oldest chocolate factory in Paris (which belongs to the same owners as Stohrer).
Price: € 3.50 per individual share.
Where to find the Stohrer pastry shop ? 51 rue Montorgueil, Paris 2nd
© Stohrer
plaq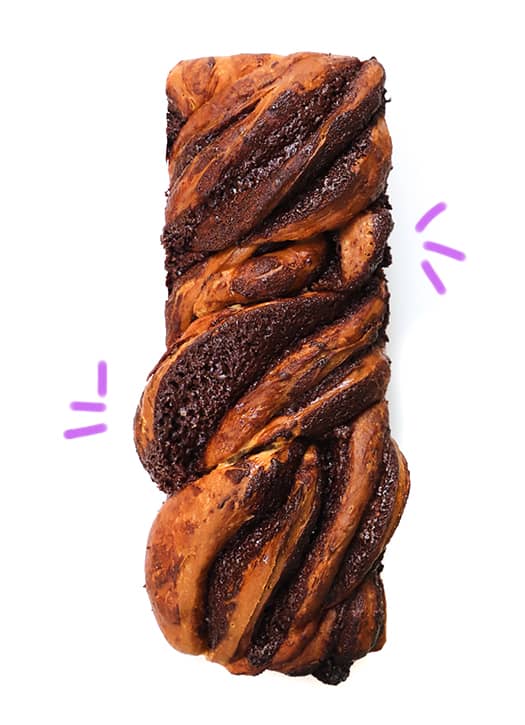 We can't resist it. When the founders of Plaq , the most cutting-edge chocolate factory in Paris located on rue du Nil , entrust the former pastry chef of Ottolenghi in London Claire Lecoeur with the task of imagining homemade cakes for her based on their chocolate, it's total madness, starting with their babka.
Most ? The exceptional chocolate found in the buttery brioche: a 74% dark chocolate base produced from organic cocoa beans from Tanzania.
Price: €4 for the individual, €27 for 7-8 people (on order 48 hours in advance).
Where to find the Plaq chocolate factory ? 4 rue du Nil, Paris 2nd
Babkas on sale from Friday to Sunday.
© Plaq
Jeffrey Cagnes x Philippe Conticini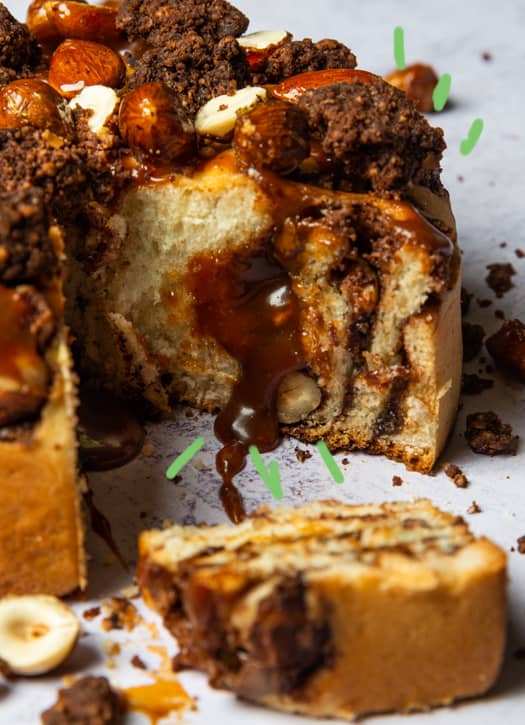 It's the most bankable sweet collab of the fall. Jeffrey Cagnes – the new fashionable pastry chef – and Philippe Conticini have developed a diabolical limited edition: the praline babka . Irresistible.
Most ? We find the total love of the iconic Paris-Brest praline by Conticini in Jeffrey's soft brioche: a salted butter caramel, surrounded by an almond-hazelnut praline and a chocolate and hazelnut spread from Piedmont with slivers of chocolate. almonds and caramelized hazelnuts for the crunchy touch..
Price: € 24 for 4 or 5 people.
Where to find the praline babka? In the shops of Jeffrey Cagnes (24 rue des Moines, Paris 17th) and Philippe Conticini (31 rue Notre Dame de Nazareth, Paris 3rd; 37 rue de Varenne, Paris 7th; 46 rue de l'annonciation, Paris 16th)
© Kevin Rauzy Foodography
Mamiche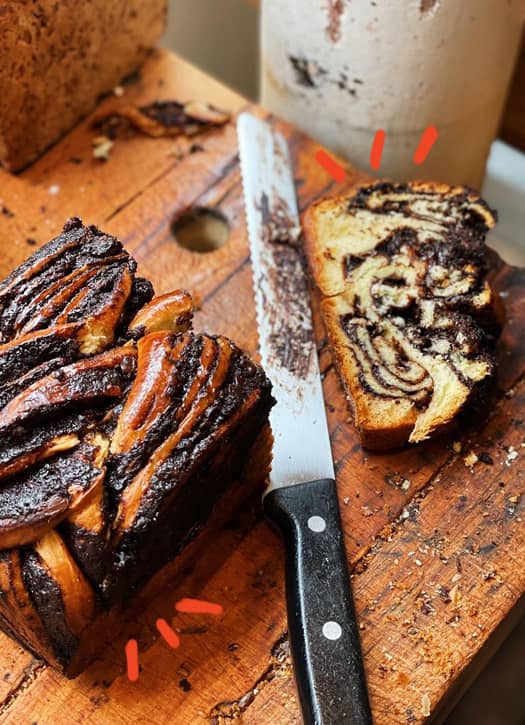 Never had a small neighborhood bakery caused so much buzz. Thrown into the flour after a flash reconversion, Cécile Khayat and Victoria Effantin come out of their mess breads, brioches, pizza dough, homemade donuts and the most popular pastries of eastern Paris. Attention: his babka is deserved! Because here, you have to be patient in the long, long queue...
Most ? Its addictive babka with orange blossom , cocoa paste and chocolate chips .
Price: €9.5 per babka for 4-5 people.
Where to find theMamiche bakery ? 45 rue Condorcet, Paris 9th; 32 rue du Chateau d'Eau Paris 10th. Home delivery possible.
© Mamiche
Florence Kahn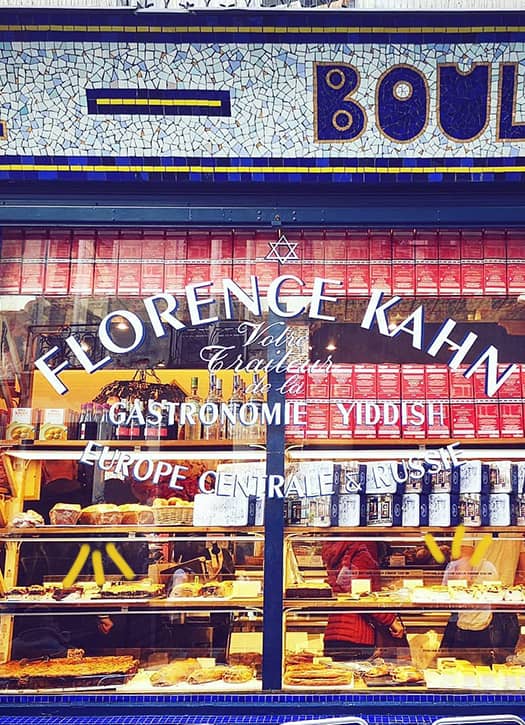 At the best Yiddish caterer in Paris, you can find all the classics of Jewish cuisine, delicious " delicatessen " (a pastrami to die for, Matzele'h with poppy seeds, explosive horseradish and incredible strudels... Obviously, the bakery- grocery store also offers babkas (chocolate, salted butter caramel, cinnamon).

Most ? If it is traditionally eaten for Passover , the chocolate-twisted brioche is available to order all year round.
Price: €6.40 for 100g.
Where to find the Florence Kahn pastry and grocery store ? 24 rue des Ecouffes, Paris 4th
01 48 87 92 85
© Florence Kahn
The French Bastards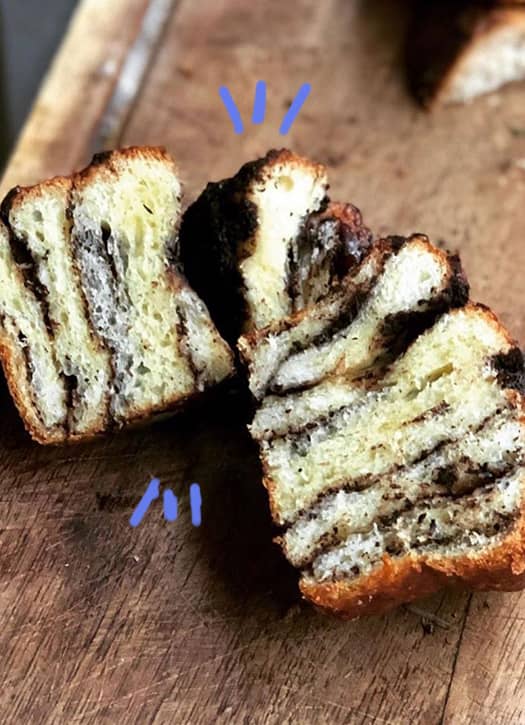 Traditions sprinkled with a good dose of pop culture, it happens in this bakery that everyone is talking about, created by three childhood friends obsessed with food and rock music. This gives super quality products, 100% homemade from organic flours, and with unparalleled delicacy.
This good grandmother's brioche braided with chocolate or cinnamon is one of the best-sellers of this new star address in the 11th arrondissement. Something to " food-porn your breakfast " or a Sunday brunch .
Price: €3.80 for the individual babka, €16.80 for the large model to be sliced.
Where to find The French Bastards bakery ? 61 rue Oberkampf, Paris 11th
© The French Bastards
La Grande Epicerie x Babka Zana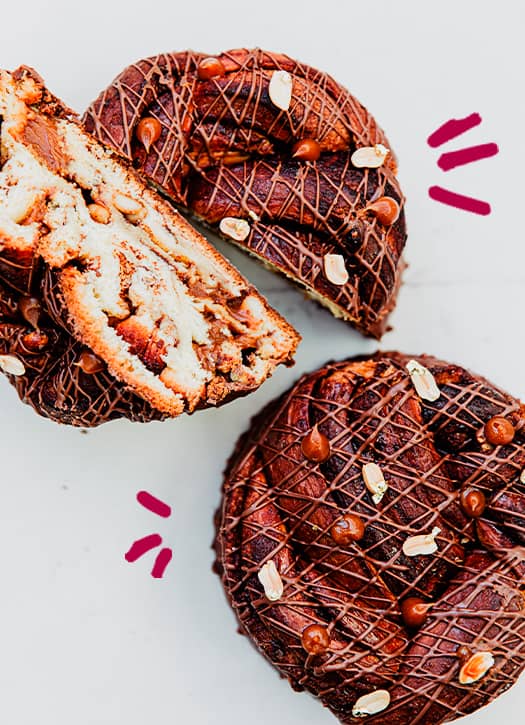 A veritable Parisian institution and gourmet annex of the Bon Marché , La Grande Épicerie is the absolute temple of tasteful snobs and foodies. His thing? To offer the best in all fields and seek out the best. Question babka, the work was entrusted to Babka Zana, the most advanced team in Paris to imagine two exclusive recipes, which can only be found at La Grande Ep'.
Most ? Two highly fooporn flavors: a Stollen -style babka and a caramel-peanut babka.
Price: €28 for the praline-pistachio, €26 for the peanut-caramel. Available only from Monday November 15 to Saturday December 25.
Where to find La Grande Épicerie ? 38 rue de Sèvres, Paris 7th ; 80 rue de Passy, Paris 16th.
© Morello cherries
Maison Landemaine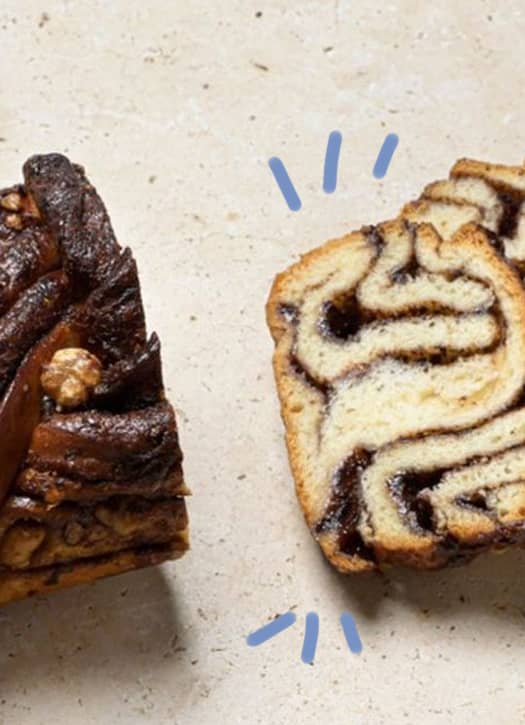 Born from the meeting of two lovers of good bread, Rodolphe Landemaine (ex-Pierre Hermé, Paul Bocuse, Hôtel Bristol) and Yoshimi Ishikawa , a Japanese baker based in Paris, Maison Landemaine stands out for the quality of its products, homemade from 100% high quality organic ingredients distilled in 18 great bakeries in Paris.
Most ? A magnificent super soft babka, filled with a chocolate spread and hazelnuts.
Price: €9.50 for a whole 400g brioche.
Where to find babkas from Maison Landemaine ? On weekends, at 28 boulevard Beaumarchais, Paris 11th; 180 rue du Temple, Paris 3rd; 7 place Cambronne, Paris 15th; 56 rue de Clichy, Paris 9th; 121 rue de Charonne, Paris 11th; 2 rue Crozatier, Paris 12th; 210 rue des Pyrenees, Paris 20th; 4 rue du Poteau, Paris 18th.
© House Landemaine
Liberté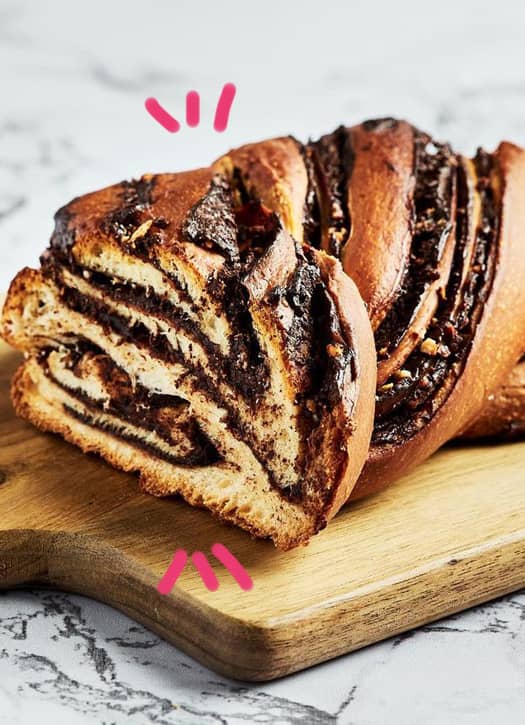 Inaugurated by Benoît Castel before being taken over by Mickael Benichou , the Liberté brand embodies the revival of Parisian pastry and focuses on its major essentials. After the cream tart that made it famous, needless to say that its dark chocolate babka is worth the detour.
Most ? Take the opportunity to book a brunch , served every Saturday and Sunday in their new workshop-bakery rue Hippolyte Lebas in the heart of So Pi, divinely decorated by Dorothée Meilichzon .
Price: €1.90 for 100g
Where to find Liberté bakeries ? 39 rue des Vinaigriers, Paris 10th; 10 rue Poncelet, Paris 17th; 40 rue St André des Arts, Paris 6th; 58 rue Saint-Dominique, Paris 7th; 1 rue Hippolyte Lebas, Paris 9th.
© Liberty Paris
Maafim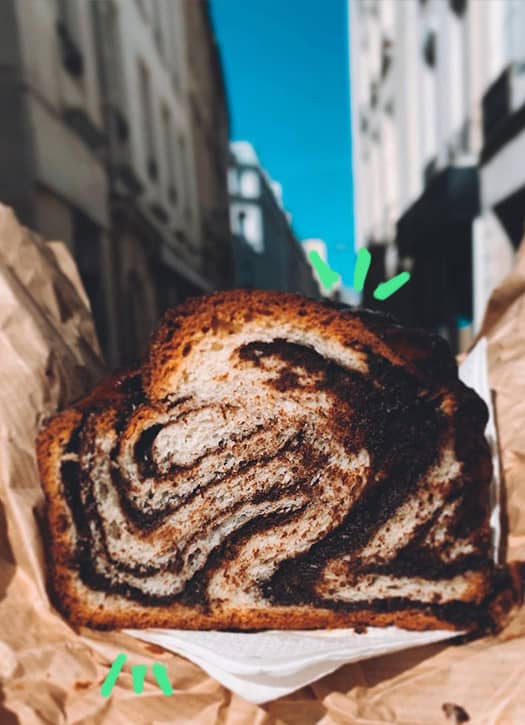 He never misses one to make us salivate. Israeli food genius Yariv Berreby is causing a stir at Maafim , the Salatim bakery where challah sits alongside Tel Aviv bestsellers. With, among other things, a competition babka with chocolate and date paste , entirely brushed with syrup.
Most ? The possibility of eating it for dessert if you want to have a feast at Salatim , the ultra-coveted table in Berreby.
Price: €3 for the individual, €24 for the whole to eat in or take away.
Where to find the Maafim bakery ? 5 rue des Forges, Paris 2nd.
Where to find the Salatim restaurant ? 15 rue des fasteurs, Paris 2nd.
© Salatim
Jojo & Co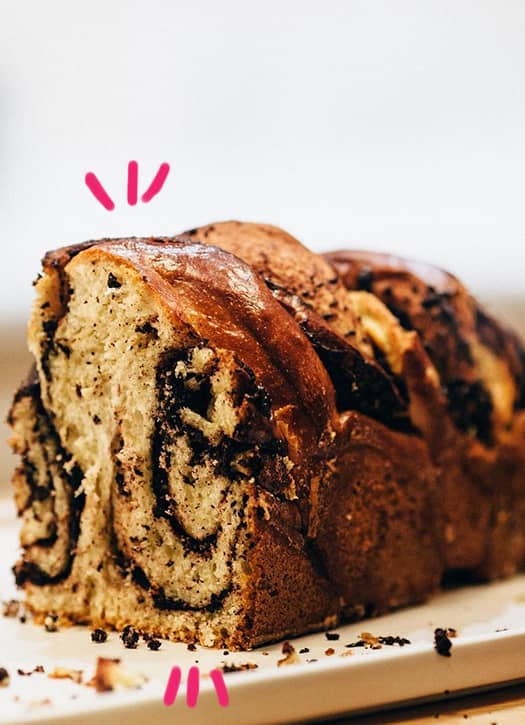 Previously: Johanna Roques , ex-trailer editor at Canal+ , drops everything to pass her bakery CAP, sets up a stand at the Aligre market and makes a splash with her cakes, pies, vanilla flans, cakes and cookies. Another successful season for Johanna , now at the head of the Jojo & Co tea room , where she sells her 100% homemade creations, including the famous chocolate brioche that comes out of the oven every day. A fall must-go.
Most ? Devour it comfortably warm at Jojo's around one of the most coveted brunches in the 9th.
Price: € 3 per slice, €18 for the whole babka.
Where to find the Jojo & co coffee shop ? 5 rue Bourdaloue, Paris 9th
Click & collect and home delivery available online .
© Jojo & Co
la bête noire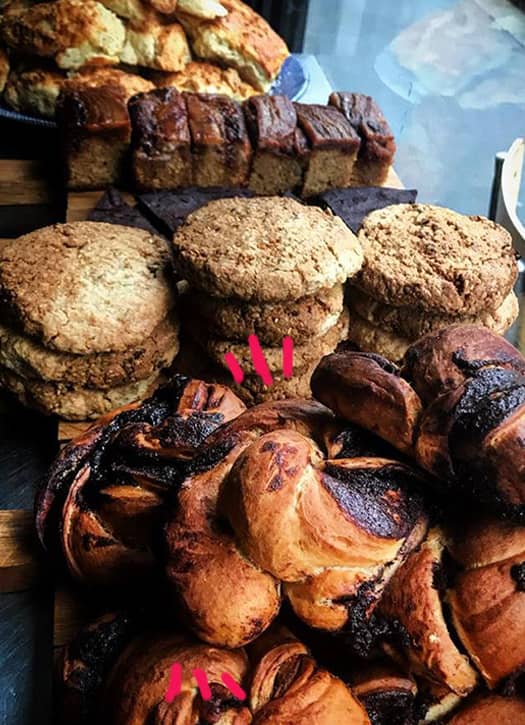 In the middle of Port Royal 's no-man's land , the Bête Noire stands out as the haunt of cool people. This adorable little café serves all week crazy breakfasts that obsess the whole neighborhood, and is displayed as the brunch appointment on Saturdays and Sundays. In short: a good address to note in your notebooks.
Most ? Chew up the star of the breakfast, an exquisite plump chocolate-cinnamon babkas, to soak in your latte. Irresistible !
Price: €4.50 per individual babka on the breakfast menu.
Where to find La bête noire ? 58 rue Henri-Barbusse, Paris 5th. 06 15 22 73 61
© @hellokatrina on Instagram
mokonuts
With Omar Keitem and Moko Hirayama , the tasks are clearly divided for the best. He cooks, she bakes. If the reputation of Moko's cookies is well established, his babka is not to be outdone , leavened with chocolate and sometimes with bitter orange. Attention ! The brioche is not available every day, so make a phone call before crossing Paris.
Most ? This coffee shop turns into a very prominent table d'hôte in the evening upon reservation (from 6 people).
Price: €5 per slice
Where can I find Mokonuts coffee ? 5 rue Saint-Bernard, Paris 11th. 09 80 81 82 85
Open Monday through Friday.
© Mokonuts
Marcelle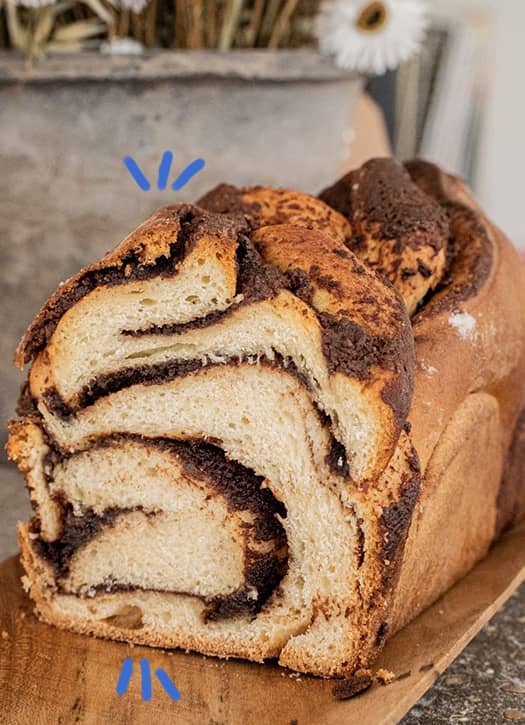 Following the mad association of the gang of Marcel and Irène Cohen ( Bonton ), the counter of this delightful coffee shop in Montorgueil is full of maddening cakes. Among them, a delicious babka twisted with orange zest , mmmh!
Most ? Installed in a small country house on 3 floors, it is the perfect place to be pampered by an overflowing staff of kindness and brunch with friends.
Price: €5.5 per slice of babka.
Where to find the Marcelle restaurant ? 22 rue Montmartre, Paris 1st. 01 40 13 04 04
© Marcelle
Chez Meunier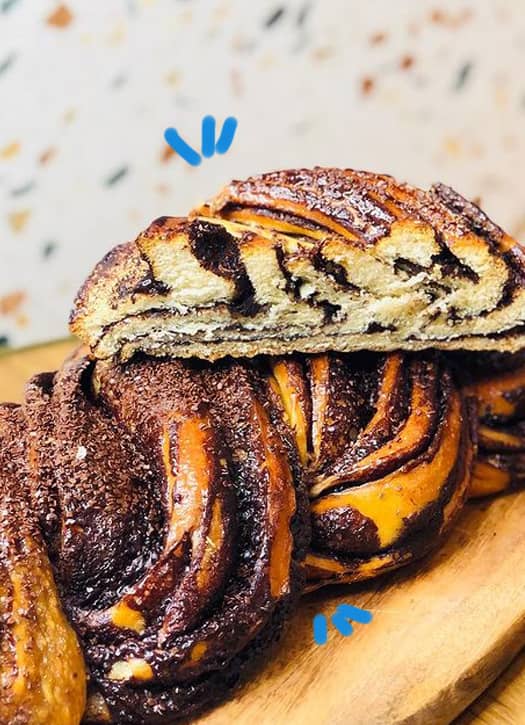 When Caroline Le Merer abandoned her career in interior design to devote herself to bread, her first passion, she created Chez Meunier . A quality bakery that uses only organic flour and seasonal products.
Most ? 3 addictive flavors: pistachio, chocolate or praline.
Price: €2.90 for 100g.
Where to find the Chez Meunier shops ? 35 boulevard Haussmann, Paris 9th; 18 rue Rambuteau, Paris 3rd; 150 avenue Victor Hugo, Paris 16th; 153 boulevard Malesherbes, Paris 17th; 10 place d'Italie, Paris 13th;
© Chez Meunier
Leonie Bakery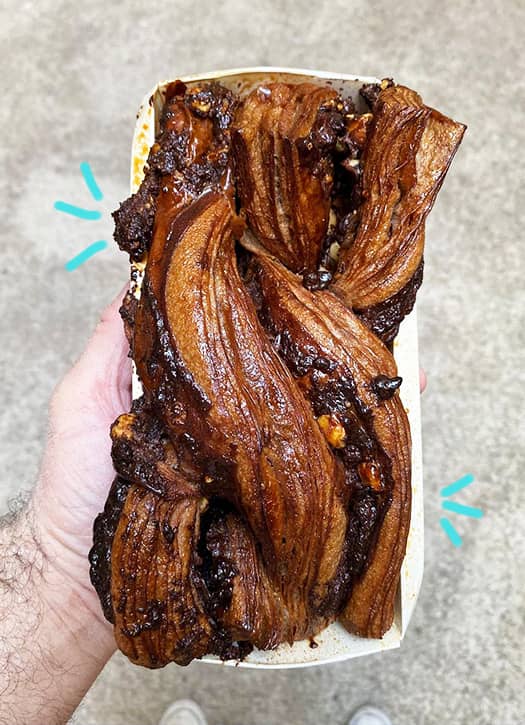 Taken over by former judo champion Kamel Saci with the idea of making good bread with quality ingredients, this little bakery is driving the Batignolles district crazy . Among the pastries, a puff pastry babka stuffed with homemade Piedmont chocolate-hazelnut spread.
Most ? After baking, the brioche is coated with a light star anise flower syrup , cinnamon stick and vanilla pod… You'll let us know!
Price: €8 for the whole brioche.
Where to find Leonie Bakery ? 96 rue de Lévis, Paris 17th
© Leoniebakery

Also discover the best pain au chocolat in Paris and the best baguette in Paris