Following inspiring decor Insta accounts is good. Reproducing the same thing at home for real is even better. And if there is a new address that fans of beautiful atmospheres have already spotted, it is Debongout, which lives up to its name and welcomes by appointment in its dream showroom. Namely: a superb former tannery with glass roofs and industrial stairs, at the end of a factory courtyard from the 10th district. Owner's tour.
Mix and match of new and vintage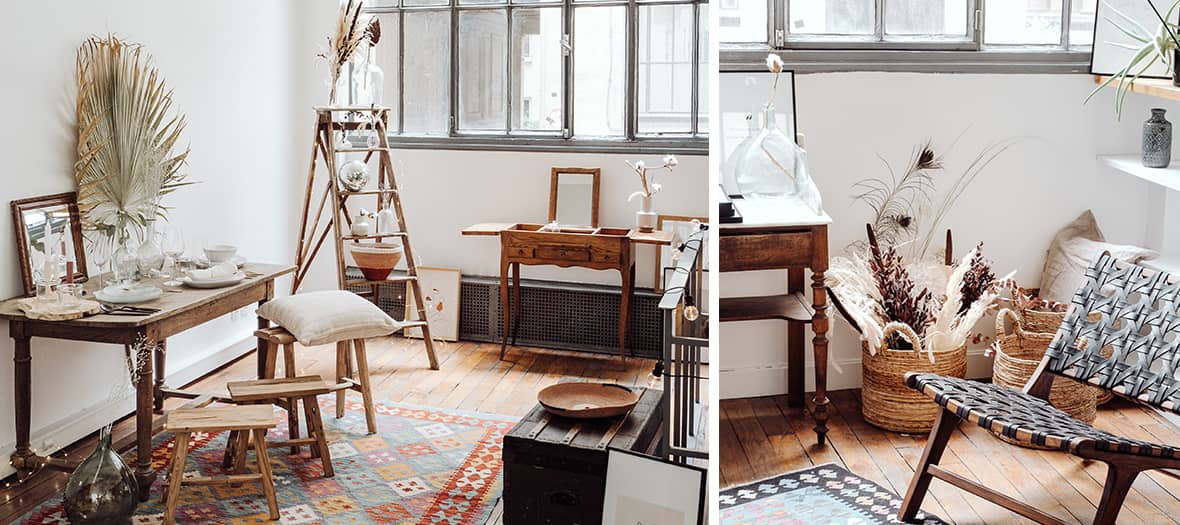 Having studied law and then finally specialized in digital and above all passionate about decoration, Claire Leblond-Faure is launching in 2019 her new concept. Debongout becomes an e-shop where we offer both new products, produced in small quantities (armchairs, dishes, stools, rugs, etc.), as well as pieces found by Claire and her team in flea markets and garage sales in the hexagon.
This new showroom invites those who prefer to see the products in real life before deciding on a perfect blend of old and contemporary: the ideal scale to make their interior worthy of a Pinterest board , all within a reasonable budget at given the quality and the infinite cachet of trinkets and furniture (rarely above 260 €).
Among the finds to copy the elegant rusticity of the pissy interiors of Jeanne Damas or Amélie Pichard : a colorful Kilim rug (€ 449), a caned rocking chair (€ 189), an incredible pink lamp in Clichy glass (€ 259) a plaid cotton soft all (149 €), a small suitcase Deco (189 €), the demijohns to accumulate on a shelf (49 €), a baby bed rattan (189 €), a wood shop for children (€ 79) or even a brilliant leather armchair (€ 399) and pretty framed illustrations by Apolline Thibault (€ 19).
By appointment, Monday to Friday from 10 a.m. to 7 p.m.
Also discover the most beautiful florists in Paris in short circuit and the coolest hardware store in Paris.