No kitschy folklore and rose kir here! This is the most awaited new-age Indian brasserie at Odéon that is a total recall of Dishoom, the ultra-socialite Indian enclave in London.
Inspired by the colonial cafés of Bombay, one discovers here a very bohemian design décor, punctuated with far-flung objects (vintage cinema seats…), signed Stéphanie de Saint Simon, the creator of the restaurant and its decorator.
The food is in the same spirit: an up-to-date, light, delicate and contemporary cuisine, orchestrated by a chef from the Cinnamon Club in London.
We adore: all the "small" dishes to share or pile up in order to satisfy our whims. Special kudos to the red label salmon with cream and aniseed, seared in their tandoori oven (12€), the free range chicken breast marinated in almond cream, the lamb cake with potatoes & spicy lamb, curry yogurt(12€).
Our crush? The amazing tali veggie (a big meal platter with dessert, ultra-stylish) really delicious (23€) served with a great nan bread of the day.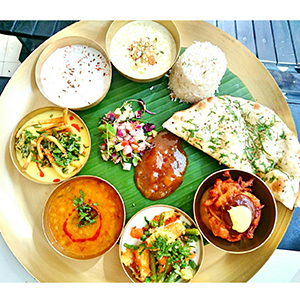 Careful: if you show up with a gang of friends in the evening, be sure to reserve a big table on the upper level!
We are impatiently waiting for their cocktails menu that combines mixology and Indian-style.
Closed Sunday and Monday.