Here is a new concept at the heart of the Marais that is going to shake up our Parisian foodie habits: the very first bar-restaurant dedicated exclusively to gourmet desserts.
At the helm of this newly opened sweet address, Philippe Baranes, who already launched the very popular Braisenville, tapas bar in Pigalle.
Here the idea is desserts only. But all those who are allergic to girly cupcakes or creamy desserts will also be content. Because the young and talented pastry chef Christophe Boucher (ex Le Grand Véfour & Ledoyen) imagined a menu of light and subtle associations sugary/salty. In total, six creations mixing fruit, plants and greens, to savor around a tasting formula of small bites (19 €), along with alcoholic (Riesling, whisky) or not (tea, juice, coffee) (between 6 and 14 €).
So just choose between the concentrate of pear, chervil cream, root, Greek yogurt ice, frothy ice with green lemon, lychee, ginger and grapefruit or a variation around the apple. Our favorite? The baked Alaska with allures of an artichoke, twisted with whisky and a base of creamy chocolate caramel biscuit with vanilla ice cream. More consensual, the crispy chocolate vanilla caramel, a sort of deluxe frozen Twix. All this made under your eyes or behind the counter that looks like a creative lab.
We like: the carte blanche menu, so you can taste four desserts alone (36 €) or with someone (44 €). At happy hour, opt for madeleines with roquefort (12 €) or a plate of scones and comté cheese(12 €).
Tops: the design and contemporary décor mixing a stonewall, steel and wood structures with a view on the courtyard and a retro mezzanine.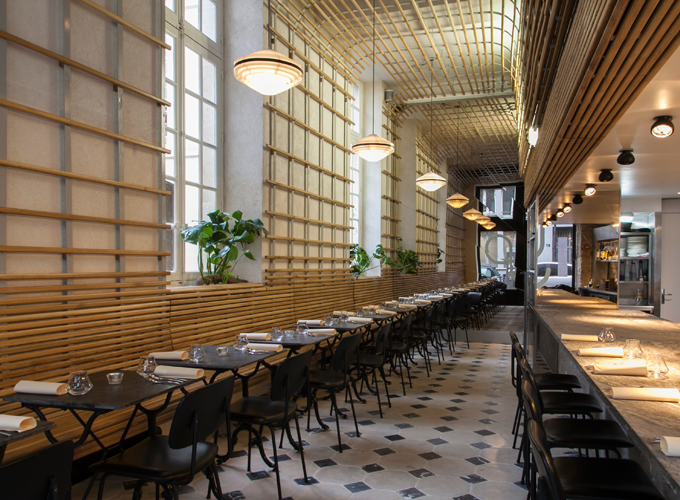 Open Wednesday to Friday from 3pm to 11pm, Saturday and Sunday from noon to midnight
Also discover Terra, the ideal restaurant for a date in the Marais.