Inversely proportional to the surface or our flat, our taste for fashion (with a definite taste for designer bags and ...pumps with sequins) often creates a joyful disorder in our small two-room abode. No panic, with a zest of imagination and a few clever storage solutions, it is possible to organize a real dressing-room or closet, even with an XXS surface. Demonstration...in three must-apply rules.
Rule n° 1 Taking advantage of every corner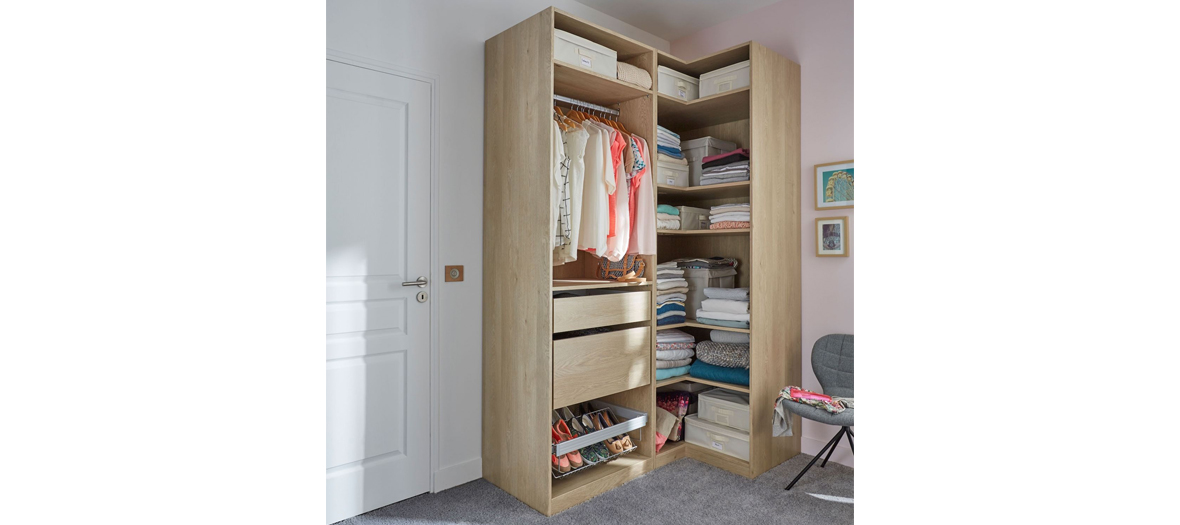 It's a fact…you cannot push the walls apart nor make an additional room appear in your 30 m2 flat.  So to gain some room, make sure to exploits the slightest corner available. A forgotten angle, alcove or a beamed area unused until now...To succeed, chose furniture especially conceived for twist-and-turn  spaces ( a closet specially designer for a sloped ceiling at "Hiba" la Redoute Interieurs,  a small-sized angular closet "Darwin" Castorama,  pile up cubes like a construction game signed Cubit...). The morph our few lost square meters into a functional and stylish storage area. Now all you need is to accessorize your mini dressing room to make it pleasant to use: a little lighting here, a mirror there, a small seating area for fittings...
Rule n°2 Taking over a complete wall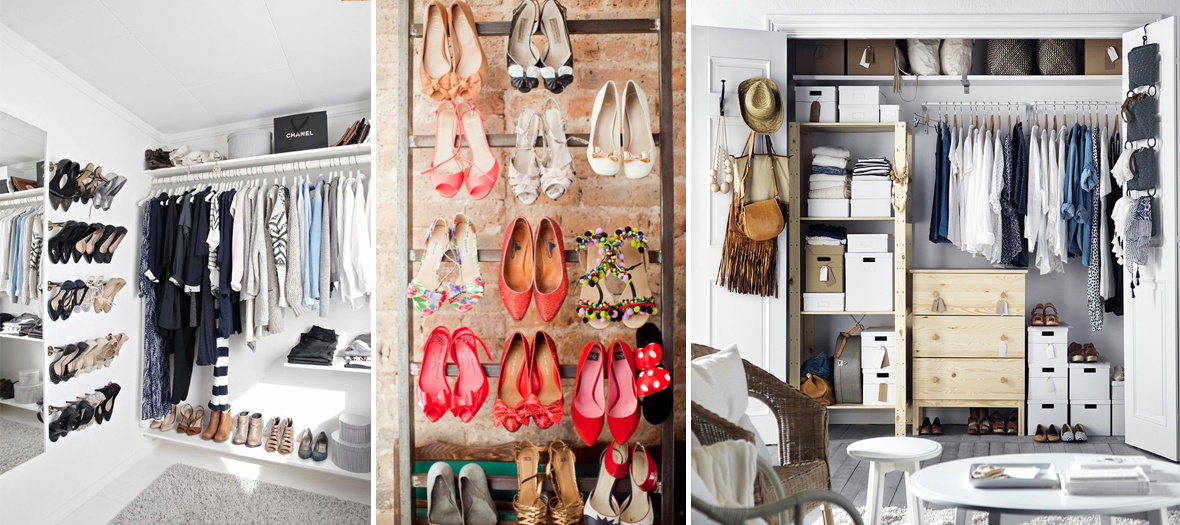 Another bright idea : exploiting an entire wall of our home sweet home to set up an open dressing room. And the good news, the latter is trendier than ever! We recommend it for two reasons: one the one hand because it offers the possibility of showing the most handsome pieces of our wardrobe such as zippy  decoration accessories. But it also enables us to take advantage of space under the ceiling. In other words, a vast storage area that would not have been used otherwise. No complete wall available? No problem, you transform your dressing room into a panel to create space delimitation while tidying up!
Rule n° 3 Organizing storage space
Optimizing the available surface is a good, but you must also think or organizing your closet to easily find what you need to make your daily life easier. The solution: finding a few clever accessories such as transparent shoe boxes (On range tout) allowing to immediately recognizer the desired pair (or stick a Polaroid of the pair in front of a basic box); but also separators to divide the drawers into distinct storage areas (here underwear, there socks), for example the Compactor models available at La Redoute Intérieurs. Another good idea, multiple layered hangers to accommodate several pieces of clothing vertically without using up all the hanging area. Finally, concerning the localisation of storage in the closet, don't forget the essential rule: what is worn most often must be handy. The more occasional pieces, can be stored up higher!
Also discover our clever tips to decorate your studio.