Photo credit Quentin Tourbez
Did you like Gros Bao and the whole new generation of Chinese 2.0 addresses that are booming in Paris?
The new restaurant to test during confinement
You will love Dumpling Queen , the brand new address opened by the creators of Panda Panda . Lucas Sauquet and André Tan display a pop and cool place, furiously in tune with the times (and confinement).
You will finally be able to test a new restaurant… Normal: the concept of this new Asian address which makes the rue de l'Échiquier vibrate, in the heart of the 10th district which is on the move, has everything good, and is the opposite of the pheno dark kitchens , these literally hidden labs ...
The principle ? A canteen with a storefront kitchen where you can see the chefs preparing meals in the heart of the workshop. A show that will make your mouth water. The only difference with a popular restaurant? We don't line up for lunch there… But we come to get our street food feast in click & collect mode.
A Taiwanese street food menu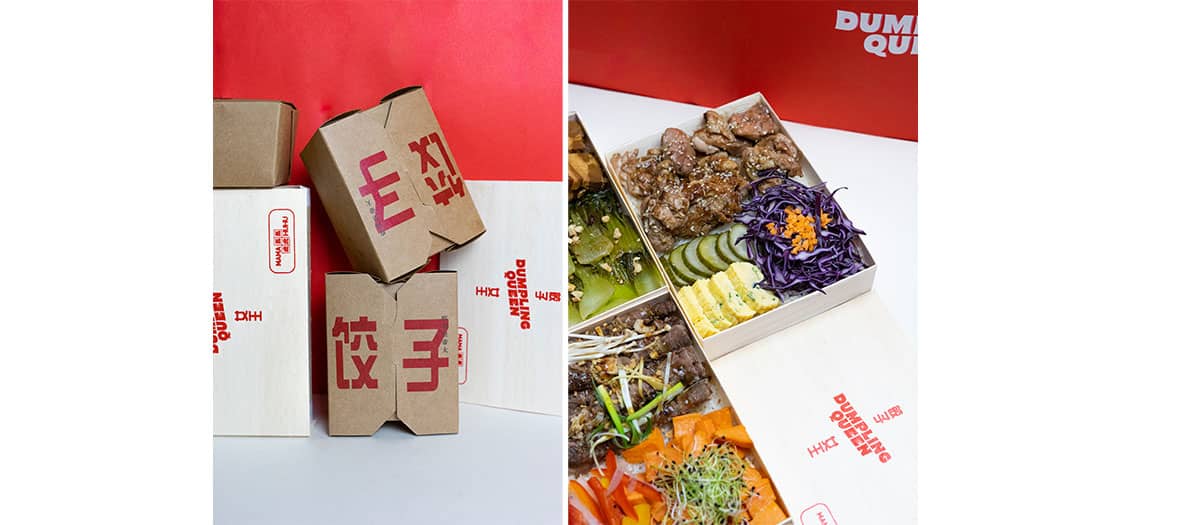 Photo credit Quentin Tourbez
The menu is freely inspired by Chinese and Taiwanese recipes from André Tan's aunt. On the menu: two stars! Not to mention the Pop Corn Fried Chicken, the cult fried chicken of Panda Panda which made its reputation (4 €).
Fans of dumplings will appreciate the Sheng Jian Bao , a small toasted Chinese brioche filled with a super juicy stuffing whose broth explodes in the mouth.
In the classic version, it gives a bao to farm pork, spring onion, ginger, Chinese cabbage and hot broth. Veggie, it is stuffed with cabbage, mushrooms, sweet potato and scallions (8 €).
The other signature must-eat of the house is Bian Dang , a true Taiwanese bento, made with Koshihikari rice, an exceptional product from Northeast Asia. It is served with braised pork belly, marinated soft-boiled egg and bok choy cabbage, grilled marinated chicken, honey / sesame and tamagoyaki sauce or braised eggplant, sautéed shiitake and tofu and Hong Shao sauce (€ 11).
Its high added value? Its fabulous design, served as in Taipei in a pretty eco-friendly poplar wood box.

Open Tuesday to Saturday 12 p.m.-2.30 p.m. & 7 p.m.-9.30 p.m. in click & collect and delivery via Deliveroo and Uber eats
Also find Dumpling Queen The new address in the 10th incubated by Panda Panda and Tiger Brigade, the Michelin Nuggets to test urgently