The opening of the Tiger Brigade by the Eels team in the 10th district literally frightens the foodosphere: a precision of tastes rewarded by Michelin as a very promising young talent with its first Michelin gourmet BIB .
Do you have mouth water? The closure of restaurants does not prevent Adrien Ferrand , in tandem with Galien Emery , his bro and former second at Eels (just next door), from dealer click & collect Asian signature cuisine to spice up our confined meals with grace. Joy.
It must be said that we find in these bistronomic take-away plates (or delivery via UberEats ) the best tastes of Asia. Namely, spicy dishes, always twisted with broths or citrus fruits, ideally seasoned, in which connoisseurs will recognize the influence of William Ledeuil , Adrien's mentor (formerly Kitchen Galerie Bis ).
Travel Travel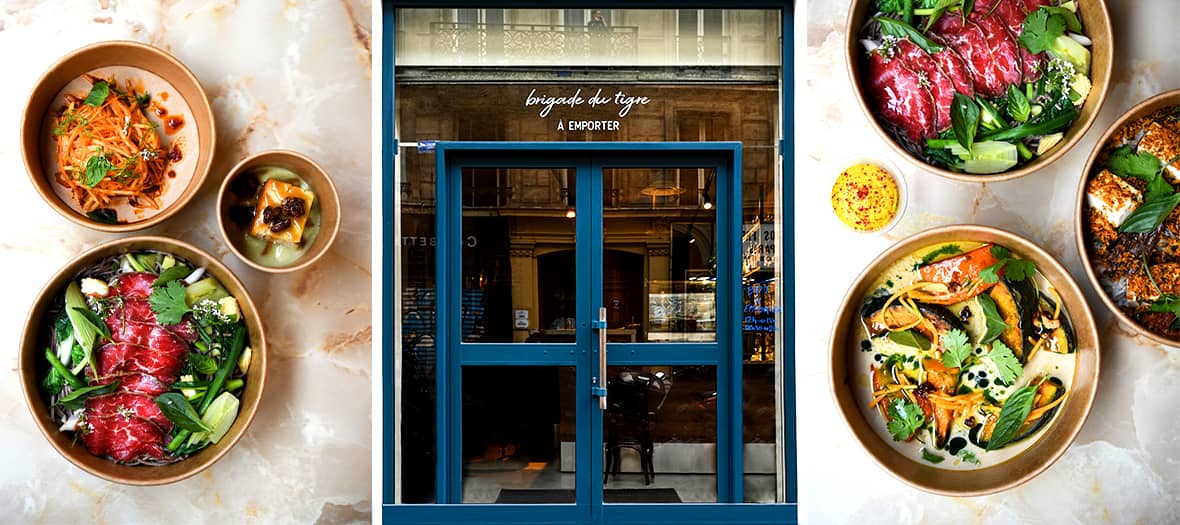 It took some, stays in Thailand and its fragrant broths, in Singapore and its opulent food courts, then China , Sri Lanka , Malaysia ... The two friends literally fed on these experiences in situ to upgrade the way of '' appreciate Asian gastronomy in France.
We want more: tender pig sushi (€ 10), fish cake with tartar sauce (€ 13), pork belly confit and lacquered with pumpkins (€ 30 for two people), chicken karaage with chili mayo (€ 14), signature ceviche with green curry (€ 15), linguine with lobster and lime bisque (€ 15.5) and the now essential beef tataki with seaweed and horseradish (€ 14).
Nice: the tiger has also thought of veggies / kosher / hallal which are fed up with the salad. We nibble at ease the grilled mushroom and potato ravioli which, magic, manage to remain crispy in their coconut milk bath (10 €), the leeks with miso vinaigrettes (7 €), the pointed cabbage grilled with combawa (€ 5) and the sweet potato and tofu red curry (€ 12).
Passion sticky rice and natural wines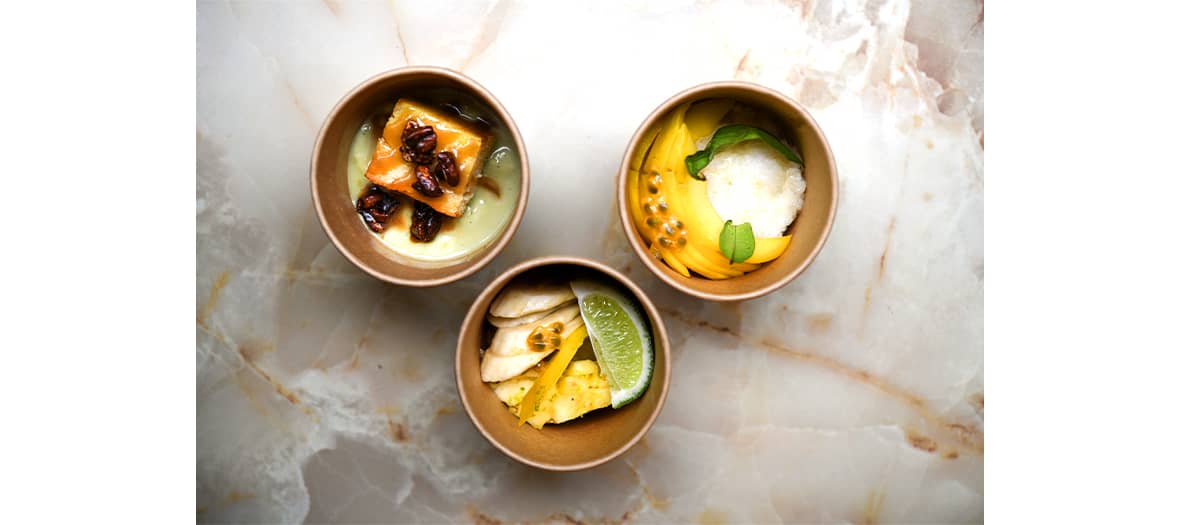 It's impossible to skip the desserts here. If the matcha - white chocolate flan turns out to be particularly silky (€ 5.5), we immediately rush to the mango sticky rice , so good that we would go around the bowl with our fingers to avoid nothing leave (5.5 €).
Another dessert to try once in a lifetime: the coconut caramel and peanut cake , meanwhile, will go perfectly with a mischievous black lychee ginger iced tea to make everything slide (3.5 €).
Needless to say, natural wine is king here (yum the sparkling Blanquette de Limoux , € 23) not to mention their sharp sakes.
Open Monday to Friday for lunch and dinner, take-out order directly on site and on UberEats .
Also discover the best take-away burgers and 3 unexpected dishes to be delivered .