It's the proof that Parisians were in need of a good address to sample really great Chinese dishes in a super cool ambiance. Such is the successful wager of Petit Bao, which we already adored and which has just inaugurated its brand new XXL address and the Canal Saint-Martin. Gros Bao is sure to become a landmark in the area for all those who are hooked on street food like in Hong Kong.
Here one really feels well. Built on two levels and spanning 350 m², Gros Bao continues to deal the yummy delights of the power couple Céline Chung/ Billy Phamand concocted by cheffe Lucy Chen (ex-CAM, Frenchie Bar à Vins), a very up-to-date Chinese American.
Result: the real taste of popular Chinese food, nestled in a tall setting, right on the canal, with tables on the upper lever that give out directly above the water along with local musicians. A decor that highlights the kitsch codes of the Chinese restaurant in Belleville just like real cantinas in Shanghai and extends all the way to the toilets in giant aquarium mode (we are allowing you to discover the surprise on your own). At nightfall, the dimmed red lights can be perceived on either side of the embankment and convey to the place a low key In the Mood for Love spirit...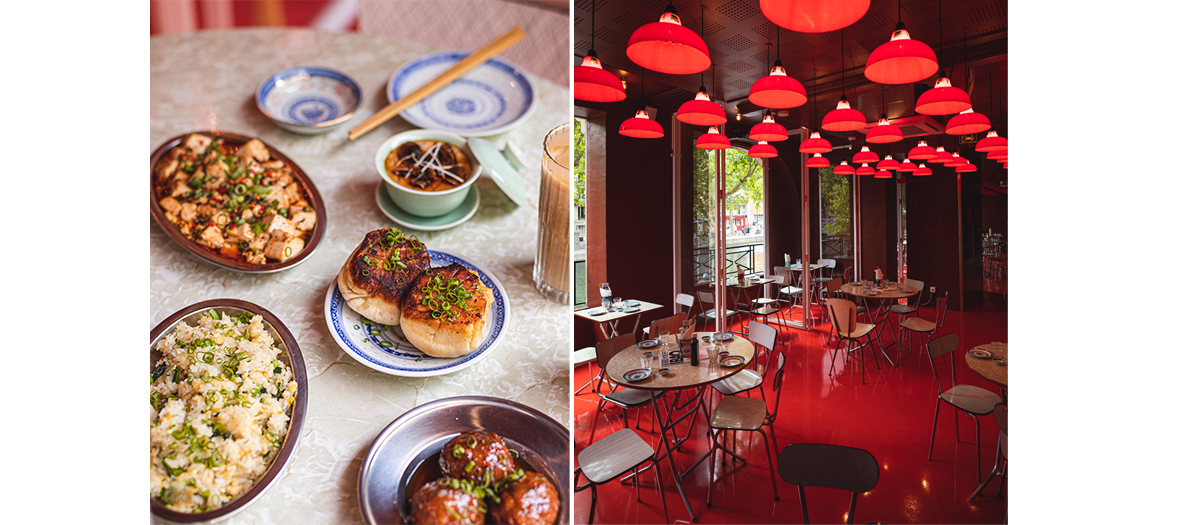 In addition to the regressive baozi and long xiao bao turnovers,folded by hand and garnished with vegetables and braised pork (respectively €8 for two and €10 for 6), you slurp with joy the sautéed noodles(€10), bite into Chinese pancakes with chives (€5), into sweet and spicy eggplants (€4) and the incredible Lion head pork meatballs (€12 ). And t make everything go down smoothly: a very fresh house cantaloupe drink (€4) or an Oolong bubble tea from Taiwan (€5). In short, the total success we were expecting and is sure to liven up the area in a very friendly party spirit
Open Tuesday to Sunday from noon to 3pm and 7pm to 11pm
Also discover a Japanese enclave for an aperitif along the Canal Saint-Martin and a new restaurant in a secret garden of the 11th.