© Marie Desprez
Combining a charming venue in a neighborhood we adore, delicious dishes, and wallet-friendly prices – that's the winning formula brought to life by Eunoé, this new establishment located in the 11th arrondissement, right across from Gardette Square. The price for this delightful experience? €26 for a three-course menu. Unbelievable!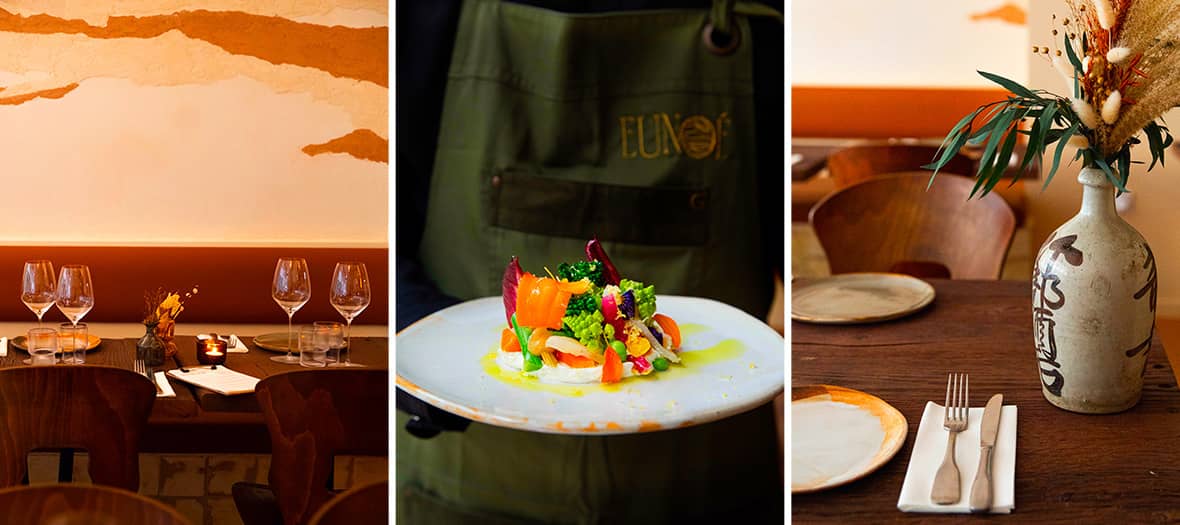 Eunoé, first and foremost, takes its name from the river imagined by Dante for his Divine Comedy, from which one drinks water to remember their good deeds before ascending to paradise. That's a rather intellectual statement you can whip out at your next social dinner. However, in the hands of entrepreneur Félix Perrotte and Japanese chef Ryuji Sato (formerly of Le Violon d'Ingres and Nomicos), this becomes a creatively promising restaurant.
These two, both friendly food enthusiasts, became great friends in the Land of the Rising Sun and are now united by their desire to offer youthful and inspired cuisine that blends Japanese techniques (including the chef's favorite, binchotan charcoal) with the quality of French ingredients. Their big selling point? Remarkable value for money, especially during lunch, with genuinely cool prices: €8 for starters, €15 for mains, €7 for desserts, or €21 and €26 for the menus.
Simple Products, Rich Plates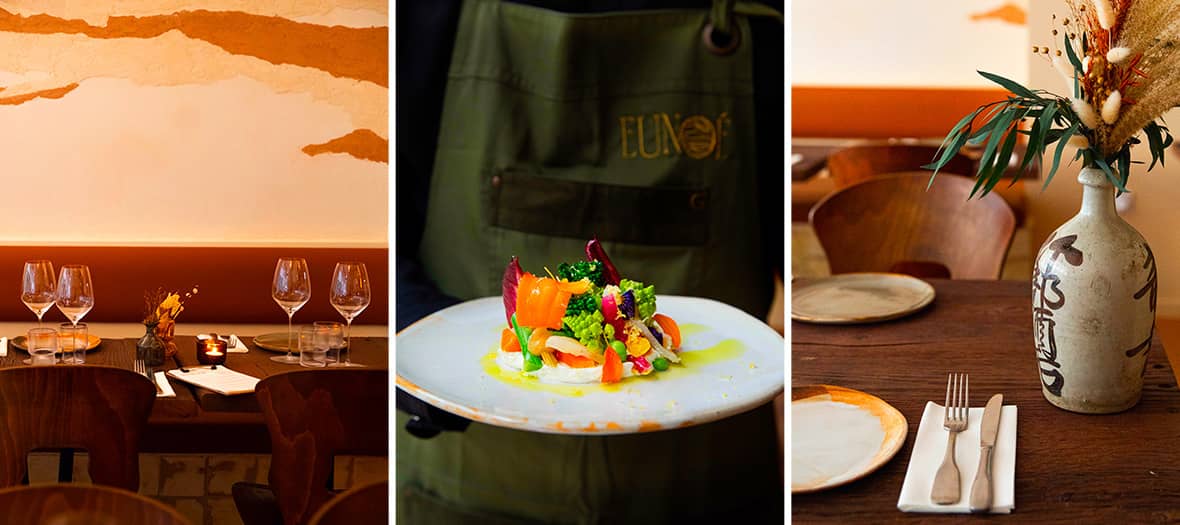 While dinner offers a broader range of dishes, some featuring premium ingredients (charcoal-grilled sea bass with lobster bisque, daurade gravlax...), the lunch menu proves to be the perfect compromise. A standout dish is the green beans, samphire, mussels, tomatoes, and tarragon mayo, which leaves an umami aftertaste that lingers in memory. This is followed by mackerel and charred eggplant with miso, before indulging in a superb dessert of white peach, creamy goat cheese, and peach vinaigrette. Quite impressive for these prices.
At the moment, you can also enjoy a perfect egg with artichoke cream, a juicy pork shoulder with rich jus, or a spicy melon soup to finish. The good news is that there's a fine selection of wines (some of which are natural) to accompany your feast, including the mischievous Loustic from the Emmanuel Haget estate. When will you be returning?
Open from Tuesday to Saturday for both lunch and dinner, as well as Sunday for lunch.
Also discover, Lolo Bistrot and Paris Best Flans