Whether they are presented under glass bells, as wreaths, in a pot or a hanging fixture, dried flowers are invading Pinterest feeds and the Instagram accounts of decorating buffs. Spotlight on slow flower, the trend around dry flowers surfs full blast on the green wave!
Greener, more durable and less expensive than fresh twigs, dried flowers have become true decoration investments and a very clever way to invest in your favourite flowers, presented as a large bouquet. Here is our selection of the best addresses.
Une Maison dans les Arbres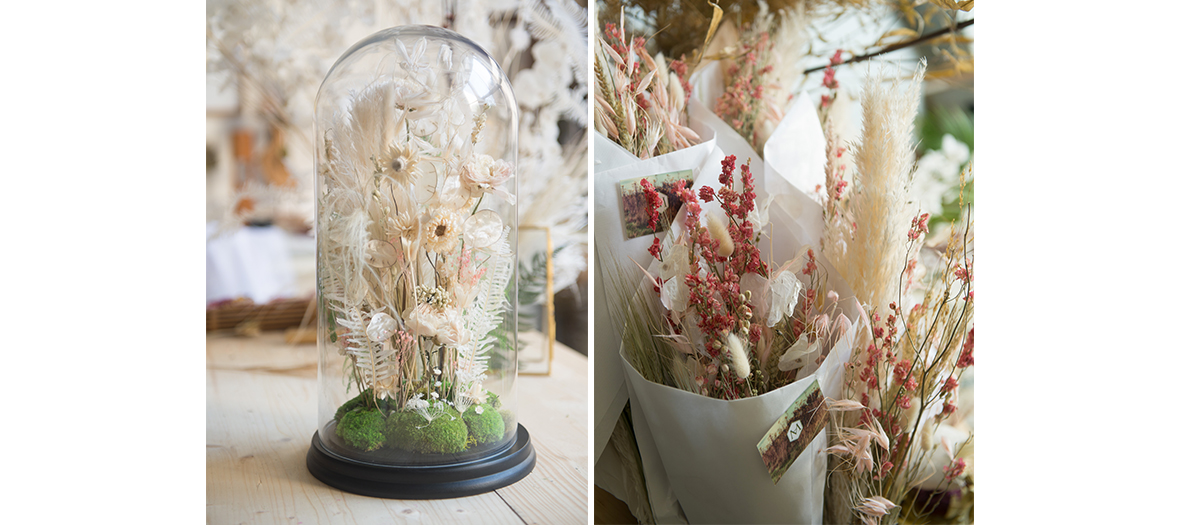 With its unique compositions of dry flowers, floral designer Miyoko Yasumoto was able to rehabilitate Ikebana, a very specific Japanese floral art that delights aesthetes. The principle? In his Aubervilliers workshop, Une Maison dans les Arbres, Miyoko strives to convey the emotions of your special moments in life through flowers.
The must: his glassed-in gardens (€270) are real works of art.
Une Maison dans les Arbres, 2 Rue Chapon, 93300 Aubervilliers / 06 78 79 18 60
Workshop open to the public (for a hands-on workshop, a visit or picking up a creation), by appointment
Bergamotte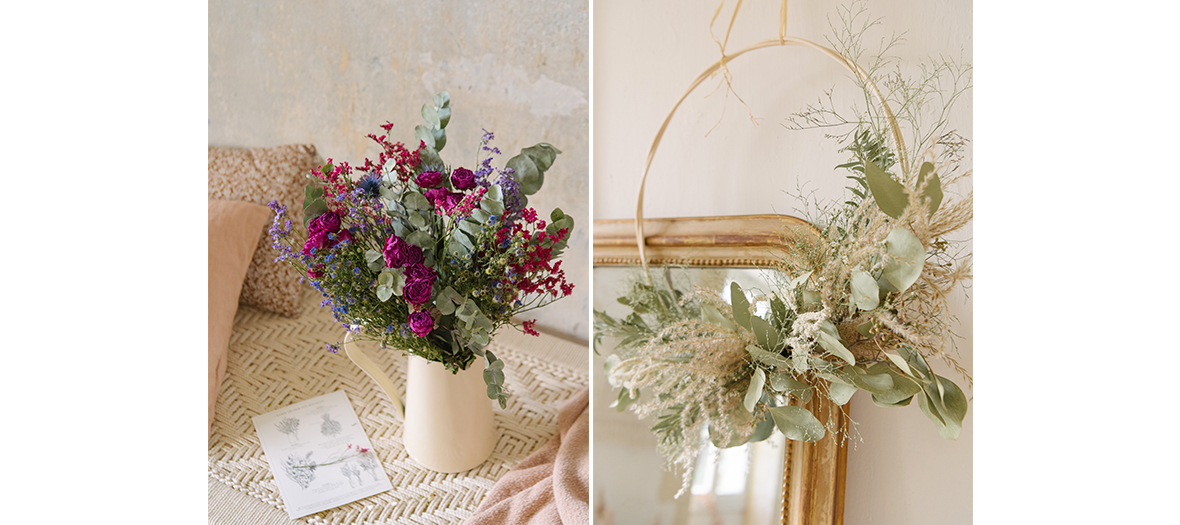 They have sparked a revolution in the floral art world with a special system of bouquet
deliveries... 4 years after its creation, Bergamotte continues its success-story by offering eco-friendly wreaths and flower bouquets, naturally dried in their workshops and made with their unsold merchandise. This new ultra-bohemian "Kinfolk" collection, presents a first collab' with Selency, a second-hand site decoration site in the spirit of assumed upcycling.
The must: the 2 in 1 Pacific City bouquet (€45.90). Its specificity? A splendid bouquet of blue thistles, limonium and 3 branch roses, delivered with the DIY information to recycle yourself the bouquet of dried flowers. Green is chic!
Bergamotte, 12 rue d'Argenteuil, 75001 Paris / 01 76 35 01 10
Workshop open to the public (to pick up your composition or for a visit) Monday to Saturday from 10am to 8pm
Fragrance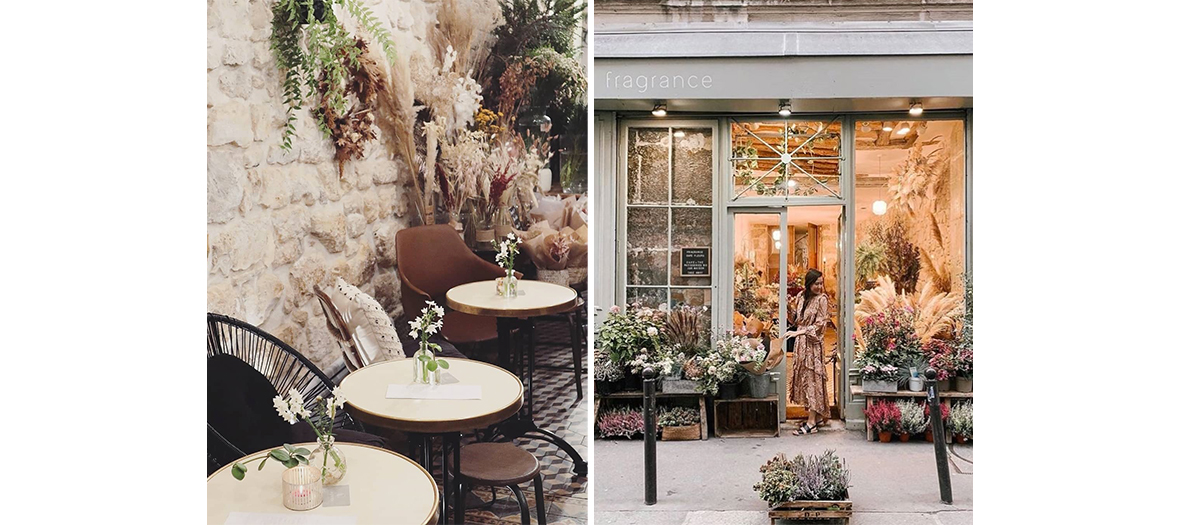 At the same time tea salon, decorating boutique and artisan-florist, Fragrance is a true romantic address as only Paris can create. The small plus of the boutique? The possibility of having access to the know-how of Claire Champonnois, who dries each twig separately, and which she presents like a traditional florist. Claire composes bouquets on the spot, in keeping with the request of the client (starting at €15).
The must: taking advantage of living out fully the atmosphere of this flower-café and settling in the cosy decor around a coffee and a home-made cookie (€3.50), served with a small edible pansy.
Fragrance Paris, 14 Rue Saint-Sébastien, 75011 Paris / 09 83 66 97 38
Open Tuesday to Thursday from 11am to 8pm and Friday to Saturday from 11am to 8:30pm, on Sunday from 3pm to 6pm
Marion Graux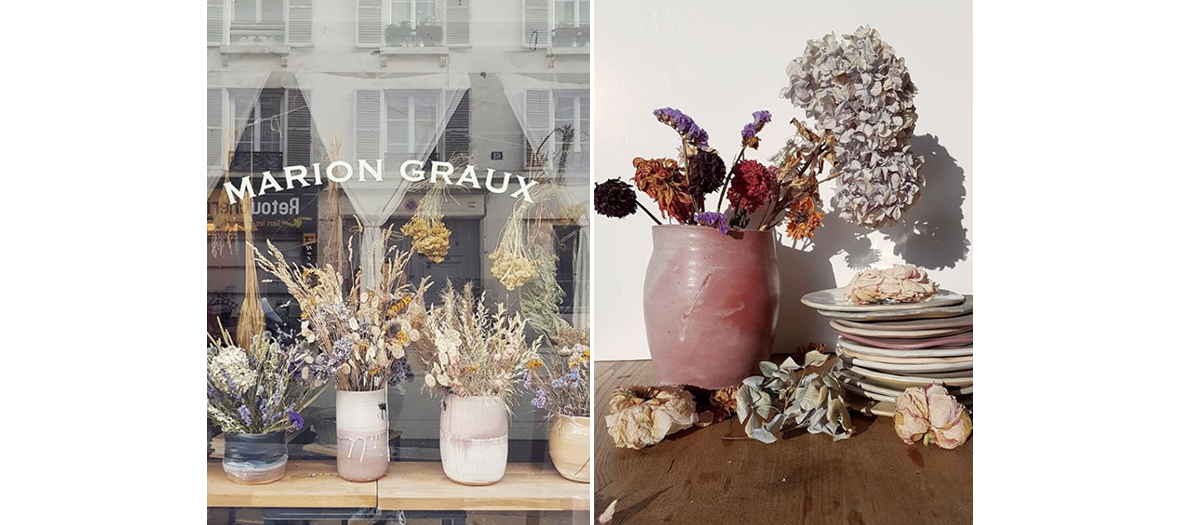 In her ceramic workshop where she is followed by leading chefs who adore her splendid tableware, Marion Graux has another passion: "wilted flowers". While giving a bright touch to her workshop-boutique, the ceramicist has fun drying different species such as lilies, hydrangea, ears of wheat or pampa, which one is not used to seeing this way, especially in Paris. Result: infinitely poetic creations that mix several rather surprising species sold between €20 and 40 per bouquet.
The must: taking advantage of the chef tableware signed Marion Graux. Hard to resist her super original dessert plate (€165).
Marion Graux, 46 rue de Dunkerque, Paris 9e / 06 62 27 23 44
Workshop open to the public (for a visit or to pick up your creation), by appointment.

Flowrette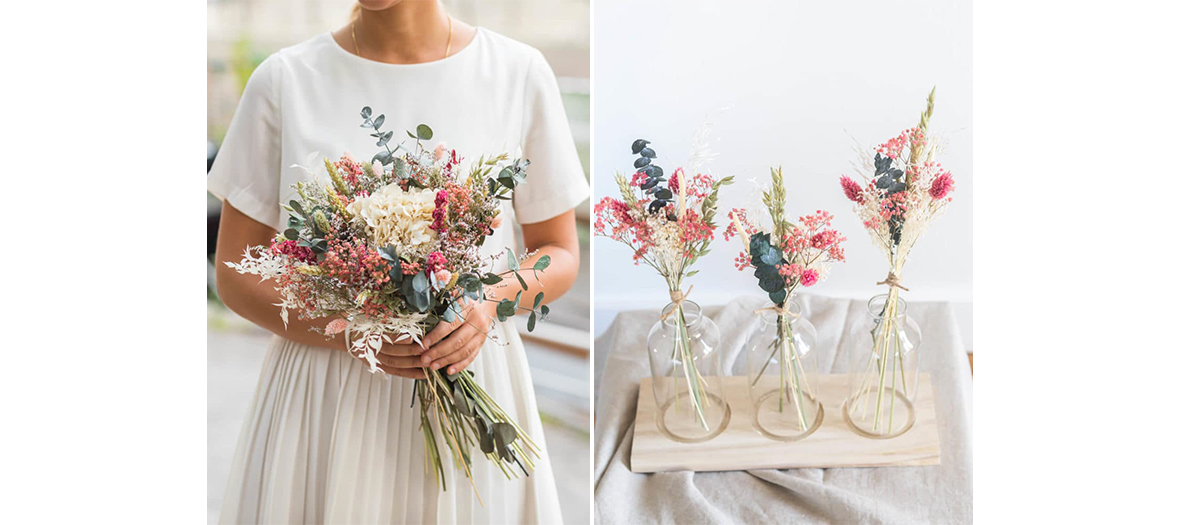 The success of their wreaths, bouquets and accessories of dried flowers with a super ultra instragammable potential during weddings, encouraged the Parisian house Flowrette to open its very first boutique in the 14th arrondissement of Paris. Here one finds the signature of Elodie Gervet, floral designer: hydrangea and stabilized eucalyptus as well as customized orders and an ideal client experience for future brides (combs, buttonholes, table decorations, wreath fittings without forgetting bachelorette workshops...)
The must: adorable and original decorating objects. We are wild about the delicate Côme triptych (€55) and the timeless Java mural wreath (€42)
Flowrette, 80 bis Rue de l'Ouest, 75014, Paris / hello@flowrette.com
Pompon Bazar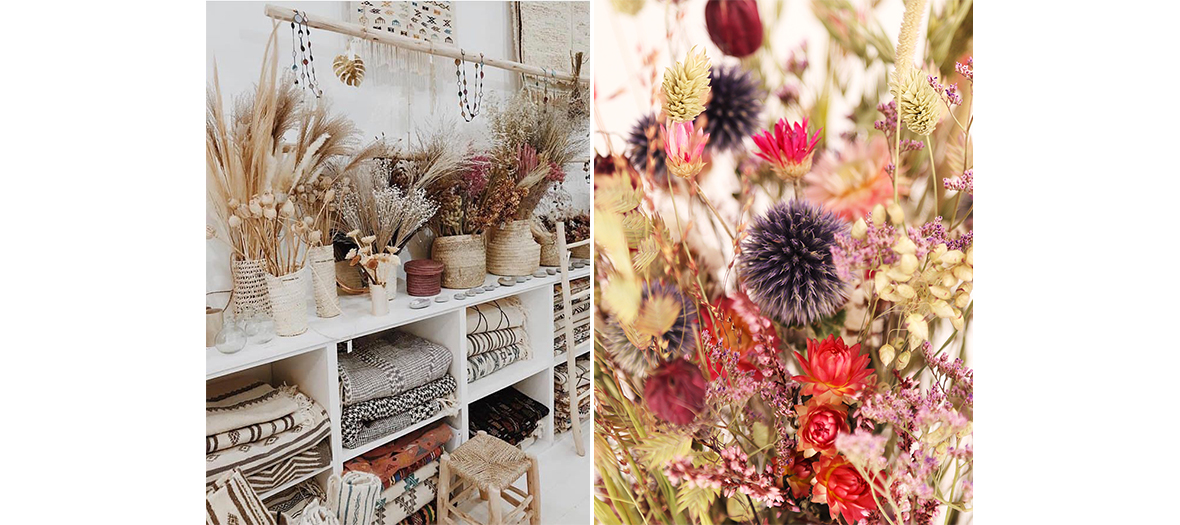 After making us travel to Western Africa, India or the Maghreb through its ethnic signature, Pompon Bazar, the label specialized in hand-woven decoration objects, has settled at the BHV Marais and launched a pop-up store entirely dedicated to dried flowers. The last creations signed Pompon Bazar, carefully selected by Corinne Marchetti, founder of the brand, will be unveiled during the entire month of April.
The must: wild flower candles (€26) with rose fragrances, 100 % handmade 100 % vegan and 100 % comfort mood. The perfect gift (for yourself).
Pompon bazar, 15 Rue du Château d'Eau, 75010 Paris (workshop) and 10 Rue de Lancry 75010 Paris (boutique)/ 01 83 89 03 66
Also discover the favourite ceramics of leading chefs in Pigalle and the coolest plant grower in the 10th