Having the best market in Paris and the Rolls Royce of French craftsmanship delivered in less than 15 minutes to cook up a brunch is Frichti Market's new promise. Definitely the service we all dreamed of.
The must ? For any order, Frichti offers a bottle of Champagne Horiot - Cuvée Jean Baptiste for DO IT IN PARIS readers for their very first order on Frichti Market .
An extraordinary farmers market delivered to your home
Definitely fond of the best brunches in Paris whose buffets are full of exceptional artisan products? With Frichti Market , dream becomes reality . A veritable market to make Terroirs d'Avenir pale, this crazy service brings together the most cutting-edge producers, the best of the French region and the suppliers of starred chefs to your home, at low prices.
All that remains is to act as if you were going to go on a buffet tour to concoct the Christmas brunch of your dreams, without paying a high price. 15 minutes later, your basket is delivered: that's Frichti Market's ultimate cool promise. And you clearly have the smile. It only remains to prepare coffee.
Are you making your mouth water?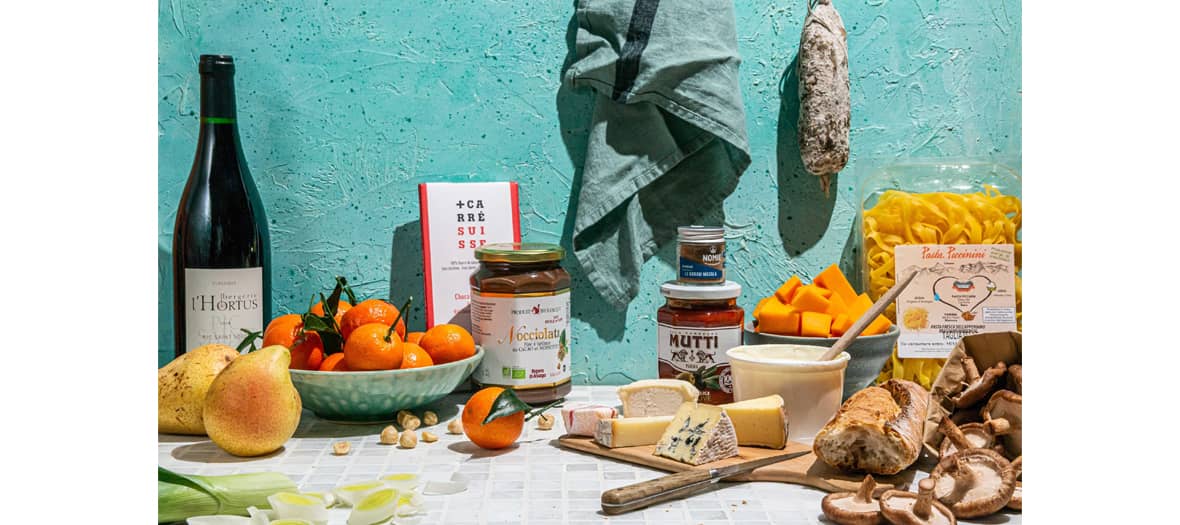 There is something for everyone, we do not know where to start: a dozen Creneguy cupped oysters n ° 3 Creneguy caught in Morbihan, crazy avocado, scrambled eggs with chives, slices of Scottish Red Label smoked salmon, blinis, lemon and crème fraîche, truffle ham from Maison Montalet, cinnamon rolls from Maison Landemaine , organic shrimps from Madagascar, fresh salad, coriander and chives, tarama with bottarga sourced from Mavrommatis , traditional baguette or bread with hazelnut honey chestnut spread with truffled brie or butter from the Beillevaire cheese dairy .
Fans of Italy will love the trattoria section . Buonissimo: author's cold cuts, homemade pesto, delicious cacio e pepe ravioli, crazy Italian cheeses (long live the straciatella!) Not to mention the homemade dough for a simmered pizza in 5 minutes flat.
This is without forgetting the chocolate mousse, vanilla financiers and cocobarre, a bounty revisited by Yann Couvreur (ex-pastry chef of the Prince of Wales).
We also like: the oranges with juice to be squeezed on the minute, the freshly ground coffee by Terres de café or the Nespresso bar if you are in the harbor… And the haute couture lychees or the basket of Corsican clementines to perfect the table.
I want an evening feast
We were talking about brunch… But the deal for products delivered in 14 minutes flat takes place every day from 9:30 am. In short: the best market in Paris with delivery until 11:30 p.m. You just have to prepare the aperitif.
An incredible rib steak from Boucheries Nivernaises or a good chicken to put in the oven, exceptional scallops to pan and serve with French vegetables from the producer: oyster mushrooms, fresh spinach, chanterelles (with garlic and parsley, of course) , small potatoes from Brittany or diced butternut already minced to make the mash quickly. Cheese, fresh baguettes and Baulois fondant for dessert. Dinner is folded.

And since it's Christmas , we promise you some exceptional products such as truffles to be rapped on fresh gnocchi to impress your lover and chocolates by Pierre Marcolini voted Best Patissier in the World 2020.
Total Flemme? Take out your raclette or fondue machine and order the perfect kit. Mix of melted cheese, fresh Chardonnay and baguette to cut into a crouton (€ 18.50 for 2) or the whole for the raclette . You just have to turn on the device.
Practical information : Frichti , delivery 7 days a week from 9:30 am to 11:30 pm in Paris and its surroundings. A bottle of Horiot - Cuvée Jean Baptiste champagne offered with the code DOITXFRICHTI for the first 100 readers for any first order on Frichti Market.
Offer valid until 12/31/2020, valid for the first 100 orders.