She had marked the spirits for her meticulous freshness and her love of beautiful products in the last edition of Top Chef . After the opening of Chocho , the table of her seasonal partner Thomas Chisholm , it's Pauline Séné's turn to take possession of her own kitchens with Fripon , her brand new signature bistro on rue de Ménilmontant which is already full.
In a very elegant decoration (marble, white tablecloths, silver candlesticks, etc.), the young chef offers the keen fans of the East Side her mischievous (rascal?) Approach to gastronomy 2.0 with irreproachable sourcing.
Sexy baby dishes
Daughter of a wholesaler in Rungis and of market gardening grandparents, Pauline Séné fell in love with the ingredient when she was little. Maniac of the perfect seasoning and little surprises on the plate, she imagines for Fripon his mischievous dishes with the mix & match for a fee: fine oysters of claire n ° 3 coriander sauce nuoc mam, pickled onions, kumquat (12 €) , Saint-Jacques, artichokes, watercress, Colonata bacon, butter white miso (22 €), sausage homemade herbs, potatoes, cream, capers (16 €), pigeon, endive braised parsnip cream, turnips, paste orange (€ 24) ...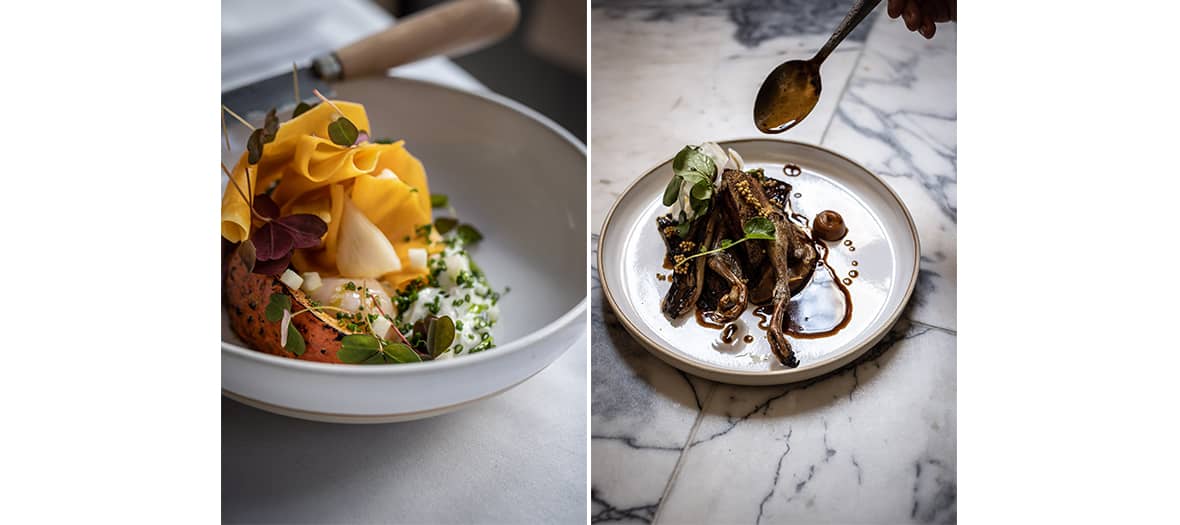 Even the desserts don't have to be ashamed with the incredible Breton charcoal shortbread , quince, diplomat cream with black sesame (€ 10) or the silky melilot cream, caramelized pumpkin, almond crumble, squash and lemon praline (€ 10).
A fine selection of natural wines
A few meters from Fripon, the manager Romain Battisti had already opened his Rita dining cellar with some 170 bottle references almost all focused on naturalness. Normal, suddenly, that Fripon follows suit with beautiful proposals all available by the glass around 7 €.
Difficult to find in a restaurant, we necessarily try the orange wine from Alsace, which goes remarkably well with the chef's clever dishes.
Open Monday to Friday from 12 p.m. to 2:30 p.m. and from 7:30 p.m. to 10:30 p.m. Room for 14 people to be privatized on request.
Also discover Abstinence, the new trendy dining cellar and the new Anahi menu by Mauro Colagreco.