As we announced earlier, this is one of the most anticipated openings of the year. In place of the old Botanique, Maxime Bouttier brilliantly perpetuates the bucolic atmosphere at Géosmine, his new address that enlivens the Canal Saint-Martin.
A Vibrant Place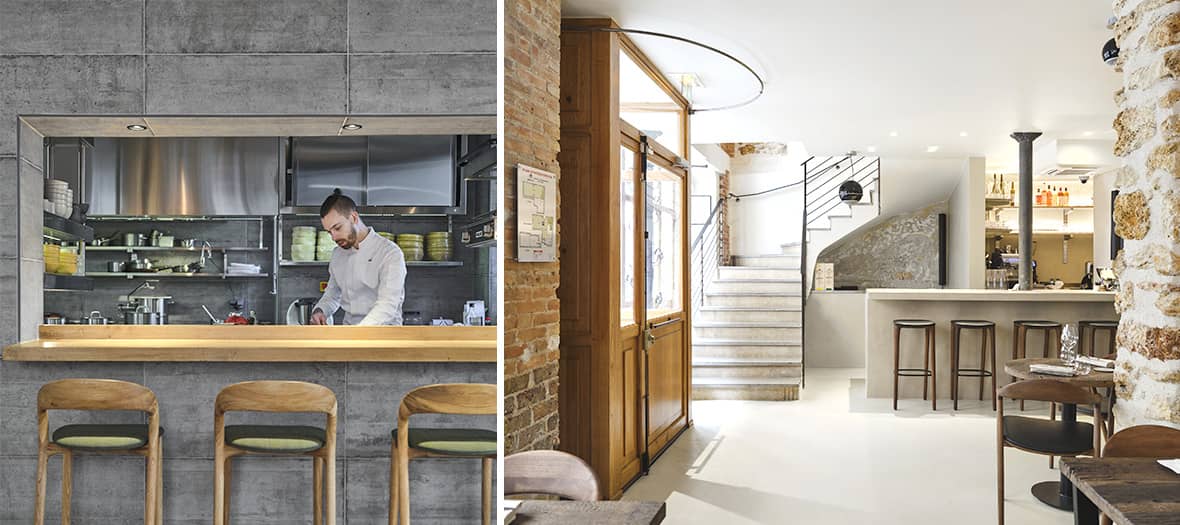 At Géosmine, Chef Maxime Bouttier (formerly of Mensae) pays tribute to nature with products from his region of Le Mans, which he twists according to the seasons and arrivals. In a setting that breathes, like what is on the plate, this restaurant is designed like a country house in the city.
There is total harmony in the decor that magnifies the beautiful materials and purity between its white walls, exposed stones, wooden tables, and even the tableware with handmade ceramic dishes and mouth-blown glasses Made in IDF by Loreceramic and A. Minima workshop. The glass floor revealing the XL cellar just under our feet is a highlight!
Raw Cuisine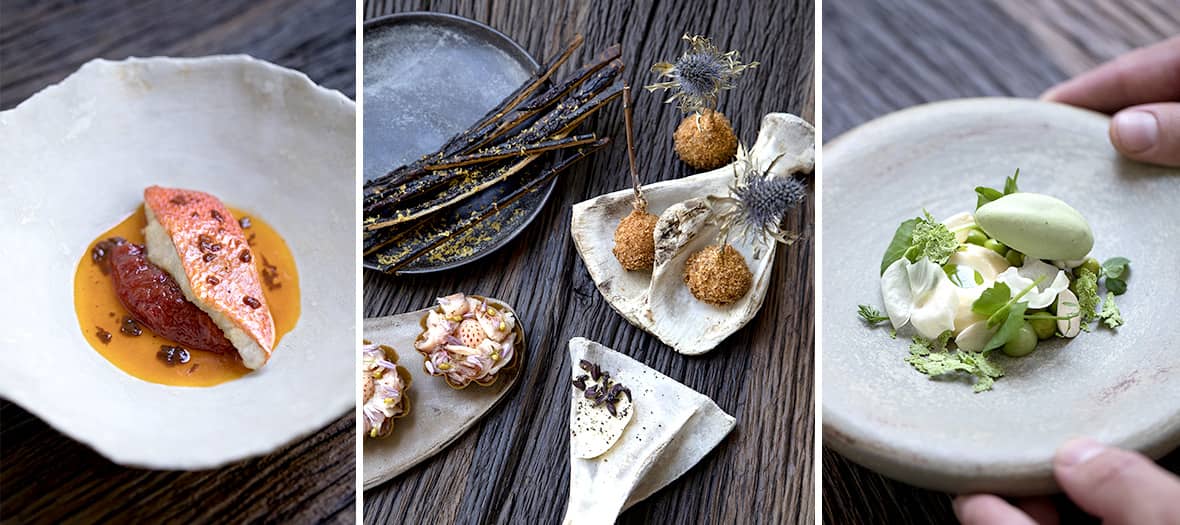 With its intellectual menu and high-quality sourcing, Géosmine offers rural cuisine where taste is the top priority. The concept? A carte blanche dinner in 8 or 11 courses of your choice, and à la carte for lunch.
And it's safe to say that Maxime Bouttier had fun creating his menu with graphic and colorful dishes that revisit forgotten recipes of the past, such as cow udder with caviar. There are also daring compositions such as the crispy meatball-style rillettes as an amuse-bouche and lamb brain in crust that echoes the chef's origins in Sarthe, with a special mention for the delicate flowered eel tartlets.
Moving on to the main dishes, there are wow-worthy roasted asparagus, crispy with notes of pistachio, tarragon, and wild garlic, toasted scallops, or seasonal mushrooms stuffed with meat that melt in your mouth, served with peas. A delight. Sweet tooths will enjoy the lemon-sage-hazelnut-butter-cereal dessert or the chocolate-praline option.
Note: the bread comes from neighboring Graines bakery, perfect to spread with herb butter between courses.
360-degree experience
In addition to impeccable service from start to finish and a fantastic welcome, every detail is taken care of, from the servers' discreet but regular attention to the traditional table brush cleaning after your meal.
Cool: the lovely sommelier Vincent Glaymann who accompanies you throughout the meal and advises you on perfect food and wine pairings. With its extensive (and very) long list of natural and organic wines, Géosmine is an excellent spot to taste the best European wine treasures: a good champagne from Brocard Pierre for bubble enthusiasts, or a good bianco Le Coste.
Open for lunch and dinner from Thursday to Monday. Lunch prices range from €11 to €49, while the evening menu starts at €109.
© Laurent Dupont and Delphine Constantini

Also discover Louise Bourrat, Top chef winner, hosts a pop-up at Ladurée et A New York style italian table