The bands of fashion press attachés whose offices are all around the corner, passing influencers and other editors all flock to lunch at Gomi , the new Mediterranean canteen that delights Montorgueil to extend the spirit of holidays in the sun.
A veggie paradise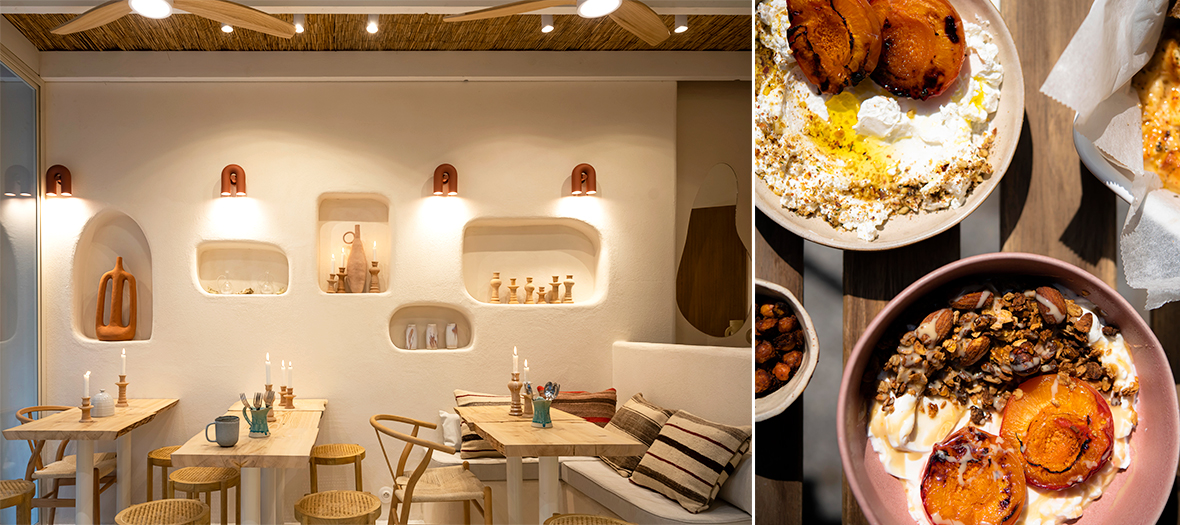 Self-taught chef with a background in home cooking, Clémence Gommy (Gommy, Gomi… have you got it?) Is committed to delivering beautiful, colorful and generous dishes, like the great Greek or Levantine tables. Without being discouraged by the quick queue, we slip into the queue to help ourselves to the " buffet " in the XXL dish of tabbouleh, pick here and there a few sweet potatoes, aubergines, zucchini or carrots roasted with spices… frankly yummy.
A true paradise for veggies , when the others will pass by the counter to add to their plate lacquered salmon, a shredded free-range chicken or a portion of omelet with herbs. Count € 13 for 3 vegetables, € 15 with an extra protein. Special mention for the desserts, to take away for afternoon tea as the portions are generous: browkie (€ 3.50), crazy chocolate babka with Babka Zana (€ 5), Basque burnt cheesecake (€ 5).
Sunscreen signed Pablo Goury
As a call to travel, the architect Pablo Goury imagined for Clémence the perfect holiday home by the sea, dotted with comfy beiges and alcoves on white lime with a small terrace and, surprise, a revisited Jacquemus hat. in a flash… When we talk to you about a new fashion rendezvous!
Open from Wednesday to Friday for lunch and dinner, Mondays, Tuesdays and Saturdays only for lunch.
Also discover Dalia, the back-to-school food phenomenon , and the insane sandwich shop at Relais de L'Entrecôte.