This is called a successful retraining. After a few years in the sphere of tech start-ups, Benjamin Cohen finally makes his dream come true with Dalia .

Create a Mediterranean table that is both stylish, joyful and foodie: " Middle Eastern promises ". A nugget in the tradition of the new generation of creative Middle Eastern addresses, with an added touch of signature cuisine and glam.
The festive table that is a hit in the 2nd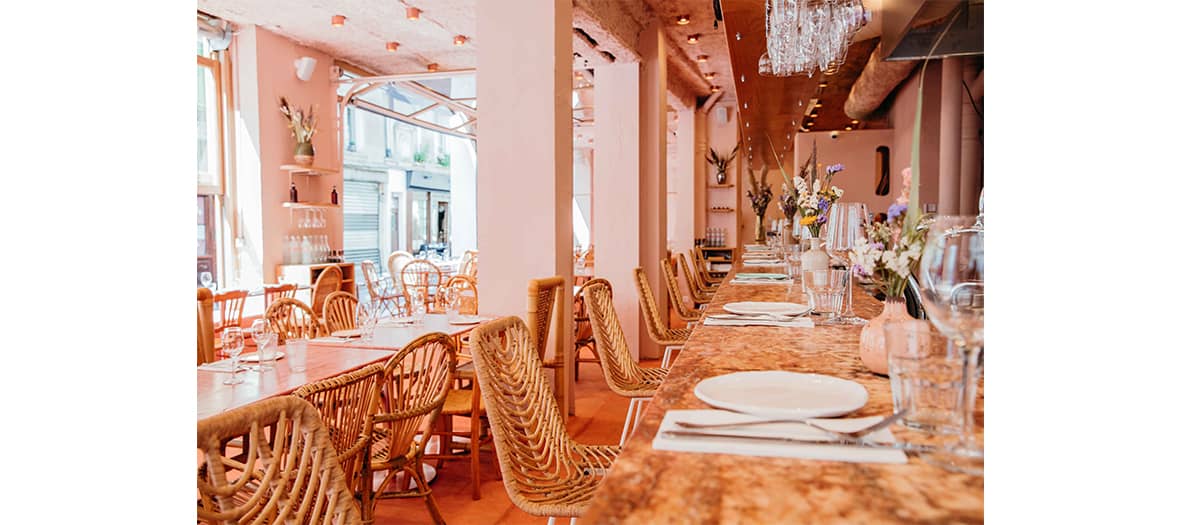 The appointment is therefore made at 93 rue Montmartre, between the Bourse and the Sentier . And it's very simple: since its opening this summer, the restaurant is always full.
Better: it is shielded by a dream clientele who come to socialize and be seen after work: the power girls of luxury and fashion houses, the merry gangs of friends in their thirties and demanding finch who like to mix the good guys. and the spirit of celebration without fuss. They flirt, they drink and they laugh harshly in an atmosphere as we like them ...
No successful restaurant without a very identifiable decor, with high photogenic potential, report to Insta. The staging of the best taste was entrusted to the studio Mur.Mur Architectes who imagined a unique place of its kind: benches on the street, wide open picture windows, bar canon, terracotta tone and rattan furniture .
Chef Or Bitan enchants a levhantive bistronomy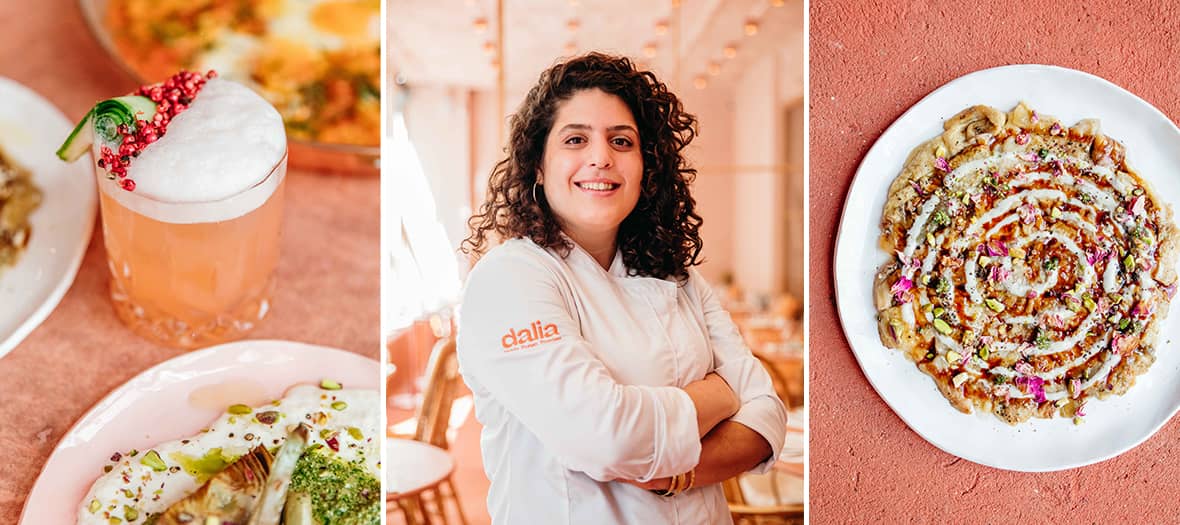 To ensure its gastronomic promise, Benjamin went to find " the " chef who is the benchmark to bring out the new generation of oriental tables Miznon and Shouk . In this case Or Bitan .
A bet that was all the more successful as this time, she is leaving aside street food gimmicks to assert Levantine cuisine that is at the same time simple, cool, elegant and refined. And it is a delight.

This gives around ten seasonal plates (special dedication to Marie de Martino's ceramics), for a dinette that incorporates the chic codes of sharing and author's mezzes.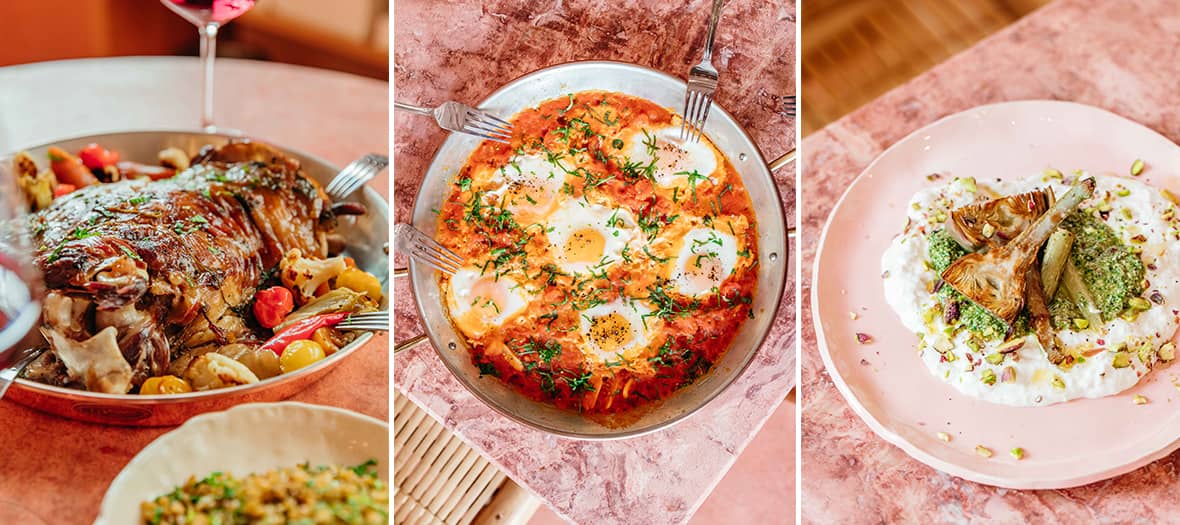 Real signature: its aubergine carpaccio with a 2.0 tahini with date molasses, pistachio and feta crumble (€ 11), sardine tempura with harissa aioli (€ 9), an exquisite labné smoked with sage (€ 11), lean wild sashimi seasoned with Greek yogurt with fennel and Kalamata olives (€ 16) or an unusual creamy hummus on which are served poultry offal (€ 13). A massacre to be washed down with natural wines and well-flavored cocktails, starting with the Dalia Mule (€ 12) and other citric cocktails very much in the taste of the time.
A well-regarded brunch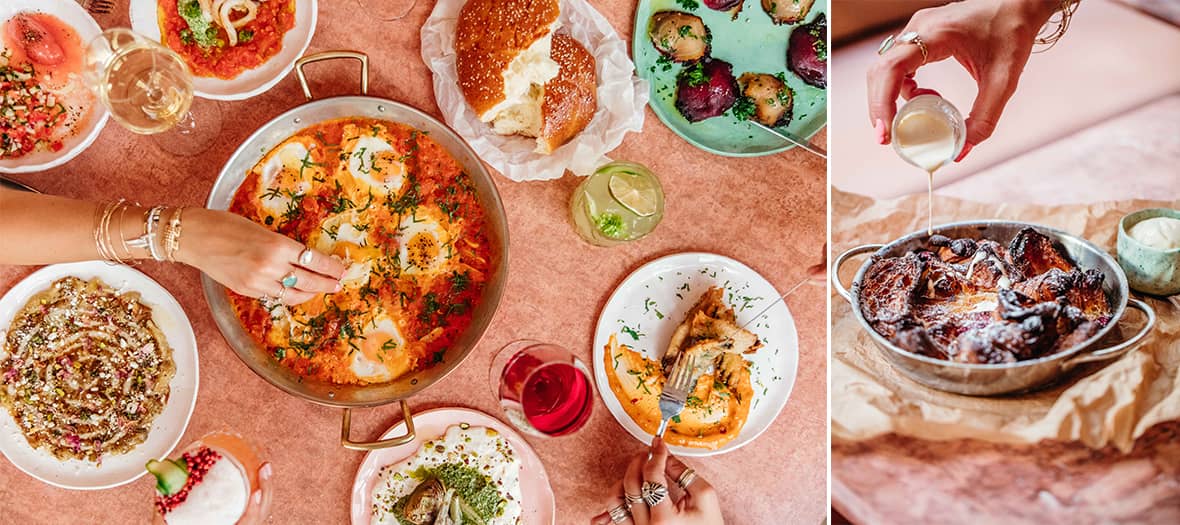 Another curiosity: an à la carte brunch on weekends which allows you to play on a more family and food porn register: shakshuka (€ 13), pita sandwich topped with meats (€ 11), plate of eggplant, tahini, egg and arabic salad (€ 14), but above all to try the desserts of the pastry chef Noam Bechor with a lost croissant with raspberry and addictive sauce (€ 10), a carrot cake (€ 10) or an exquisite Malabi , this famous pannacotta from the sun rising (9 €).
Open every day for lunch and dinner.
Also find the best Lebanese in Paris and Laia, the most secret restaurant in the 11th arrondissement