It's certainly not happenstance if the poster from the film La Grande Bouffe is displayed here in XXL format. It gives an idea of what awaits you in this bistrot-grocery shop in the Luxembourg area.
Barely giving you time to sit down, the owner recites the daily menu like a modern-day troubadour. Starter, main, cheese and dessert, concoted by the chef upon returning from the market. That day, the feast begins with a nice composition (dumpling of goat cheese, diced peppers, croûtons, fried bacon bits, chives, parsley) to be drowned in a tomato gazpacho, followed by an exquisite braised shoulder of lamb from the Pyrénées, bathing in a provençale of fragrant vegetables (mangetout peas, glazed garlic, pequillos, onions, thyme). To be savored with a nice glass of red wine (Corbières, 4,80 €).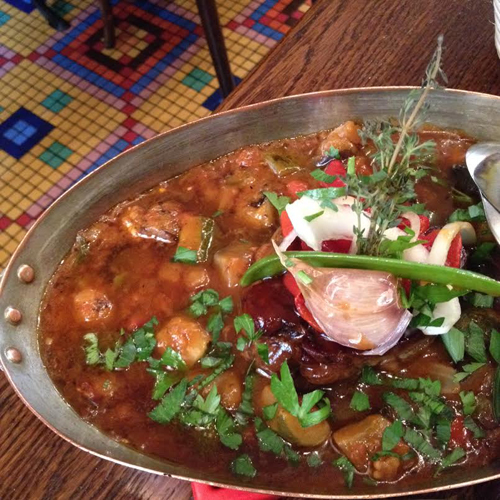 Cheese lovers never miss the Fourme d'Ambert teamed up with plums in red wine, but if you have a sweet tooth than you will prefer the strawberry panna cotta, melting and unctuous.
We like: their easy-going service. The gazpacho arrives at the table in a big soup tureen, plates are filled with a ladle. Same procedure for the lamb that is brought in a copper casserole to be shared.
The plus: a communal table d'hôtes hidden in the wine cellar for banquets (to be privately reserved for a group of ten people).
Market lunch menu, starter + main or main + dessert 28 €, complete menu 35 €
At night complete menu only 35 €