In the " Japan style " movement, the little new Hando has it all! Spinning in the purity of a wooded counter, he puts on his menu the Japanese coquetry that all Paris loves: the handroll , a kind of long maki to catch with both hands. Owner's turn.
A Japanese passion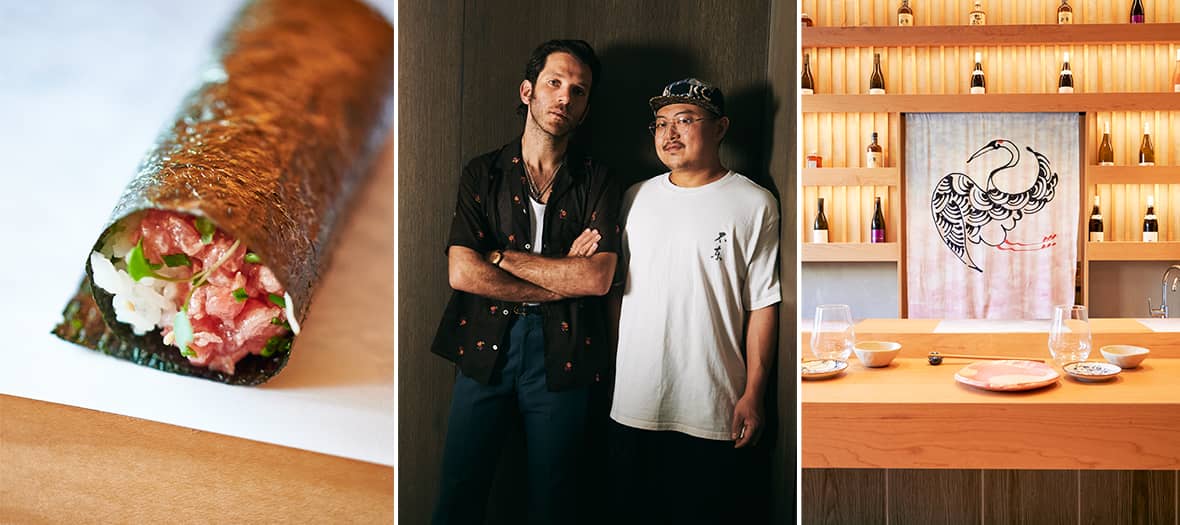 " I have Japan in my skin! ", says Adrien Albou , son of the designer of Paul & Joe (head of the brand's men's collections), who has brought his love for the land of the rising sun hand in hand with chef Le Cheng to create Hando . In the Zen of the decor and the concrete/wood/light triptych, we find the signature of the famous Japanese architect Tadao Ando who inspired the name of the place.
An elegant minimalism where every detail has been meticulously studied to offer an ultra-pretty mini piece of Japan in Saint-Germain-des-Prés . Everything is perfect, from the custom-made Noren silk curtain to the plates found in Tokyo to the chopstick rests by ceramist Suzie Lapier Dargy at the head of Forma .
fine foods
At Hando , the kings of the game are the handrolls . And so that they head straight for excellence, chef Le Cheng has gone in search of the best ingredients. If each fish has been the subject of a noble sourcing ( organic salmon from Scotland , toro tuna caught on the Spanish coast), the nori seaweed that envelops them, wildly intense and crunchy, was unearthed from an artisan in 'a small village planted in the Chūgoku region which usually reserves it for the stars of the country.
A pointed card
Honor therefore to the handrolls in their salty versions which blast the palate: toro (€12), crab (€9), lobster (€14), salmon (€8), yellow tail (€8), shrimp (€8). And for those who get seasick, a meaty handroll with caramelized wagyu (€11) and even a vegetable with avocado (€6).
To be tested absolutely: the exquisite toro & nori tartare (€14) and the delicious sashimi , sea bream or salmon to share (€9). Above all, we leave room for a Japanese sweetness by digging into the little mochi bombs straight from the Tomo pastry shop (coffee, vanilla or sesame, €6) or bet on a black sesame, yuzu or gemmaicha ice cream (€5 ).
Special mention for the excellent à la carte teas and the selection of high- end sakes that are a delight.
Open without reservation from Tuesday to Saturday noon and evening.
Also discover Nellu, Clément Verra's new dining cellar and Yakuza, the Japanese table that rivals Nobu