Playful lights, accumulation of mirrors, snappy colour tips...Parisian hotels are a real source of inspiration for those wishing to relook their flat with style, without necessarily breaking their piggy bank!  Ready for a visit?

At Hôtel Henriette: the recycled headboard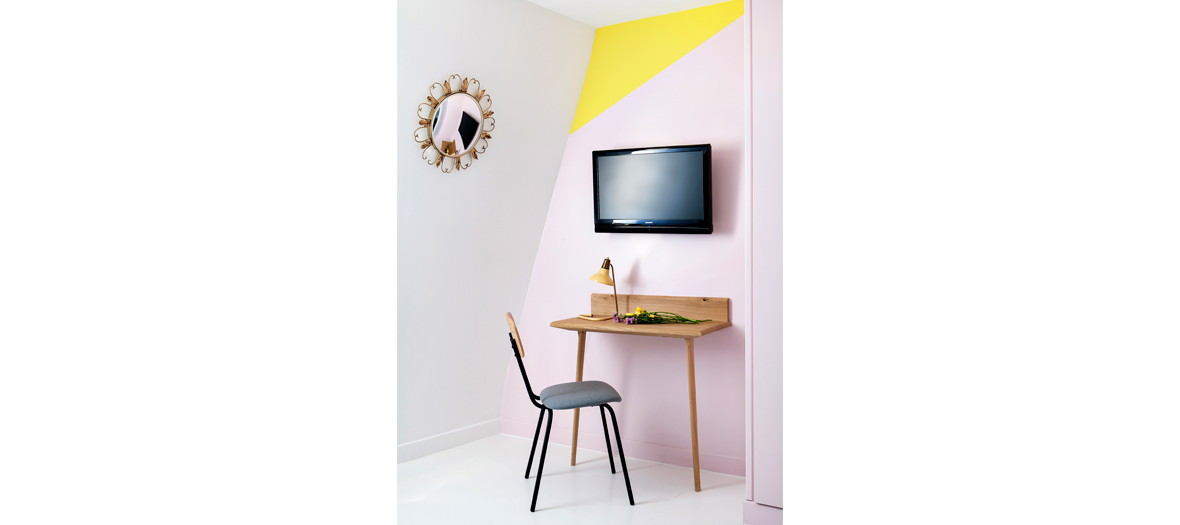 Photo credit: Julie Ansiau

First idea of our top 7: the recycled headboard, picked up at Hôtel Henriette, in the 13th arrondissement.
In this low-key cocoon, near the rue Mouffetard, decorator and stylist Vanessa Scoffier was able to associate with talent Art Déco influences and second-hand touches, notably with these old doors painted in a chic deep blue. A fool proof tip to upgrade your night space even with a small budget, and without taking up too many square meters on the ground.
The good tip: For an elegant and cosy result, we wager on paint with a matt finish.
This should make colour vibrate and enhance an ultra-pigmented overtone, as you would do it with a lipstick!

Hôtel Henriette, 9 Rue des Gobelins 75013 Paris - 01 47 07 26 90
www.hotelhenriette.com

At the Hôtel du Rond Point des Champs-Elysées: the combo paint + wallpaper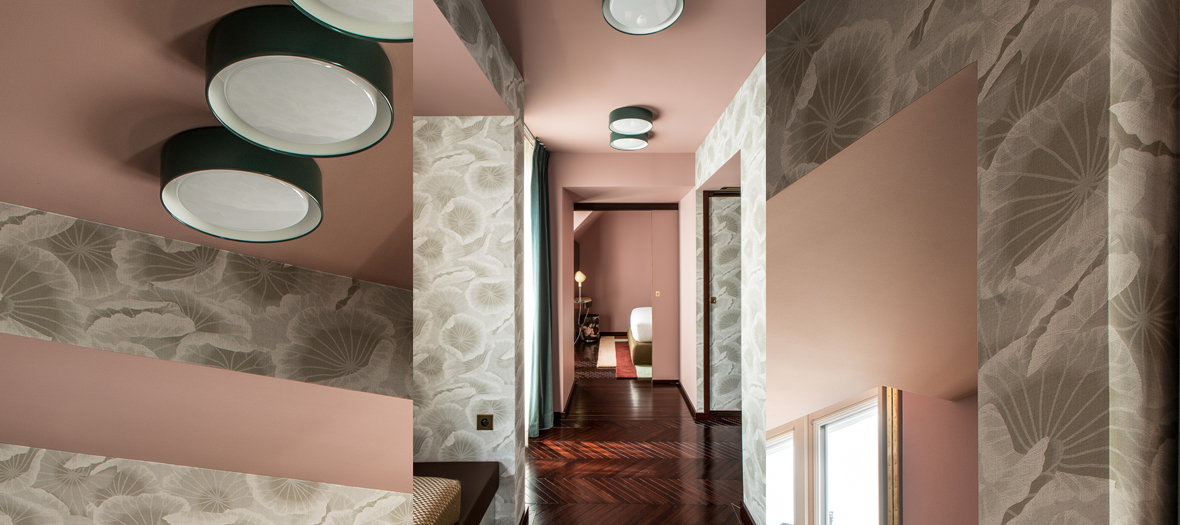 The big issue with Parisian flats:   lack of space that literally shrinks the volumes of the room. The solution:  sculpt the space in one fell swoop thanks to a winning duo: paint + wallpaper, to apply in touches on walls, substructures, ridges, roof slopes... in order to highlight the decor with panache. And it's at the Hôtel du Rond Point des Champs-Elysées that we spotted this bright idea. A new great address imagined by Dimore studio, the hot tandem of Milanese designers.
The Do it in Paris tip: Fearing the decorating faux-pas when the moment comes to choose matching colours and prints? No panic! The small label Paper Mint now offers a wide range of terrific paints to match up with iconic wallpapers by the brand.  

Hôtel du Rond Point des Champs-Elysées, 10 Rue de Ponthieu 75008 Paris - 01 53 89 14 14
www.paris-hotel-rondpoint-champselysees.com

At the Hôtel La Planque: factory walls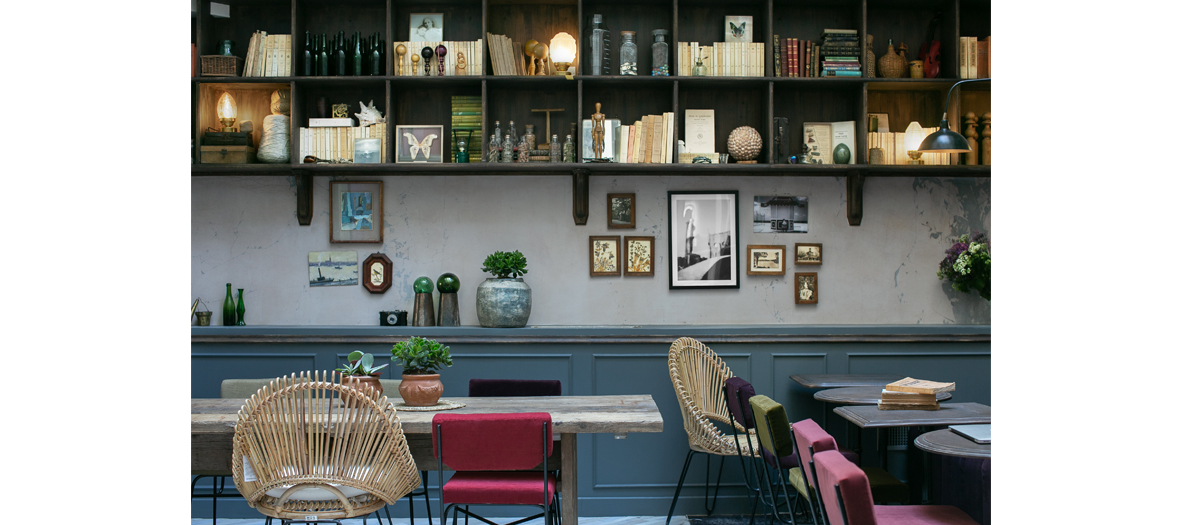 Photo credit: Nicolas Anetson

Ah these walls in patinated concrete, even damaged, that make us all dream…A decorating hit…we notably encountered at the Hôtel La Planque, the new hot spot of the 10th, imagined by the duo of architects Daphné Desjeux and Dorothée Delaye. But since we don't intend to move right away to a loft in Brooklyn, to do the same thing in our two-room flat, we go for new trompe-l'oeil wallpaper with great effect —more real than nature, to place on a wall or two. To be found at Rebel Walls or Pixers.
The Do it in Paris tip: to avoid the hassle of the tapestry table (especially if you are covering a large surface), choose non-woven wallpaper. The difference with a classic model? The glue is not applied on the back of the wallpaper but directly on the wall. Practical, and much quicker!

Hôtel de la Planque, 3 Rue Arthur Groussier 75010 Paris - 01 88 32 73 15 - www.laplanquehotel.com
At the Hôtel Rose Bourbon: gallery inspired shelves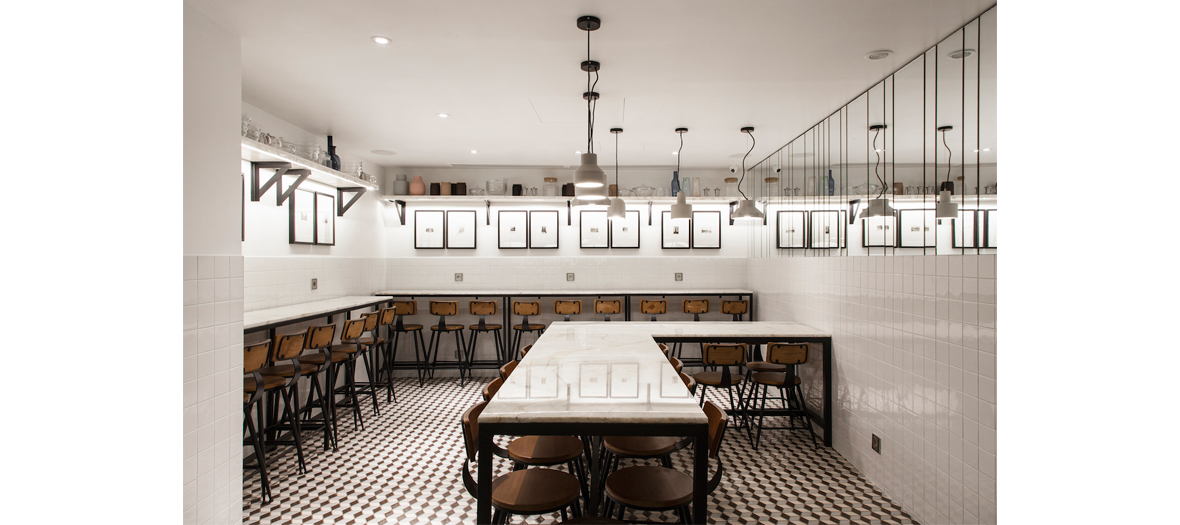 But let's go back to the lack or room, one of the most crucial problems of our Parisian interiors. An efficient way to circumvent the problem? Installing modules with storing capacities and a decoration spirit. In the image of XXL shelves spotted at the Hôtel Rose Bourbon in the 15th arrondissement. Installed about 30 cm environ under the ceiling and all around the room, they allow to fit in a maximum of objects without overfilling volumes. A project by the Interior Stories architects.
The Do it in Paris tip: We adapt the idea in the office with pretty boxes placed on shelves running along an entire wall, or like here, around the entire room.
Hôtel Rose Bourbon, 53 Rue de l'Église 75015 Paris - 01 45 57 35 80 - www.hotelrosebourbon.com
At the Hôtel Brach and the Hyatt Regency Paris Etoile: decoration is highlighted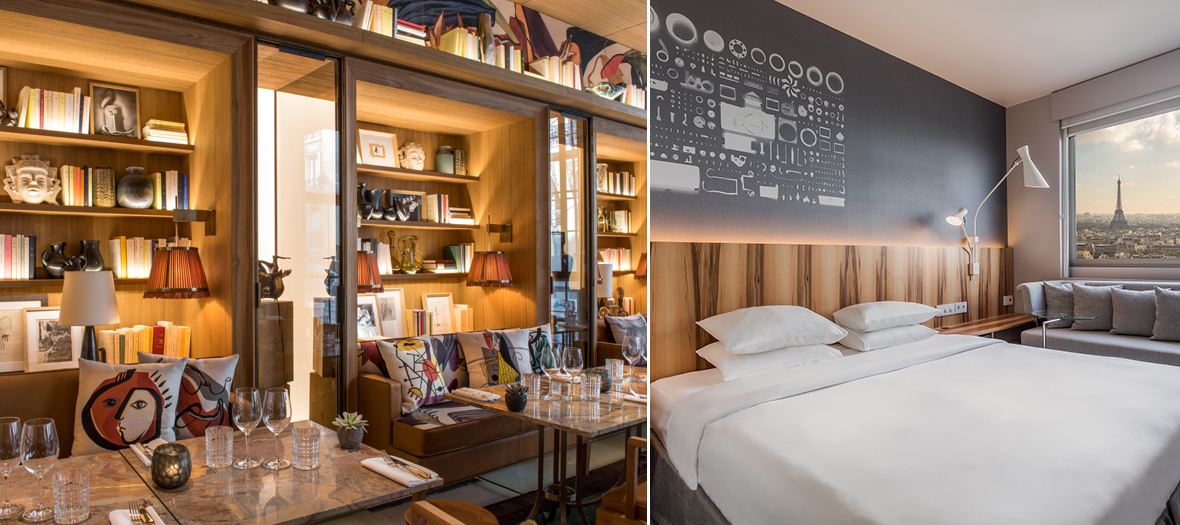 Photo credit: Guillaume de Laubier (Brach)

It's next to the Hôtel Brach (16th) imagined by Philippe Starck and the Hyatt Regency Paris Etoile (17th)  that we spotted an easy and bluffing idea, attracting lots of fans in terms of decoration: highlighting objects and furniture. The result is quite spectacular, and it's ultra-easy to do thanks to adhesive Led ribbons (Leroy Merlin, Castorama...). Just cut the Led ribbon at the desired length, fix it alongside the piece of furniture, the chosen wall, then hook it up thanks to a very simple system with a mini jack. Child's play!
The Do it in Paris tip: Like here, you can highlight a headboard, an alcove...You can also emphasize a door to wake up a small entrance or even the steps of a staircase. https://brachparis.com

Hôtel Hyatt Regency Paris Etoile, 3 Place du Général Kœnig 75017 Paris - 01 40 68 12 34 - www.hyatt.com
At the Hôtel des Grands Boulevards: playful mirrors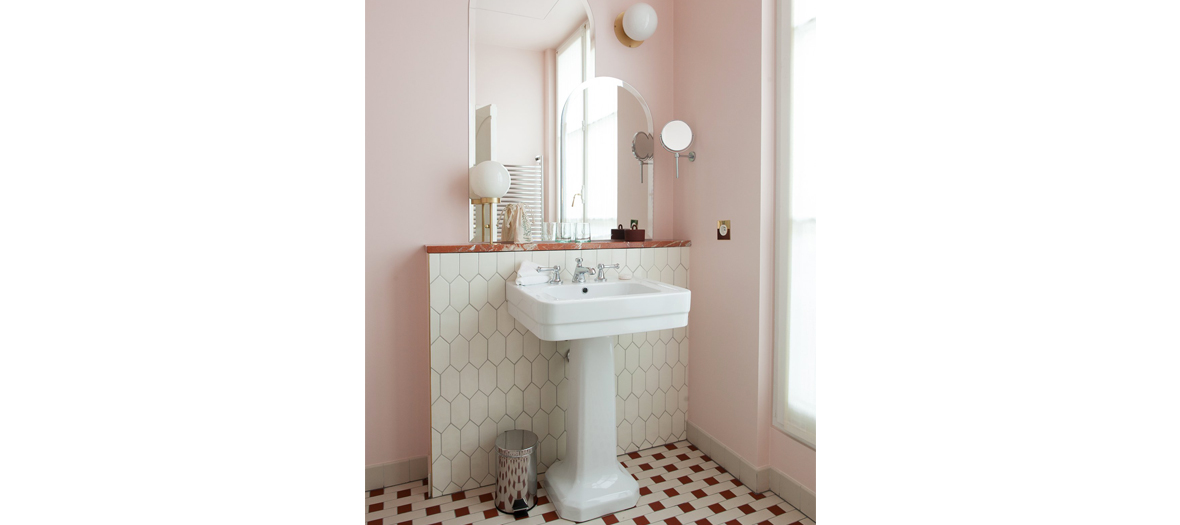 Photo credit: Karel BalasCéline Amico

Moiré fabrics, pleats and combinations of materials...Upon visiting the very handsome Hôtel des Grands Boulevards in the 2nd arrondissement, one easily recognizes the style of the talented Dorothée Meilichzon. Her trick to visually increase an XXS bathroom by providing it with more personality...and luminosity? Adding two or three Art Deco mirrors, lined up, like paintings. Simple and efficient.
Le tip Do it in Paris: Once again, no need to call your banker. Just go for frameless mirror models, ultra-minimalistic (Ikea, Sostrene Grene, Maisons du Monde...) , by mixing shapes and sizes to bring more zip to your composition. Then we place them, like paintings on a rail, for a super stylish neo-gallery result.
Hôtel des Grands Boulevards, 17 Boulevard Poissonnière 75002 Paris - 01 85 73 33 33 - www.grandsboulevardshotel.com