She asks herself no questions, she plows ahead. At 32-years-old, Claire Chicoine is at the helm of Seize, the first boutique-workshop dedicated to DIY in Paris which she opened in barely 3 months. Before launching her company, this energetic brunette had a stable job, doubled up with many advantages. What was the trigger, what did she learn from her big dive into entrepreneurship? The young woman shares with enthusiasm her first experiences as girl-boss. Better be on the ball, her ideas are quick as lightening!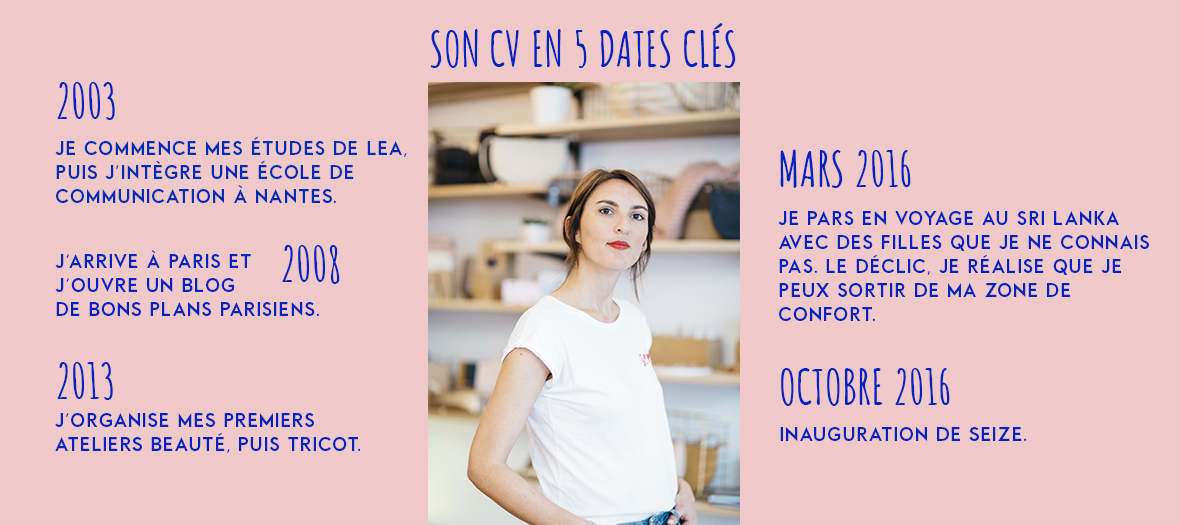 You left a comfortable full-time job to launch into DIY, how did your entourage react?
I was in charge of marketing and communication at the Office of Tourism and Congresses of Paris since 6 years, a very pleasant job with a nice team, a good salary, VIP passes to go a little bit everywhere. A great life. But the idea of launching out on my own was overwhelming. At the beginning, my boss did not want me to leave and for my mother, it was a catastrophe: "you did not graduate with a Masters to open a knitting boutique!". But once I spread out my wings, they supported me. Morality, you need to believe in yourself and not listen to the advice of others.
You have no associates. How come?
I did not have the time to look for any! Once I had the idea, I went all-out. Seize was launched in 3 months.
However, right from the start, I was very well surrounded. I chose competent persons on precise points: an architect (Nicolas Thermed), a PR (Melody Patin / Agence Mazimel) and creative animators for the workshops. Embroidery, weaving, jewellery... they all have their specialty. With Seize, I created a concept, so even if I'm not the one giving the courses, I am constantly present.
According to you, is one born an entrepreneur or does one become one?
At home, I always had a tendency to be the ring leader! I was front of the line, making decisions, I knew where I was going. On my mother's side, they are all in shop keeping business. I sat at the cashier's with my grandparents— I loved playing shop.
Many entrepreneurs draw their inspirations from concepts abroad. Is it the case with Seize?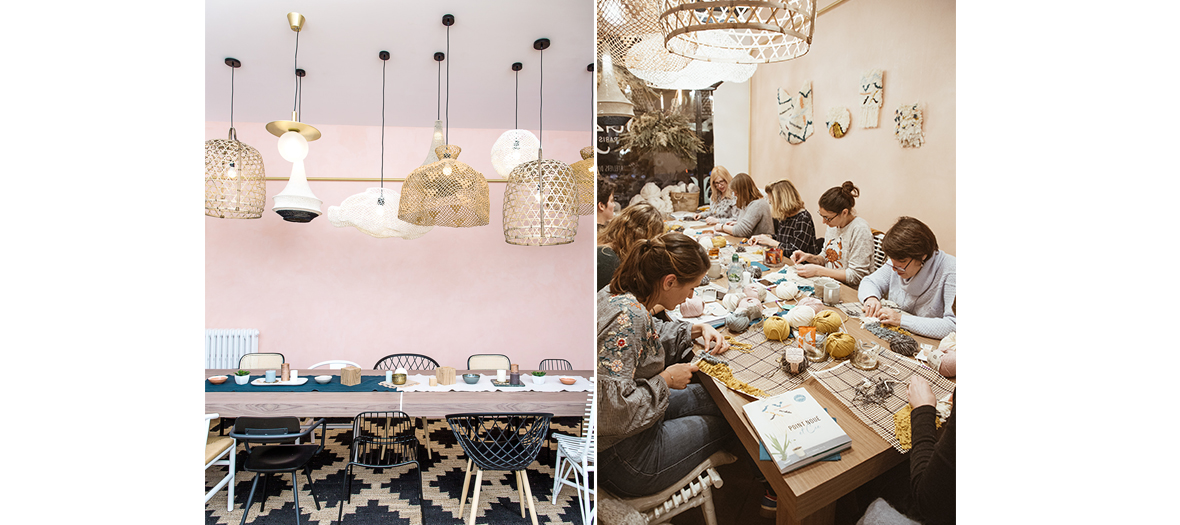 Not at all. I really wanted to start a meeting place for girls. After launching my blog of hot Parisian spots in 2010, I began organizing beauty happenings in hotels and cafés. We would get together for makeup, hairdressing, chatting. Then, I moved on to knitting evenings. What I liked was creating moments between girls, parenthesis conducive for girlie talks, as best friends might enjoy together, even though we had just met.
The concept of Seize stems from there. I wanted to launch a place to create moments for encounters and since I was in a knitting period, the project seemed totally obvious to me.
Had you planned an alternative just in case?
I never had another option. I did not even ask myself the question and I don't think it's necessary! I did everything I could so that it would work out, in my head, I did not see things any differently.
What you would have liked to know before starting your own company?
Having ideas is not enough! It's important to structure your business well. They say entrepreneurs spend 90% of their time on what brings them 30% of their turnover. It is important to quickly identify the turnover in order to focus on it. Unfortunately, it's not always our favourite part.
Your Arm Knitting courses created the buzz. How do you spot upcoming trends?
I was not expecting such a success! I spend a huge amount of time on Pinterest and Instagram, and this is how I spotted the technique that consists in knitting with one's arms—I found this really clever. One hour after opening up reservations, the first workshop was already booked. One year later, it still has not stopped. We even created a kit with Hachette publications to learn how to do it at home.
In general, I always look for workshops in keeping with the times, in terms of the materials we work with (thread, macramé, wool, cotton…), accessible to beginners and that don't last more than ⅔ h. At Seize, a workshop is a little like a therapy, girls seek out the anti stress effect of manual work. This season, there will be macramé, wicker and a scoubidou (multi-coloured laces) course!
With a passion job, is there still room for a private life?
I do nothing else on the side! No more weekends, no more days off… Launching your company is very time consuming, and you don't count your hours. You need to do it at a time in your life when you don't have too many commitments. I had just turned 30, without children, I felt it was the right moment. It was that or then moving out of Paris, but before leaving Paris I wanted to launch my business.
Your social life takes a blow, I see fewer people, but I make sure the moments are of high quality. I try to keep time for myself, notably on Monday mornings, when the activity is calmer, it's important. I go to the gym once a week, as opposed to three times before Seize. It's important to have an outlet. And I don't have my emails on my mobile in order to be able to cut everything off!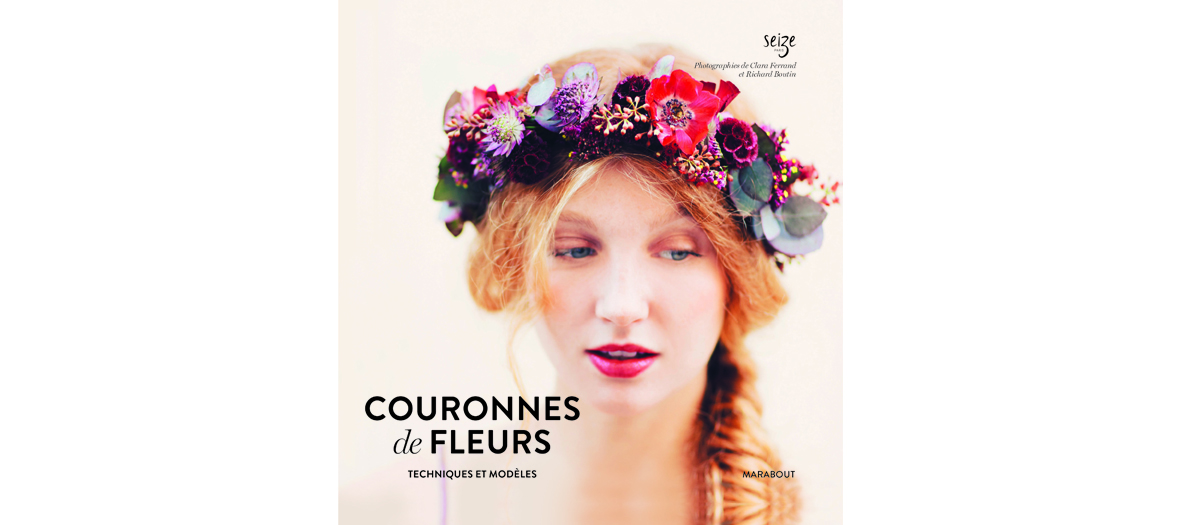 Seize has just published Couronnes de fleurs at Éditions Marabout, 72 pages, €9.90 and in May will publish Seize au fil des saisons, its best-of for workshops with more than 60 projects/ tutorials.
Also discover the interview of Mathilde Lacombe