© Le Melville, Son de la Terre, and Pauline Rousseau for Les Bascules
Paris is swinging! While we already know about the addresses on Rue des Lombards and Caveau de la Huchette for jazz enthusiasts, some trendy spots have recently emerged. These places not only offer live concerts in charming settings but also serve delicious dishes and well-crafted cocktails. Tested and approved, here are three recommendations.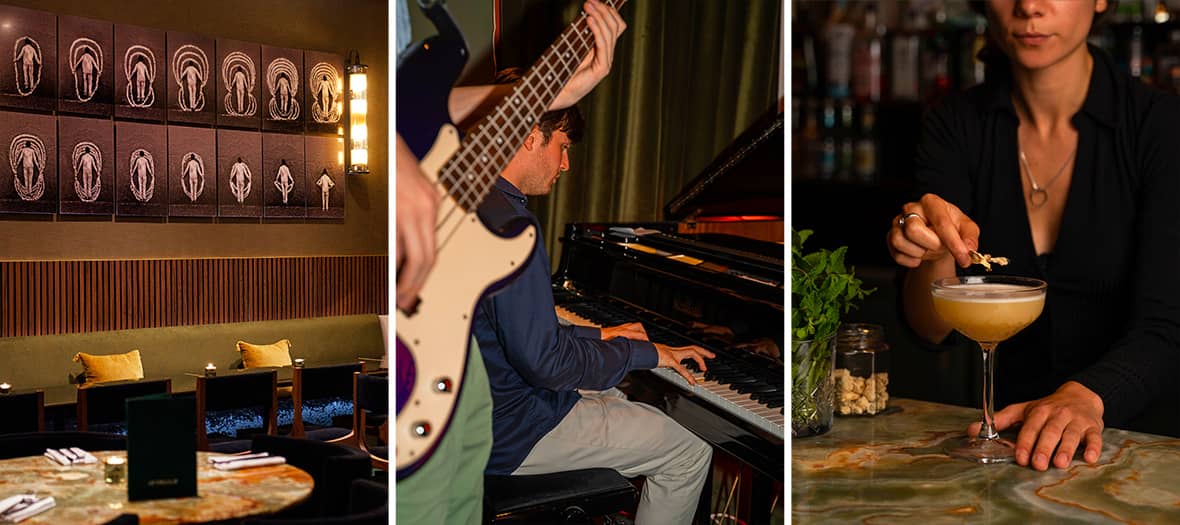 The Venue: Undoubtedly the most elegant in this selection! Le Melville is the heartfelt project of two friends, music producer Laurent Macherey and business lawyer Sébastien Prat. Their passion for jazz led them to open Le Melville last year in the embassy district in the 8th arrondissement. It's a refined space, predominantly blue and green, with thick velvet curtains and matching banquettes. The stage is set close to the audience, allowing them to enjoy music while still engaging in conversation, making Le Melville the perfect place for a romantic evening.
Concerts: Every evening from Tuesday to Saturday, two sets (9 pm and 10:30 pm) feature artists presenting a consistently top-notch program, ranging from standards and bossa to salsa and world music, performed as duos or trios. The entire program is announced in advance and well-detailed, allowing guests to choose the night that best suits their taste.
Cuisine: Chef Malcom Ecolasse presents a playful menu of shareable plates, starting with cherry langoustines (€20) and chimichurri octopus (€21). Followed by a surprising merguez tartine (€22) and miso pork ribs (€21), concluding with a highly addictive pistachio floating island dessert (€10).
Signature Cocktail: The Melville with vodka, Noilly Prat, St-Germain, and apple (€17).
Address: Le Melville, 28 Rue Jean Mermoz, Paris 8th. 01 40 75 00 57.
© @puxanphoto for Le Melville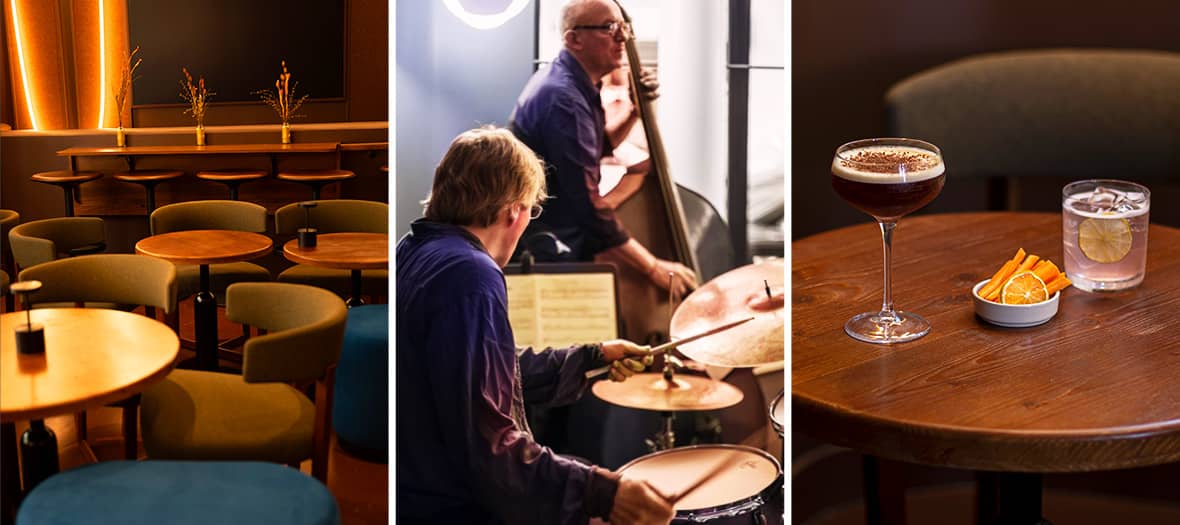 The Venue: Located just across from Palais Brongniart, this new spot is intended for true music enthusiasts, as talking can be a challenge, especially near the stage. Save the gossip for later!
Concerts: Every Thursday from 8 pm, Les Bascules host an artist or a jazz musical group. The highly eclectic programming brings together French and international talents of all ages and backgrounds, from Niçois Tony Paeleman to saxophonist Toufic Farroukh and guitarist Sandro Zerafa. Note that on concert nights, there is an additional charge of €15 to €20 per person to compensate the artists.
Cuisine: The culinary surprise of Les Bascules. Lebanese chef Melissa Nassif presents an impressive menu with simply addictive dishes. Start with grilled halloumi salad, roasted figs, herb salad with arugula, mint, savory, and green onions, lemon honey sauce (€14.50), and a perfect man'ouché with meat and cherry (€14) before indulging in pistachio Ashta ice cream with cotton candy and green pistachios (€12), mmmh.
Signature Cocktail: The velvety Where Clouds End (Italicus, homemade fig syrup, egg white, yuzu lemon juice, €15).
Address: Les Bascules, 3 Rue de la Bourse, Paris 2nd. 01 40 15 01 54.
© Pauline Rousseau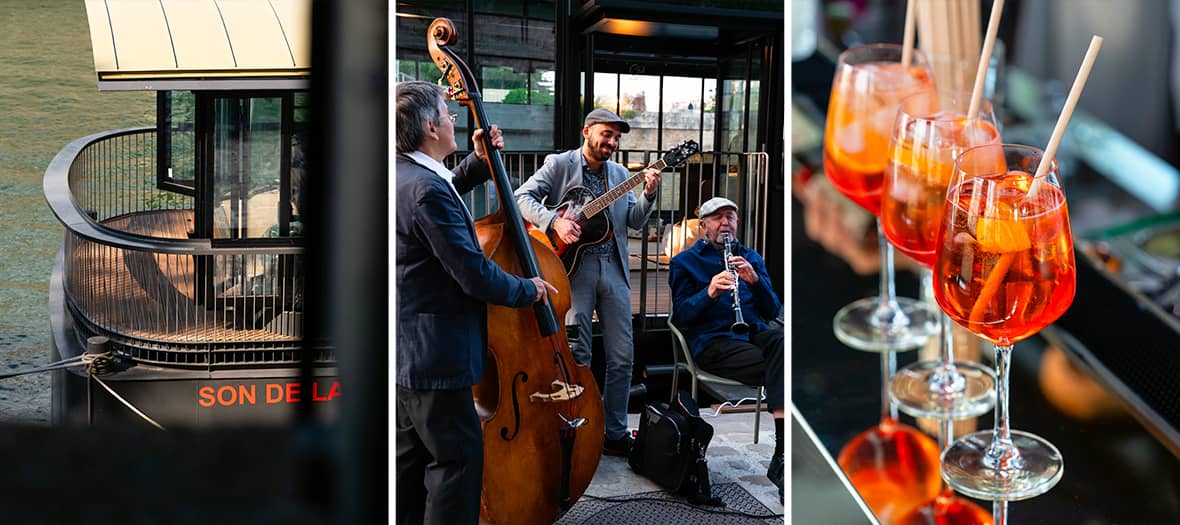 The Venue: A floating jazz bar on the Seine, a true "spectacle boat" moored facing Notre-Dame de Paris and endorsed by Thomas Dutronc, what else? At Le Son de la Terre, a novelty in 2023 from the owners of the Marcounet barge, singing and toasting happen in a vacation-like atmosphere all year round.
Concerts: Check out the program here! Almost every evening, musicians from around the world take the stage (elevated facing the audience, in front of a large window overlooking the water, nice!) to entertain the crowd with highly varied styles, from swing to world jazz, and even pop, funk, or soul artists. And, of course, regular dates for gypsy jazz enthusiasts.
Cuisine: Shareable dishes that evoke the warmth of the sun, including platters (vegetarian, mixed, land & sea, croque… €20-22), a tortilla (€12), babaganoush (€9), or a beef shawarma with black garlic and oyster mushrooms (€18).
Signature Cocktail: The Paloma with mezcal, honey syrup, lime juice, sparkling water, grapefruit juice, and grilled grapefruit (€14).
Address: Le Son de la terre, Port de Montebello, Paris 5th. 06 60 47 38 52
© Son de la Terre
Discover also West Side Story, the perfect version at Théâtre du Châtelet.