Here is a new pastry that really makes heads spin. And with cause, in this bustling part of the 17th arrondissement, the virtuoso pavlova is the new star in the spotlight. Splendid.
Quick recall: the legendary sweet meringue, originally from New Zealand owes its name and its immaculate grace to Anna Pavlova, the Russian dancer from the Bolshoi during the Roaring Twenties. Mounted in keeping with culinary tradition, the meringue is crispy on the surface, soft inside and openly flirts with an unctuous chantilly and colorful fresh fruit. Bingo.
A very upscale basis that allows a great number of fantasies: green lemon whipped cream, raspberries, passion fruit; whipped cream with cocoa, grapefruit, raspberries; tonka cream, strawberries, kiwi… Such is the principle of the house. Next to these ready-to-go recipes, you can choose each ingredient (cream, fruit) for a 100% customized dessert and without an ounce of gluten. Highlight: it is made live in front of you.
The pirouette? An individual format  for small solitary pleasures.
Open Tuesday to Friday from 10am to 8pm, Saturday from 9am to 8pm, Sunday from 9am to 7pm Individual 4,50€. 4 persons 17€. 6 persons 25€. 8 persons 33€.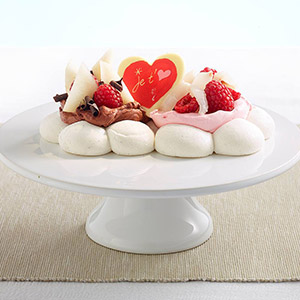 Also discover Lignac opens his first tea salon.