The pitch? A new great looking bistro-rôtisserie as we like them on the edge of Canal Saint Martin where all the hipsters come to chill and enjoy great eats. Here one finds the Ile de France products, great organic coffee (1€) made in Paris beers (5,50€) and producer champagne at cool prices (8€).
The terrace: totally adorable with its sunny waterfront tables, right on Quai de la Marne. A real winner !
You go there for… everything, from morning until night... Special kudos to the house broiling with free range chicken to share with fries (12€ per person), Asian ribs (12,50€) or a honey pork shank (13,50€), great salads (12,50€) or an irresistible burger with herb mayo (mmmmmh!) (14,50€).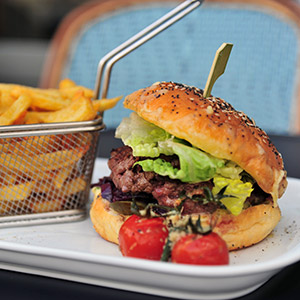 Open every day until 2am.
Also discover Père et Fish, the restaurant of fish burgers in Paris.