It's the well-kept secret of Mediterranean food buffs. While Parisiennes already have several good addresses to take out street food such as their fallafel or a smoking chawarma. What is not as well-known, is that there exists a stylish socialite dining room serving an excellent Lebanese cuisine in keeping with the most popular tables of Beirut.
The rendezvous is taken in the 16th, right near the Place de Beyrouth. What a coincidence ! Maison Noura, the very upscale address of thela Antoun family, enables chic Parisians chics to discover Lebanese gastronomy under its most noble aspect. As testifies the deluxe decor with wide banquettes, gilding and wood panelling —imagined by star architect Pierre-Yves Rochon (Four Seasons, Hôtel Vendôme), a connoisseur of Levantine culture.
Highly gastronomic mezzés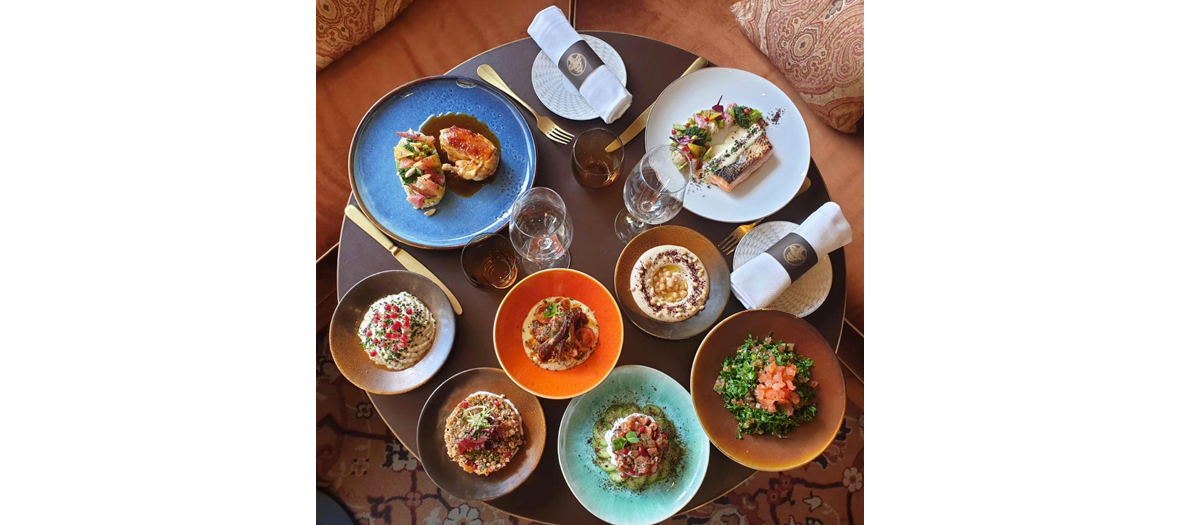 Let's start with the beginning: top notch mezzés, to share obviously. For those in the mood for kémia, certain sun-filled specialties are a must: the regressive grilled halloumi with pears (€15),the fritto misto of octopus, squid, sesame cream (€17), the fresh fattoush salade (€15), a traditional taboulé with parsley (€13) and of course the divine house houmous (€12) and the smoked eggplant caviar (€12). Instagram-compatible at 100%.
Other singularity: enjoying the delicacy of a Mediterranean bottle from the best vineyards in Lebanon.
Dishes worthy of the best tables in Beirut
Carnivores will appreciate the mix grill featuring perfectly cooked meats: taouk chicken, kefta and lamb skewers (€29). Other signature dish to taste once in a lifetime: the absolutely delicious royal glazed lamb, served with its 5 spice Lebanese rice, almonds and raisins from Corinthia (€27) ou encore un singulier tigre qui pleure "façon chawarma" arrosé d'une sauce addictive soja, dattes et gingembre.
Last but not least: their assortment of baklavas for dessert (€11) et le mouhallabié, le mythique flan libanais à la fleur d'oranger (€11). Yum ! And to digest: a good mint tea. Tip: come on an empty stomach...
Open every day for lunch and dinner.