Winters and confinements follow one another leaving us with a deep desire to feel good without slippers . To hang out at home, have dinner or tread the Parisian cobblestones, the good old people slippers are making a comeback and are inviting themselves in the rooms of fashionistas as well as on the most cutting-edge fashion shows (Dior Homme, Balenciaga, Proenza Schouler, Marni, Dolce & Gabbana…), in ever more sophisticated versions which revisit traditions with mischief.
Furlane Venetian, papi slippers, boots, coats, fluffy ballerina, slippers or mules palace: the inspired slipper and aristocratise. A tour of the labels that have made the tatane the ultimate fashion accessory to own.
Charentaise style: La Charentaise TCHA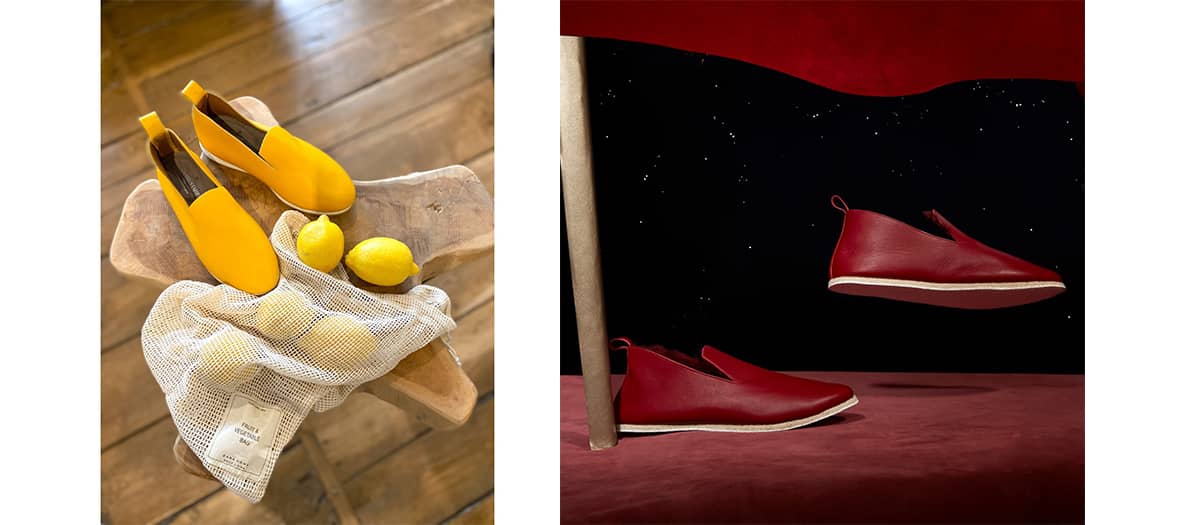 His version of the slipper: a Charentaise made in France, handcrafted in a workshop in Angoulême using the ancestral " sewn-back " technique, for incredible comfort. All in vibrant colors, in a lined version or not, with a straight cut, in leather or wool, to wear inside and out.
Our favorites: while waiting for the summer models in light leather, we fall for the winter charentaise lined in suede (135 €), in lined felt (100 €), the very chic version in black nappa leather lined in skin burgundy lambswool (€ 175) or the minimum in blue or sunny yellow felt (€ 100).
www.lacharentaise-tcha.com , also to find in their shop at 17 rue de Poitou, 75003.
Also note: the divine designer Amélie Pichard continues to amaze us with her new fad: a pair of traditional charentaise , but in recycled denim with small rhinestones and printed with the label's logo (€ 110). Obviously cool.
Venetian style: Velvet Blue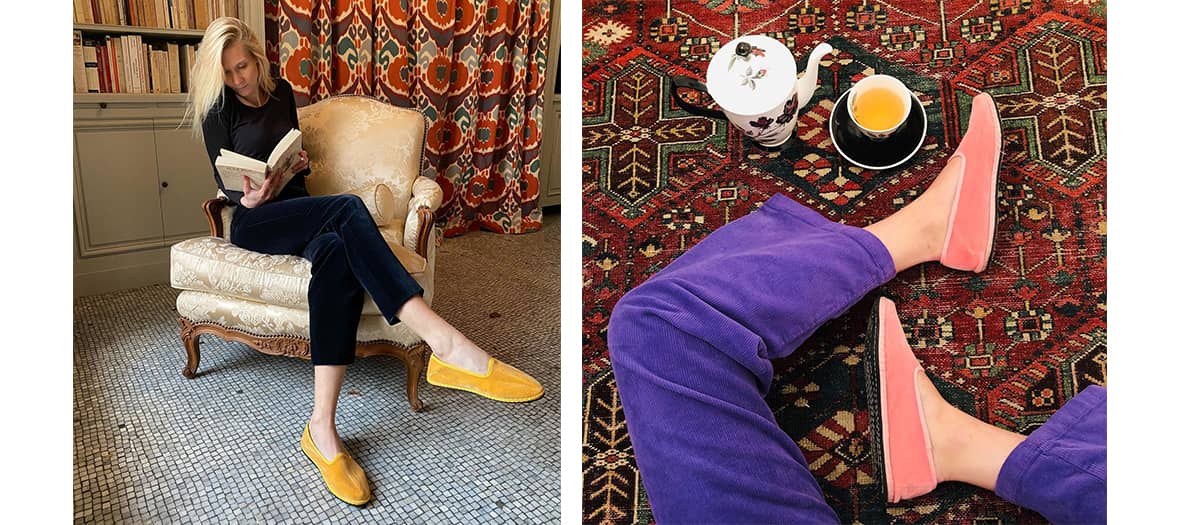 Its version of the slipper: with its sleek line, its visible bias, its cotton velvet in all colors and its rubber soles, the furlane are the historic slippers of the Venetian gondoliers. Bleu Velvet is supplied in a family workshop in the region, producing these hand-sewn beauties for 30 years.
Our favorites: in emerald green , yellow , deep blue , pink or plum for a single price of 55 €, all the colors are sublime. So why not collect them outright?
Boot style: Bogat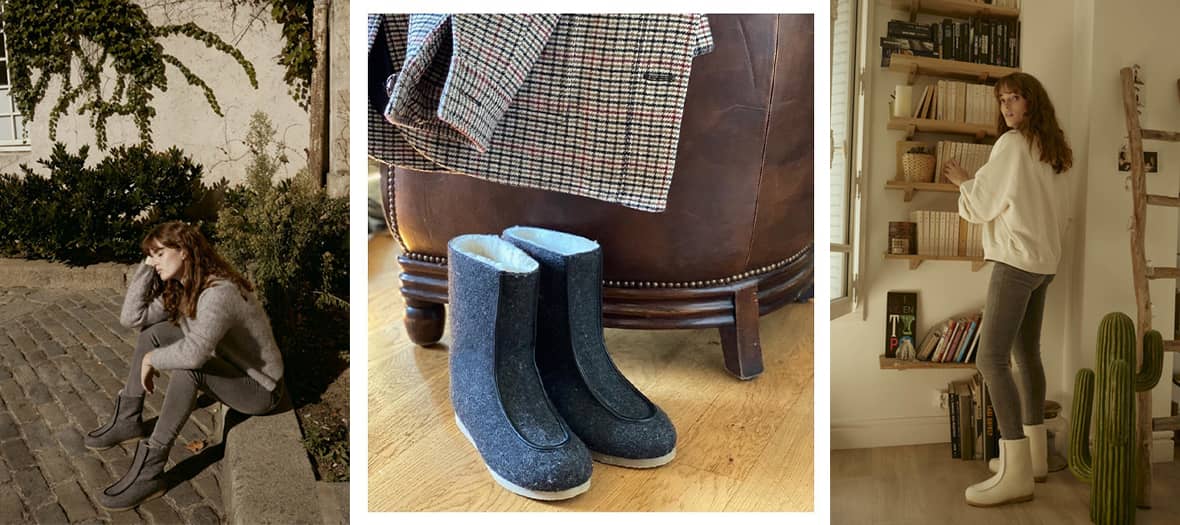 His version of the slipper: a resolutely elegant lined boot , that we finally dare to go out into the street. Inspired by techniques from around the world and more particularly from Russia, the Parisian label imagines a felted wool boot that breathes, protects against cold and rain, lined in sheepskin and with a cork sole.
Our favorites: the charcoal gray Paris-Paris , the heather gray Vladivostok , the all-white Baikal or even the glossy brown Petersburg , all at a single price of € 259.
Fluffy ballerina style: The Sleeper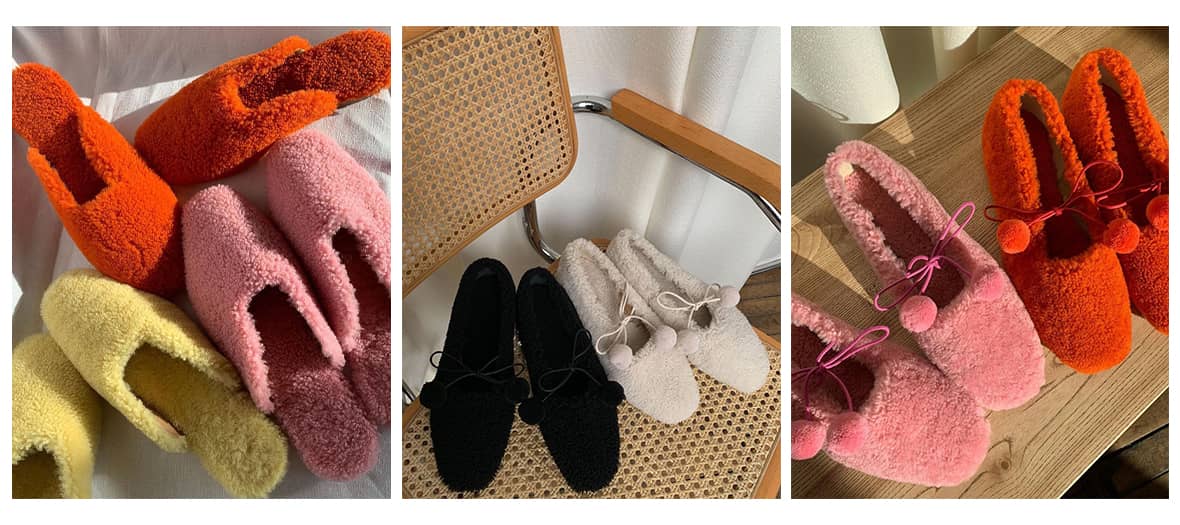 His version of the slipper: in addition to their incredible feathered pajamas, the two Ukrainian founders imagine a complete wardrobe of sleepwear in town and are a hit with the fashionistas of Copenhagen . Their fluffy slippers cut like ballerinas with cashmere pom poms and 95% biodegradable.
Our favorites: the lemon yellow Lulu with orange pompoms (€ 240) or the plain versions to fall in pink, cream, black, yellow or orange (€ 240), to wear inside as with jeans or a pretty midi dress . Splash, splash ...
Luxury hotel style: Spleen Paris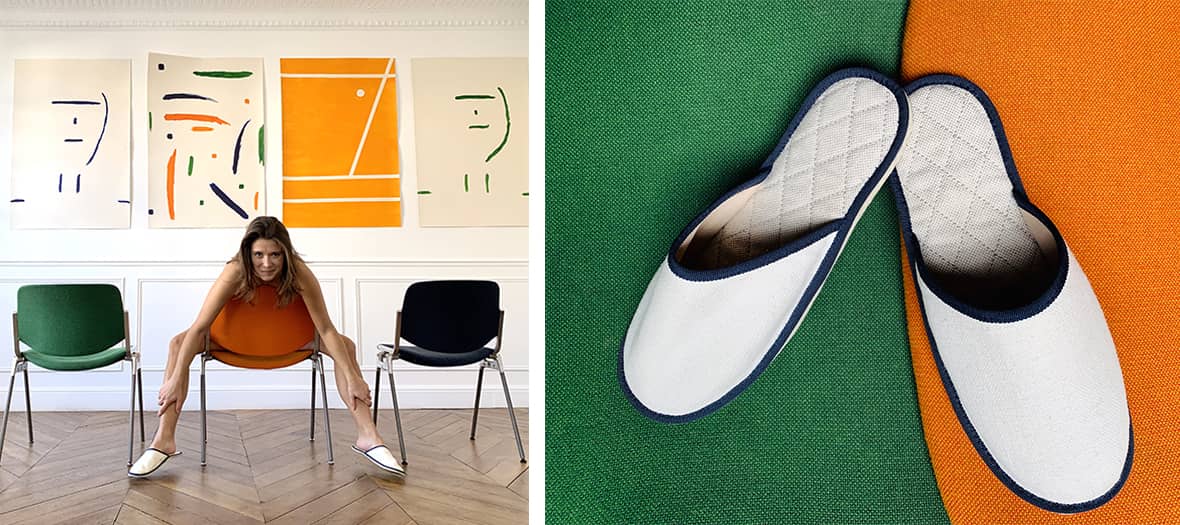 His version of the slipper: extend the kif palace at home with very fine slippers to put on for hanging out, without any synthetic material and made from linen, wool and vegetable-tanned leather. As a bonus: the possibility of personalizing them with their initials in gold leaf (40 €). Laureate of the Institut National des Métiers d'Art, Spleen Paris launched right before the first confinement: you speak of timing!
Our favorites: the classic white mule with navy or green trim , tricolor white, orange and blue or khaki , or even navy with white bias , with a suede sole and for a single price of € 95.
Slippers style: Calita Shoes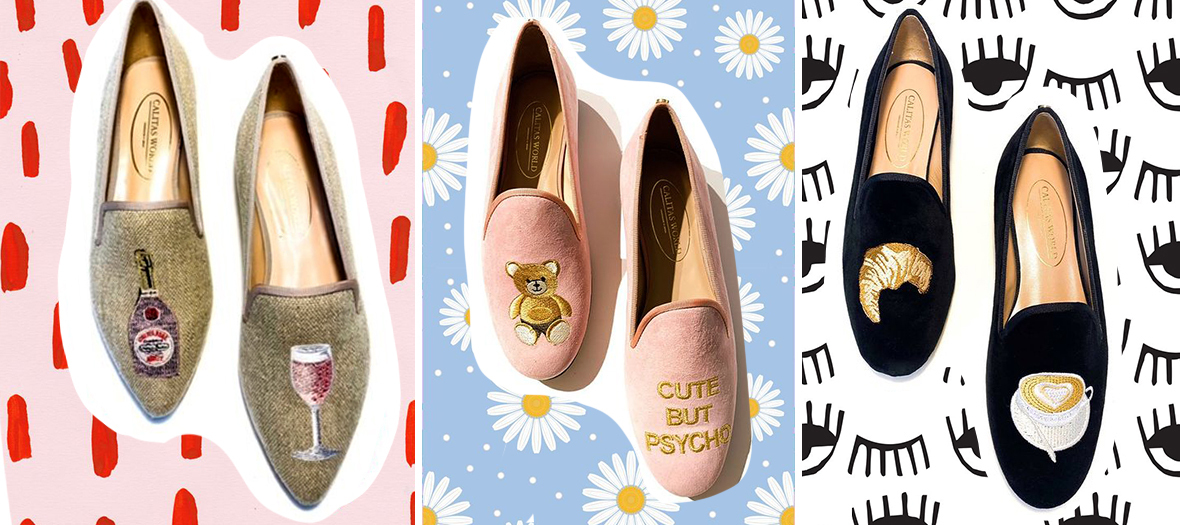 Its version of the slipper: a chic slipper in which you can slip as well to receive at home as to walk. Their added value? Velvets of all colors, cute or message embroidery (" Cute but psycho ", " Funny and vain " ...), the possibility of choosing between several shapes (pointed end, mule ...) and the option of making embroider his initials on the side for € 10 more.
Our favorites: difficult to reason by adding embroidered items to your wishlist (€ 175), hot air balloon (€ 185), dachshund (€ 175), teddy bear (€ 175), lemons (€ 185), peace and love (€ 185) , pointed with large knots (185 €) or even coffee-croissant mules (175 €).
Also discover the most beautiful pajamas to show off at home and the 10 golden rules of homewear .