And if Was Easter Becoming the Coolest Event of Spring? For the star decorator Vincent Darré (ex-right arm of Karl Lagerfeld), it is above all the opportunity to prepare an extraordinary party in a poetic universe worthy of the garden parties of Alice in Wonderland.

Its brilliant collection incubated in preview on Monoprix.fr (and in store on April 19), the love brand of Parisiennes, becomes the ultimate spot to organize everything, from lunch to decoration, including the required dresscode… Ready. es for the best Easter of your life?
The chicest picnic of spring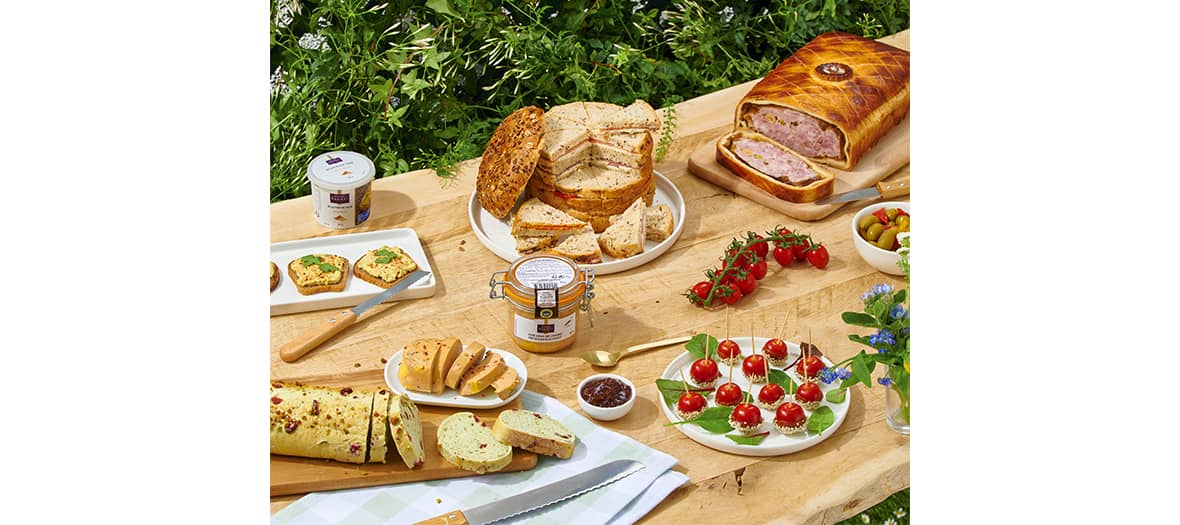 Little chocolate eggs are fun for children… But concretely, during the egg hunts, adults would also like to enjoy the feast for an insane aperitif with the best French producers and food nuggets : cheese bell goat cheese from Marie-Anne Cantin (€ 7.99 per 180 g piece), Médoc AOP Cru Bourgeoise (€ 11.50 per 75 cl bottle) or downright a Champagne AOP Lenoble Brut (€ 22.58), Arnaud Lahrer x Vincent Darré Easter chocolates and lollipops (€ 4 each), a whole Fauchon duck foie gras (€ 17.99) or even Burgundy Monoprix Gourmet snails (€ 3.74) and a good pâté en croûte (€ 24.99).
Highlight of the show for a highly disruptive party: the Italians get involved with an Easter panettone with fruit peel (€ 5.79).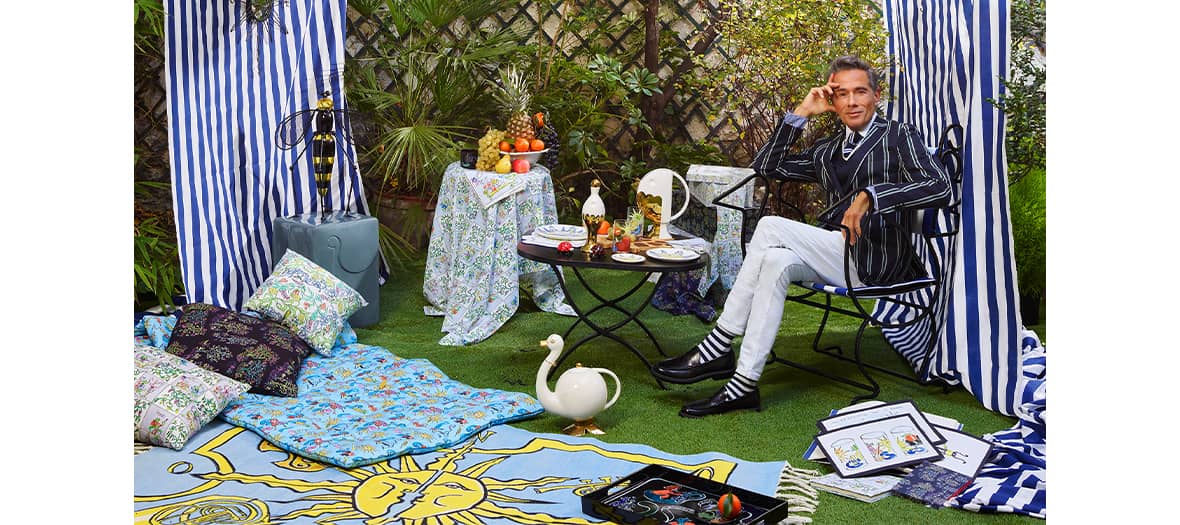 There are not only little rabbits in life! The egg hunt is reinvented as a picnic in the living room thanks to the spectacular atmosphere of Vincent Darré.
We first hang fabrics in the air to give the impression of a tent. Underneath, we set up our sun rug and plates (€ 5) on the floor, two blue and white striped chairs (€ 120) and large cushions with floral prints (€ 30). There, a small low table with duck legs (89 €) on which we present a swan teapot (40 €) and a ladybug salt / pepper shaker (12 € each). The decor is set.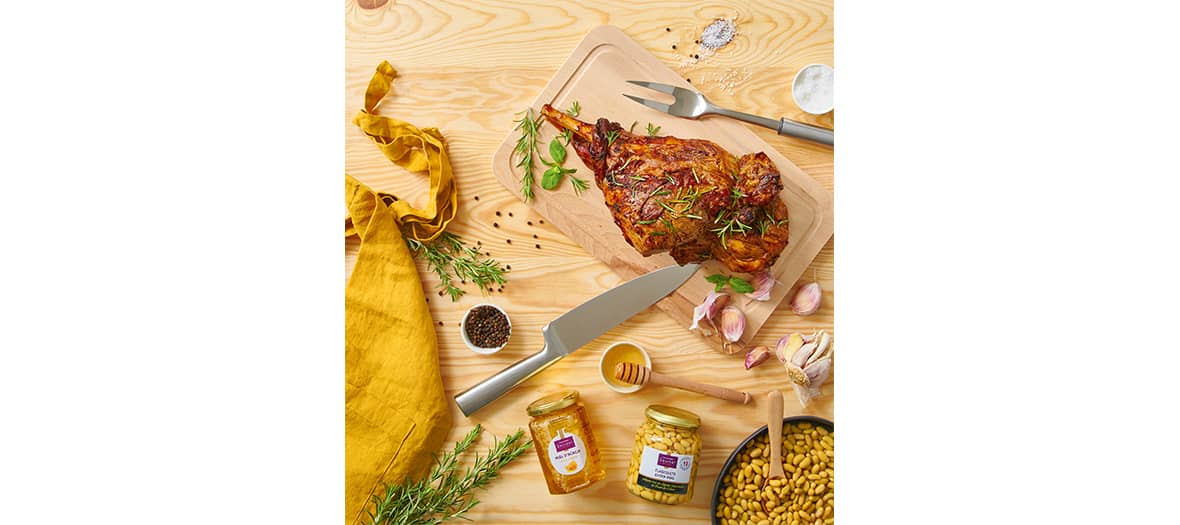 Grandma leg had better watch out. The queen / king of the cooking pot now, it is the one who will succeed in simmering this perfect roasting honey leg of lamb for a divinely crispy skin. Too easy...
Preparation time: 55 min.
For 6 persons
1 leg of lamb
4 tablespoons of honey
4 tablespoons of olive oil
1 teaspoon of salt
1 teaspoon of pepper
Recipe :
Preheat the oven to 240 ° (thermostat 8)
Place the leg upside down in a large dish
Drizzle with half the olive oil and half the honey.
Add salt and pepper.
Bake halfway up and cook for 20 minutes.
Turn the leg over and baste it again with the remaining olive oil and honey.
Pour a small glass of water in the bottom of the dish and lower the oven to 210 ° (thermostat 7)
Continue cooking for 25 minutes, basting the meat regularly with its cooking juices
Take the leg out of the oven, cover it with aluminum foil and let it rest for 10 minutes.
Serve with the juice.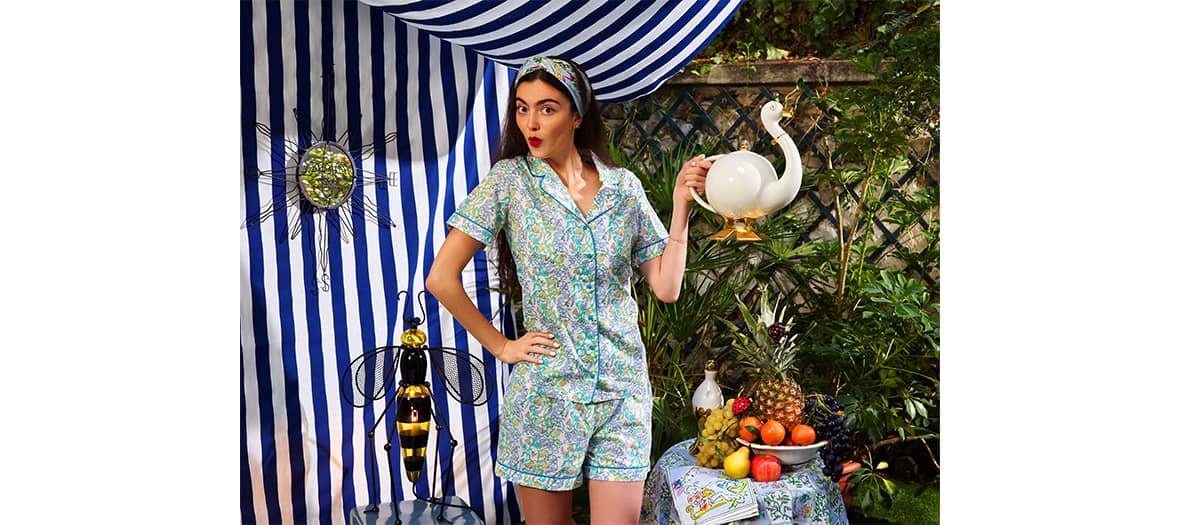 In Vincent Darré's dream world, we can have lunch in our pajamas … And we will not deprive ourselves of it. It must be said that her bucolic print shorts / blouse sets (€ 39) have nothing to envy of the most beautiful fairy tales.
Ultimate must: the long kimono (55 €) whose patterns lose us in a maze of plants, to be worn over fluid silk pants and of course the fluffy slippers required.
Vincent Darré collection currently in preview on Monoprix.fr and in a selection of stores on April 19.