© Vincent Leroux
For a leisurely lunch or a romantic drink, it's difficult to choose among the dozens of terraces that claim to be the most beautiful in Paris. Our editorial team presents its true surefire favorites that will never disappoint, offering the epitome of chic where good taste reigns supreme. Get ready to book your spot in the sun!
Le Bristol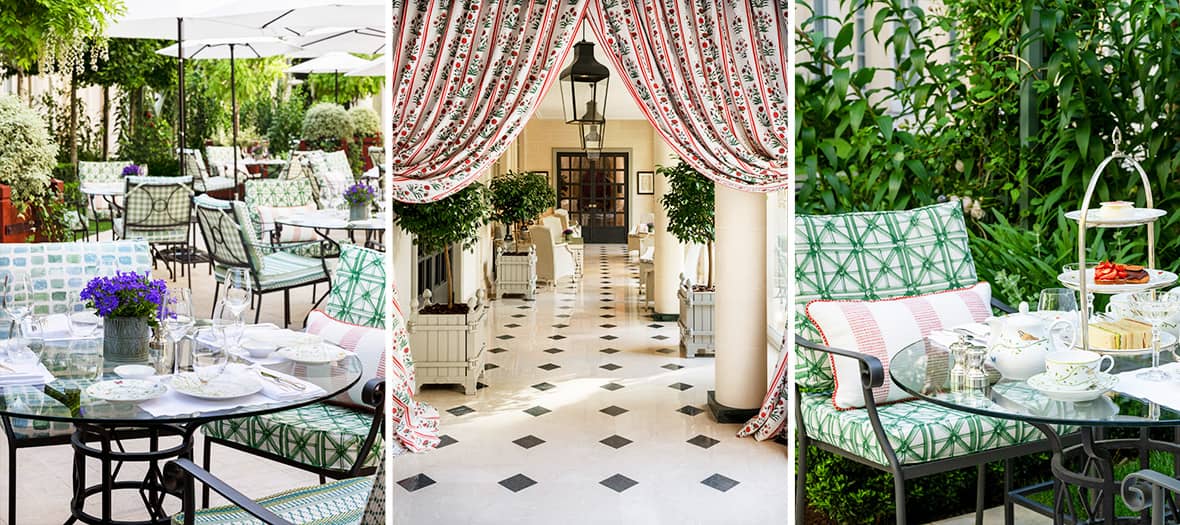 The venue: There's no doubt that the garden of Le Bristol (the most garden-like palace in the capital) embodies French elegance in a highly relaxing atmosphere, far from the hustle and bustle of Paris. It was already stunning, and this summer, it gets even more beautiful with a makeover from the American fabric editor Schumacher, adorning everything from the entrance to the armchairs. Schumacher has chosen its most beautiful designs for Le Jardin Français, including floral tapestries reminiscent of a cottage and striped cushions that evoke the blinds in the rooms, showcasing its magnificence even more and inspiring us with great decorating ideas.
On the menu: We recommend trying the best green bean salad of your life, garnished with artichoke and hazelnuts (€49), the tartare of raw and smoked salmon with cauliflower cream and curry oil (€58), the avocado and poached egg on toast with smoked salmon (€48), the rigatoni cooked in spicy tomato juice with olive, basil, and chorizo (€47), or the indescribable club sandwich with grilled bacon (€59). For those with a sweet tooth, indulge in the caramel and praline floating island with vanilla custard (€27), a true little cloud.
Le Bristol is open for lunch from 12pm to 3pm, for afternoon tea from 3pm to 6pm, and for dinner from 6pm to 10:30pm. Located at 112 rue du Faubourg Saint-Honoré, Paris 8th. © Vincent Leroux
Ralph's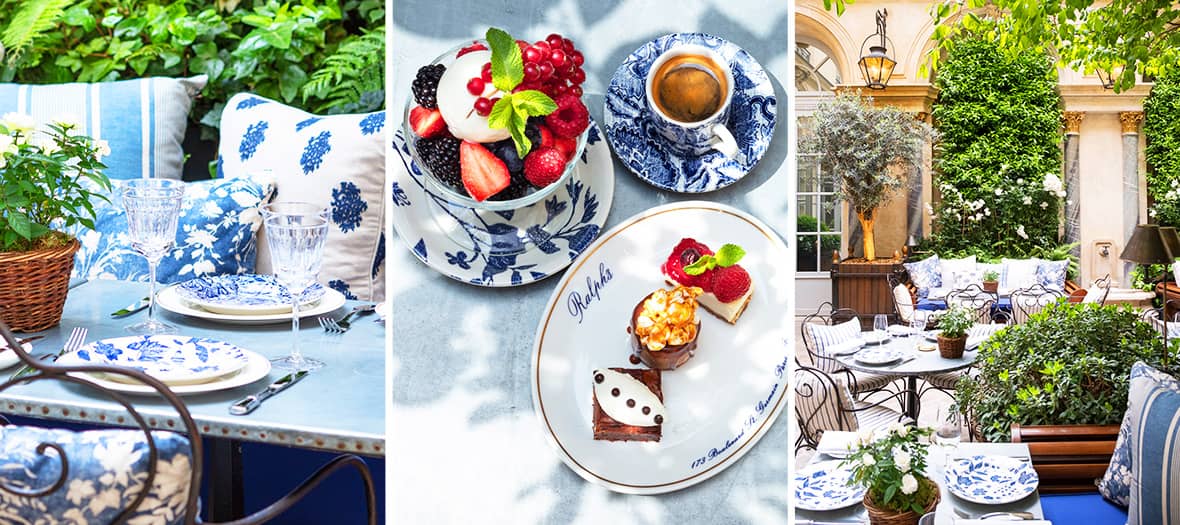 The venue: The townhouse of Ralph Lauren's flagship store offers the most elegant terrace in Saint-Germain-des-Prés. With its sublime cobblestone courtyard, fountain, parasols, striped banquettes, and rose bushes, the Instagram-worthy decor (to speak like the Americans) is set, exuding Hamptons vibes that give a taste of vacation and contrast with the interior, which is decorated in a hunting lodge style with a grand fireplace and tartan prints.
On the menu: One always enjoys rediscovering the great classics of chic American cuisine, starting with the Maryland Crab Cake with a delicate crust and mustard-pepper sauce (€37), the iconic Caesar Salad with grilled chicken (€32), or the legendary Ralph's Burger: tomato, lettuce, onion, pickles, cheddar, crispy bacon, Ralph's sauce, and most importantly, garnished with meat straight from Ralph Lauren's own ranch in Colorado (€33). For dessert, indulge in the fabulous vanilla ice cream sundae with caramel popcorn, whipped cream, and hot chocolate sauce (€17), yum!
Ralph's is open every day from 12pm to 4pm and from 7pm to 11pm. Located at 173 boulevard Saint-Germain, Paris 6th.
Les Jardins du Faubourg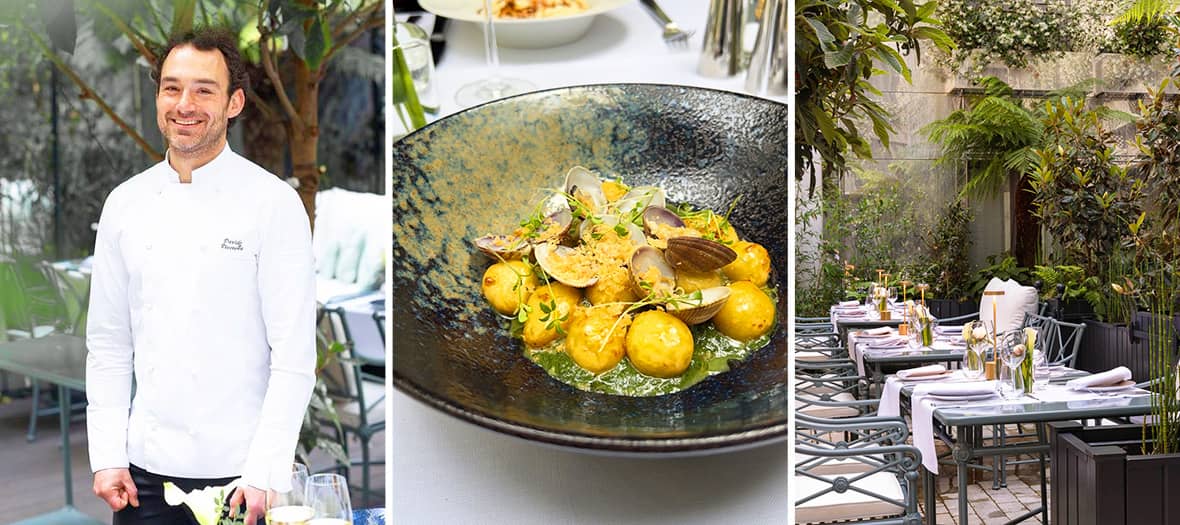 The venue: Attention, a magical terrace awaits. Just behind the Élysée Palace, the 5-star hotel Les Jardins du Faubourg has been attracting big names from the entertainment industry since its opening (all fans of the friendly director Jennifer Boccara!), as well as fashion editors and the coolest stars of French cinema. Surprise: its restaurant, now named Il Giardino, welcomes the new chef Davide Pecorella (formerly of Le George), a Neapolitan passionate about Italian produce.
On the menu: Starting with the refreshing tomato gazpacho with ricotta and preserved lemon (€21) and the grilled octopus with burrata (imported from Italy every morning!) and oyster leaf (€24). Next, indulge in a beautiful beef fillet with sautéed vegetables and grilled polenta (€42), a line-caught sea bass with crispy rice and scarola lettuce (€40), or the risotto with langoustine tartare, mozzarella, and lemon zest (€40). But the ultimate delight comes in the form of divine round gnocchi, as soft as a kiss, with clams and broccolini rave friarielli sauce (€33). Finally, accompany your strawberry pavlova (€16) with a true caffe latte, creamy just like in Italy.
Les Jardins du Faubourg is open every day from 12pm to 2pm for lunch, from 2pm to 7pm for snacks, and from 7pm to 9:30pm for dinner. Located at 9 rue d'Aguesseau, Paris 8th.
© Yann Deret and © Julien Salaneuve
Le Potager at Roch Hôtel & Spa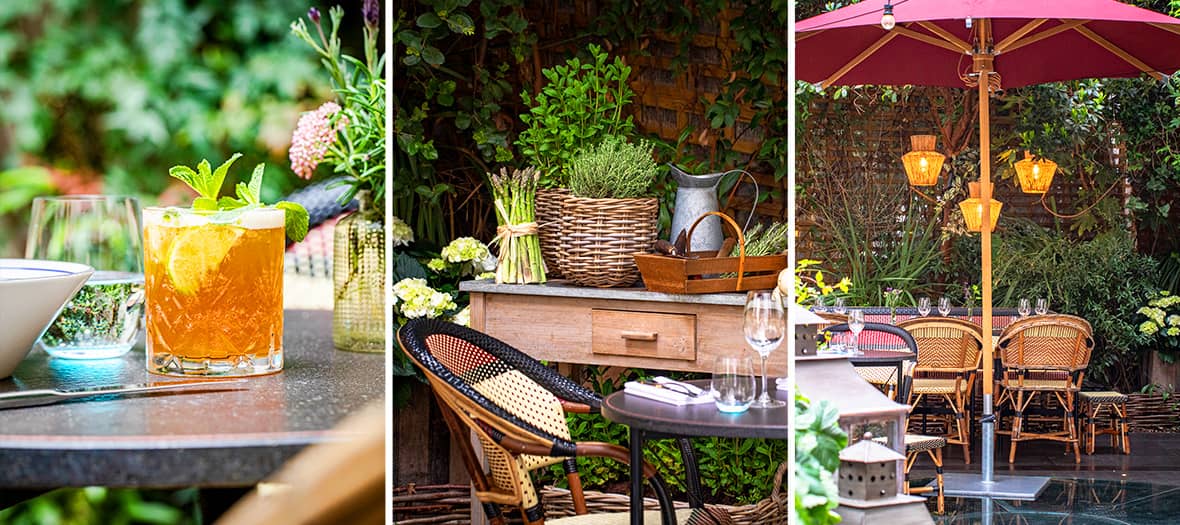 The venue: This is the most exclusive 5-star hotel in the Vendôme district, nestled on a discreet street just steps away from the Tuileries Garden. In addition to its rooms decorated by Sarah Poniatowski and its amazing Codage spa with a pool, Roch Hotel & Spa offers a highly bucolic terrace, elevated one floor above the restaurant, for romantic Parisians. With a charming fountain, birdsong, trees, aromatic plants scattered everywhere, and large umbrellas, Le Potager invites you to disconnect in a shaded space that feels timeless and separate from the hustle and bustle, equally suitable for a business lunch or a romantic meal.
On the menu: Fantastic for lunch, the set menu of starter, main course, and dessert (€41) offers, for example, a refreshing cucumber gazpacho, black rice risotto, and a delightful apricot tartlet. Alternatively, you can create your own dish from the garden (€41) by choosing between grilled sea bream and plancha-cooked poultry and selecting three vegetables (we recommend green asparagus, broccoli, and potatoes). For dessert, indulge in the couture frozen fruits from Fruttini by Mo (strawberry, passion fruit, pear, kiwi, lemon verbena, €17).
Le Potager du Roch is open on Mondays from 12pm to 2pm, from Tuesday to Friday from 12pm to 2pm and from 7pm to 9pm, and on Saturdays from 7pm to 10pm. Located at 28 rue Saint-Roch, Paris 1st. © Vrai Studio / Camille Gabarra
Loulou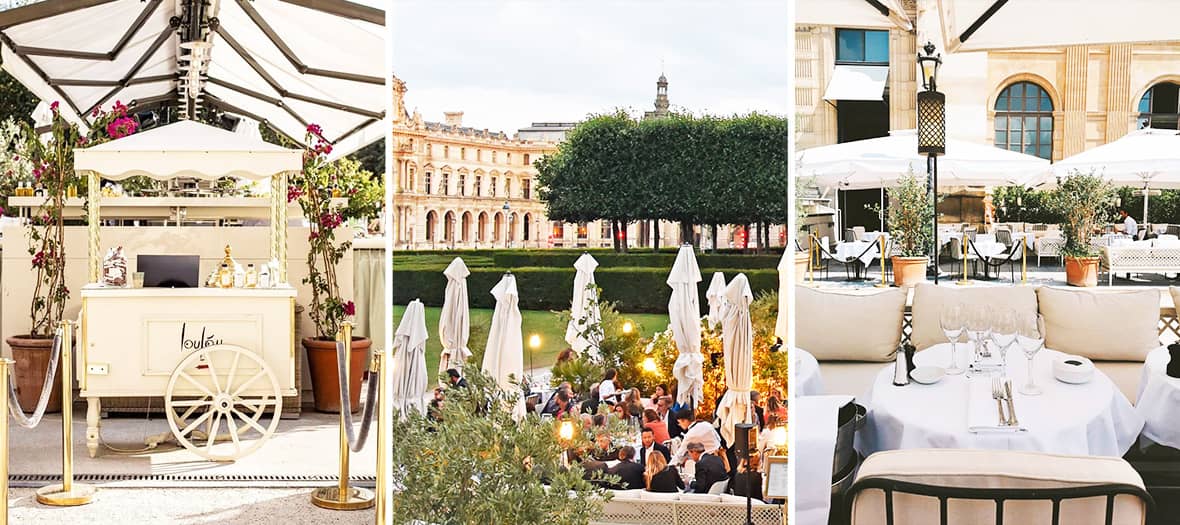 The venue: Head to the Tuileries Gardens, right next to the Musée des Arts Décoratifs. Monsieur Bleu's team has created the Parisian rendezvous that this stunning wing of the Louvre deserves: a breathtaking decor by Joseph Dirand featuring marble, Saarinen chairs, 60s touches, and Art Deco details, with an incredible view of Paris. You'll encounter the fashionable Parisian crowd and the neo-cocottes who love to see and be seen. It's also a favorite spot for the fashion elite and is often mentioned as the most frequented place during upcoming fashion weeks!
On the menu: Truly delicious worldly cuisine by Benoît Dargère that caters to all appetites, from dainty eaters to hearty diners. Specifically: calamari fritti (€26) or a chilled tomato sorbet with melon, watermelon, raspberries, and olives (€25), raw purple artichokes with aged Parmesan and extra virgin olive oil (€27), truffle pizza (€50), or the fabulous veal milanese alla saltimbocca (€42). For dessert, delight in vanilla cream-filled chouquettes to dip in chocolate (€15) or share a large pavlova with red fruits (€45).
Loulou is open every day from 12pm to 2:30pm and from 7pm to 11pm. Located at 107 rue de Rivoli, Paris 1st.
Eataly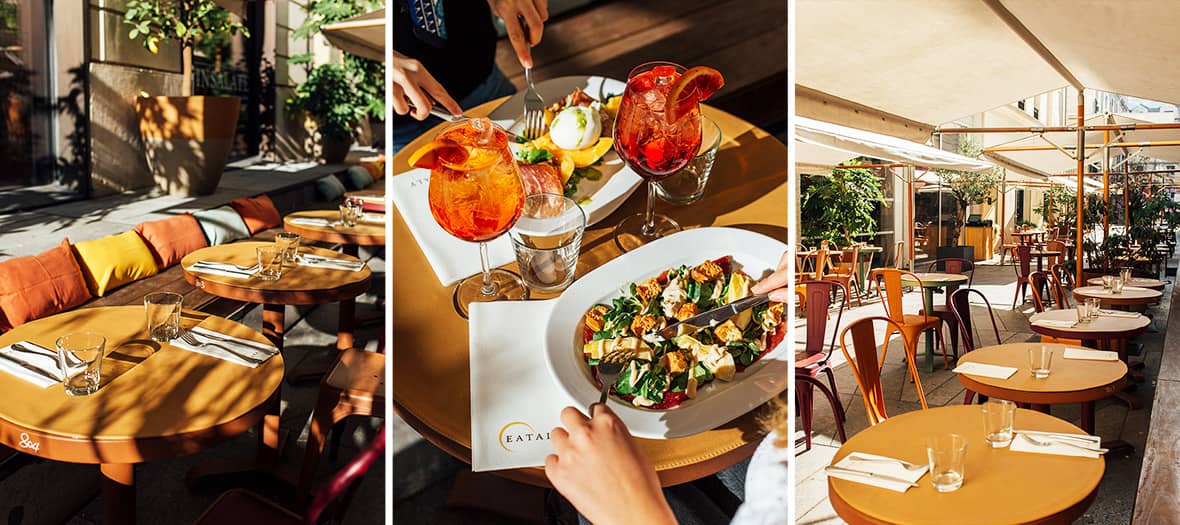 The venue: Eataly, the most desirable Italian market in the world, needs no introduction. Located in the heart of the Marais district, it has become a must-visit since its opening in 2019. What many people don't know is that there is a lovely terrace tucked away behind the XXL store, sheltered from cars, overlooking a charming square accessible from Rue des Archives (turn onto Square Sainte-Croix de la Bretonnerie to find it). It's the perfect opportunity for a delightful lunch with a strong dolce vita potential before leaving with provisions for home.
On the menu: A beautiful stracciatella served with a choice of side dishes (€14.50), a mixed platter of Italian charcuterie and cheeses to share (€24), a lovely plate of melon, ham, burrata, and pesto (€20), a large porchetta and scamorza toast with truffle chips, salad, and balsamic cream that is simply delicious (€19), the famous fresh tagliatelle with Parmigiano Reggiano cream and black truffle (€27), or the "pizz' mozza" with marinated zucchini, Parma ham, burrata, Piccadilly tomatoes, and green salad (€18). For dessert, save room for cannoli filled with ricotta, crushed pistachios, chocolate chips, and candied cherries (€9) or the classic tiramisu al piatto (€11).
Eataly is open from Monday to Wednesday from 12pm to 10:30pm, Thursday to Saturday from 12pm to 11pm, and Sunday from 11am to 10:30pm. Located at 37 rue Sainte-Croix de la Bretonnerie, Paris 4th. © Vincent Nageotte
Pavyllon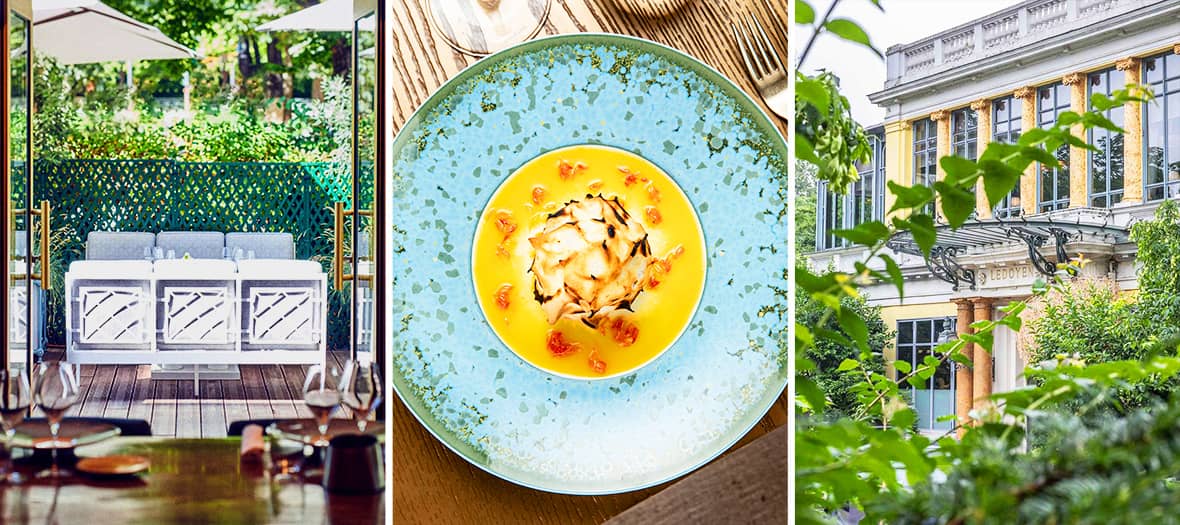 The venue: After establishing his 3-star restaurant and an extraordinary sushi bar in the heart of his legendary address on the Champs-Élysées, Yannick Alléno, the owner of Pavillon Ledoyen, inaugurated Pavyllon in 2019. This place fills the gap for a highly bistronomic experience that was sorely missing between Concorde and the Grand Palais, and it has already been awarded a Michelin star. The spirit of a counter is at the center of the luxurious and contemporary setting designed by the renowned decorator Chahan Minassian. The comfortable terrace on the garden level offers discretion, which is necessary for business or political meetings in the area.
On the menu: With delicacy as the guiding principle, take your time to savor the crab meat in a crispy tartlet with smooth cauliflower cream (€46) or the crunchy buckwheat tuile with caviar grains and lemon cream (€33), followed by the already iconic grilled blue lobster tail with ginger butter cooked over a wood fire (€98), or share THE "cordon bleu" for two (€48/person). The dessert bombshell is the pear cooked in arlette pastry with indulgent creams, a one-way ticket to childhood (€25).
Pavyllon is open every day from 12pm to 2:30pm and from 7pm to 10:30pm. Located at 8 Avenue Dutuit, Paris 8th. Lunch menu priced at €78.
© Pavyllon Paris/Instagram and © Simon Detraz
Saint James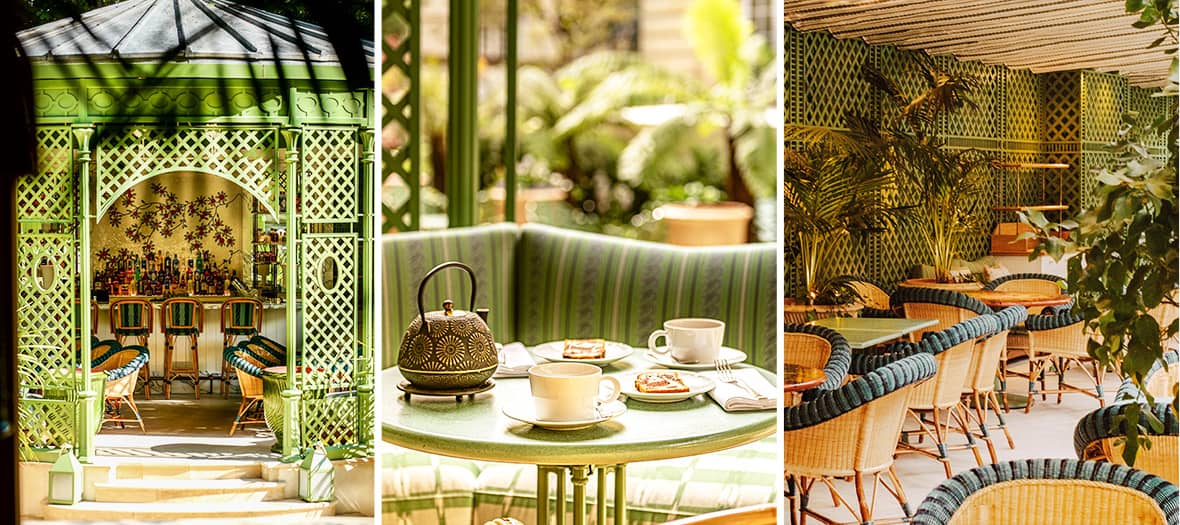 The venue: Saint James is one of the most secretive hotels in Paris, an imposing mansion located on a square in the 16th arrondissement. During lunchtime, its wonderful garden and restaurant are reserved for members of its ultra-private gentlemen's club (politicians, businessmen, actors, etc.). But from 7pm, this hidden castle in the heart of Paris opens its doors to the general public. However, you need to know the secret! What we love is sitting on the terrace facing the pergola, enjoying a fabulous cocktail prepared at the bar, which is nestled in a sublime library worthy of Beauty and the Beast.
On the menu: For an elegant drink that will impress your significant other, we particularly enjoyed the Kumquat Bellini-style cocktail (Aperol, amber rum, verjus, kumquat, blonde beer, €26) or the Pere & Nocciole, a smooth and indulgent Manhattan (rye whisky, poached pear, hazelnut orgeat, €26). Accompany your drinks with a cheese or charcuterie plate (€19-18) and a pâté en croûte (€26).
Saint James is open to the public for dinner from Monday to Saturday from 7:30pm to 10pm by reservation, and the bar is open from 7pm to 11:30pm. Located at 5 Place du Chancelier Adenauer, Paris 16th.
La Rôtisserie de la Tour d'Argent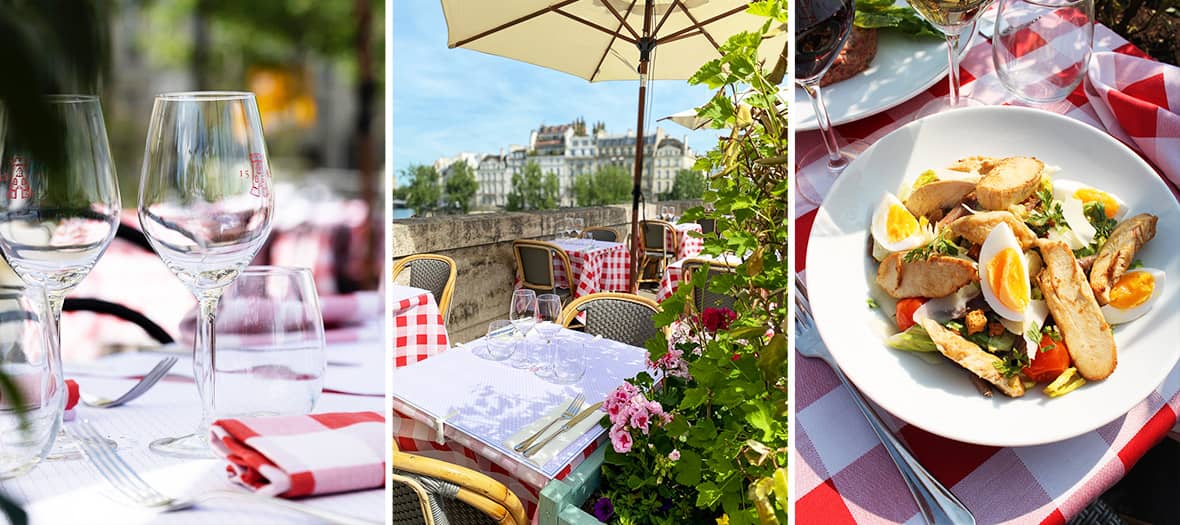 The venue: Calling all lovers of accessible luxury! If you have always dreamed of trying the legendary duck from La Tour d'Argent, you will love La Rôtisserie, the "little brother" of the Michelin-starred restaurant that serves exceptional products in a more affordable version. The highlight? Its terrace that seems to float above the Seine as it is located right on the edge of the bridge facing Île Saint-Louis, with its red and white checkered tablecloths and its always picturesque retro atmosphere.
On the menu: The menu is proudly indulgent and not very vegetarian-friendly. For starters, you can enjoy duck foie gras with red port and pear chutney (€32) or Burgundy snails with pastis-infused parsley butter (€15 for 6 pieces). For the main course, options include half-roasted farm chicken with poultry jus, roasted garlic, and mashed potatoes (€28), beef fillet with béarnaise sauce, chimichurri, and matchstick potatoes (€47), or duck leg with bay leaf, baby potatoes, and caramelized onions (€29). If you have room for dessert, the chocolate mousse is magical (€10), as is the Bourbon vanilla cream (€12).
La Rôtisserie de la Tour d'Argent is open every day from 12pm to 2:15pm and from 7pm to 10:30pm. Located at 19 Quai de la Tournelle, Paris 5th. © Géraldine Martens
L'Auberge du Bonheur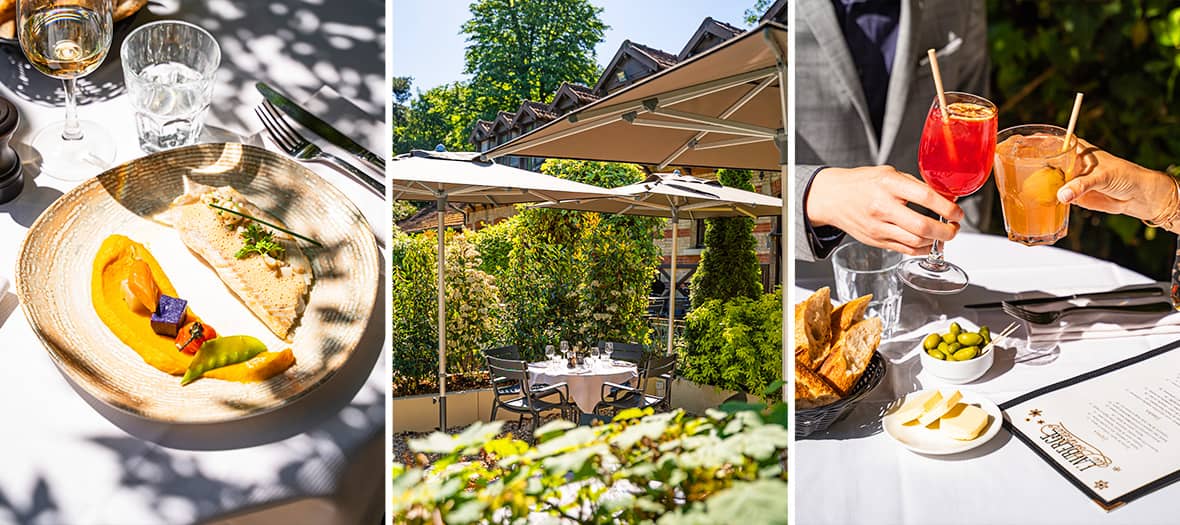 The venue: L'Auberge du Bonheur is a bit of a journey in itself, but it's the perfect excuse for a stroll in the Bois de Boulogne. Located near Bagatelle, its chic and shaded terrace becomes the ideal spot for leisurely lunches, sheltered from the heat. Reservations are not possible here, but there are plenty of available tables. It's best to arrive early to avoid unnecessary waiting.
On the menu: For starters, the cooked shrimp tartare with grapefruit and avocado is a refreshing choice (€23), as is the refreshing watermelon salad with feta and fresh mint (€17). For the main course, you can indulge in the delicious green curry with vegetables and Thai rice (€24), the beef tartare with fresh fries (€26), or the grilled salmon steak with crushed tomatoes and extra virgin olive oil (€32). Finish off your feast with a grapefruit cheesecake (€15), a baba au rhum with amber rum from Martinique, or the classic and indulgent crème caramel (€12).
L'Auberge du Bonheur is open from 12pm to 2:30pm and from 7:30pm to 10pm. It is located at Allée de Longchamp, Bois de Boulogne, Paris 16th.

Also, discover Le Camondo: a divine terrace shaded by palm trees and the charming summer garden of Maison Revka.