This is a fashion statement. The shops may be closed, nothing will prevent fashionistas from fantasizing about the sublime spring collections blooming all over Instagram . Joy: most brands continue to deliver at home (with more or less slow deadlines, do not hesitate to check). All the more reason to start filling your virtual shopping cart today.
Starting with the pants , which are adorned for the summer with pastel or frank shades, always colorful, to adapt (later) to go to work or to put on (already) at home to do good morale and replace the pyjamas. Tour of the 10 most stylish and comfortable models of the moment.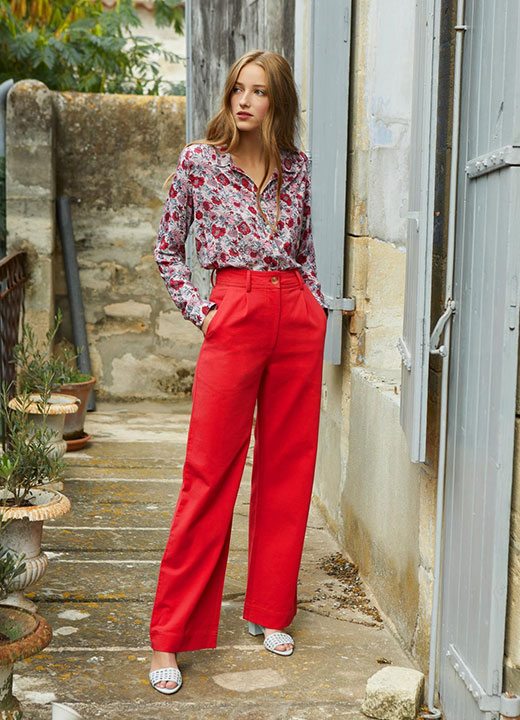 We declare our love for our body by dressing it in pants that make it look beautiful: red high waist, flared cut to mark the waist and harmonize the hips.
Wear with: a romantic floral print blouse and clogs .
Gabin strawberry pants, Little Mendigote , € 135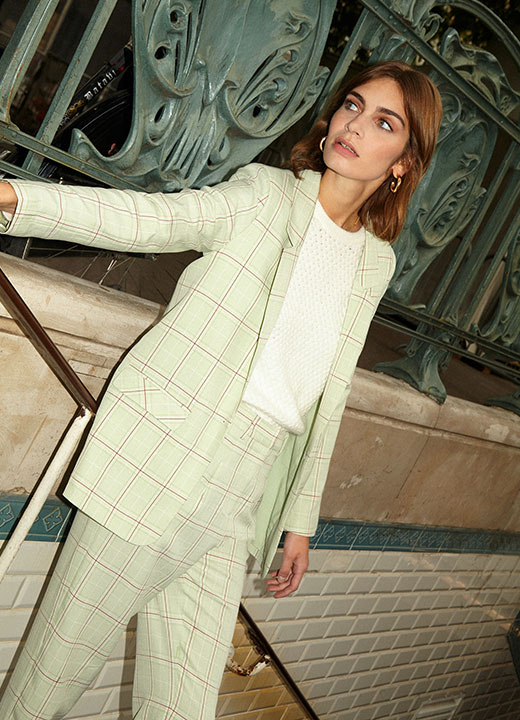 The check is available this year in very flattering pastel shades which have the merit of playing down a simple office pantsuit. A little lightness, what the devil!
To wear with: the matching blazer or a denim jacket , a t-shirt, white derbies with notched soles.
Pepa pants, Frnch , 69 €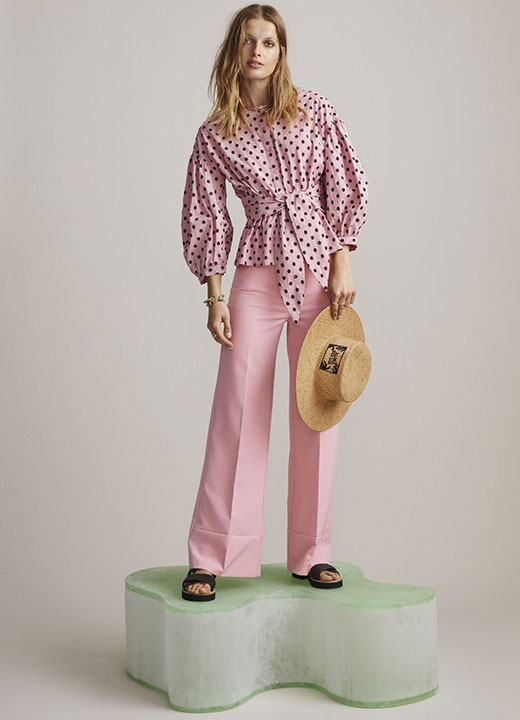 Malabar pink continues to bring joy to the wardrobe of fashion buffs this season. We opt for these pants with a tailored look but cut in an ultra-comfortable stretch fabric.
Wear with: a matching print top, blue mules and a pearl bag .
Wide leg stretch pants, Scotch & Soda , € 125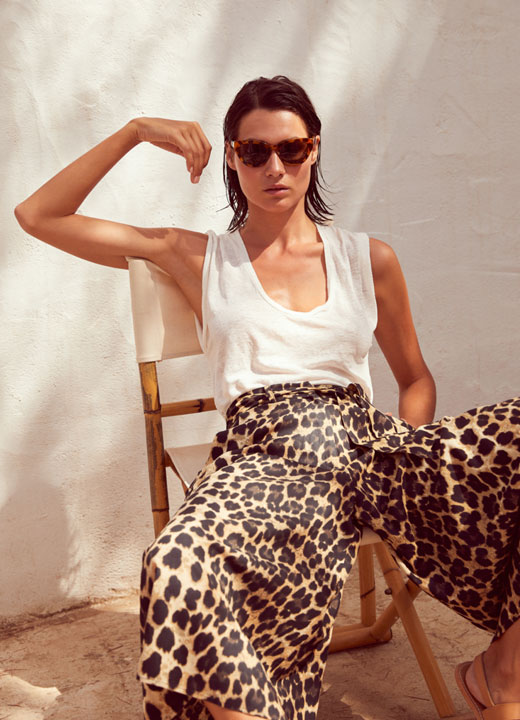 If the leopard pattern is a timeless feminine wardrobe, we modernize it with these ultra-wide pants like a skirt, airy and light as a feather. A happiness to put on!
Wear with: a rock print t-shirt, a soft solid bomber jacket and white low top sneakers .
Wide leopard print pants, NOTSHY , € 100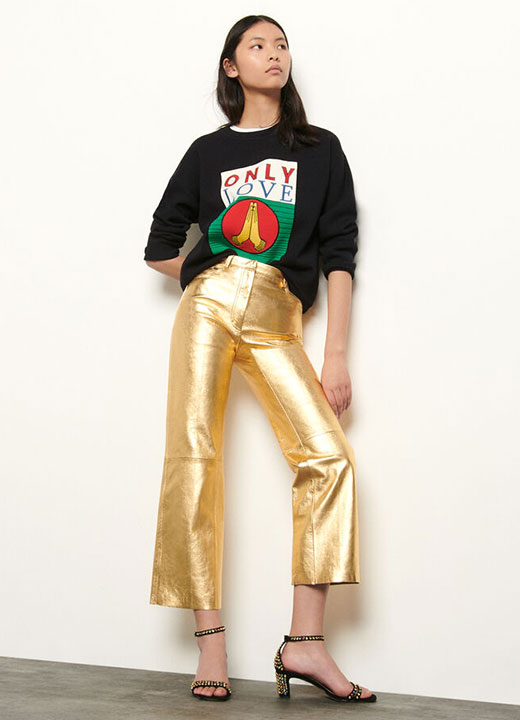 Combining fun with pleasure is the goal of these furiously disco gold leather pants to bring a little joy in this gloomy period.
Wear with: a navy silk shirt, lace-up sandals , a graphic bag.
Metallic leather pants, Sandro , € 545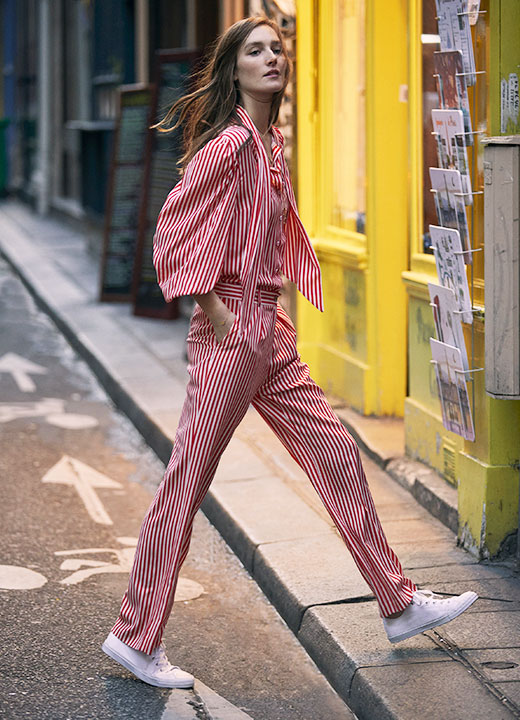 Clever: we stretch the leg to infinity with silky pants and close to the body with vertical stripes . Guaranteed optical effect. In red and white, we mark the seaside resort effect, weekend atmosphere in Deauville .
To wear with: the jacket that goes with it to complete the city pajama effect and black and white dad shoes .
Striped pants, Pablo , € 145, soon available online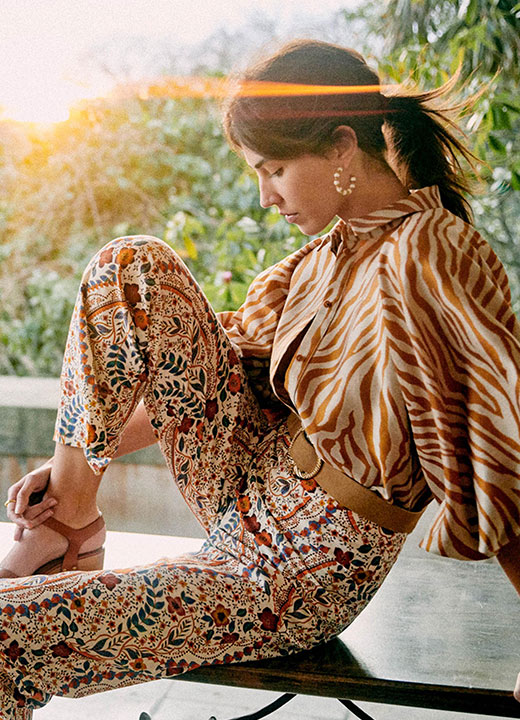 Perhaps you have managed to reach your second home in the countryside. Others will imagine themselves running across fields from their Parisian living room in these highly feel good floral pants.
Wear with: a rustic white blouse, a maxi headband and 60's inspired kitten heels .
Baptisto pants, Sézane , € 105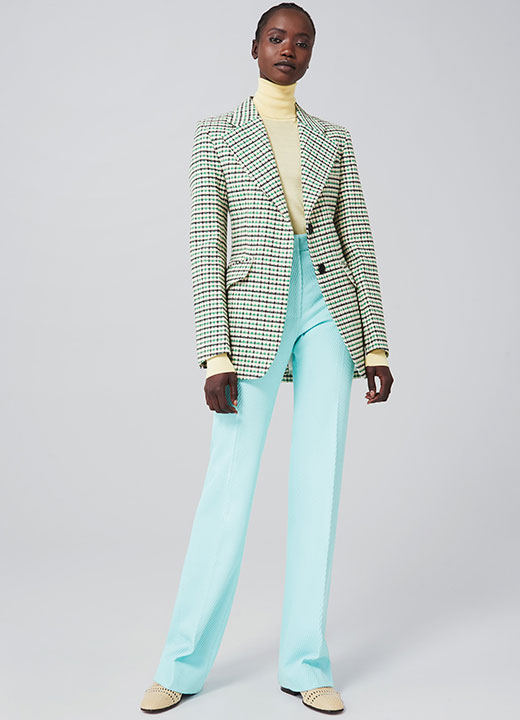 A splendor of trousers with a cut inspired by the male wardrobe and made in a textured cotton with a perfect fit.
Wear with: a thin cream crew neck sweater, a pink print silk scarf , heeled loafers .
Pantalon,Victoria Beckham , € 690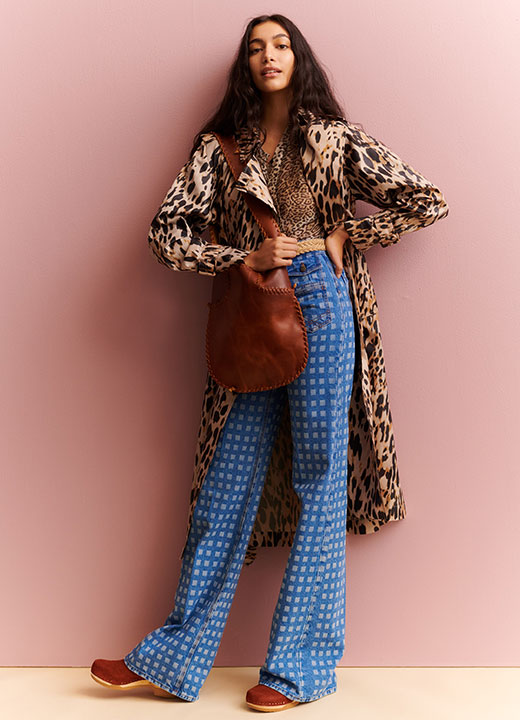 We celebrate the return of the 70's with these resolutely flattering flared jeans to infuse a little flower power into your spring wardrobe. Janis Joplin couldn't have done better.
Wear with: a loose tank top, an open knit cardigan and heeled python-style leather ankle boots .
Denim pants, Gerard Darel , 165 €, soon available online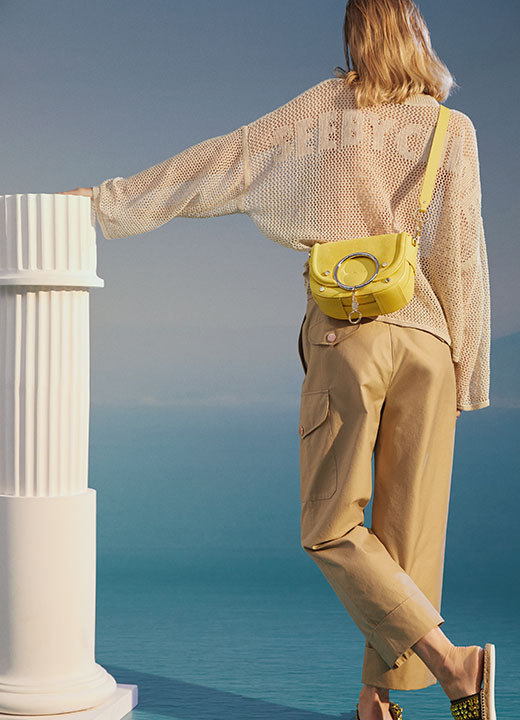 Military pants par excellence originally used by the American army, the cargo (big brother of British chinos ) is back to take center stage in the fashion scene. A cool and comfortable new essential.
To wear with: a slightly oversized black blazer, a lavallière shirt and rock boots.
Cargo pants, See By Chloé , 280 €, available online soon
Also discover 10 obsessions branded under 200 € and the new foreign labels that are buzzing .