On the lookout for small Parisian luxuries? Two palace terraces set the tone and deserve to go sip a cocktail with a few stylish nibbles. Ideal to boost your morale !
The most Californian : The Cabana Café at the Plaza Athénée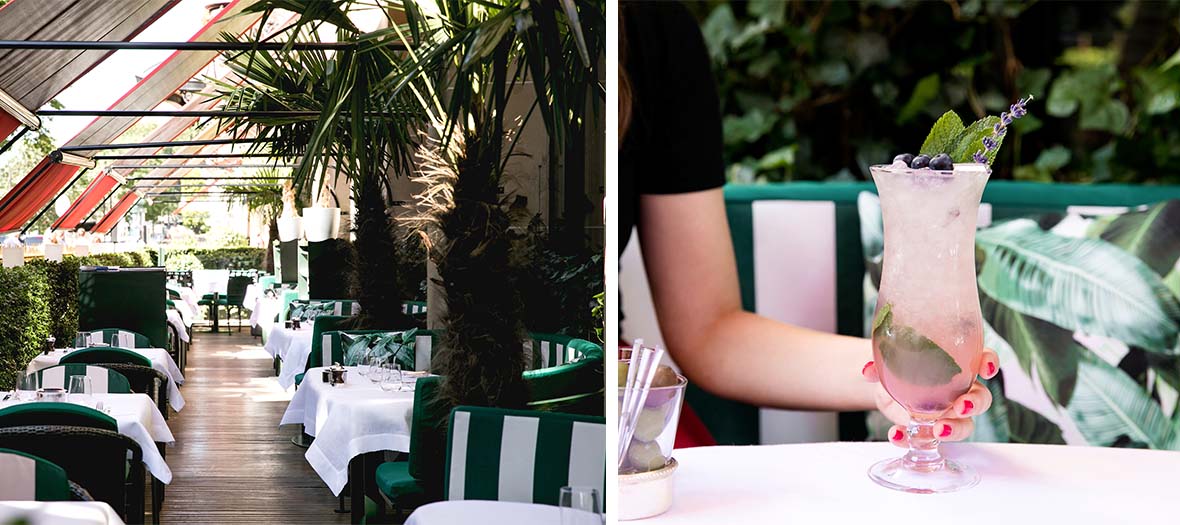 The Cabana Café has been delocalized to Paris ! The mythical restaurant of the Beverly Hills Hotel has landed on the terrace of the Plaza… Impossible to be more chic and glamour this summer… And with reason.
The spirit of the "Pink Palace" sets the tone : palm trees, green and white banquettes, pink and white uniforms. The cult dishes of the Beverly Hills Hptel are also on the menu: the sunset sandwich (€40), the famous Mccarthy salad, the Caesar, or the tuna tartare with avocado  (€36) without forgetting an irresistible strawberry milkshake (€20).
Ultimate snobbism: cult cocktails directly "from LA"  : Moscow Mule, Frozen Mojito or the Think Pink. Now you know where to go for happy hour!
Open noon to midnight non stop.
Plaza Athénée, 25 avenue Montaigne 01 53 67 75 18
The most Mediterranean: The Lebanese patio of the Prince de Galles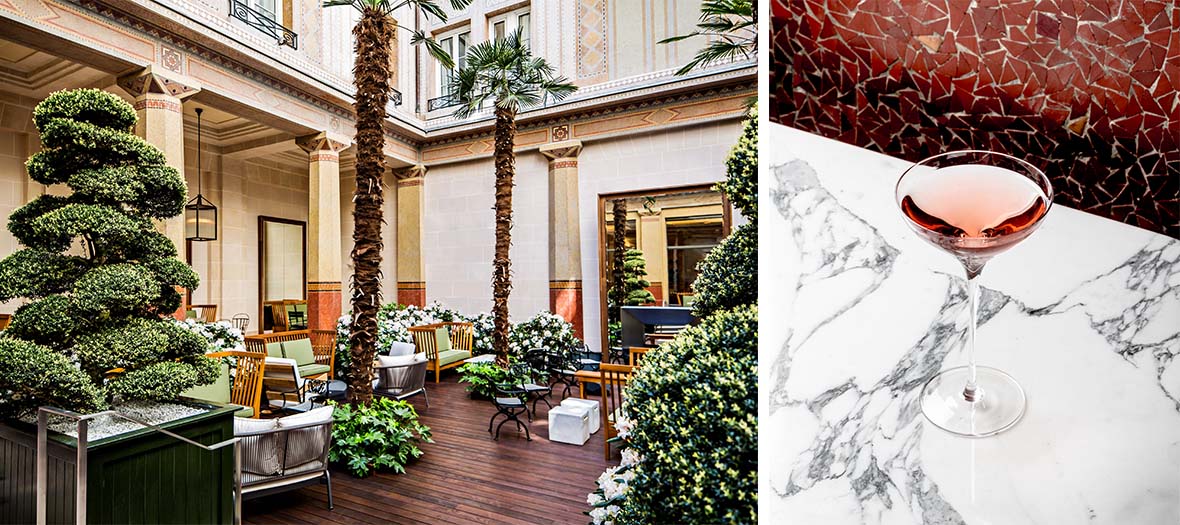 Are you interested by an Paris-Beirut escapade? Head for the Prince de Galles and get ready for a glam oriental drink placed under the sign of the Cedar Tree. All summer long, the palace is placing its Art Deco patio on Lebanese time under the impulse of chef and businessman Hussein Hadid.
Result, an absolutely terrific menu created hand in hand with the winning tandem of the palace formed by  Stéphanie Le Quellec and Nicolas Paciello. Deluxe houmous (€19), fatouch of vegetables with glazed  orange (22), tartare of marinated beef with truffle (€28), taouk of fowl (38€), baba with arak (the local pastis, €18), without forgetting cocktails infused with orange blossom and pink gin. The ultimate cool holiday place-to-be.
Until the 30th of  September 2018.
Prince de Galles, 33 Avenue George V  75008 Paris - 01 53 23 77 77
Also discover the best spots to play pétanque this summer and the coolest pools in Paris