When it comes to rooftops , Paris doesn't take vacations. The proof with the coolest rooftops in the capital.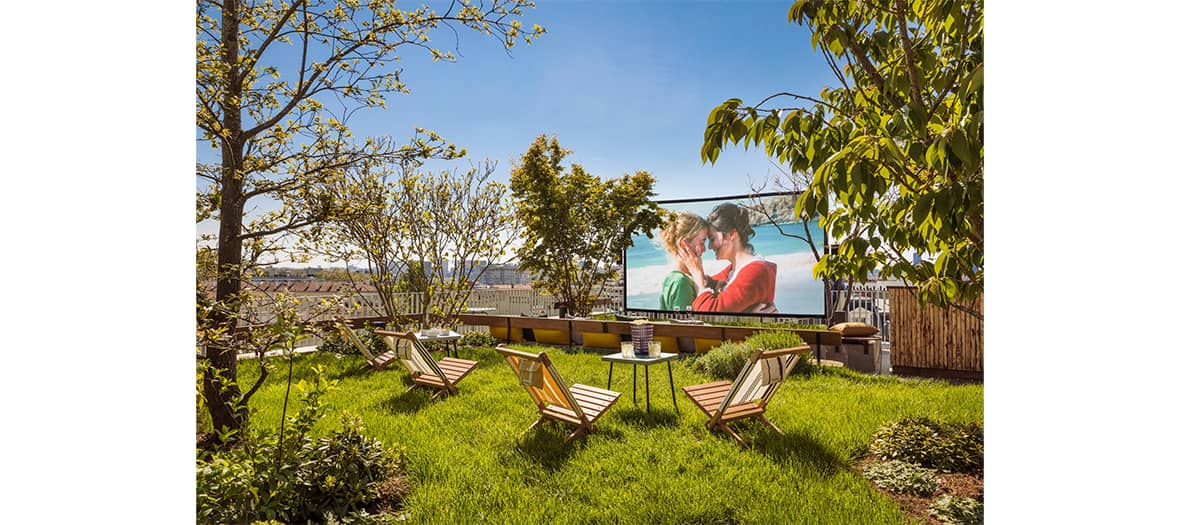 The East Side spot to be seen and seen, this is where it happens! Normal: in the firmament of their demented hotel in Nation , the Karmitz brothers are opening a rooftop bar which promises to be the most popular nerd-bobo stronghold of the summer in an ultra-stylized scene: wooden parquet, green decor, cocktail bar and private BBQ every evening until midnight.
The must of the program? The open-air film club on the 7th floor in collaboration with MK2 with a 4-meter screen behind which the Eiffel Tower will sparkle. In short: our new favorite room.

© Romain Ricard

Hôtel Paradiso 135 boulevard Diderot, Paris 12e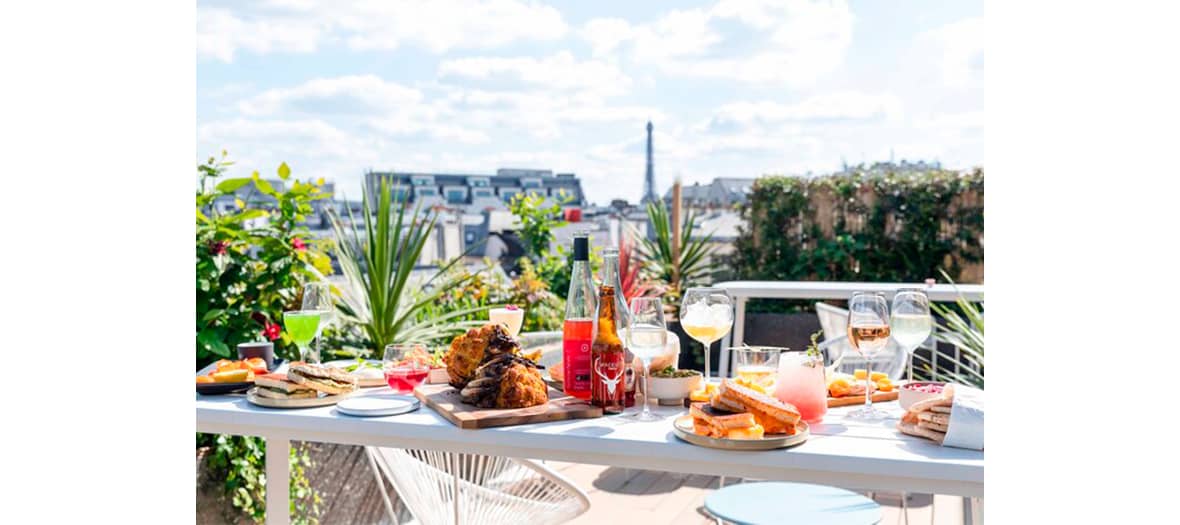 Lawyers, consultants, bankers... The beautiful world of the 8th district in search of a stylish address for aperitifs exults on the roof terrace of Le Pley , the latest address opened by the successful entrepreneur Antoine Arvis with the collaboration of the architect Fabien Roque , a stone's throw from the Place de l'Étoile. The idea: to transpose the chill-out and festive spirit of Saint-Tropez to the Golden Triangle in collaboration with the Château Pampelonne rosé, a story of whistling swimming pools and signature tapas by Mersea between DJ sets and small concerts as soon as it's aperitif time! Reservations recommended: 01 42 25 26 27.
Pley Hotel 214 rue du Faubourg Saint-Honoré, Paris 8th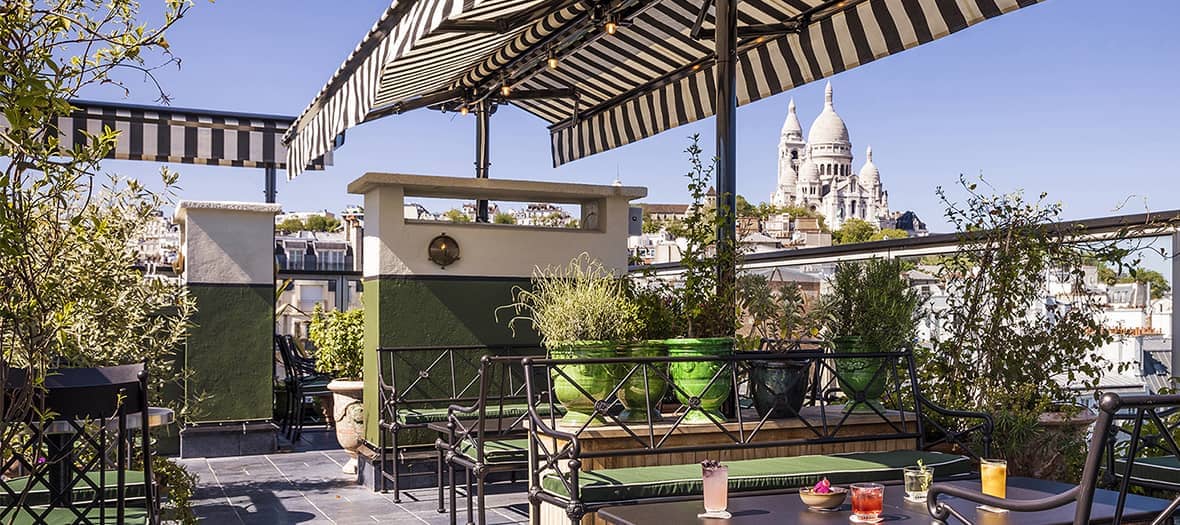 A long-awaited signature of Studio Festen, the opening of the Hôtel Rochechouart and its fashionable brasserie by Louis and Anouk Solanet caused a stir last fall. The same excitement around the inauguration of their roof terrace which appears as the new rendezvous of Pigalle for the aperitif with a high perched bar where beautiful people meet around signature cocktails.

Weekend lunch at the rooftop bar - opening June 4, 2022 - reservation required
Rooftop bar - daily from 5:30 p.m. to 12 a.m. Hotel Rochechouart 55 boulevard de Rochechouart, Paris 9th

@juliezwing on Instagram / @tectona.official on Instagram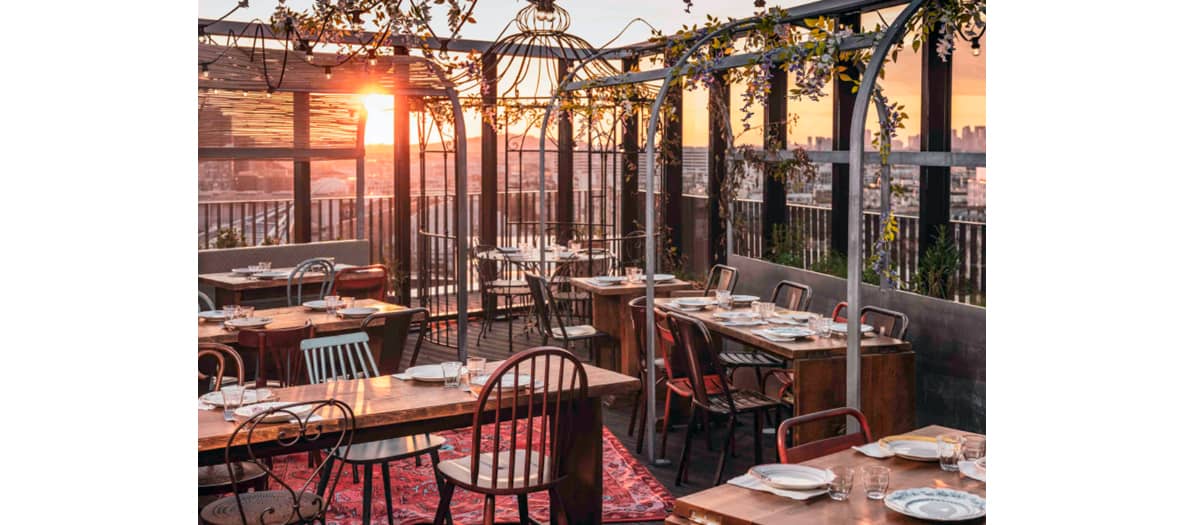 You are surely already familiar with Pedzouille , the locavore restaurant in the 10th arrondissement which sources its products directly from the farm. Good news for the inhabitants of the 15th: the collective which defends the peasants in town lands on the rooftop of the Novotel Porte de Versailles and promises to be the spot for good casual and festive where we tumble in band and which will compete with the Perchoir .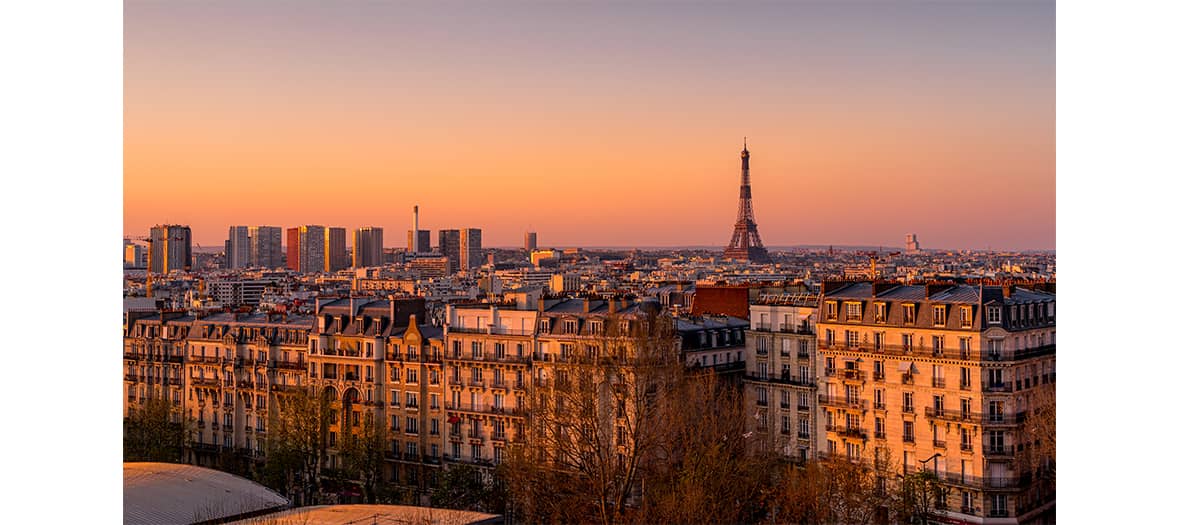 The promise: a " rooftop with a view of the Eiffel Tower without breaking your PEL ". The revenge of the terroir and low prices has sounded: large tables d'hôtes where French dishes are served over a wood fire, prepared in collaboration with chef Gabriele Faiella (ex-Anahi & Beefbar). But also bottles of living wine to fill yourself, and digeos to play extra time. Brunch to treat hangovers is also taken by storm. Online reservations are already open: place your bets!
Pedzouille La Grange 4 avenue de la Porte de la Plaine, Paris 15th
Canopy Hotel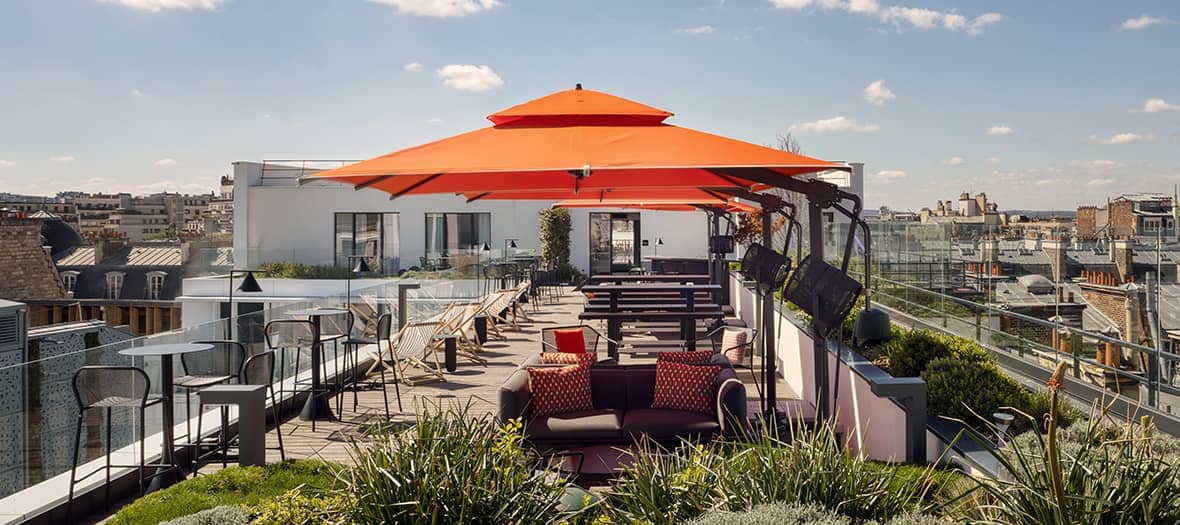 Finally a new hotel 20 meters from the Troca metro which aims to move the lines in the 16th and cheer up the bombastic codes of the hotel industry in coworking and dog café mode. At the height of cool: a green rooftop with beds worthy of the prettiest beaches in the Mediterranean to toast with the Eiffel Tower. The extra thing? To perfect the chill holiday atmosphere, the space hosts a petanque court , a space to play Mölkky and a Ricard pop-up on August 28. In short: book your deckchairs asap on 01 45 50 50 70.
Canopy Hotel 16 avenue d'Eylau, Paris 16e

HOba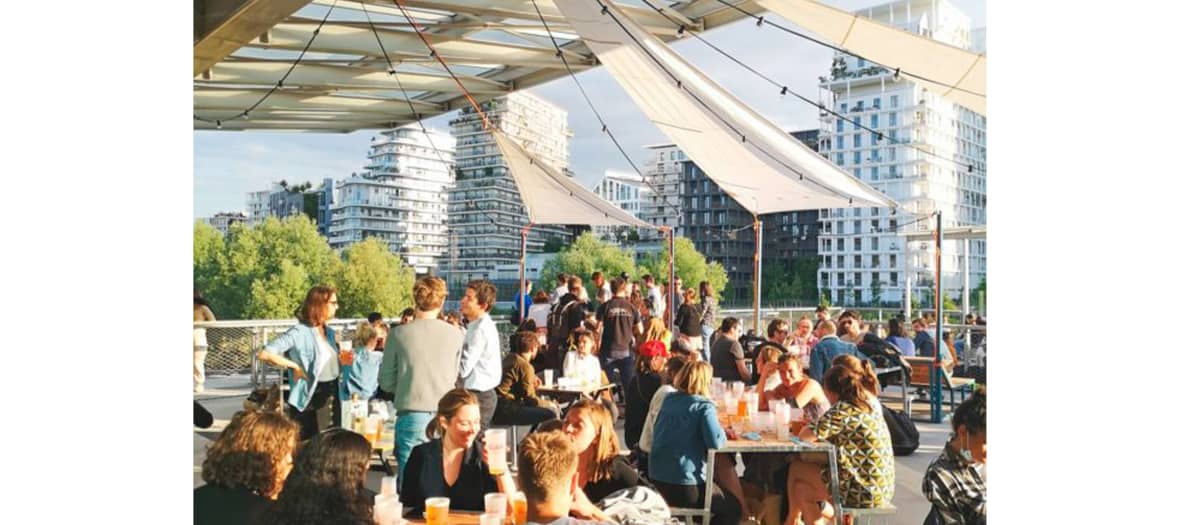 If you are told "HO", you say? "BA". Bingo! HOBA opens its doors from June 2. The terrace sets the tone with sustainable and cheerful cuisine, right in the heart of the verdant Parc Martin Luther King in the eco-district of Clichy-Batignolles (17th ) .
HOBA is an imposing contemporary design building with an architecture worthy of Scandinavia's trendy spots. Perched 10m high, this large glazed hall overlooks the 10-hectare park (one of the largest in Paris) and has an XXL terrace open 7 days a week all summer long. In "HO" a food court on a human scale inspired by street food, ideal for a lunch with colleagues, a family brunch or an aperitif with friends. In "BA" the cozy atmosphere of the café area allows you to open the debate on reflections around food with screenings of documentaries and fun activities.
Martin Luther King Park, 44 Bernard Buffet Street, 17th.
Terrace "HO" Monday to Friday from 10 a.m. to 11 p.m., Saturday from 10 a.m. to midnight and Sunday from 10 a.m. to 9 p.m.
Terrace "BA" Monday to Thursday from 12 p.m. to 11 p.m., Friday and Saturday from 12 p.m. to midnight and Sunday from 12 p.m. to 9 p.m.
The Perch gate of Versailles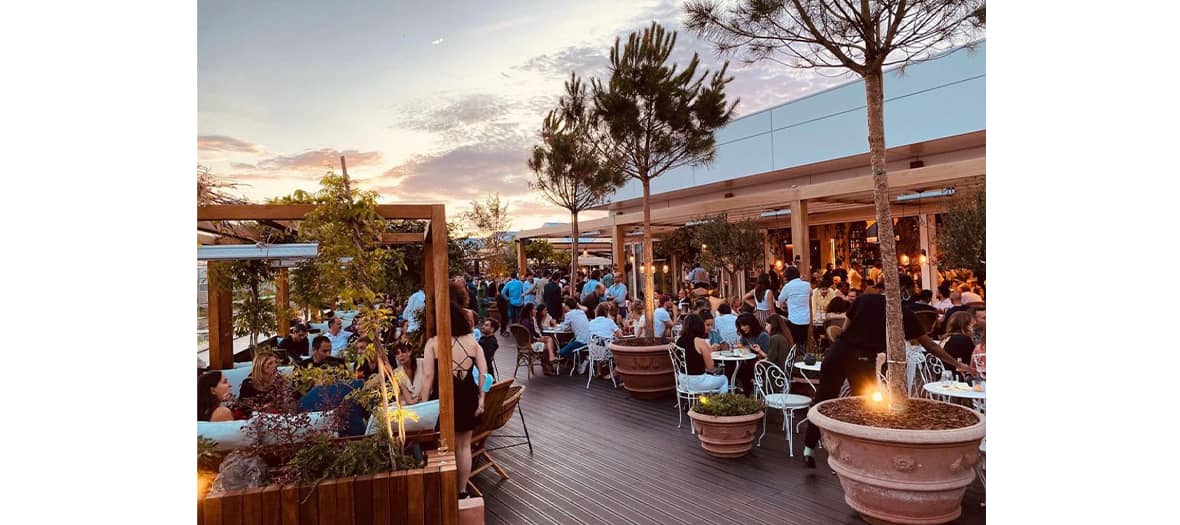 Only Le Perchoir was able to move the beautiful people of the left bank Porte de Versailles. Accustomed to launching places where you feel good, the team is opening a 6th address this summer on the panoramic terrace of pavilion 6 of the Parc des Expos . A cool and certainly Instagrammable rooftop , pimped with olive trees and large soft sofas. As a bonus, the products on the plate come directly from the huge urban farm that can be seen from the terrace.
À la carte: beef tartare , sweet onions and bread tiles (€15), green asparagus from the Landes , hazelnuts and young shoots (€16), fillet of Corsican sea bass, green zucchini, asparagus from the Landes (€28 ) or even large plates to share with a rib of beef, baby potatoes and strong jus (€90) .
Restaurant on reservation , bar area with free access. Bar open Wednesday to Saturday 6 p.m. - 2 a.m.; restaurant open Monday to Friday 12 p.m. - 2:30 p.m. and Wednesday to Saturday 7:30 p.m. - midnight; brunch on Sunday from 12 p.m. to 3 p.m.
The Perchoir Porte de Versailles , 2 avenue de la Porte de la Plaine, 75015 Paris

The roof of the Grande Arche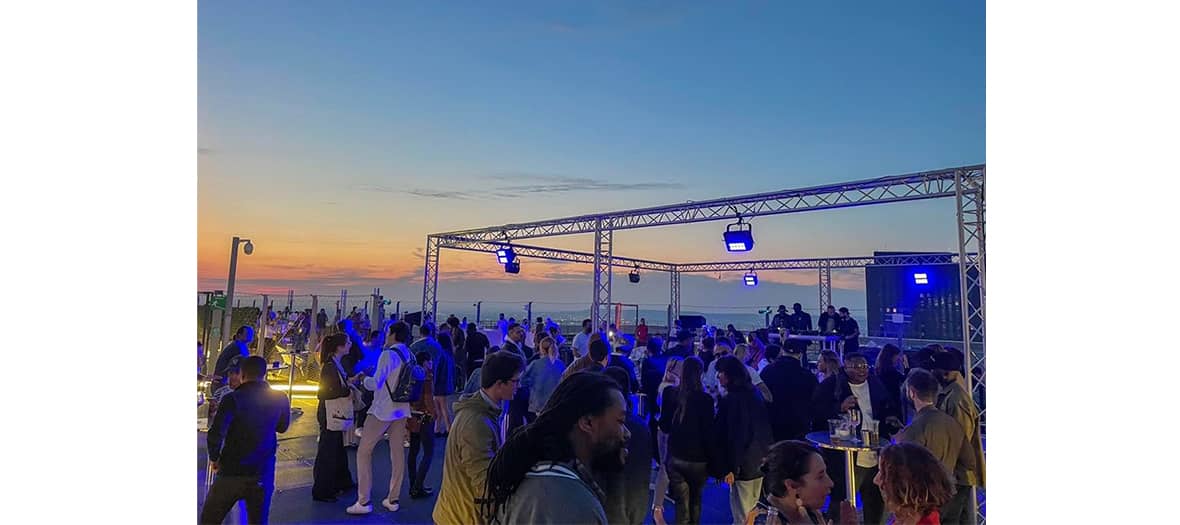 Who would've believed that ? It's happening in La Défense , which appears to be the new stylish spot of the summer, something oh so rare when you work on this side of the 92.
Imagine yourself on the 35th floor of the rooftop of La Grande Arche , where the ultra-chic and chill-out wine label Peyrassol has set up the most breathtaking terrace to witness a spectacular Parisian sunset. The place is a pure marvel with a folk and cool atmosphere with deckchairs, Acapulco armchairs and swings against the backdrop of a DJ set for a lasting aperitif. The love!
Entrance fee for the afterworks, every Thursday from 6:30 p.m. to 11:30 p.m., reservations required on grandearche.tickeasy.com .
The roof of the Grande Arche , 35th floor of the Grande Arche, 1 parvis de la Défense, 92800 Puteaux - 01 40 90 52 20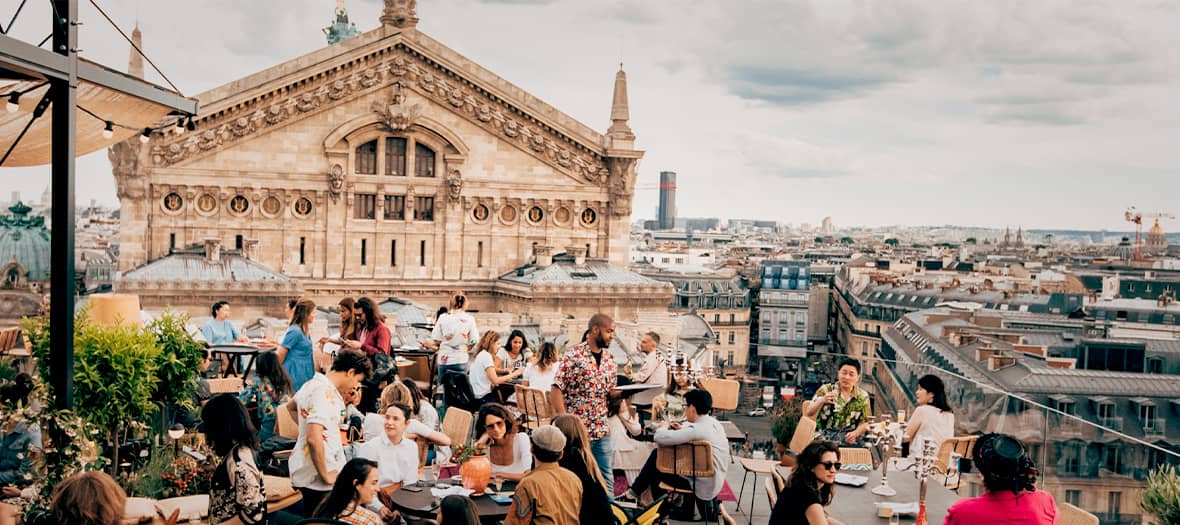 The summer rooftop sensation is back for a second season on the roof of Galeries Lafayette where Julien Sebbag , the young and fashionable chef, is causing a sensation with his 100% vegetable and very Tel Aviv-style menu , in the claimed tradition of Ottolenghi .
The decor turns out to be a brothel organized as one would dream of: 100% vintage Emmaüs furniture , ideal for hosting a large table of dozens of friends, from breakfast to dinner, with non-stop service.
À la carte: strawberry and feta salad marinated in fennel seeds (€15), baby cucumber with sesame, crunchy fennel and cashew cranberries (€11), focaccia, colored courgettes and black olives (€17) or another incredible French toast, almond milk and verbena and hibiscus whipped cream (€9).
Creatures , Terrace of Galeries Lafayette Haussmann, 25 rue de la Chaussée d'Antin, 75009 Paris - 01 42 82 34 56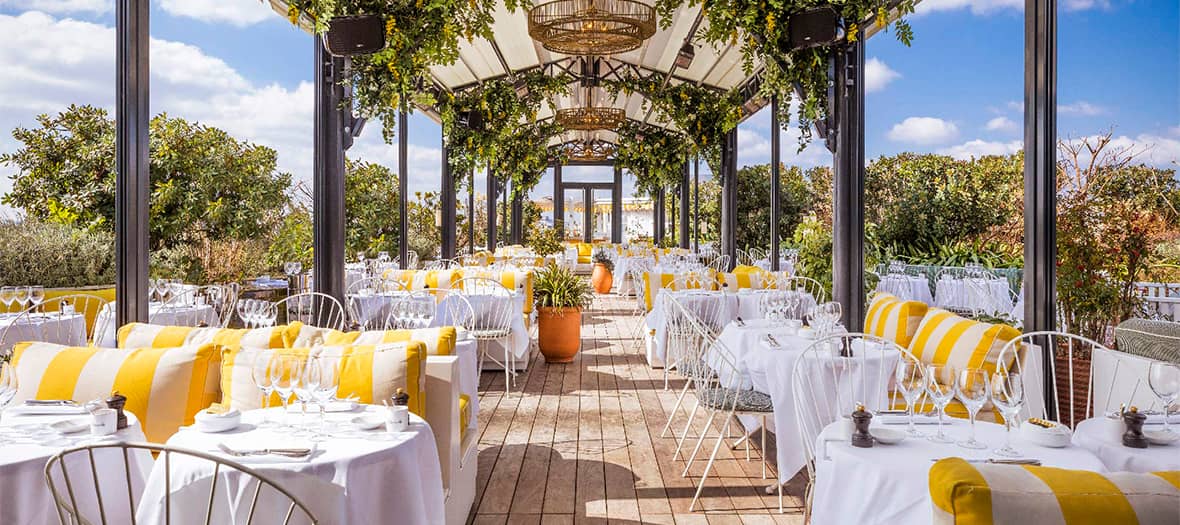 © Romain Ricard
Meet on the 9th floor of the Printemps de l'Homme in this decidedly very fashionable and furiously exotic high-altitude garden. The creators of successful places Gilles Malafosse and Laurent de Gourcuff (Monsieur Bleu, Loulou, Girafe) have designed a delightful retro French Riviera style terrace, with a postcard view supplement, equipped with a stylish bar and delightful sunny cuisine. Special mention to the vegetal decor and stylish clientele.
À la carte: fried squid and moyo with pesto (€15), smoked marinated beef, pine nuts and capers (€23), summer truffle tagliatelle (€35) or grilled octopus, smoked aubergines (€37 €).
Entrance by 2 rue du Havre, Paris - 9th
Parakeet , Printemps de l'Homme, 64 boulevard Haussmann, 75009 Paris - 01 42 82 50 00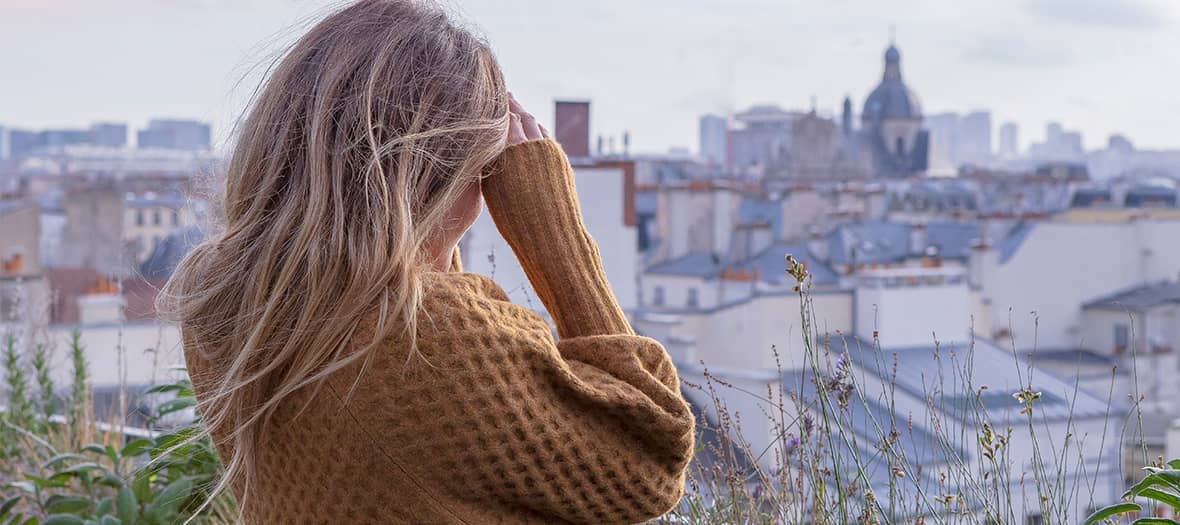 On the roof of 93 rue Vieille du Temple, here is the new rooftop set up by the Café La Perle gang which is taking Parisians to 7th heaven.
Acte II, formerly at the top , it's greenery, a playlist signed Nova and a menu by Masahide Ikuta that reveals high-pitched Japanese gastronomy… and no queuing! Here, places are expensive and an (online) reservation is essential.
Monday to Friday 6 p.m. - 2 a.m. and Saturday to Sunday 12 p.m. - 2 a.m.
Act II 93 rue Vieille du Temple, 75003 Paris - 01 43 56 50 50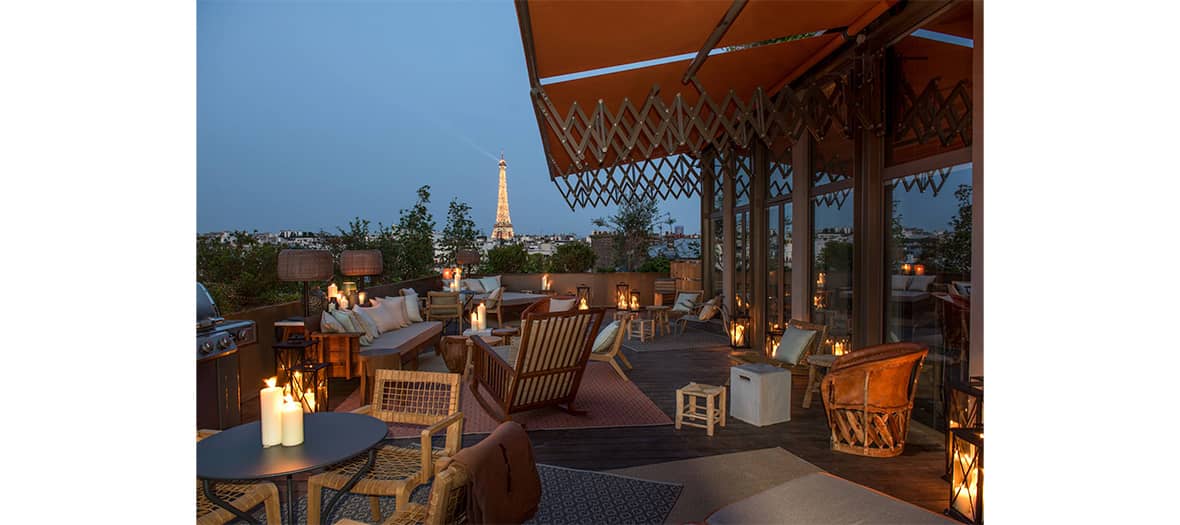 Always higher, always stronger, the trendy hotel in the 16th arrondissement designed by Philippe Starck opens its perched vegetable garden to Parisians for country aperitifs with your head in the clouds. Once at the top, sip your cocktail signed Jérémy Bacquet in collaboration with the butcher Bellota-Bellota and watch the growth of aromatic herbs, fruits and vegetables while enjoying the 360° view over the rooftops of Paris! Life.
Monday to Sunday from 5 p.m. to 1 a.m.
Hotel Brach 1-7 rue Jean Richepin, 75016 Paris - 01 44 30 10 00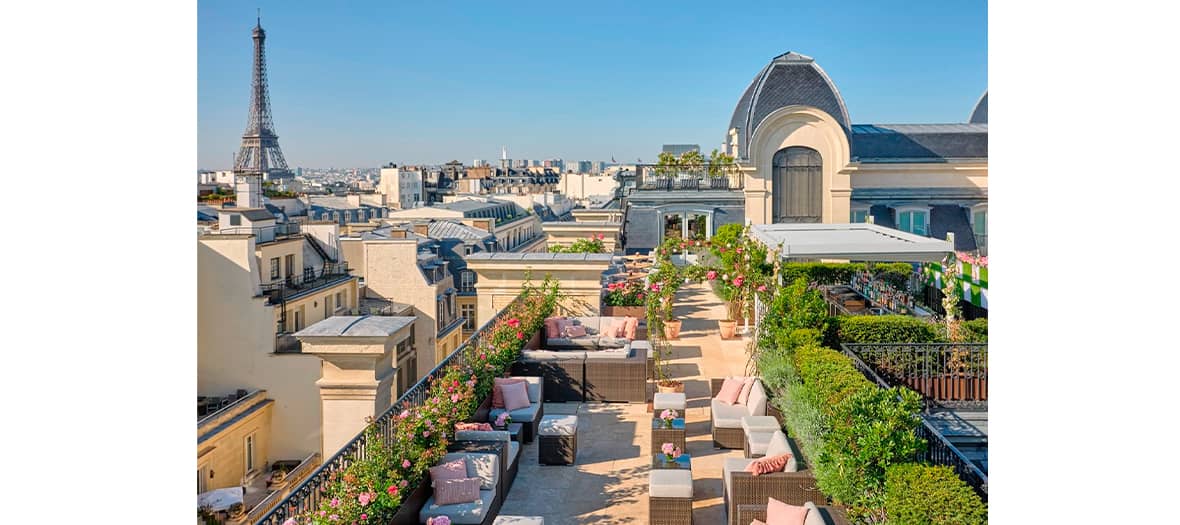 A wow terrace for a drink in 7th heaven is the promise of the rooftop installed on the top floor of the prestigious palace. As an extension of the L'Oiseau Blanc restaurant run by the talented chef David Bizet , this little corner of paradise serves you amazing cocktails such as Depressurisation - gin, vanilla syrup, lemon juice (€32) with a vegetable marinade grilled (€24) or a courgette carpaccio (€22). Strict chic outfit!
Open Sunday to Wednesday from 4 p.m. to 12:30 a.m. and Thursday to Saturday from 4 p.m. to 1:30 a.m.
Peninsula , 19 avenue Kléber, 75116 Paris - 01 58 12 28 88
The Shed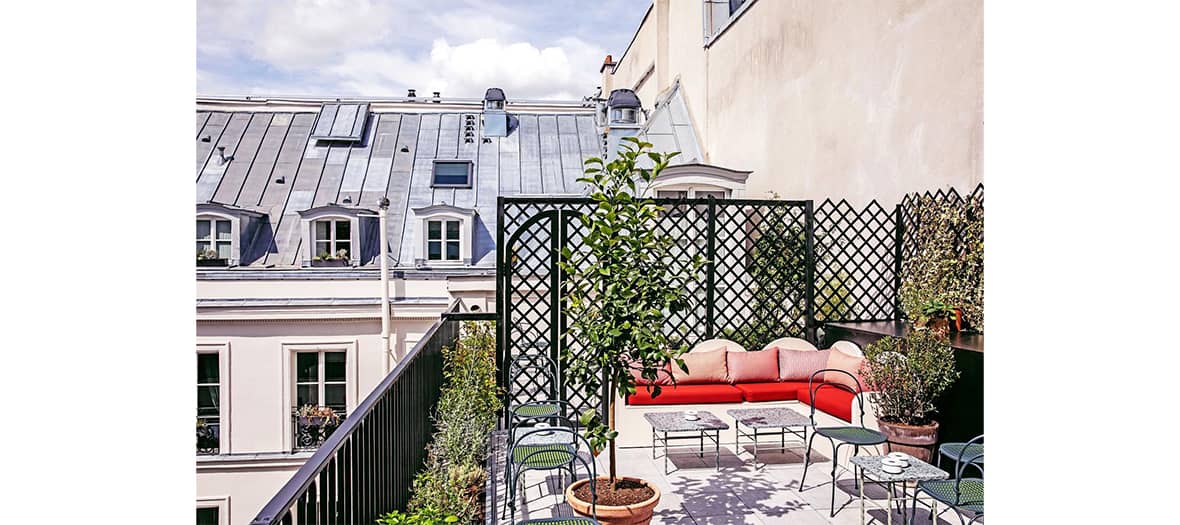 A bar set in the middle of the rooftops of Paris: the dream! The priceless band of the Experimental Cocktail Club has set up on the rooftop of its Hotel des Grands Boulevards a terrace at the top skilfully staged by Dorothée Meilichzon . In this case: a cocktail hut (starting at €14) to sip on large, cozy sofas dressed in highly chic and sophisticated red and pink against a backdrop of good sound. To order for snacks: Italian charcuterie (€13), artisanal crisps (€3) and a plate of cheese (€8).
Open daily from 5 p.m. to 11 p.m., reservations recommended
Hotel des Grands Boulevards , 17 boulevard Poissonnière 75002 Paris - 01 85 73 33 33
Also discover the new trendy cocktail bars and the 10 best restaurants in Paris .
© Yann Audic