No need to go to the Quadrilatero della moda to show off in sunglasses and stilettos in front of fashion editors Anna dello Russo orGiovanna Battaglia . And for good reason, the very chic Milanese pastry shop Cova has just set up shop at La Samaritaine to treat itself to a tea time on the terrace that would make Blair Waldorf pale .
A Milanese terrace
Meet at the foot of La Samaritaine on the square on rue du Pont-Neuf, where LVMH has placed the famous Milanese pastry shop on via Montenapoleone . Here, the whole Italian universe is recreated for chic snacking at breakfast, lunch or an aperitivo.
Immersion in Northern Italy, the Risorgimento era, a version of great splendor from the Italian courts of the 19th century, whose traditions Cova perpetuates. The impeccable service is punctuated by the Italian waiters who throw " Ciaooooo " and " Pregoooo " at you each time you come and go with the dishes in a Milanese decor with ocher tapestries, wood paneling and display cases full of delicious colorful pastries.
A tailor-made high tea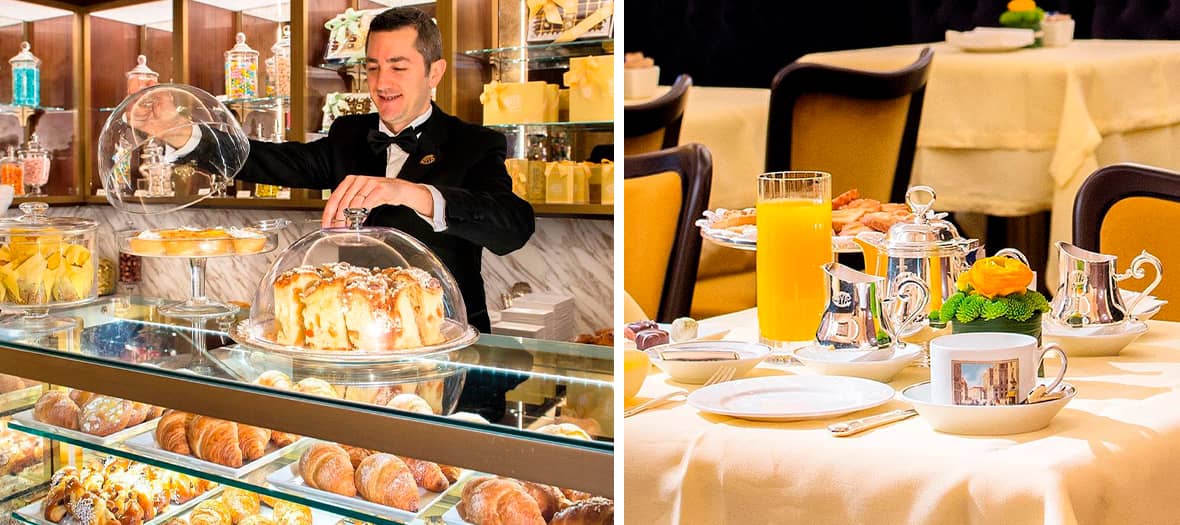 From 4 p.m., the tables are filled with silver tiered displays and the terrace is transformed into an upscale tea room . Except that here, tea time turns out to be a real tasting of small sweet and savory dishes and " mignons ", cult pastries reproduced in mini format to accompany teas, coffees or fruit juices (à la carte, 6, €50).
To vary the pleasures, the most beautiful recipes from lunch to afternoon tea are revisited as appetizers, included in the high tea offer : a fork of pasta and its prosciutto, gnocchi, a " parmidgiana " like at the mamma's (eggplant- tomato-mozzarella-basil sauce) and creamy salmon-pistachio-olive toast. On the sweet side, there is a parade of a thousand beauties with whipped cream and ricotta: the famous Sicilian cannolo topped with its candied cherry, fruit tartlets for freshness, tiramisu of course and other lemony and flaky sweets.
Those who prefer the aperitif version, that's also possible: the high tea is available in a " royal " version with a coupe de champ' and Gianduja chocolates in addition to the classic tea time.
High Tea Cova, Tuesday to Sunday from 4 p.m., €38 per person, high tea royal €58.
Also discover: Alain Ducasse's tea room at the Palais-Royal and Yannick Alleno's haute couture chocolate factory .