Tonton Yün is the fanciful character invented by a gang of trendy foodies to incarnate a 2.0 local Chinese restaurant. You are at the heart of a very bobo and gourmet Franco-Cantonese restaurant. Here, nobody takes themselves seriously and the clichés regarding Asian venues in Paris are treated with humour.
Chinese. Not Korean, nor Japanese. And so no, they don't serve bo buns, nor nems, and cleverly say: we will serve them "the day it's possible to order a choucroute in an Italian restaurant". And no again: no bread here, just rice.
Yummy bowls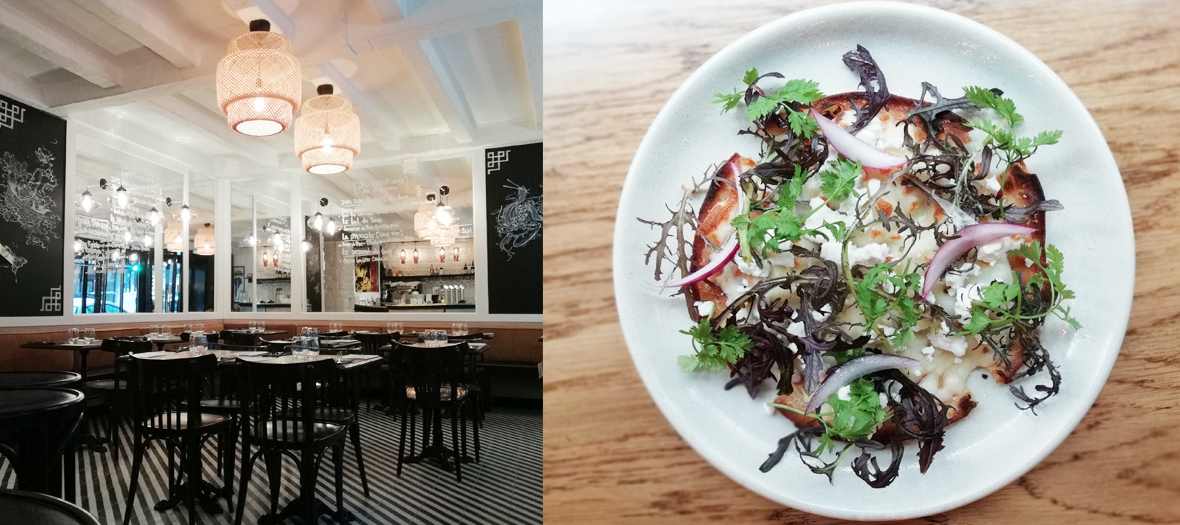 Let's get serious and sit down at the table. Aside from top starters- des grilled ravioli, veggie of the day tempuras (for us: a delicious cauliflower stir fry) or a crispy beef served with a spicy mayo, or the house specialty: super generous and addictive bowls.
On the plates: a base of jasmine rice, pickled vegetables and salad, all served with a red label glazed salmon, a curry of lentils and feta for veggies,  slivered sichuan beeg, a vegan mix and match of Bok Choï and sweet potatoes (€16). Simply delicious. And for a great finish: crème brûlée with jasmine—totally yummy.
A mini-brasserie on the lower level
Here, everything is washed down with French organic wines and beers from the mini-brasserie located under the restaurant. Impossible to be more locally sourced, of course.
We adore: the take-away just behind (65 Rue Chabrol), to take home all their delights. We're telling you, it's the best local Chinese in Paris !
Open every day lunch and dinner. Closed all day Sunday and Monday evening.

Also discover Ran, the festive restaurant that is setting the 8th on fire.