Take the ultra glam' atmosphere of a Costes, an « absolutely fabulous » international clientele straight from the palaces of the golden triangle and the Orientalist cuisine of a very daring star-studded chef, such is the ambiance of Shirvan. With his melting pot on place de l'Alma, once again Akrame shakes up preconceived ideas, mixing influences and styles.
The decor brings to mind trendy legendary spots in Beirut: terrazzo floors, marble counters, brass details, wood cut geometric and design leather chairs. From the open cuisine, one can watch the international brigade led by Indian chef Manoj Sharma, formerly at the Cinammon Club in London, then MG Road and Desi Road in Paris. With Akrame, they have put together a solar menu encompassing with panache the Maghreb, Central Asia, the Middle-East and India. Result: wild spicy dishes, to share as is the tradition in this part of the globe : crackers to dip into an exquisite houmous of avocado (7€), lamb chops marinated in harissa (20€), pita XXL (7€), steam cooked brioche with garlic butter (5€). A must-try, braised cauliflower like in Tel Aviv, cut live in front of you (15€) and finger-licking vegetable tempura (8€), mmhm. And of course a nice cocktail to wash it all down (17€).
Dessert? Yallah. A crunchy-creamy millefeuille with citrus fruit (9€), light option with a truly divine pomegranate, mint lemon sorbet (14€), tops also the array of sweet treats signed Maison Aleph, that will soon be opening its own neo-oriental pâtisserie in Paris—to be followed (16€).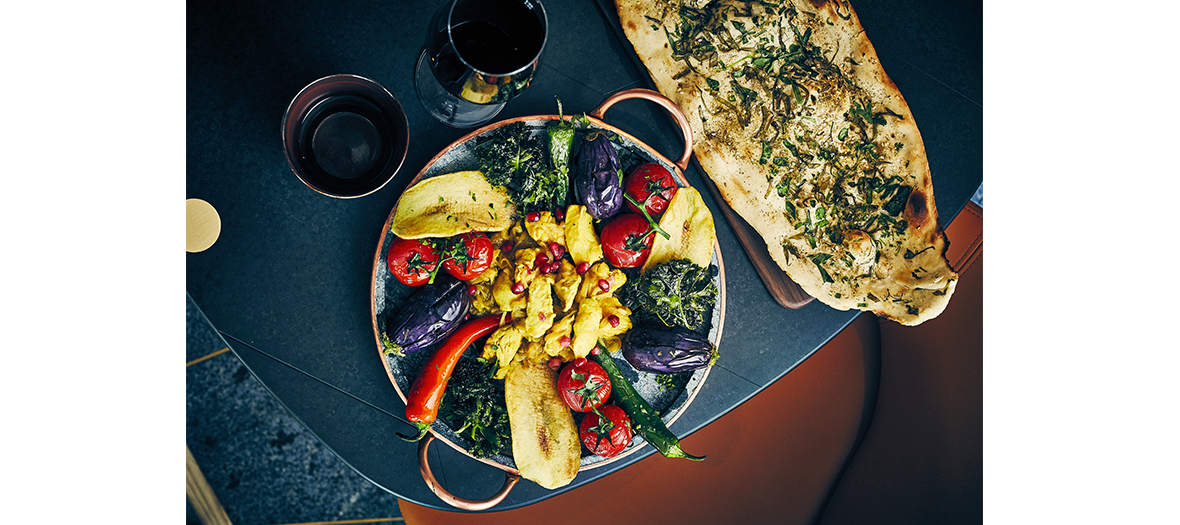 Open every day from 8am until 2am.
Also check out the Med bistro Little Mana and Clover Grill, the new mundane bistro of Jean-François Piège.