Those who know him are quite aware, Akrame Benallal never goes for  half measures. In the kitchen or in business, the is the most iconoclastic star chef of his generation. Out of the ordinary? Certainly. Latest proof, his amazing Sunday brunch recently launched at Shirvan.
The place
Somewhere between Calcutta, Istanbul, Beirut, Marrakech and Paris. At the origin of this singular table at the crossroads of the  Orient and the Occident, there are savours and spices punctuating the famed silk road. Under the helm of Akrame, the chef of Indian origins, Manoj Sharma (also worked for Séoul Mama) pilots the journey from a large open kitchen.
The dining room, resolutely contemporary, shifts between airy spaces and more confidential corners depending on the mood, with as red thread noble materials (marble, terrazzo, wood, leather banquettes), natural overtones, design furniture and a few oriental ornamentations.
On the programme of treats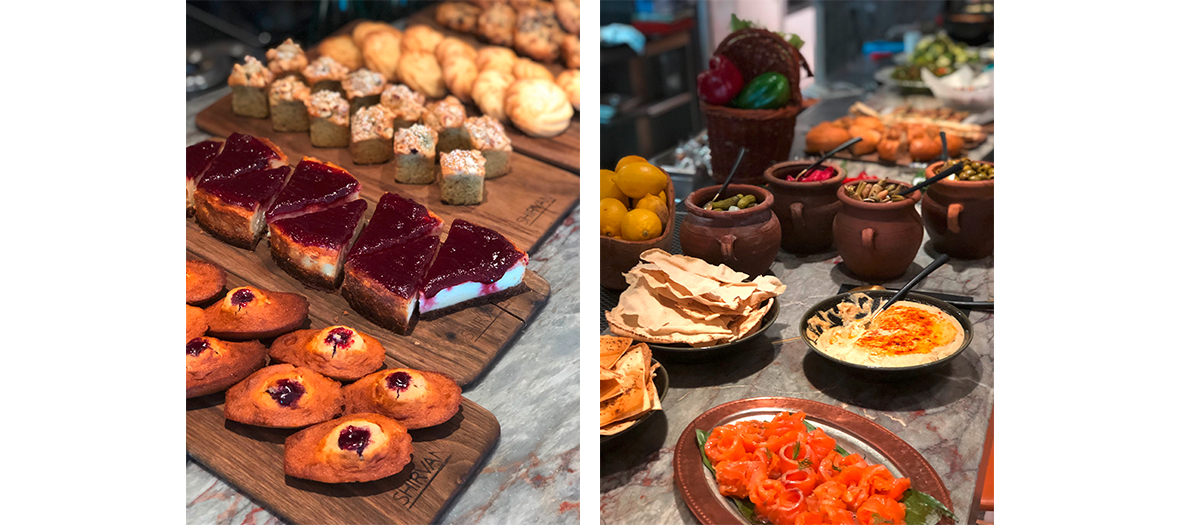 An infinity buffet that stretches out on the entire length of the bar-counter, facing the cooks with: a signature fennel houmous, fresh and spicy salads, a remarkable gravlax salmon, house breads galore (brioché with zaatar, pita cooked in an Indian oven, a galette stuffed with fresh herbs) to be dipped in divine sauces, broccoli with sesame, a terrific omelet with tomato and fresh herbs.
On the fire, a very special tandir of marinated chicken, sea bass cooked in a banana leaf with an amazing coconut curry, basmati rice with herbs and saffron as well as a lentil dahl Bollywood style.
As for desserts, mini cheesecakes, cookies, brownies, fruit and farmer cheese. Obviously, you can serve yourself as much as you want, along with a hot beverage and a juice, all for €55.
The added plus
There is constant refill without any risk of running out, the service is charming and the terrace ideal (to be reserved on the site along with particular requests) during Indian summer.
Brunch every Sunday from 12pm to 3pm, reservation online or at 01 47 23 09 48.
- 70€ Unlimited sweet and savory buffet with a fruit juice and a hot drink.
- 80€ Unlimited sweet and savory buffet with a glass of champagne, a fruit juice and a hot drink.
- Children's menu at 30€ up to 12 years old and free for children under 3 years old.
Also check out the Asian brunch of Lai tcha and Shabour, the new restaurant of the Balagan team.