Noodles galore ! After Canal Saint Martin and Bastille,  the winning gang of  Street Bangkok is making chopsticks click on s rue Saint-Denis in a very trendy hole-in-the-wall with an original decor.
Walls falling to pieces, impertinent graffitis, a psychedelic neon, tables to share, and let's not forget the counter with its army of hanging Peking ducks, one of the specialties of this new address revolving around rôtisserie.
Ready for some sparks? Marinated pork shank with 5 spices and lacquered to be dipped in an awesome honey sauce, an incredible roast chicken with satay sauce and the famous Peking duck, requiring no less that 72h of preparation, twisted with a peach/apricot sweet and sour sauce. To go along with each recipe, rice, small brocolis and a pair of gloves, gants, so that things are done properly.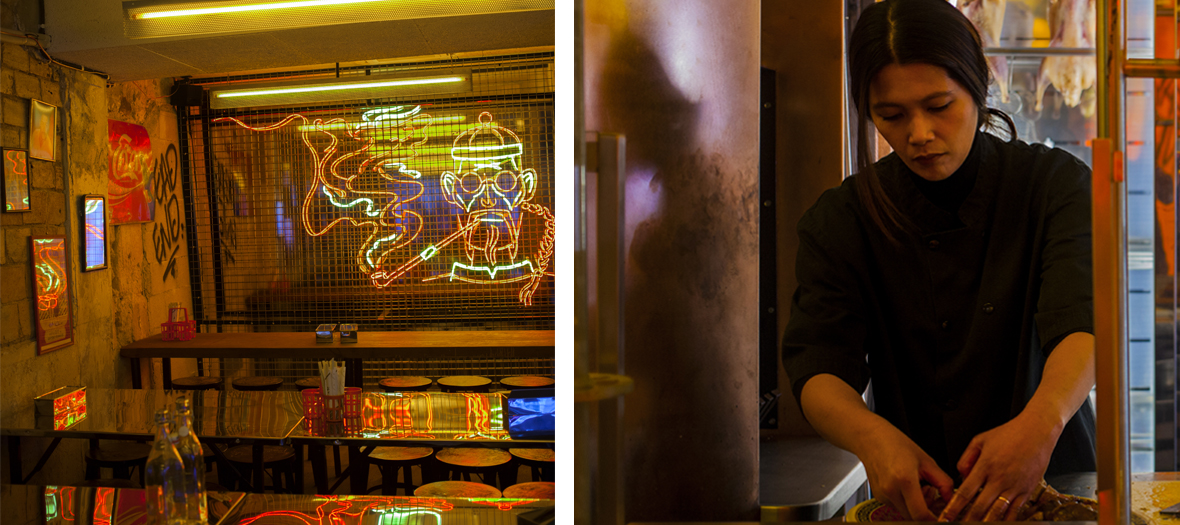 The other outsider on the menu ? The traditional Thai pad with marinated beef and oyster sauce, with noodles in the same size as tagliatelli, a killer (€12). Exists also in veggie version (€10). Sensitive palates should abstain, it's very hot. In case of 'inflammation, a sip of the house lemonade(€3,50) or tap beer (€3).
A sweet treat? The mango, coconut with sticky rice nabbed from the  Mandarin Oriental in Bangkok (€6).
Also check out Itacoa in the same street.