We have good news for all the fans of coconut milk, made in Asia pop culture and spicy savours: the Bangkok Street Food gang just launched a new even more accomplished concept. Rendezvous on Rue de Seine, for a "grill and beer" experience in the 6th.
A Thai street-food escapade
Feel like a little change? Well, the good news is that everything is ready for you to be propelled to an Asian cantina: a dragon-shaped neon light, vegetal wall, vintage posters directly from Thailand, and an open kitchen whipping up street food inspired by the streets of Bangkok.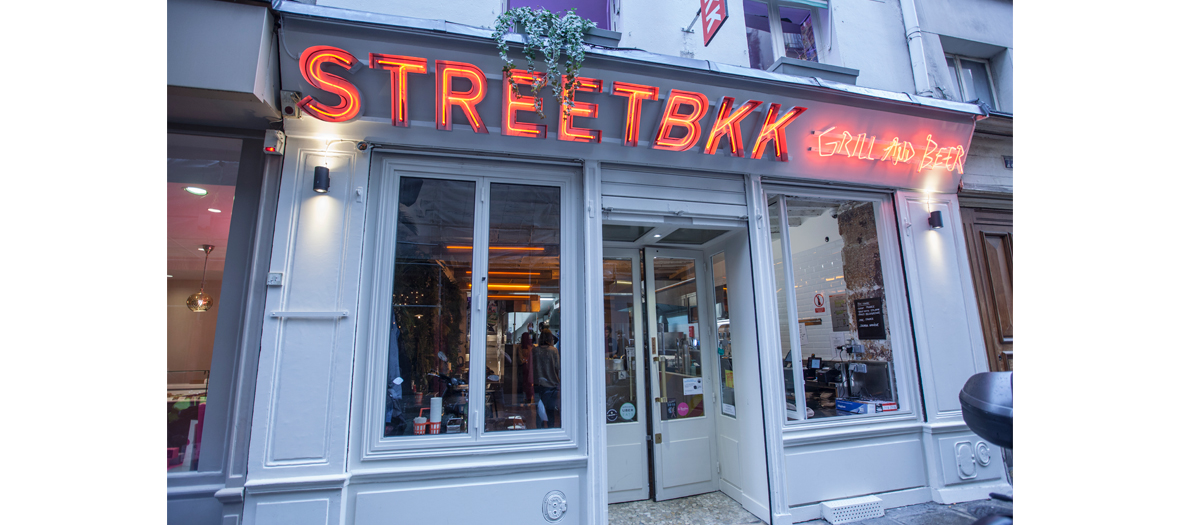 A la carte: of course one finds all the classics of Jeff Claudio: the Canadian, of Filipino origins, who worked for famous restaurants Noma (Denmark) and Yardbird (Hong Kong) serves his cult dishes: a yummy crispy pork, salad of papaya and a terrific veggie curry.
A BBQ with real coals
This time, the chef known for his highly technical approach goes further by installing a JOSPER oven for cooking on coals. The result is ribs with a great BBQ sauce, an irresistible crying tiger (with Black Angus meat) or a wild smoked sausage with lemongrass, topped with an egg...
Very unusual: the grilled sea bass, served whole, to be eaten as a make-your-own spring roll… Not that easy to put together, but amateurs DIY fans will surely appreciate. Just like the chicken marinated in coconut milk served with an addictive satay sauce (€13). Yum-yum.
For dessert: Pandan ice creams (an Asian pistachio), coconut signed Glazed or  then a signature foodporn delight: sticky rice with coconut milk + mango + crushed peanut + sesame seed + 1 scoop of ice cream (€8.50).
Go with the on tap flow
It's like being at the bar of a beer garden in Berlin. Here, we like the tap beers and ciders: Appie cider, white Blue Moon (€4 half pint) or the Brewdog Elvis juice, more floral and spicy (€5 half pint). Unwavering diners will stick to a bottle of Singha (€4) or then a Pimento Ginger if you adopted soft power…

Open Monday to Sunday from noon to 11pm.

Also discover the best couscous in Paris.