An essential trade if there is one, fortunately the bakeries and pastry shops remain open! A true star of breakfast, pain au chocolat (we don't say chocolatine in Titi-Parigot territory…) remains the favorite pastries of Parisians. As long as it is found among the best artisans in the capital. Lap.
Bo & Mie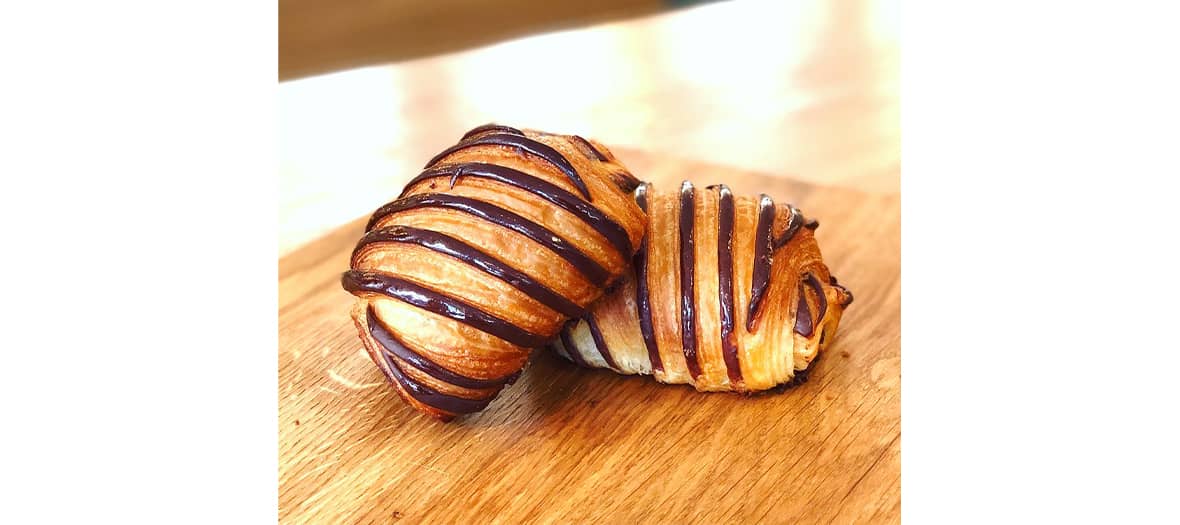 The reconversion is good for Jean-François Bandet and Magali Szekula, respectively ex-co-founder of a sports brand and former lawyer, at the head of Bo & Mie , one of whose addresses is the largest bakery in Paris, in Louvre. Rivoli. The new benchmark of Parisian bakery deals with extraordinary viennoiseries and pastries made by pastry chefs from Parisian palaces.
Among the many bestsellers of the house: their unique pain au chocolat, croissant dough made from AOP Montaigu butter topped with praline, the best effect on Instagram. Good to know for lovers of fat: it is also available in delivery ...
Price: € 2.50
Where to find the Bo & Mie bakery? 91 rue de Rivoli, Paris 1st - 18 rue de Turbigo, Paris 2nd -359 rue Saint Martin, Paris 3rd - 09 50 65 48 18
MAMICHE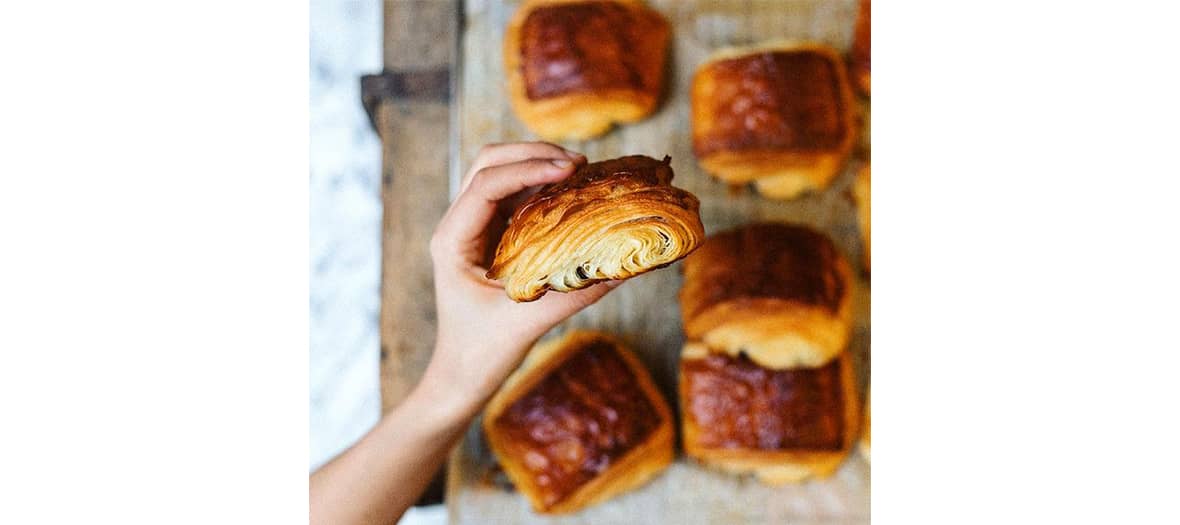 After the riot generated by their arrival in the 9th arrondissement, the girl power duo formed by Cécile Khayat and Victoria Effantin created the event rue du Château d'Eau , judging by the meters of queue at all hours in front of their stall.
If the success of their babka has established their solid reputation on social networks (all their products, hot donuts, sexy " ugly but good " loaves and cookies). Their extraordinary almond pain au chocolat definitely proves the rule.
Price: € 1.80
Where can you find the Mamiche bakery? 45 rue Condorcet, 9th - 32 rue du Château d'eau - 10th -
CYRIL LIGNAC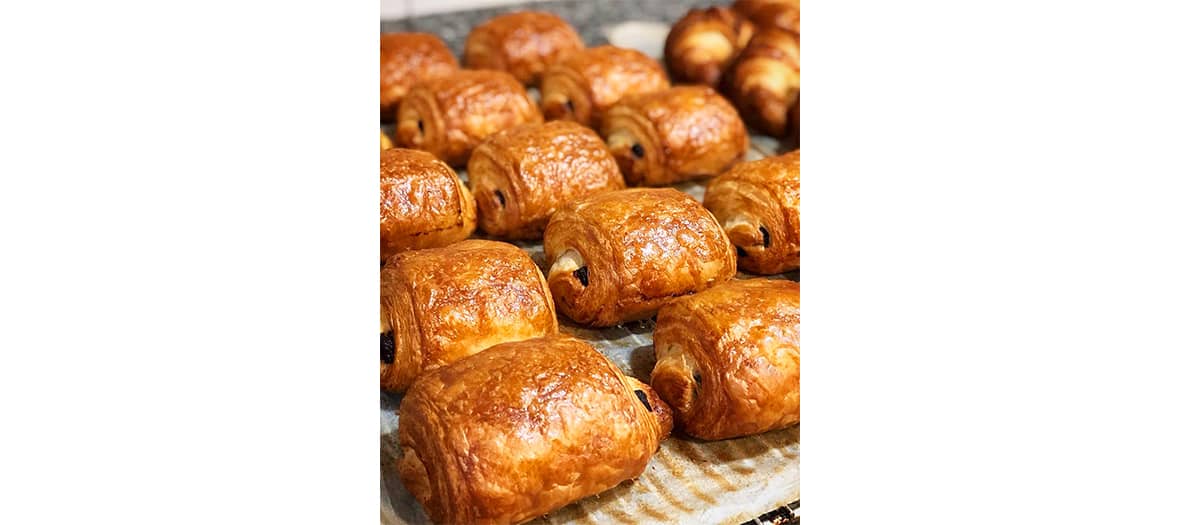 To provide good bread and pastries to his successful restaurants, Cyril Lignac , accompanied by Benoît Couvrand , created his first bakery 9 years ago. Once again the #gourmandcroquant team has everything, especially since the team has established itself as a cocoa pro with the Chocolaterie Cyril Lignac . The circle is complete!
This sublime pain au chocolat , (oops, we meant chocolate ), generously sized, owes its unique taste and excellence to the use of fresh butter from Poitou-Charentes and therefore its perfect chocolate. Editor's favorite!
Price: € 1.40.
Where can you find Cyril Lignac's chocolatine?
9 rue Bayen, 17th - 01 55 87 21 40
24 rue Paul Bert, 11th - 01 55 87 21 40
55 boulevard Pasteur, 15th - 01 55 87 21 40
lenôtre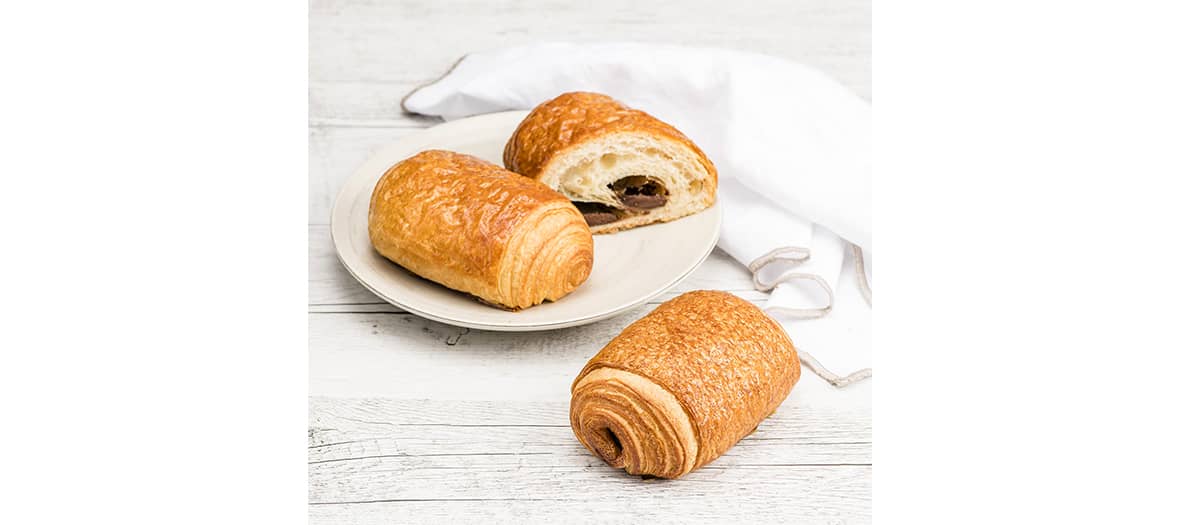 Guardian of an exceptional culinary heritage inherited from the great Gaston Lenôtre , pain au chocolat is no exception to the rule of this luxury house which passionately perpetuates a tradition appreciated since 1957.
An incredible pleasure to soak in your coffee. The exceptional contrast between the softness of the puff pastry , buttery to perfection and the crunchiness of the chocolate makes all the difference.
Price: € 1.60.
Where can you find Lenôtre's pain au chocolat?
48 avenue Victor Hugo, 16e - 01 45 02 21 21
22 avenue de la porte de Vincennes, 12th - 01 43 74 54 32
44 rue d'Auteuil, 16th - 01 45 24 52 52
61 rue Lecourbe, 15e - 01 42 73 20 97
PIERRE HERMÉ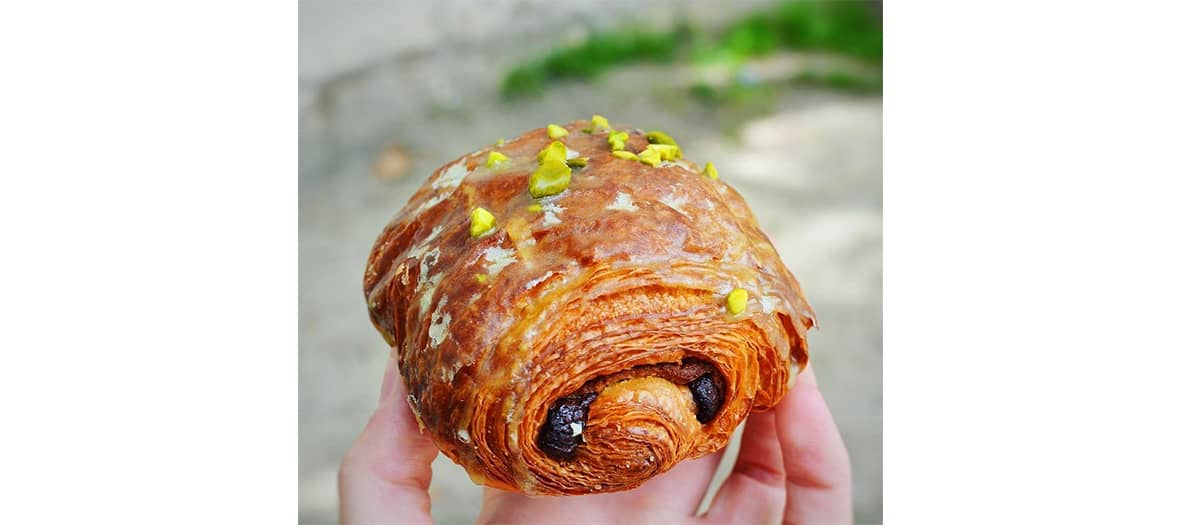 In 2000, American Vogue, under the aegis of Anna Wintour , elevates the young craftsman into a " Picasso of Pastry" and becomes an international star. Inventor of the mythical Isfahan , creator of chocolate bar and Dior café in Seoul , Pierre Hermé , known the world over for his haute patisserie, also shines with his perfect classics.
Evidenced by its ecstatic plump and ideally balanced pain au chocolat. His signature ? A strong dark chocolate bar with little sweetness, mixed with crushed hazelnuts. To fall. The photo speaks for itself, right?
Price: € 2.50.
Where to find Pierre Hermé's pain au chocolat?
35 boulevard Haussmann, 9th - 01 43 54 47 77
58 avenue Paul Doumer, 16th
maison POILÂNE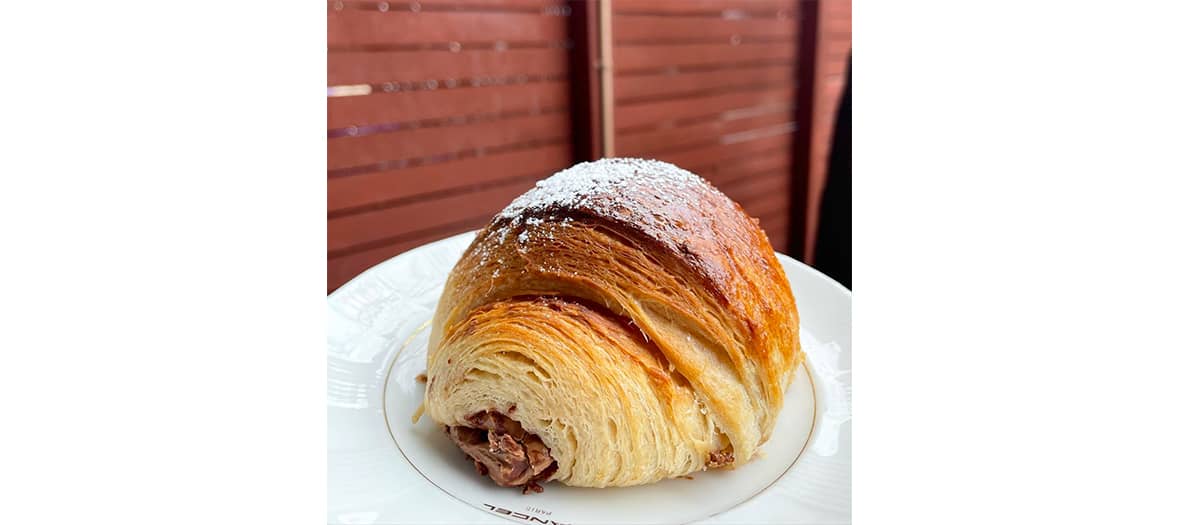 Exceptional flour, cooking over a wood fire ... The obsession with goodness, the desire to perpetuate the artisanal know-how of its bakery , this is the signature of Maison Poilâne which only offers a few very rare other products. in addition to his breads.
Among them, an incredible airy, buttery, ideally chocolatey pain au chocolat … In short, we start by tasting half of it, then we end up eating 4 others!
Price: € 1.60.
Where to find Maison Poilâne's pain au chocolat?
83 rue de Crimée, 19th - 01 40 36 04 28
38 rue Debelleyme, 3rd - 01 44 61 83 39
49 boulevard de Grenelle, 15th - 01 45 79 11 49
CÉDRIC GROLET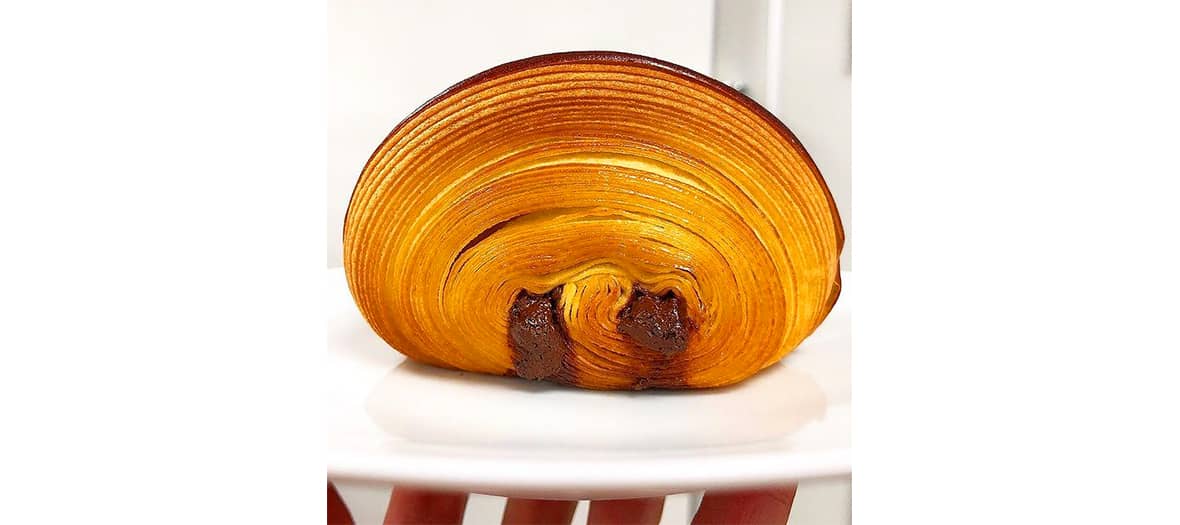 Voted the best pastry chef in the world many times, Cédric Grolet , sweet chef's hat from Meurice with 1.5 million followers on Insta, has foodies from all over the world salivating. A true avant-garde, he continues to impress with his daring. Needless to say, her boutique - tearoom on Avenue de l'Opéra is the sweet sensation of the moment.
This is not a pain au chocolat but a masterpiece, for which he combines visual beauty and technical prowess. His credo is still valid: "The beautiful makes come and the good brings back". Indispensable for breakfast , its bread to the shock 'defies the laws of delight. Our advice: arrive at the opening of the store to be sure to bite into it!
Price: € 4.
Where to find Cédric Grolet's pain au chocolat?
35 avenue de l'Opéra, 9th - 01 83 95 21 02
du pain et des idées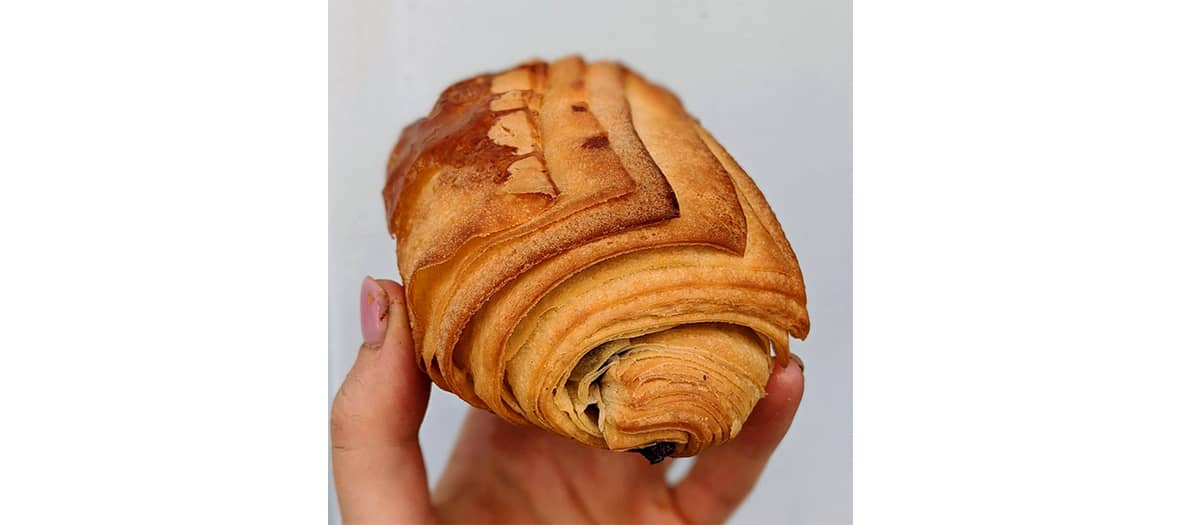 The bobo of organic bread on the Canal Saint-Martin , that's him. Christophe Vasseur , self-taught baker who gave up everything in 2002 to open his shop. He reconnects with the essence of the ancestral techniques of this craft, short circuits and exceptional raw materials.
In addition to his famous loaf " Le pain des Amis", which he delivers to many renowned restaurants, his uniqueness is these extraordinary pastries such as his turnover with fresh apples and snails. Chocolatine , as it is called here, is no exception to the rule. Simply exceptional. Only problem: the bakery is closed on weekends. Too bad for your breakfasts.
Price: € 1.90.
Where to find bread and chocolate from Bread and Ideas ?
34 rue Yves Toudic, 10th - 01 42 40 44 52
THE FRENCH BASTARDS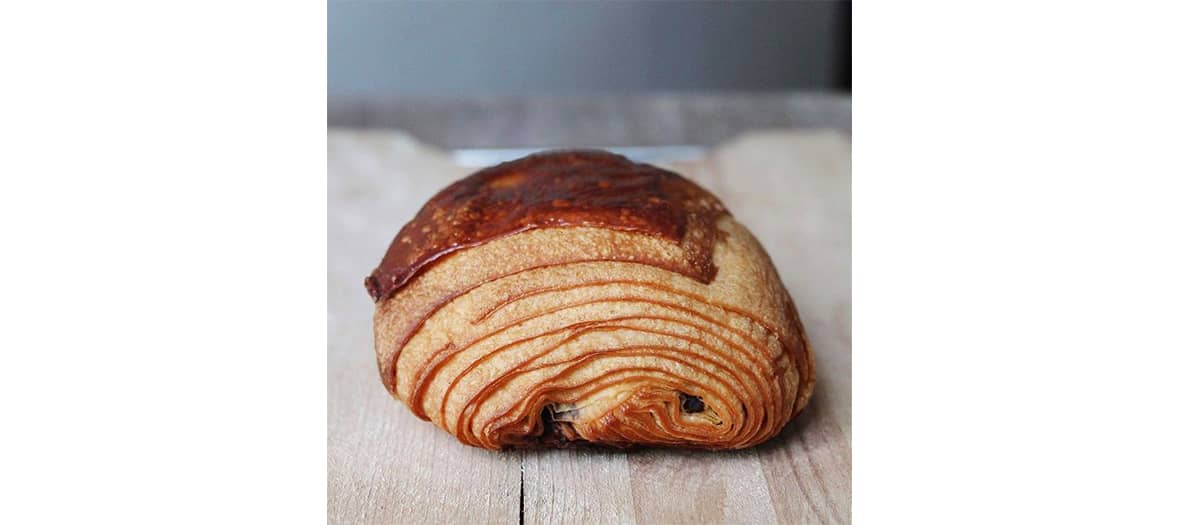 Notice to hipsters from the 11th arrondissement: The French Bastard , it's a good dose of tradition and craftsmanship sprinkled with pop culture in an ultra stylish business rue Oberkampf , opened by Generation Y of the bakery. Proof that good gluten still has a long way to go.
This chocolate bread should be classified in the " Back to basics " category, as they say. It has a delicious puff pastry, slightly crumbly and caramelized.
Price: € 1.30.
Where to find The French bastards' pain au chocolat?
61 rue Oberkampf, 11th - 06 09 37 29 77
La grande epicerie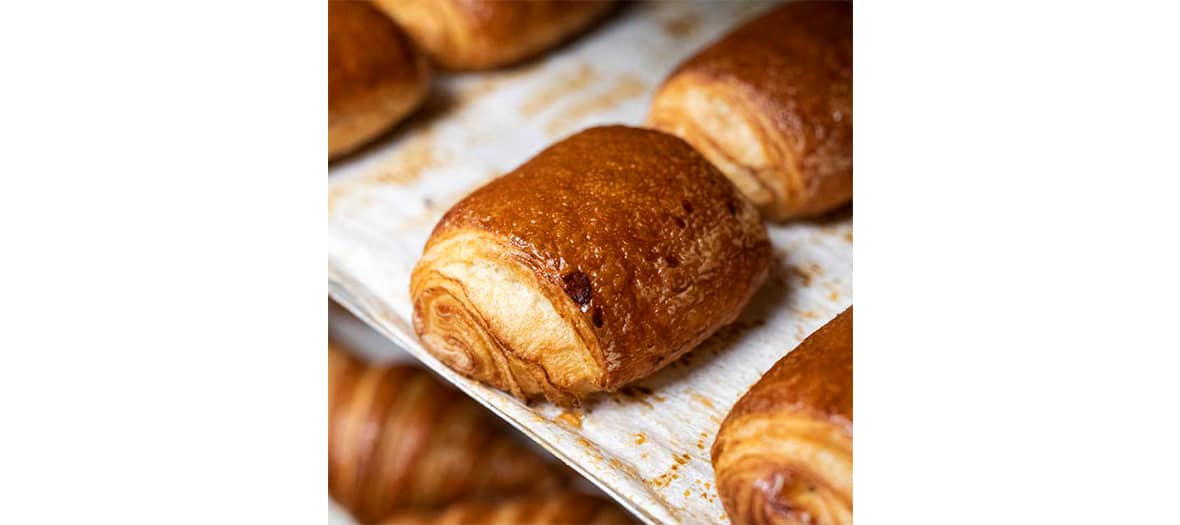 A true Parisian institution and gourmet annex to Bon Marché , La Grande Épicerie is the absolute temple of tasteful snobs, foodies , obsessed with perfection and name-droppers . His thing? Offer the best in all areas.
Question pastry also, it sends with Nicolas Queruel, head baker for almost 30 years, who works exclusively with suppliers made in France to guarantee quality and products made and cooked on site. Perfection made pain au chocolat .
Price: € 1.40.
Where to find the pain au chocolat from La Grande Épicerie ?
80 rue de Passy, 16th - 01 44 14 38 00
JOSÉPHINE BAKERY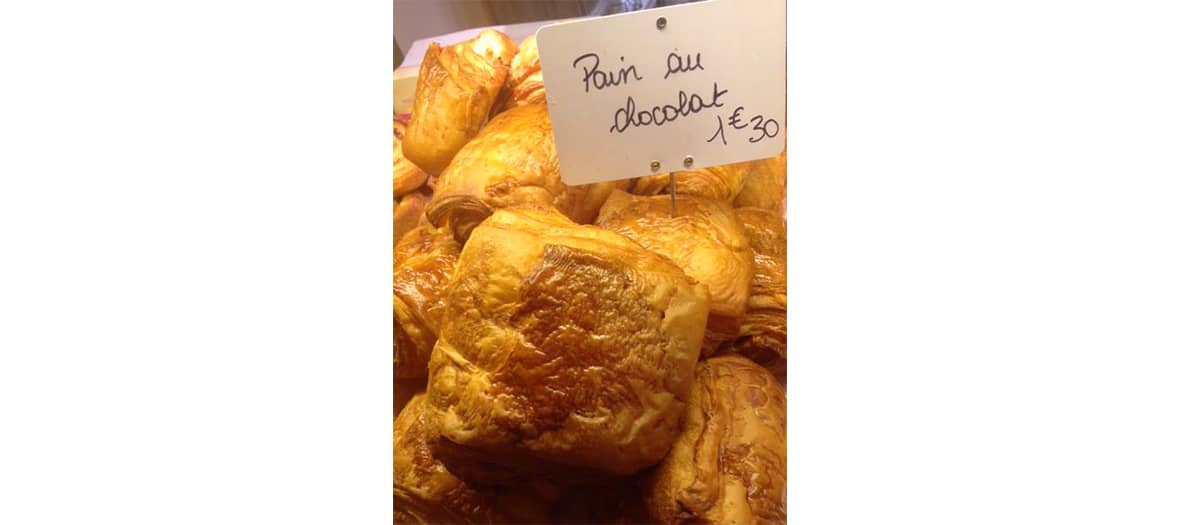 The collaboration between a pastry artist, Benoît Castel , and a bread enthusiast, Jean-François Celbert , inevitably results in a little gem of a pastry . Nestled in the heart of Saint-Germain-des-Prés , this family-friendly place is a delight for left bank foodies with its lightly golden and powerfully chocolatey pain au chocolat.
The must ? Succeed in nabbing one early in the morning out of the bakehouse. Proustian sensations guaranteed.
Price: € 1.40.
Where to find Joséphine Bakery's pain au chocolat?
42 rue Jacob, 75006 Paris - 01 42 60 20 39
HUGO & VICTOR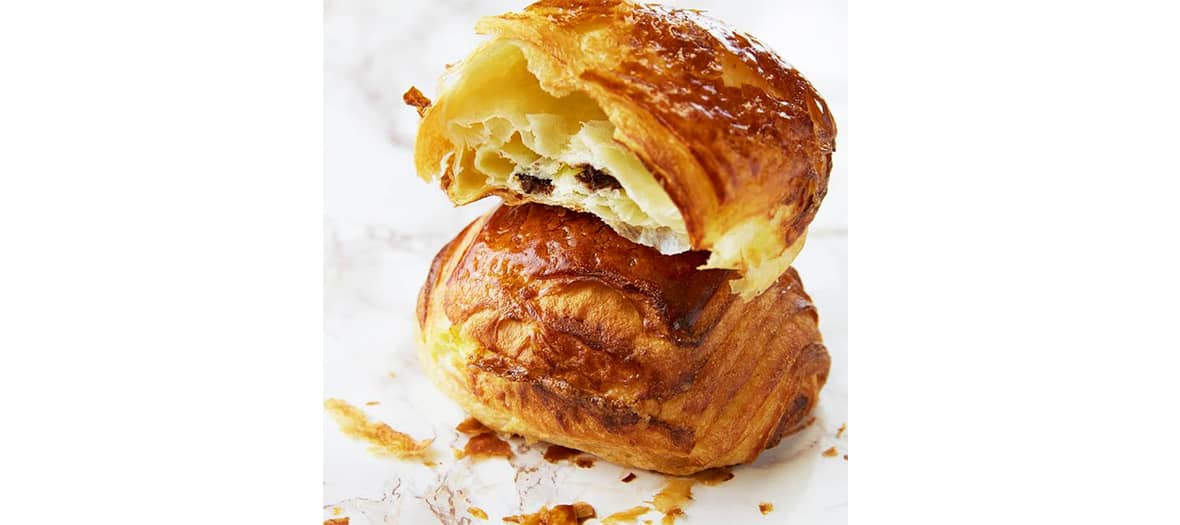 The most cutting-edge pastry-chocolate maker in Paris , aka Hugues Pouget , plays the card of excellence on all fronts. Brilliant products, respect for the seasons and traditions, all enhanced by contemporary techniques. In short, in the lab, it works hard. But what do you want, that's the key to perfection.
This chocolate bread is the haute couture of Parisian viennoiserie . Anyone who has tasted it will confirm it to you. His extra thing? The two chocolate bars slide inside to have chocolate evenly distributed in the French toast. Foot!
Price: € 2
Where to find Hugo & Victor's pain au chocolat?
40 boulevard Raspail, 7th - 01 44 39 97 73
ALÉSIA BAKERY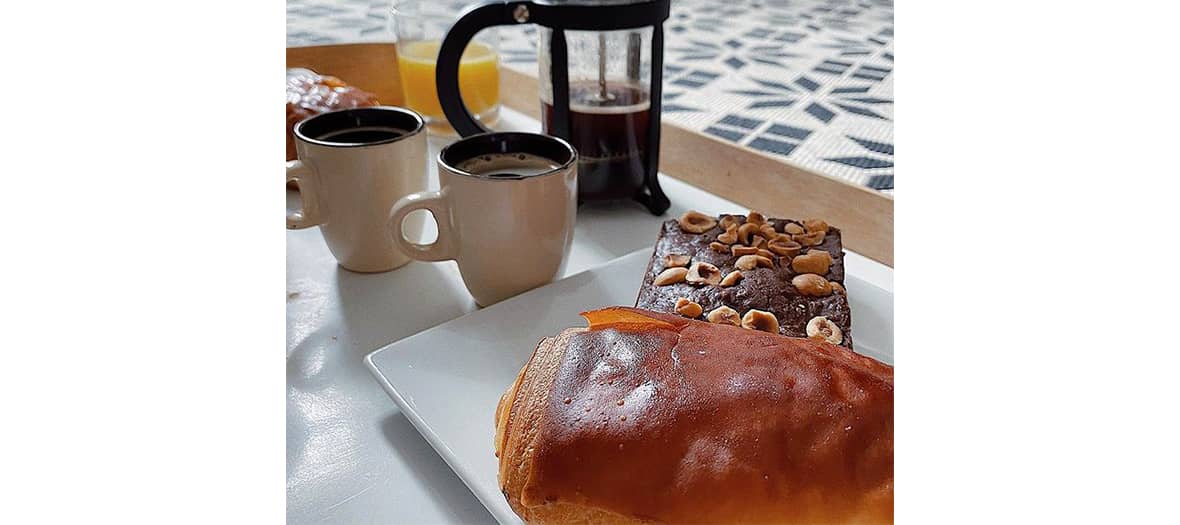 Christophe Vesdin has taken up the torch from his mentor Dominique Saibron to bring his touch to his legendary Alésia bakery. Mission accomplished, as evidenced by their high-profile clients such as the Senate or the Ritz ...
Here, we do not laugh with the pastries . In total: 6 clerks dedicated to puff pastry. The golden chocolate pain , crunchy, airy and truffled with good chocolate, is unanimous. Another good reason to get up on Sunday morning!
Price: € 1.40.
Where to find the pain au chocolat from the bakery of Alésia?
77 avenue du Général Leclerc, 14th - 01 43 35 01 07
THE BOULANGER DE LA TOUR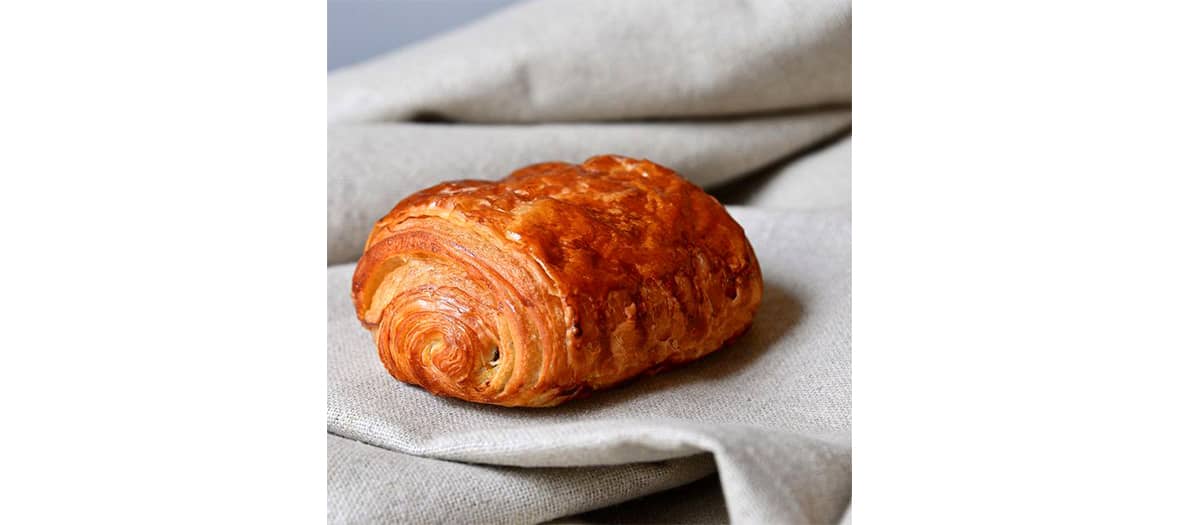 The Tour d'Argent bakery, located at the foot of the large restaurant that inspired Ratatouille , is a must. Alexis Bourgeot , trained at Cyril Lignac , perpetuates the know-how of this house which definitely loves traditions. True " behind the scenes ", the stoves are visible from the rue du Cardinal Lemoine , to make the mouth water better.
If a pain au chocolat were to be sealed and marked as a national perfection to be copied by all bakers in France , this would be it. Ideally golden, crisp, well puffed and uniform: the viennoiserie clearly deserves a crossing of Paris from time to time on Sunday morning.
Price: € 1.40.
Where to find Boulanger de la Tour's pain au chocolat?
2 rue du Cardinal Lemoine, 5th - 01 43 54 62 53
LEROY MONTI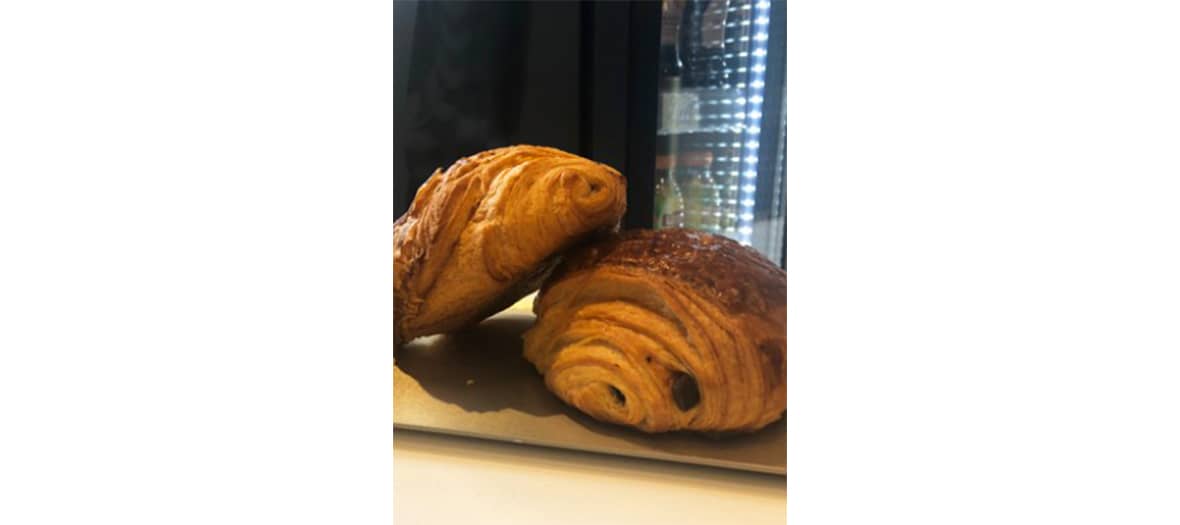 Voted best tradition baguette in Paris in 2019, Fabrice Leroy has therefore become the official supplier to the President of the Republic and to all the foodies at the Élysée this year.
We can only advise you too much to test his baguette this year for a breakfast like at Brigitte Macron's , take the opportunity to also nab their pain au chocolat which also promises to be presidential. Cock-a-doodle Doo !
Price: € 1.10.
Where to find Leroy Monti's pain au chocolat?
203 avenue Daumesnil, 12th - 01 40 21 61 28
Also find the best bakeries in Paris and the best donuts