How to work good bread or bake brunch of the year without getting out of bed? A short listing of the best bakeries in Paris which have started delivery and will embellish your breakfasts when the rain and the cold make you want to stay in your pajamas in front of the best series of the moment.
Mamiche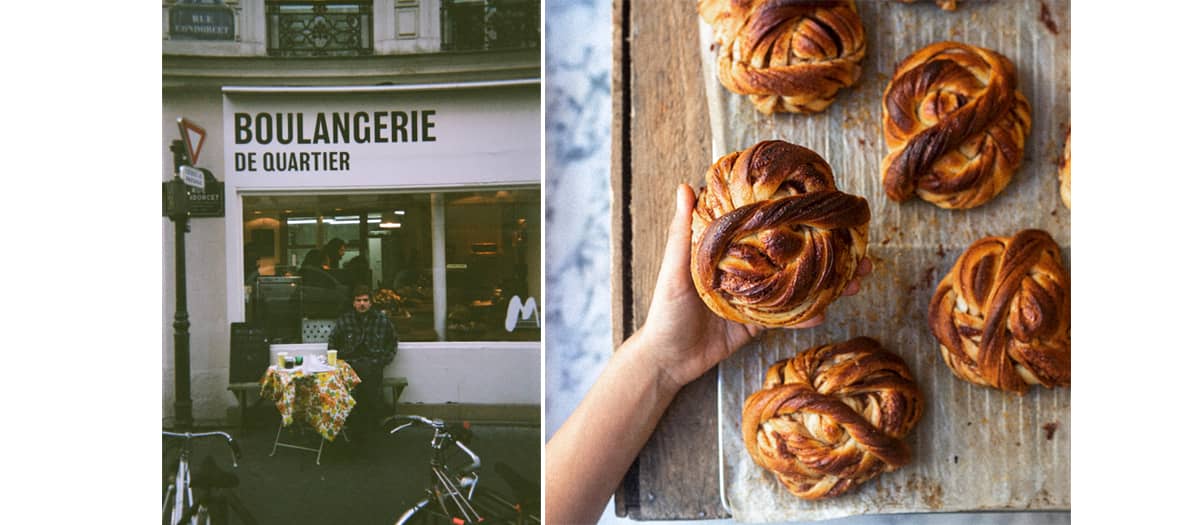 If you've missed Mamiche's success, it's because you live on another planet. Never has a small neighborhood bakery created so much buzz. Thrown into the flour after a quick reconversion, Cécile Khayat and Victoria Effantin get out of their mess the most popular breads, babka, brioches, pizza doughs and donuts on the East side. And that's good: if you don't have the courage to arm yourself with patience in front of the insane queue, know that you can also order the day before for delivery. Everything is too good: chocolate or raisin bread (€ 1.40), babka (€ 9.50), homemade donuts with seasonal fruits (€ 1.80).
Also to try: the cinnamon rolls (€ 3.40).
Delivery from 8 a.m. to 10:30 a.m. then from 12:30 p.m. to 3 p.m. from Tuesday to Saturday on mamiche.fr , orders to be made the day before
The French Bastards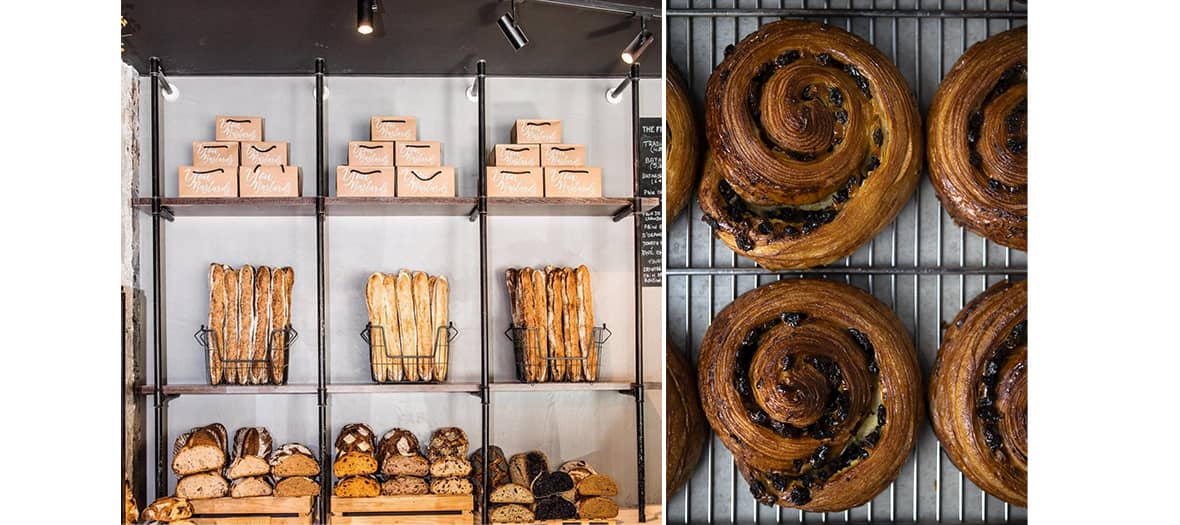 When a gourmet gang, product of the digital native generation, puts its nose in the bread, the result is The French Bastards , the bakery that drives Insta crazy with a good dose of tradition and craftsmanship sprinkled with pop culture: chocolate cruffin ( € 4.20), cookie brioche filled with chocolate-hazelnut spread (€ 5.50), cinnamon babka , but also pointy breads with buckwheat (€ 13.75) or small spelled (€ 17.70)…
Also to try: their crazy brioche sandwiches such as charcoal brioche topped with crispy chicken or tuna mayo (€ 9). Proof that good gluten still has a long way to go.
Delivery from 8:30 a.m. to 8:30 p.m. on Deliveroo
© Geraldine Martens
Babka Zana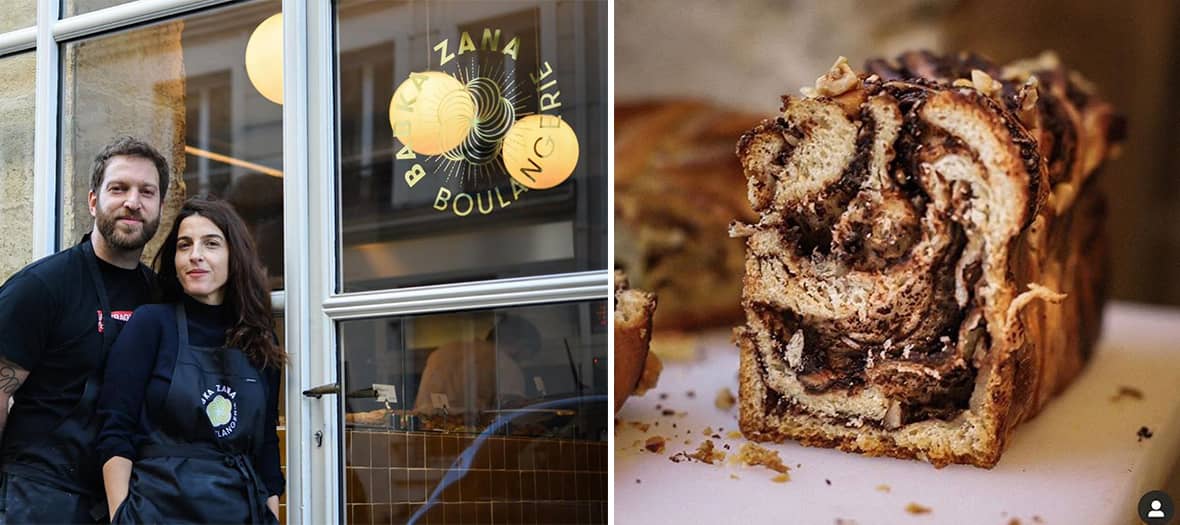 #PASSIONBABKA. Since its opening, this bakery dedicated to the Ashkenazi brioche phenomenon has never been empty ... Cool: Sarah Amouyal and Emmanuel Murat, the dealers of these addicting buns, have just launched the delivery of their babkas with cinnamon pistachio orange blossom and paste spread (€ 3.20) but also their hyper foodporn sandwiches (€ 11.50). What to reconcile with life!
Also to be tested: the hallah bread that is too good (€ 4 each) to upgrade on a Shabbat.
In delivery from Thursday to Sunday via Epicery and Deliveroo
Benoit Castel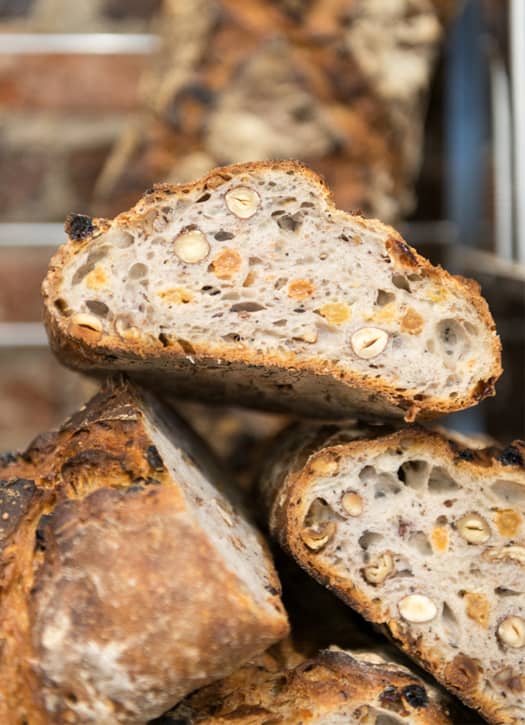 Phew! The star East-side baker has launched the e-shop we dreamed of with the possibility of ordering his products anywhere in Paris , starting with his organic tradition (€ 1.20), his local bread , a really wow campaign (€ 4.75 for 500g), or its granola bread, cult for brunches with avocado or spread.
Also to try: its amazing brunch delivered turnkey with bacon pancake, organic egg, granola yogurt, and squeezed orange juice (€ 17). The perfect gear for a warm Netflix.
Delivery on Saturday and Sunday, from 10:30 a.m. to 12:30 p.m. then from 1 p.m. to 3 p.m., with the possibility of ordering the day before for the next day on eshop.benoitcastel.com
Jeffrey Cagnes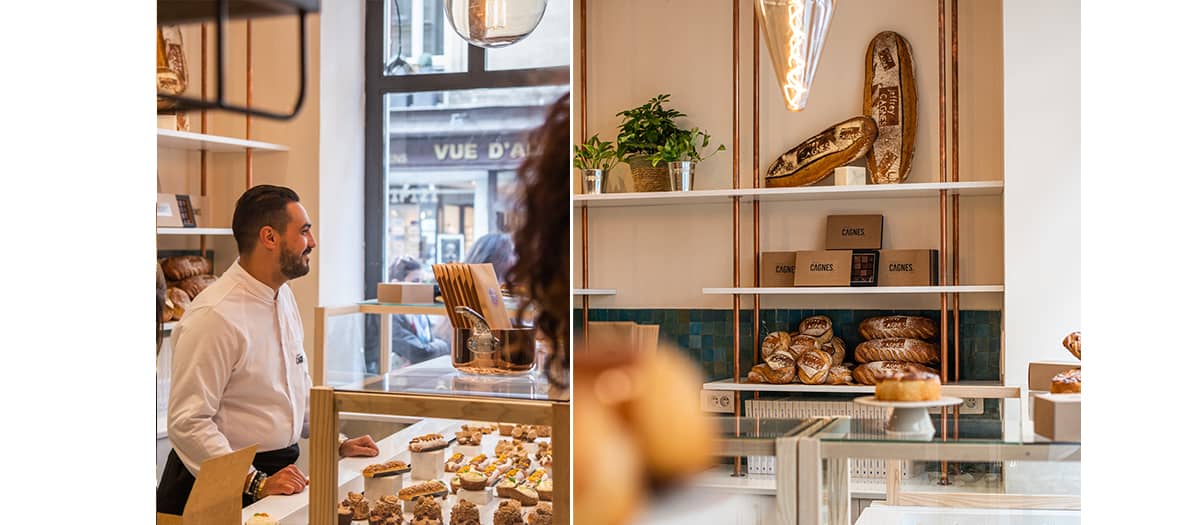 Sweet buzz since the opening a few weeks ago of its first address in Batignolles. It must be said that the successful pastry chef Jeffrey Cagnes has the gift of creating sweet orgasms: croissants (€ 1.20), pistachio or caramel financiers (€ 3.50), he takes you to 7th heaven.
Also to try: its devilish praline babka (€ 4) created in collaboration with Philippe Conticini , This is why we find this inimitable Paris-Brest touch in the brioche.
Delivery every day from 9 a.m. to 7 p.m. (order the day before) on jeffreycagnes.fr
© Kevin Rauzy foodography
Chambelland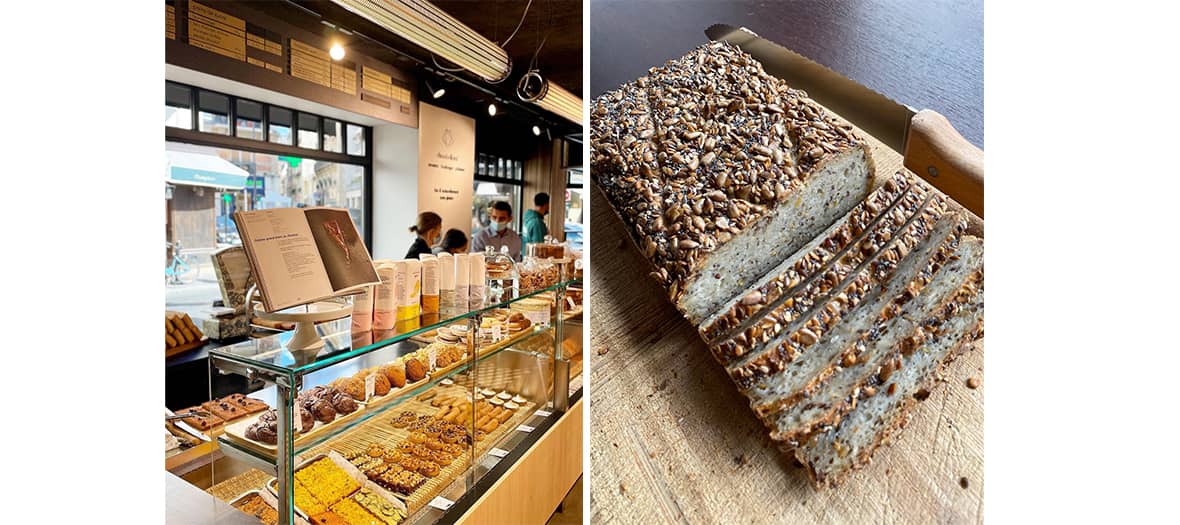 Official supplier of Alain Ducasse , this bakery is seen as the haute couture of Parisian gluten free. Nathaniel Doboin and Thomas Teffri-Chambelland did not content themselves with finding an alternative to wheat intolerance. Thanks to their association with the miller Stéphane Pichard and the use of Camargue or millet rice flour, the two have clearly established themselves as exceptional artisans. No need to run to Paris if you don't live in the 11th arrondissement, they deliver their 5-grain country ball (€ 6.80), cocoa bread (€ 7.75), sugar loaves with orange blossom (€ 3.65) and other spectacular cakes such as the king's tile (€ 5.30 per share).
Also to try: the vegan rocks (€ 3) and the sublime pissaladière (€ 6.15)
In delivery every day from 9 am on Ollca
14 rue Ternaux, Paris - 11th
© Louis-Laurent Grandadam, Mick Jayet, artichoke studio
Landemaine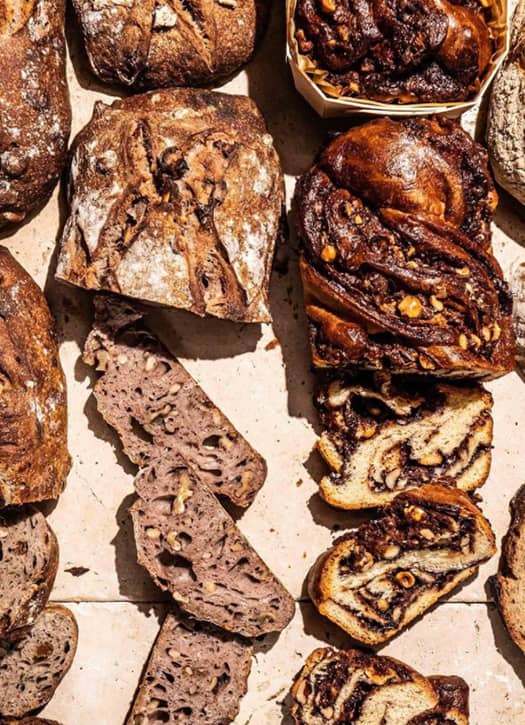 Born from the meeting of two lovers of good bread - Rodolphe Landemaine (ex-Pierre Hermé, Bristol) and Yoshimi Ishikawa, Japanese baker - Maison Landemaine stands out for the quality of its products, homemade from 100% organic ingredients. quali and supply the greatest chefs. The good plan to know: Frichti delivers in 15 minutes everywhere in Paris its exquisite traditional baguettes (0.99 €) or with seeds (1.59 €) its bread with dried fruits and hazelnuts (4.90 €), its brioches with sugar and babka rolls (€ 3.50).
Also to be tested: the possibility of pimping by also ordering on their online market fresh eggs, butter, artisan cheeses, fresh fruit, juice, coffee ...
In delivery every day from 9 a.m. to 11 p.m. on Frichti
© Frichti
Freedom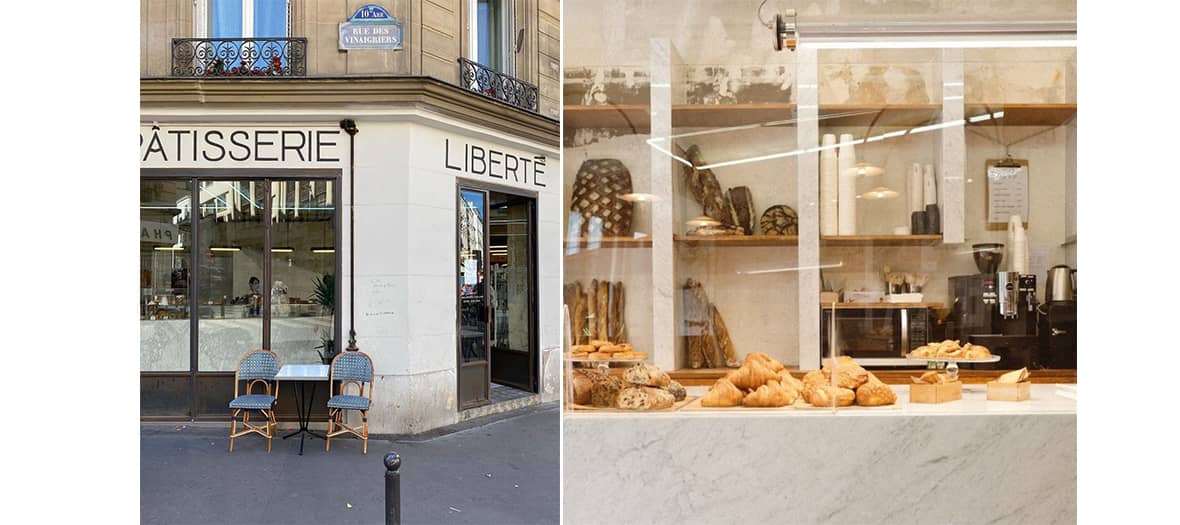 Inaugurated by Mickael Benichou and Benoît Castel , the Liberté brand embodies the revival of bakery and focuses on its major essentials, starting with Liberté bread (€ 13.60), an organic cheese wheel with natural sourdough with an ideal crust for spread butters, confiotes, cheeses, without forgetting its exquisite vegetable charcoal baguette (€ 1.75) and its divine pastries.
Also to try: its irresistible babka brioche with dark chocolate (€ 1.90), salted bread rolls (€ 3.75) and its pistachio cake (€ 17.50).
In delivery from Monday to Saturday from 11:30 am on Deliveroo
© Instagram / @ liberte.paris
Bo & Mie
The reconversion is good for Jean-François Bandet and Magali Szekula, founders at the head of Bo & Mie , the artisanal bakery 2.0 which sells extraordinary pastries and pastries made by pastry chefs debauched from Parisian palaces. Their creations are as delicious as they are creative and Instagrammable: praline chocolate pain (€ 2.60), white chocolate viennoise (€ 2.20), white bread (€ 4.50), olive bread (4, € 50), apricot sourdough loaf (€ 4.50).
Also to try: their sublime cheesecake (€ 4.50 per share).
Delivery available every day from 9 a.m. to 7 p.m. on the Bo & Mie site
Hairy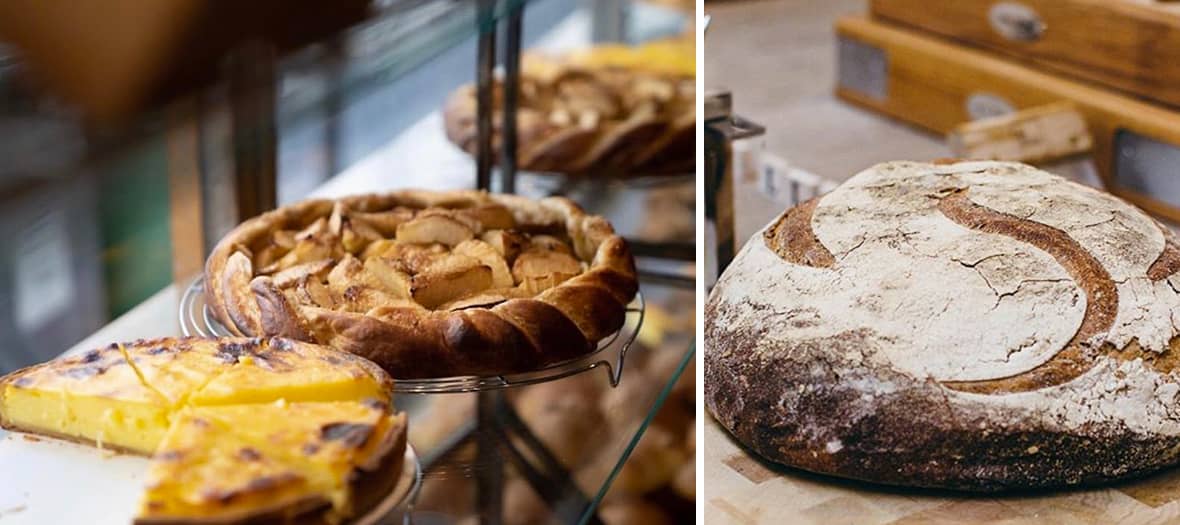 The legendary Parisian bakery may have an aura of international star, its DNA remains the same and its exceptional know-how unchanged. Products made from exceptional flour, cooked in the wood-fired oven in the heart of their 6th arrondissement bakery. The result is an unrivaled loaf , ideal for toast and pastries that sign the best possible breakfasts. To (re) discover absolutely (3 € per half-loaf).
Also to try: if you haven't already done so, the addicting vanilla flan - the best of Paris - (€ 2.80 per portion), and the extraordinary apple tart (€ 3). A massacre.
Delivery from 9am on Deliveroo and Epicery
Bread Square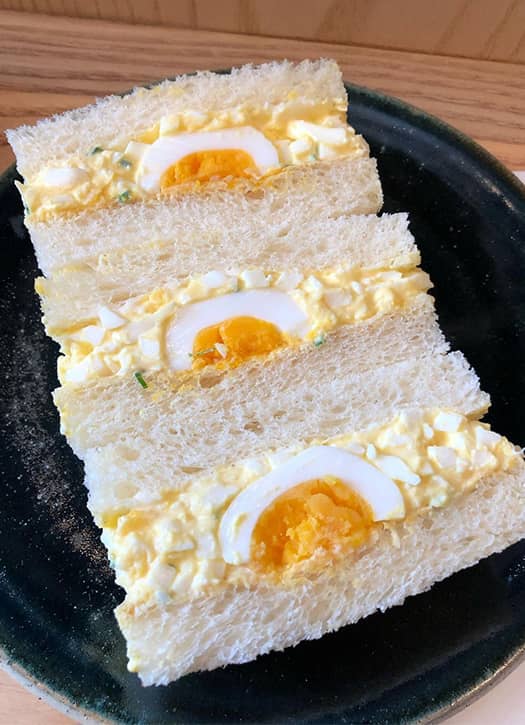 Did you know that the best sandwich bread in the world is Japanese? Particularly fluffy and soft, its singularity lies in the mix of " motchi motchi " for the softness and " shittori" for the fondant. Made from flour imported from Hokkaido , it is this super snobbish product that the Japanese stall has devoted exclusively to. Another unique proposition of the place: Toast bread, made for the sole purpose of going to the grill. So ideal for a good homemade croque-monsieur (€ 11.50 per loaf).
Also to try: the cult finger sandwich with egg mayo (€ 9.50), the tonkatsu (€ 23.50) and the milk jam square (€ 2.90) for dessert.
Delivery every day from 10 a.m. to 5 p.m. on UberEats
© Instagram / @hella_eats
Bread and Ideas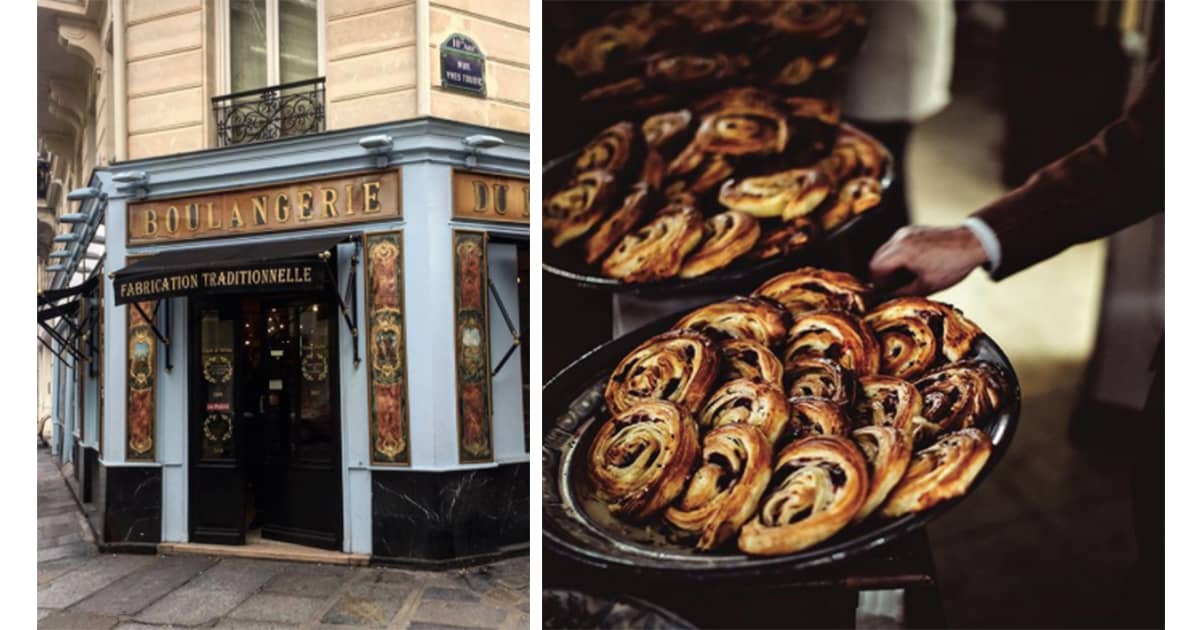 The bobo of organic bread on the Canal Saint-Martin , that's him. Christophe Vasseur, self-taught baker, put everything in 2002 to open a bakery that reconnects with the essence of the ancestral techniques of this craft, short circuits and exceptional raw materials. His loaf " Le pain des Amis " is now famous (€ 5.90 per half-loaf), as is his XXL brioche with orange blossom (€ 19.60).
Also to try: the signature pastries of the house, snail turnovers (a rolled croissant dough) with red fruits and pastry cream, pistachio-chocolate or pralines (€ 3.80) or an apple turnover fresh (3.50 €). Too good !
In delivery from Monday to Friday on Rapidled
Pastry Crazy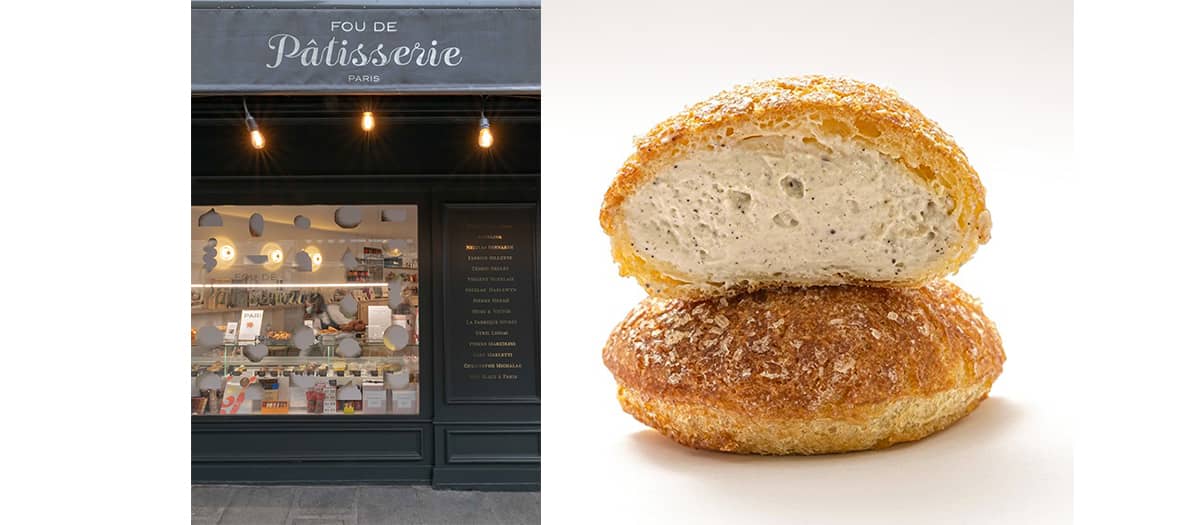 The strong concept of Muriel and Julie seduces thanks to its selection in one and the same address of the best Parisian sweet labels, with several pastries from each such as vanilla puffs from Bulliz (€ 1.50), or the tart vanilla pecan from Tartelettes (€ 6.90). We avoid unnecessary queues by ordering breakfast at home, room service style.
Also to try: The hazelnut bear by Christophe Michalak (€ 4.90) and the praline financier by Hugues Pouget (€ 3.60).
Delivery from 10 a.m. to 8 p.m. from Monday to Sunday on the Fou de Pâtisserie site
Also discover the best pains au chocolat in Paris and the Jeffrey Cagnes pastries.