Did you know, Mi-Lent is a carnival tradition that dates back to the Middle Ages and cuts in half the loooong period of forty days of fasting before Easter..

Phew, our ancestors have thought of everything, any excuse is good to have an orgy of the best donuts in Paris , in the windows of the best gourmet landmarks. Our tour of the most exquisite fries.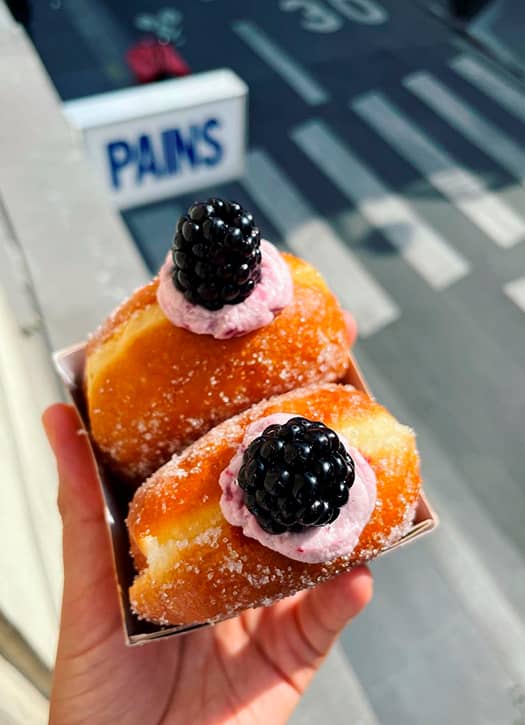 Impossible not to mention Mamiche and his fried foods that put us in ecstasy (special dedication to his little donuts stuffed with apple compote). Fortunately they are back since Carnival with the classic flavors of vanilla, apple, Nutella or nature. The house offers a special weekend version that changes every week, we whisper the arrival of the banana-split donut this Saturday, yum!

From €2.50 at Mamiche , 45 rue Condorcet, Paris 9th and 32 rue du Château d'eau, Paris 10th. 01 53 21 03 68 .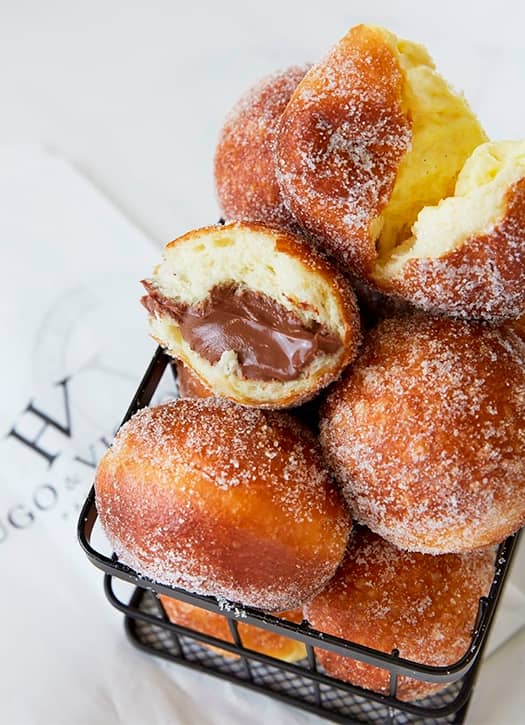 It will be this weekend or nothing if you want to taste Hugo & Victor haute couture frying . As usual, Hugues Pouget works wonders in the excellence of the products. It's up to you to see which paradise to lose yourself in: vanilla from Madagascar or creamy chocolate from Madagascar and Peru .

€5. Available Saturday March 26 and Sunday March 27. 40 boulevard Raspail Paris 7th.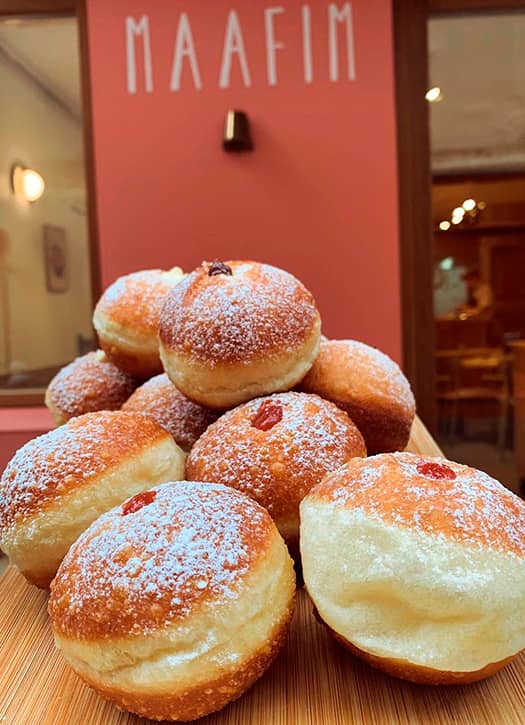 Schnitzel, egg sandwiches... Decidedly, they don't miss one to make us salivate. And Yariv Berreby will still make people happy at Maafim , Salatim's Israeli bakery! After Hanukkah , he takes advantage of the carnival to come back with his cult donuts with candied orange or pistachio. Yallah!

€3.5 for donuts. 5 rue des forges Paris 2nd.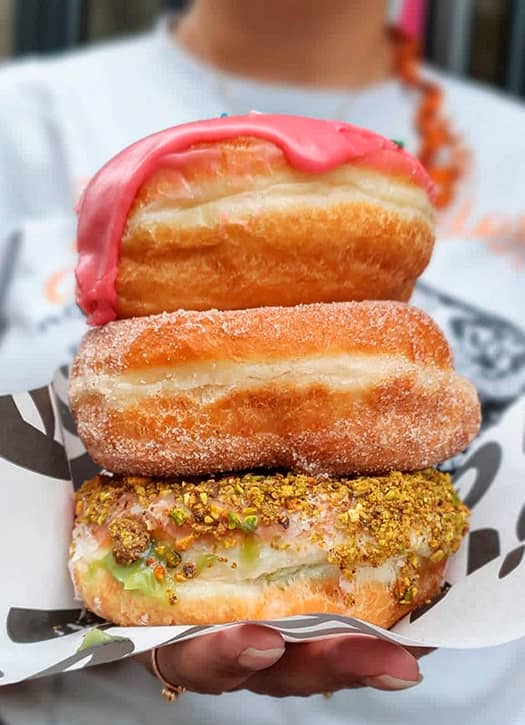 It's a phenomenon. Clearly, Boneshaker Donuts sells the most coveted donuts in the capital, judging by the long queue in front of their new address in the Sentier, located opposite their historic bakery, which has since been transformed into a brownie bar . Vanilla icing and oat milk, chocolate or speculoos, the basics are good and effective. According to the menu of the day, the more sophisticated versions are causing a stir on Instagram, like their Salt Toffee Pop Corn . The novelty: you can now enjoy them on the spot with a good matcha latte (€5).

From €3.50. 86 rue d'Aboukir, Paris 2nd.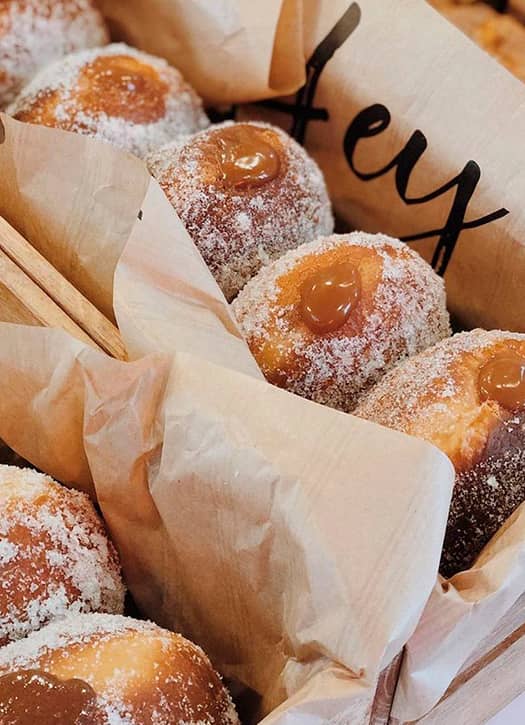 At the climax of foodporn, donuts filled with homemade spread or caramel are obviously signed French Bastards where bakers 2.0 always go further to twist organic Parisian classics with pop culture and goodness.

From €2.90. 61 rue Oberkampf Paris 11th - 181 rue Saint-Denis Paris 2nd - 35 place Saint-Ferdinand, Paris 17th.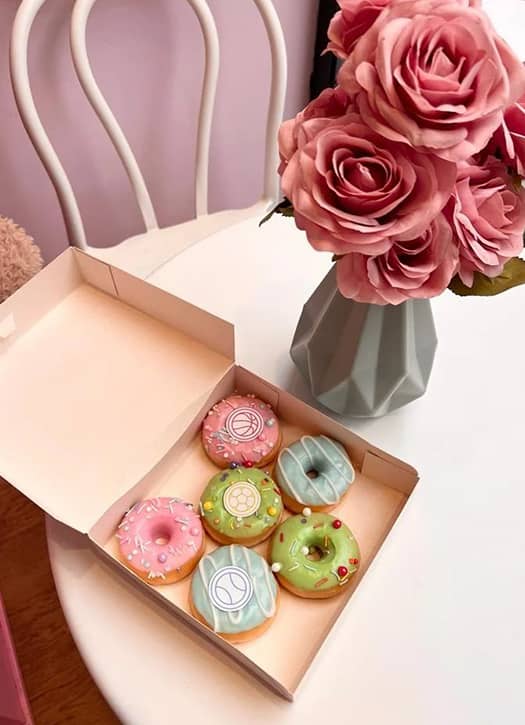 Sugar baby at Besties ! This very American-style bakery sells girly and pastel pastries full of sugar, chemical coloring and fat to chew on in front of a romantic comedy. Foutu for foutu, we treat ourselves to a box with pistachio, raspberry, rose, the simpson, the classic ice cream or the lemon meringue version. But also, the famous flyer cake, specially revisited for the occasion with a Carnival theme .

Slice of layer cake €6.5, donut from €3.5, box from €18. 10 rue des Bernardins Paris 5th - 11, rue Auber 9th. 06 33 86 28 52.
And also :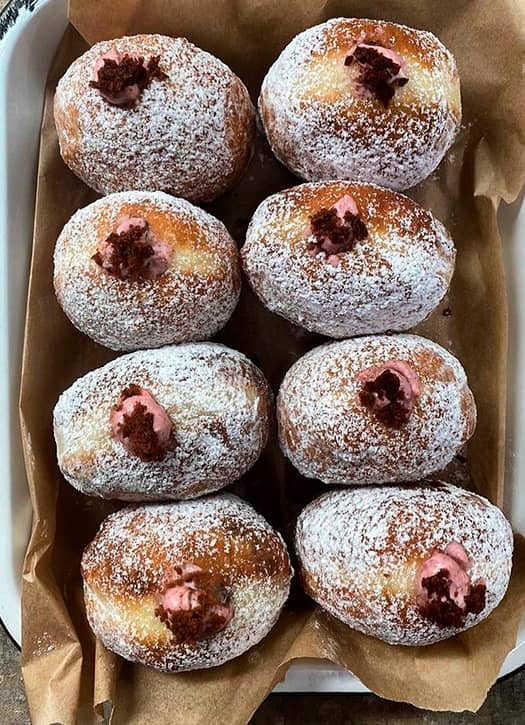 Ten Belles plays the latecomers! We will be tasting his very good donuts from the week of March 28. Led by Anna Trattles, Alice Quillet with her husband Anselme Blayney: you are at the heart of the coolest and most trendy coffee-bakery in Paris. In addition to the fact that the trio transforms everything they touch into something good (are we talking about sandwiches?), the singularity of Ten Belles is to mix the best of France and their US origins. So, of course, donuts flirt here with orgasm (and not halfway) every weekend, depending on the mood and the season: pastry cream, cinnamon, creamy caramel or butterscotch.

From €3.5, €4 for the donut of the week. 53 rue du Cherche-Midi Paris 6th. 7 rue Breguet Paris 11th. 17-19 rue Breguet, Paris 11th. 01 47 00 08 19.
Also find out where to take a cool and stylish pastry class in Paris? and the best French toast in Paris .