This is " the " new address to know in Saint-Germain. Notice to fans of pad thai , mango sticky rice and crying tiger . There was clearly a lack of a stylish Thai in Paris. It's done with The Crying Tiger , which is seen as both a trendy atmospheric bistro as well as a sharp and truly delicious Asian table. Go?
A stylish Thai bistro

We obviously needed two serial entrepreneurs behind this vibrant address which already looks like a success story. In this case the duo of two friends: Jean-Baptiste Varenne ( La Laiterie Sainte-Clotilde , Le Petit Varenne ) associated with Thomas Battistini , founder of the Jour salad bars. And bingo: the chic gratin of the 30-year-olds from the left bank is already part of this glam 'rendezvous.
First of all because the setting has everything: marble counter, cane furniture, pretty heated terrace, sophisticated and glam lighting… Here, we claim " a real Parisian bistro culture" as we like them with Asian touches. and a cocktail bar which immediately plunges into a joyful and festive mood with Negroni , Spritz and Bangkok Mule (starting from € 10).
Then because real good food is at the center of all attention in a unique quality-price ratio in Paris, which is neither street food chains, nor overpriced Thai gastronomy.
Cocktails, curry and pad thai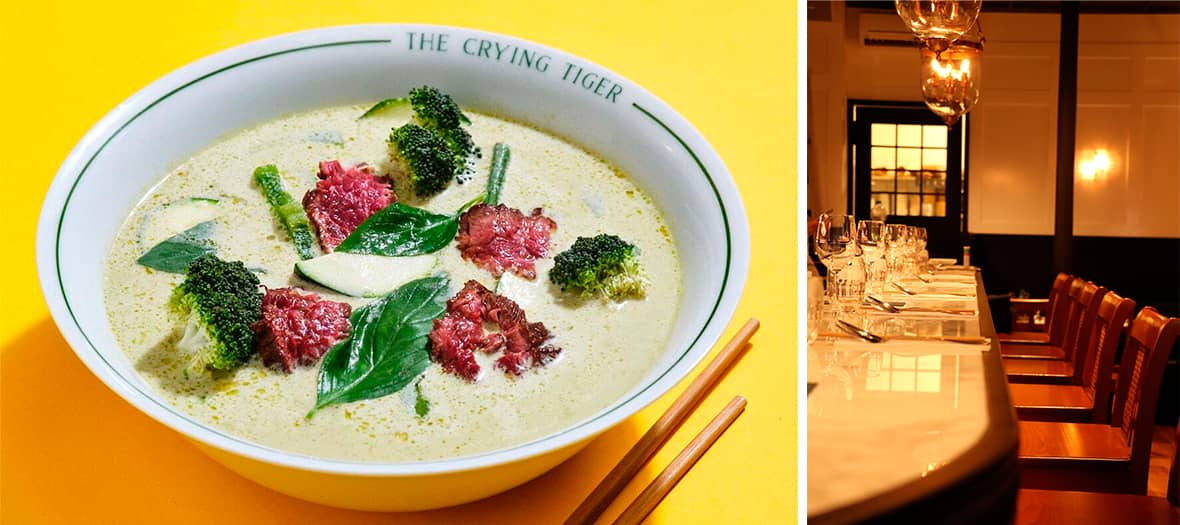 There is no miracle. When you prepare everything at home with hyper sourced products, an obsession with balance, a divinely scented cuisine and a chef at the cleat: the result follows. Starting with starters to share for a small feast: small pork sausages with lemongrass (€ 7), exquisite nems ravioli in broth (€ 10).
With a flood of sexy curries , served with exquisite vegetables and rice: we are jubilant! Green curry with chicken or beef (21 €), yellow curry with tofu (18 €) for veggies or fish depending on the catch of the day.
The dishes to try absolutely: the mikati , a specialty of rice noodles served in a red curry sauce with lemongrass, ground chicken, peanuts and coconut milk (€ 21). But also: the crying tiger, tiger crying so angus beef marinated and grilled served with a salad of grass Thiou way (23 €), the pad thai chicken or shrimp (21 €) or skewers satay (22 €) .
Without forgetting the kif of iconic Asian desserts: fresh mango with sticky rice & coconut milk (€ 11), exotic fruit salad (€ 9) and Japanese pearls , bananas and coconut milk (€ 9). Yummy!
Open Monday to Saturday from noon to 2:30 p.m. and from 7:30 p.m. to 10:30 p.m.
Also discover the best babkas in Paris and the best Lebanese restaurants in Paris