The pitch ? Thiou, the cult Thai chef, who feeds all the top politicians (spotted: Rachida Dati at lunch time) has opened a new place near École Militaire for the greatest pleasure of socialite Parisiennes. To be noted: Laura Gonzalès signs for Thiou a really bluffing decor. In short : the new address for Spring.
The terrace: super chic ! In between a sophisticated terrace and the winter garden spirit, here is the promise of an ideal table for an outdoor dinner without having to withstand wind and noisy cars: it also happens to be highly appreciated by die hard smokers.
One goes for… its cuisine that happens to be the best Thai table in Paris. Must-test: their cult crying tiger (37€), a heavenly Thai pad (28€)… As well as the crispy soft shell crab with a red mango salad (21€), a highly dangerous addiction. Others : sticky rice with coconut milk and mango (5€). Yummy!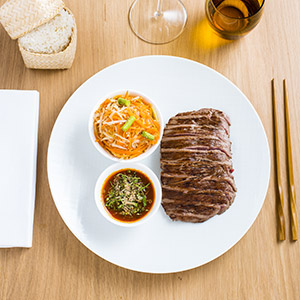 Open Monday to Friday and Saturday night.
Also discover the new spring terraces where to hang out.