Even before lifting the slightest finger, you are already at the counter or on the platform-stairs, a wink to the samba bars of  São Paulo, caïpirinha in hand. Such is the Uma Nota spirit: more than a restaurant, this is a place for chill encounters with terrific service.
Already present  in Hong Kong, this neo-boteco, modelled after trendy Brazilian tapa  bars, is sure to disinhibit Parisians. A two-level flagship with a super slick decor at the heart of the Sentier (giant fresco, vibrant colors, wicker hanging suspensions, graphic furniture), cocktails galore, an electric playlist that alternates heavy  RnB sounds with Latino music, all in a resolutely resolutely festive atmosphere … are you game ?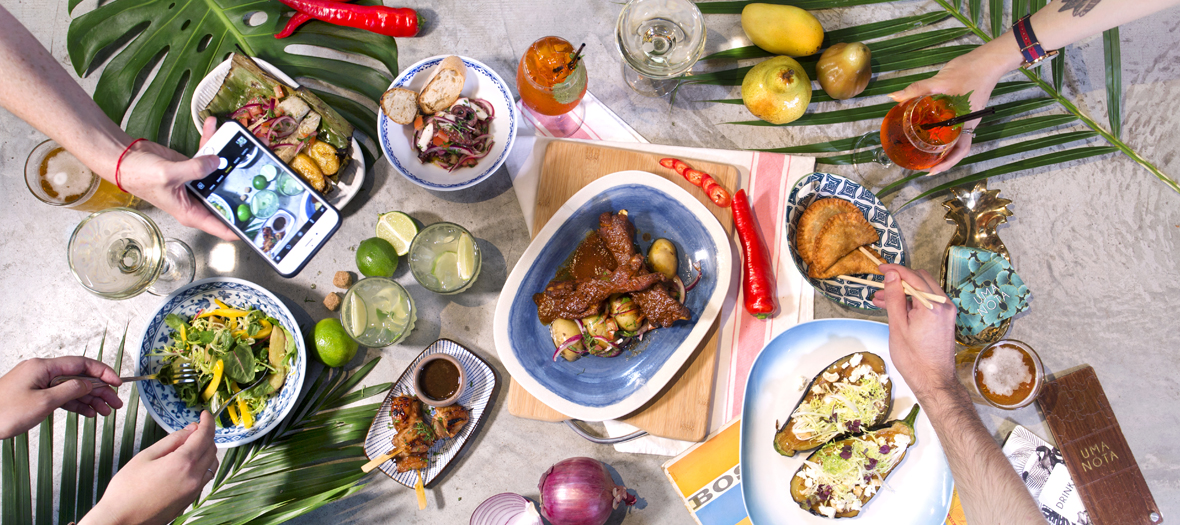 Zoom on the Japanese-Brazilian food combo, a successful mix between Latin American savours and Japanese techniques, because as surprising as it may seem, Brazil happens to have one of the most important Japanese communities in the world. Dadinhos of tapioca (similar to puffs with tapioca and cheese, (€7), ceviche of fish, calamari and coconut milk (€13), beef skewers (9 €), squid salad (€12 ), eggplant with miso and goat cheese (€16 ). Without forgetting cachaça, the Brazilian rum, a great chocolate mousse (€10) as well as potions derived from the caïpi (cocktails €8,50-12).
We like: gangs have a new stylish hangout place. Reservations starting at  7 persons. Obrigada.
Open Monday to Saturday starting at 6pm and soon at lunchtime.
Also check out Boteco and Itacoa, the restaurant of Brazilian chef Rafael Gomes.