Careful top secret flower picking! It's one of the most hush-hush and poetic secrets in Paris.
But where is the hiding place of Plein Air, this amazing and totally unusual flower farm, a unique venue in the capital? Like a treasure hunt, its top secret entrance door is hidden behind the Belleville cemetery.
A true curiosity, a field of lavender, amaranth, basil and mint, sunflowers and other twigs spreads out on 1200 square meters at the foot of buildings in the 20th arrondissement.
A floral farm cultivated by Masami Charlotte Lavault
Behind this wild project: the marvellous Masami Charlotte Lavault, a modern-day cultivator who goes all out to prove that in town respect, seasonality local, is totally possible.
So it's not surprising that the 30-year-old Franco-Japanese works in keeping with total respect of the environment: zero chemical products, zero pesticides, no insecticides. But obviously production depends on what cannot be mastered.
Visits and flower sales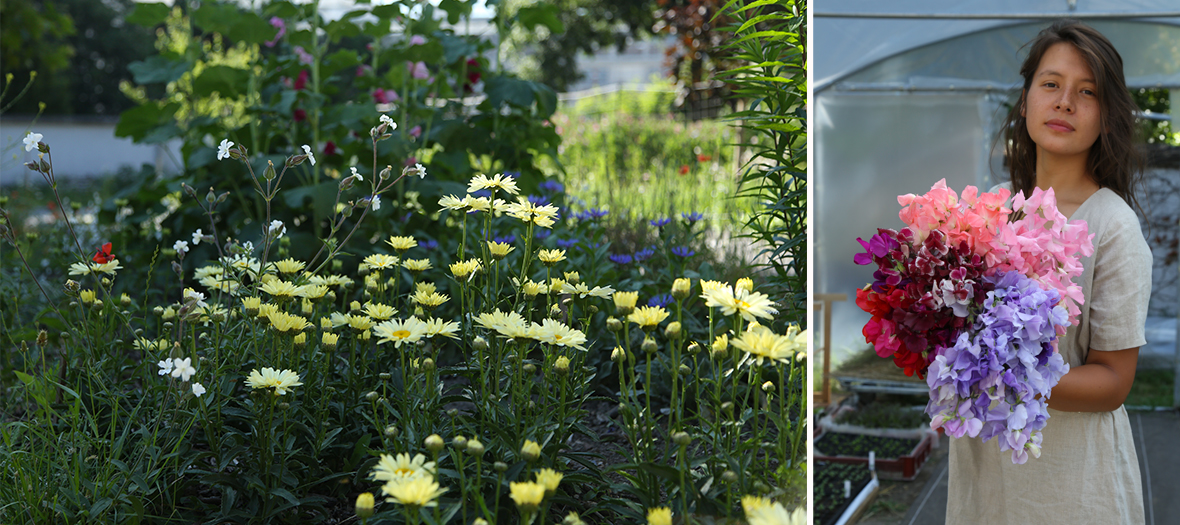 You dream of treating yourself to one these precious and a rare Made in Paris bouquets? Following the gathering, Masami organizes cut flower sales... To have the chance to come pick your bouquet in this flower power paradise: it's necessary to be on the lookout for upcoming sales through your Instagram account. A little bit like checking the weather report...
While unfortunately the next sales are already sold-out and you dream of more insight into the experience, special visits and workshops are organized at Plein Air. Just sign up for a visit at the farm with a friend to discover this magical spot, chill amongst the flowers in an urban environment (€13 for 1h30). A little softness...
Urban green classes
We have good news for green-girls who dream of going a little further. Masami has imagined real green classes for Parisiennes. The idea? Showing up in your fave birkenstocks for a morning session at Plein Air.
Come early in the morning for a nice breakfast amongst flowers before being initiated to the of micro-organic techniques and how to pick flowers, you hands in the earth. Total joy!
Next session: Saturday the 18th of July (€90).
Also discover the garden of the Musée Rodin, 3 hectares of paradise in the middle of Paris.