It is the exotic and colorful table that will invigorate winter. When all goes to hell , Pigalle saves the day and unveils Villa Mikuna in an old sulphurous place, a top- notch Peruvian restaurant to enjoy ceviches and guacamoles with a well- chilled pisco cocktail. Visit.
A place of sulphurous atmosphere
Go just down the street from the restaurant, onto the small square. Look up to the building that houses it, and you will immediately see that this place with its terrace and Art Deco stained glass window - inspired by The Hokusai Wave - hides a secret history. It must be said that even in the restaurant, we can still observe details of his past as a gaming table and… as a brothel.
After three more classic Parisian addresses (Bastille, Sentier, Miromesnil), it is therefore in a high place of the night that the trio of night birds at their head installed its highly feel good decor of tropical inspiration signed by the 'archi Morgane Combes with vegetation, rattan and printed armchairs. Special mention for the pretty cabaret-style rotunda room where you sit down in the evening to the sound of a well-rounded playlist.
Delicious plates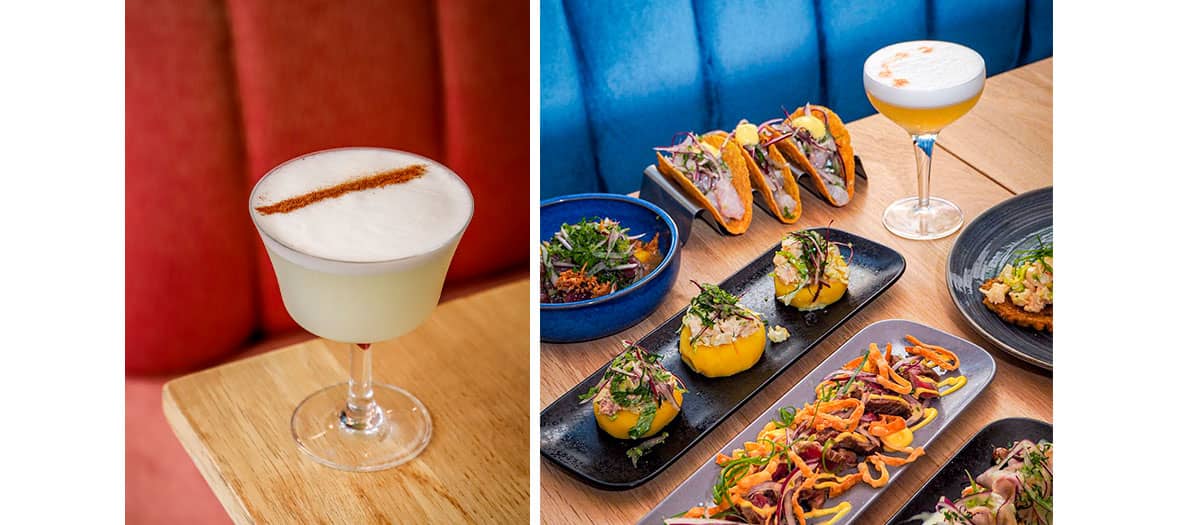 In the kitchen, the young Peruvian chef José Arias honors this cuisine, which is among the finest in the world, influenced by the richness of its products and the nikkei fusions with Japanese gastronomy: beef tataki (€ 19), guacamole and roasted pineapple ( € 9), clasico ceviche (white fish depending on availability, sweet potato, choclo and cancha corn, classic leche de tigre, € 14), an excellent lomo saltado (beef tenderloin sautéed in a wok, soy sauce, onion, tomato, aji panka , coriander, served with white rice, € 28) or a grilled octopus (€ 26).
The cocktails that wake up are shaked by a former Manko expert in Pisco Sour (€ 13), Chicha Morada without alcohol (purple corn, pineapple juice, lime, cinnamon, cloves, € 6), without forget about the selection of South American beers and wines.
Open for lunch and dinner from Monday to Sunday from 12 p.m. to 3 p.m. and from 7 p.m. to 2 a.m.

Also discover the new Japanese table that rivals Nobu and the new Argentinian table by Mauro Colagreco