Careful, you don't land here by happenstance! This is a star-studded secret for trendy foodie Parisiennes looking for a little corner of paradise to enjoy an enchanted escapade with their darling.
How to get there? Open sesame... The hidden door of a handsome Haussmann building, on the chic avenue Georges V.
You fly up in an elevator to the last floor, in a restaurant with a wild allure, ultra-design with a bucolic terrace. Its               « hidden side » seduces upscale couture types of the Golden Triangle and foodista lovers…
In terms of food, expect a touch of  ecstasy. Frédéric Vardon, a handsome talented young chef from Ducasse, seduces his gourmet clients with a very refined, low key cuisine, wildly parisienne. No wonder this oven maestro was awarded a Michelin star.
On the star studded program: creamy cold pea soup with farmer cheese from Normandy (yummy !), a coddled free range egg, and emulsion… What else? Baked macaroni with truffle from Burgundy, fish  à la plancha right from the fishmonger or a milk fed lamb from the Pyrénées AOC, Summer cèpes mushrooms and potatoes.
A grand moment.
Amazing desserts? A frothy cheesecake, French toast with lemony yogurt and milk ice cream or deluxe profiteroles!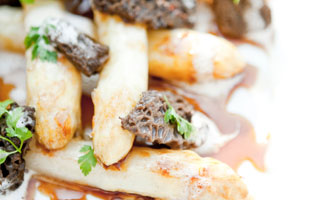 We adore : the absolutely tops lunch menu at 39,50€. And for a real gourmet dinner treat: the five-dish formula at 95€, an unbeatable price for a star venue in this area!
Careful! The restaurant is closed on Saturday
Also discover Girafe, a terrace facing the Eiffel Tour.