It's the best eat-in cellar of Paris that is going to make natural wine buffs go wild. A former gastronomy and wine journalist, the boss recoverted with talent in a very special cellar where locals come sip a glass incognito... In short: the must-go spot if you are dreaming of a foodie happy hour or a good bottle.
A great eat-in cellar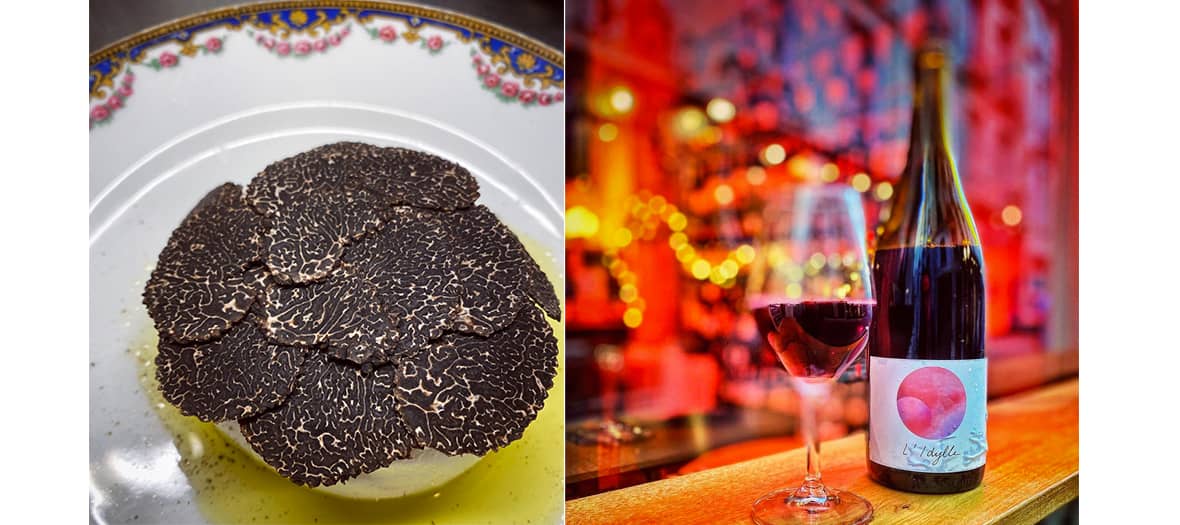 A glossy neon displays colours: Augustin Marchand has settled in a very glam' coffee-shop- ex Boot Café - where he stocks his bottles to go or drink on site with perfect nibbles while listening to a jazzy cool and chill sound-track with a small terrace for die-hard smokers
Because of Covid, it is necessary to order food to be served drinks. Their star dish: camouflage burrata (€18). Roasted almonds on the first layer. Purple basil leaves next. Last but not least, slivers of Paris mushrooms laminated at the last minute. In season, a small truffle vendor drops off his treasures...Latest arrival: white truffles from Alba to be grated as a 4th layer.
And let's not forget the plate of smoked salmon from the Orcades, tops served with diced up branch celery, zest of organic green lemon and poivre Timut pepper (€26), saucisson from Ardèche (€10 per plate) or their incredible preserved rillettes of duck with foie gras artisanal from the voisins farm in the Eure (€20 per jar) to be enjoyed with Ten Bells bread or roasted pumpkin served with sage, Alba hazelnuts and minute grated parmesan (€15).
The coolest natural wines in Paris
Impossible to be more snobby yet sincere than these bottles to show off at a dinner party where one likes to discuss biodynamics.
Amongst its ultra-cool and trendy selection: the range goes from classic organice to hardcore natural wines that will appeal to foodies, starting with Fer de Sang by Nicolas Carmarans (€32).
The coolest bottle of the moment: a superb Livia (€25), vinified on the island of Samos in Greece by winemaker Patrick Bouju, already at the origin of the vintage in collab' with rapper Action Bronson. The result is a terrific whie with a very amusing tag signed by artist Antonin Duchene. Collector!
Orange wine passion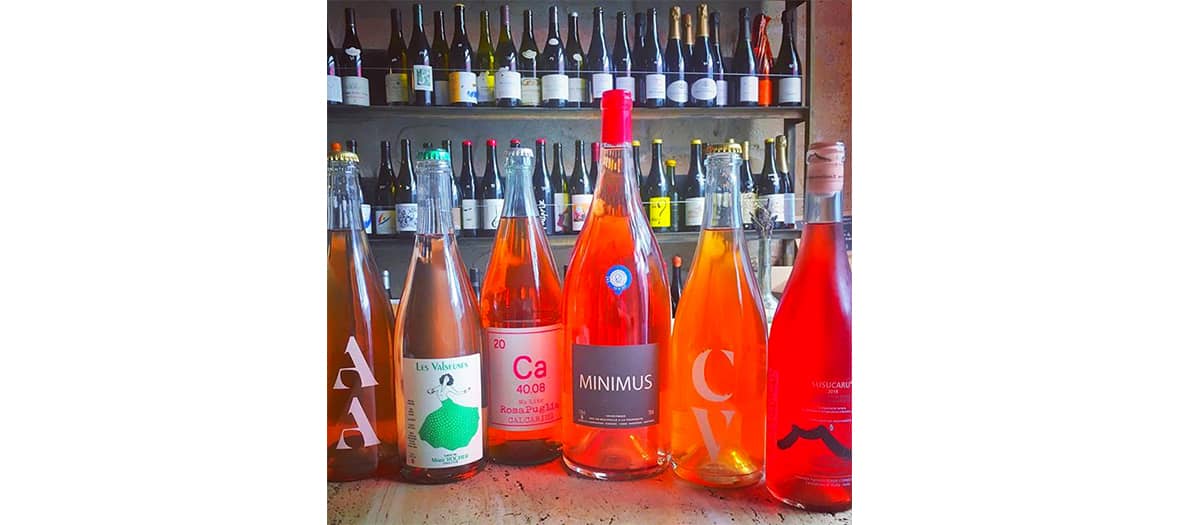 Orange wine is the happy hour snobbism of the moment ! And here one finds a number of stars starting with those of Valentina Passalacqua (€29 per bottle), the famous Calcarius (€29) or our special find: La Petite Robe by wine-maker Jean-Yves Peron en Savoie (€33).
€10 for the moment's glass of wine. €10 for the on site corkage fee.
Open Tuesday to Sunday from 5pm to 10pm.
Also discover Madame Rêve café, the new chic brasserie that attracts all of Paris and Yakuza, the new japanese table that rivals Nobu.