Catapulted on the Parisian pavement by Yoni Saada (chef of Miniatures and ex Top Chef candidate) and his wife Alexandra, the southern sandwich could very well cast a shadow on the classic ham and butter aka jambon-beurre… You will surely become a pan bagnat fan!
Place of the deal? Bagnard, a rustic-glam' hangout near Bourse, designed by Caroline Lory (La Dame de Pic, Mama Shelter), halfway between the hull of a pirate boat and the prison cell of Al Capone…
Literal translation of wet bread, the monument of Med street-food is decked out in a semi-whole wheat round bread specially prepared by the Emile & Jules bakery, soaked in Kalios olive oil before being popped in the toaster. Great eats!
Inside, four recipes, starting with the original featuring germon white tuna, Ortiz anchovies, black olives from Kamata, a farmer egg, spring onion and mesclun salad.
An absolute must before going for the variations: cecina (mustard, arugula, caramelized onions, mushrooms); veggie lined with humous (veggies with smoked pimento, taboulé of fresh herbs, blond raisins, glazed tomatoes) ; sardine Ortiz (fresh cheese, spring onion, pink radish, small ratte poatoes, Espelette pimento).
Degree of monomania? 80%. Other Med classics complete the offer, notably the incredible pissaladière (8€), the ratatouille (9€), the niçoise salad (9€)… To be washed down by a lemonade « just like in Tel Aviv » (3,50€) or a pastis.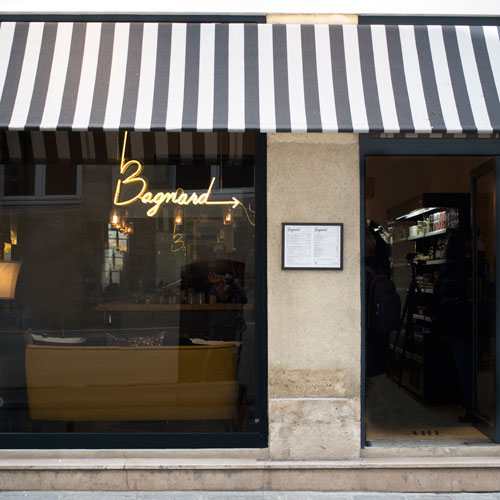 And for dessert, Sephora, the sister Yoni, has brought back her super « She's cake » (5,50€).
Pan Bagnat from 5 to 8,50€.
Open Monday to Saturday from 11h30am to 4pm.
Also discover Frenchie to Go by Grégory Marchand becomes FTG.
© G. Sogglia