This is the bistro that will delight Parisians in search of signature cuisine. With its sleek decor and ultra-friendly atmosphere, Bonhomme embodies this new generation of cool addresses that provide good food from A to Z. Are you following us?
The trendy spot that has it all
Warm welcome, impeccable service, minimalist decor and noble materials (marble, wood): this new institution is the perfect little anti-bling haven of peace when returning from vacation.
Nestled in the heart of the 10th arrondissement, Bonhomme revives the atmosphere of old Parisian bistros in a 2.0 way. Far from the cliché of snobby bosses, Maxime Piasek , Marc Faraggi and Thibaut Couvrecelle make themselves pleasantly helpful, smiling and efficient. As a result, we already want to become their friend.
It must be said that these passionate thirty-year-olds gave up everything to embark on this particularly successful project. Between professional retraining and travels around the world, the three friends are launching their little baby in the spring of 2022: a bistro with local products where simplicity takes precedence.
The 100% Made in France menu
The watchword in the kitchen? The quality. At the helm, Matthieu Charriaud sublimates the classics of French cuisine. The former du Meurice et du Richer makes it a point of honor to choose a sourcing preferably from the Ile-de-France, perfect cooking of the food and a highly photogenic presentation of the dishes.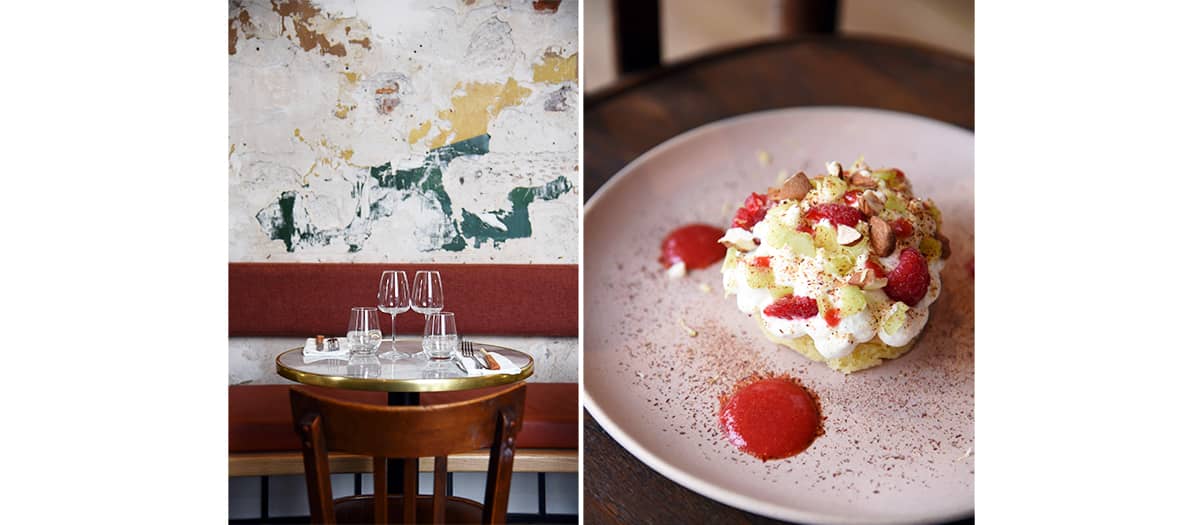 It gives a menu on the slate at lunchtime, and à la carte in the evening where he offers eggplant glazed with spicy honey , fennel purée and crisps (€10) and mackerel in escabeche accompanied by heirloom tomatoes, grape chutney, lace tile (€13). For the main course, a risotto of briardines , mint, candied lemon, caramelized onions (€23) or the Simmental flank steak with Provençal herbs , roasted beet purée, green beans and strong jus (€27). As for dessert, we go for the peach and basil cheesecake (€10).
Cool: the possibility of always finding a starter and a veggie dish on the menu.
A nice selection of bottles
To accompany these dishes, handpicked fine wines are offered on the menu. Like true sommeliers , the four friends have literally toured France to find sumptuous wines on the very specialized drinks menu, from Burgundy to the Loire via Bordeaux .
Most ? A selection of platters and micro dinette to share for an aperitif between the chef's piperade, homemade terrine, cheeses from Montbleu and Savoie ham. Mmmmm!
Open Tuesday to Saturday, lunch and dinner until midnight. Online reservations .

Also discover: Ava Kitchen, the new hot spot like in Los Angeles and do you know this starry terrace in the Palais-Royal?