You don't have to be a wellness guru like Gisele Bündchen or Mélanie Huynh to become addicted to this new Parisian address. It's not for lack of trying, but you can't get rid of your belly and the repeated swelling with the infernal rhythm of the metro-work-sleep? No problemo, Ava Kitchen takes care of everything with good little dishes and drinks that revitalize, eliminate and heal the body without going through the pharmacy.
A cozy West Coast terrace
Nike muse Amandine Anglès flies to LA live from Beaupassage , the chicest left bank foodie hub on the Rue de Grenelle side . A healthy canteen like in California installed directly in the premises of the Champion Spirit Club , where the athlete often trains.
Cool: this summer, Ava Kitchen is deploying its West Coast vibe on the sunny terrace of the passage. An ode to slow life with a typical bohemian chic wink between parasols, wooden tables on large rugs, soft sofas and tropical decor.
A gourmet wellness and detox program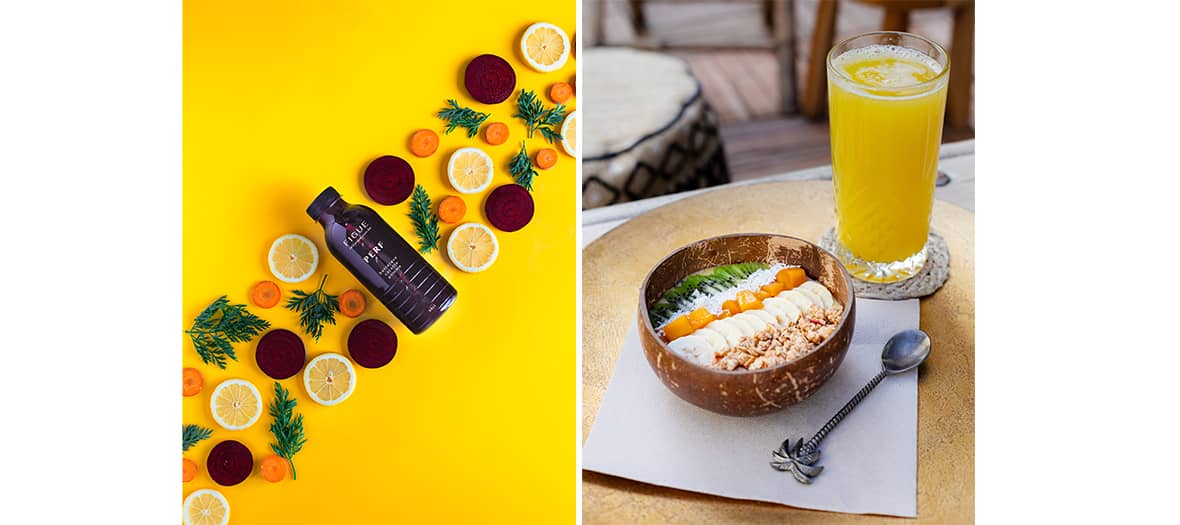 More than a diet, the athlete advocates simplicity (difficult to achieve according to her) and everything homemade. Results ? Recipes without fuss but well presented and precisely dosed: in short, a summary of everything you want to eat without ever having time to prepare...
What are we eating ? Bowls of course, with salmon, tuna or veggie, freshly prepared, but also avocado toast, burgers and energetic plates to be washed down with cold-pressed seasonal juices. After the gym, the Bowl Athlete option is perfect: organic salmon, sweet potatoes, plantains roasted with paprika, avocado, etc. (€18) or the bowl of the day prepared before your eyes.
Ultimate crush: meal drinks and shots that restore energy with lots of good things, to be found at Ava Kitchen or even at Figue , its dedicated drinks bar just next door, boulevard Raspail. The idea? Replace hearty meals with these drinks for a rainbow- colored detox : turmeric ochre, spinach green, spirulina blue, beetroot violet, charcoal black, available in the form of juices, smoothies, infusions, lattes or vitamin shots.
Ava kitchen in Beaupassage, meals every day from 11 a.m. to 6 p.m. Without reservation.