Baby, light that fire !The team of the The Asado Club (empanadas bar at canal Saint Martin) is at the ready. After Argentine slippers, Sabrina and Stéphane have sparked the eating scene in the Marais with this new address that used wood fire. Veggies, meat, fish, the fire driven cooking takes place in a wildly glam' and trendy atmosphère that appeals to the fashion world as well as certain figures of the Paris musical scene ( Djs  twins William and Wilson Doppelganger, brothers of Stéphane) and foodies curious to test the hot address of the moment.
Once at the table, lteh plates of Swedish chef David Kjellstenius (ex Au Passage) are to be shared while sipping cocktails with a twist ( rhubarb Spritz €9) or natural wines. Burrata smoked in hay (€10); butternut, farmer cheese, hazelnut (10€); XXL prime rib of beef (€98); breast of duck (€45) and couture sweetbreads (45€). The associations are often daring and the smoked/brunt/spicy tastes sometimes a little off-putting. The fire maestro knows his stuff, right down to the desserts : French toast, peach jam, chantilly (€10); ganache of chocolate,celery powder, timut pepper (€9).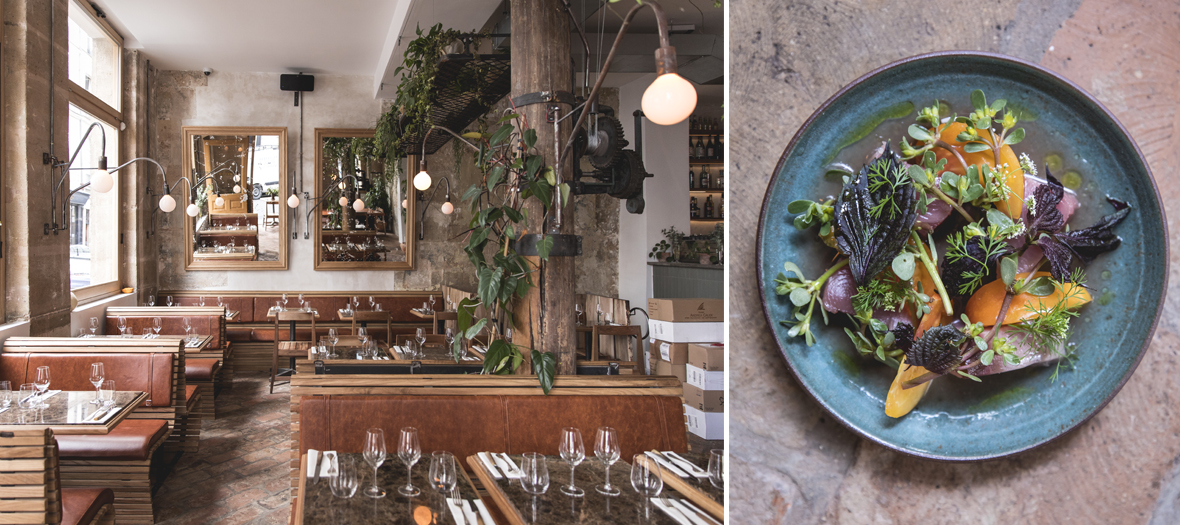 For a nightcap, follow the regulars and make a beeline for the underground level, where you will find La Mina, the clandestine cocktails bar, run by mixologists Sebastian Gans and Thomas Girard (cocktails €12-14).
The plus? The small private dining room for 8-12 persons—ideal for a birthday party.
Open Tuesday to Saturday, lunch and dinner. Closed Sunday and Monday.
Also discover the new star bistro on the Grands Boulevards.