Notice to girly Parisiennes who dream of a stylish spot worthy of appearing in their stories on the front page: these five candy pink addresses are a call for a positive attitude. Elle Woods better watch out...
The most Italo disco: Giorgio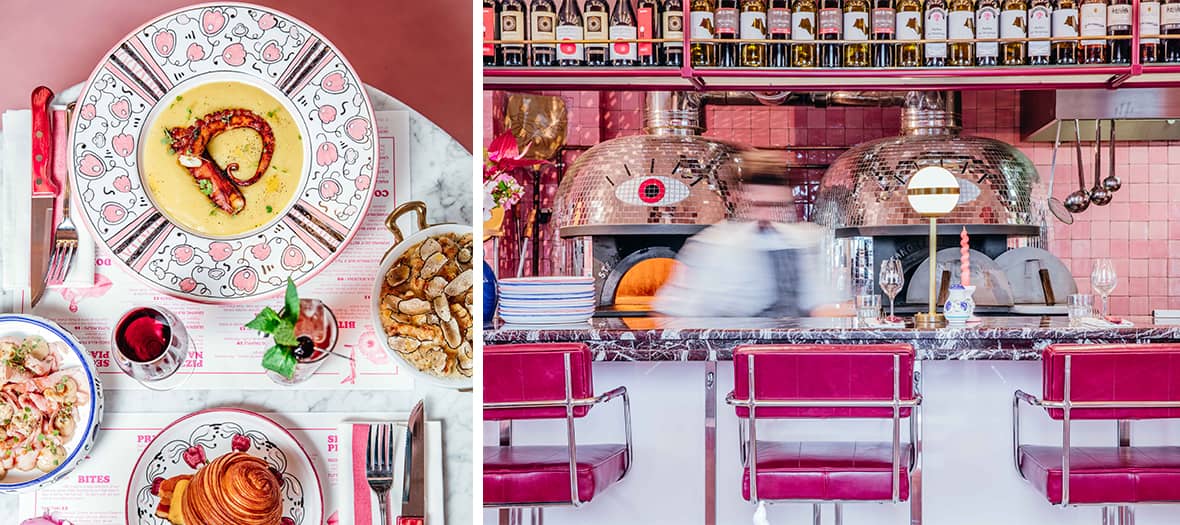 Who are we going with? A disco queen who knows how to set the mood.
In 2018, Dalmata Pizza opened its doors in Paris, in the 2nd arrondissement. Special sign ? An entirely pink decoration, comparable to a candy box. Obviously, success was not long in coming, so that three years later, in the summer of 2021, Gruppo Dalmata offered its new address. Dalmata Pizza's little sister is called Giorgio , in homage to Giorgio Moroder , the pope of Italo disco and composer of cult soundtracks (the music for Midnight Express is him). As was the case with Dalmata Pizza, pink reigns here in majesty, but this time with a little seventies touch that makes all the difference. Special mention to the disco ball pizza oven for a great atmosphere from dinner!
What do we order there? A Neapolitan Marinara pizza (€12), truffle pasta (€22), a tiramisu (€7).
Giorgio , 21 rue de Charonne, Paris 11th
The most historic: La Maison Rose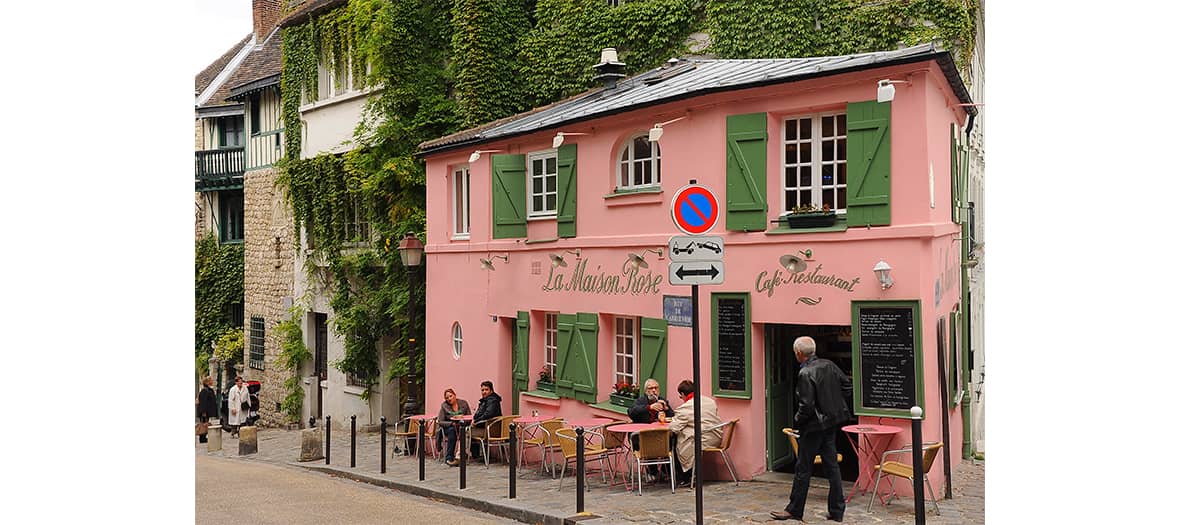 Who are we going with? An eternally romantic good friend.
Oh Montmartre! Its Sacré Cœur , the painters of the Place du Tertre… and its Maison Rose , inseparable from the Instagram walls of influencers. An address with obvious photogenicity and which already has a (long) history behind it. It was in 1905 that Ramon Pichot , a Catalan painter close to Dalí and Picasso , bought the pretty residence at the top of the hill. Three years later, his wife Germaine Gargallo, a local figure, decided to repaint the building pink. The place (which until then served as a workshop) became a restaurant frequented by artists from the neighborhood. More than a century after its beginnings, La Maison Rose has lost none of its luster and continues to attract tourists and Parisians ready to see life in pink (with the accent).
What do we order there? An exceptional carrot cake (€7), a plate of cheeses (€14), or a lunch menu with charcuterie, salad and dessert (€30).
La Maison Rose , 2 rue de l'Abreuvoir, Paris 18th
The sunniest: Rosé Restaurant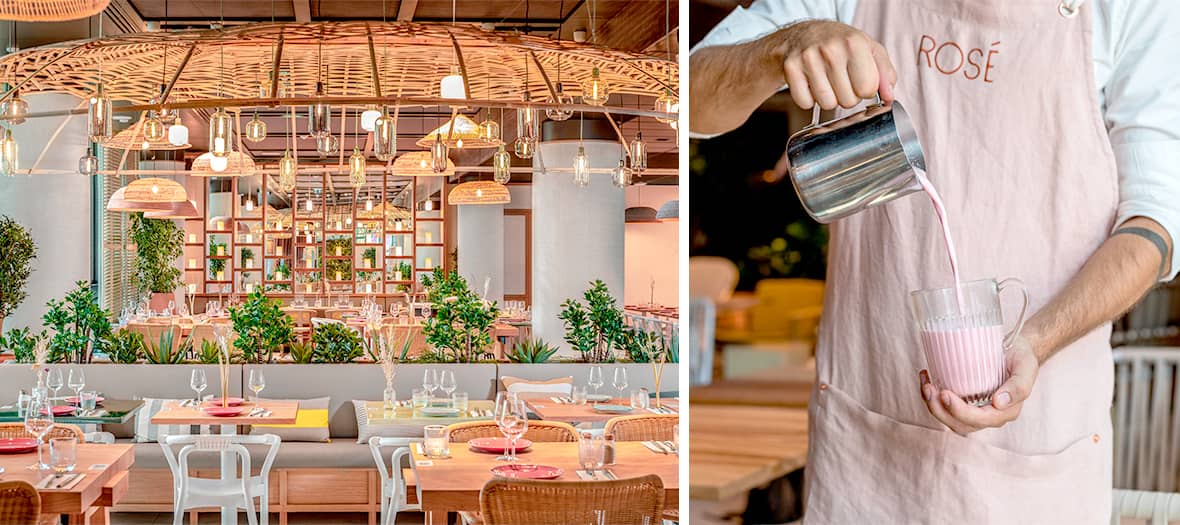 Who are we there with? Your favorite Southerner, expat in the capital.
A few days ago, perhaps you were around a swimming pool in the South of France, preferring the laziness and southern carelessness to the bustle of Paris. Does this memory make you nostalgic? Provence comes to you with Rosé Restaurant , a restaurant in the fifteenth arrondissement where Mediterranean dishes invite themselves into an ultra-glam decor. Imagined as a large house in the South where you would come and meet up with friends and family for a good moment of conviviality, the place offers pink with small discreet touches (especially on the plates with which you would be happy to leave). Ros(é) and the South, what more could you ask for?
What do we order there? A focaccia with Nyons olives (€4), stuffed squid (€12), prawns flambéed in pastis (€15) and a gourmet farigoule (€10).
Rosé Restaurant , 4 avenue de la Porte de la Plaine, Paris 15th
The flashiest: Pinky Bloom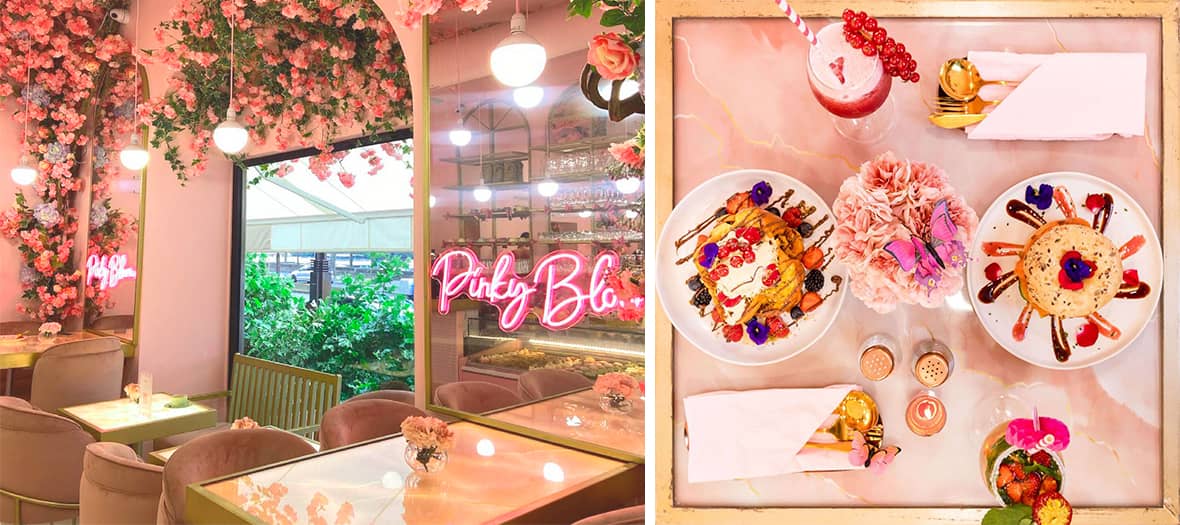 Who are we going with? Your ultra-girly BFF.
We prefer to warn you: it is better to share Barbie 's fashion and decoration instinct to tolerate the omnipresent pink at Pinky Bloom Paris . In this address in the 16th fancy, the favorite color of 2000's icons (hello Paris Hilton ) is everywhere. From the velvet armchairs to the flowered ceiling through the tables, hard to miss. In terms of atmosphere, we find the Insta-friendly atmosphere of London tea rooms where we sit down with the girls to share the latest gossip.
What do we order there? A charming tea time with mini-bagels, mini-burgers, mini-club sandwiches and cute sweets, tea and juice (€24.50).
Pinky Bloom , 68 avenue de New York, Paris 16th
The most intimate: Rose Thé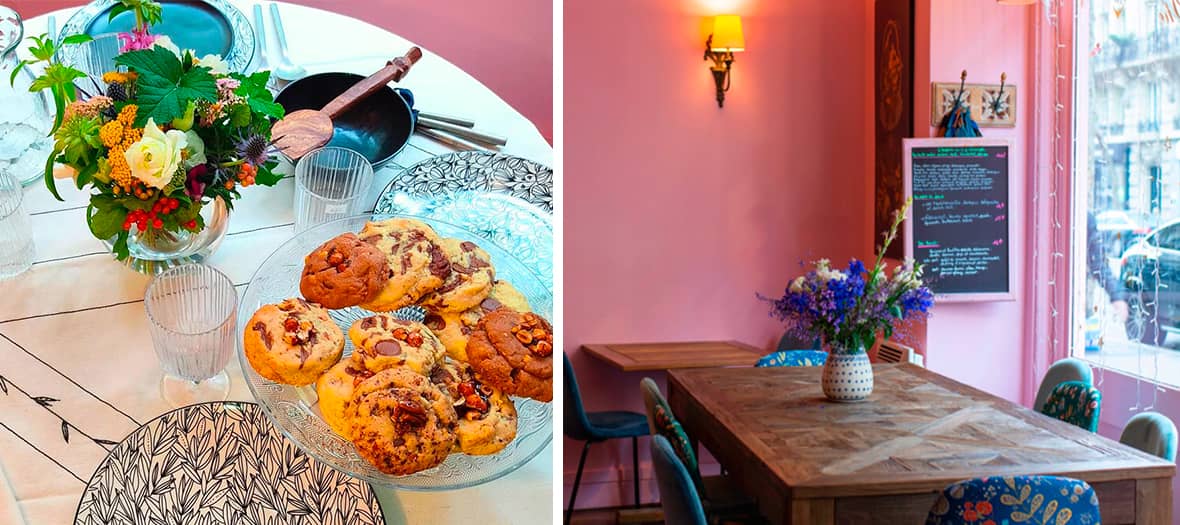 Who are we going with? His delicate mother.
In the bubbling 11th, some addresses resemble real bubbles of tranquility. This is the case of Rose Thé , a tea room which also serves as a restaurant. Here, pastel pink invites serenity. As regressive as it is elegant, the place is ideal for a tea party with friends, a weekday lunch and above all a great weekend brunch . We also love the savory tarts with names inspired by the tales of our childhood (Pinocchio, Goldilocks, Bluebeard…).
What do we order there? A Sunday brunch with scones, pastries, toast with homemade jam, scrambled eggs, salad, ham, desserts and drinks (€24.50).
Rose Thé , 104 avenue Ledru Rollin, Paris 11th
Also discover your bike ride in flowery Paris and 5 stylish coffee shops for working from home.